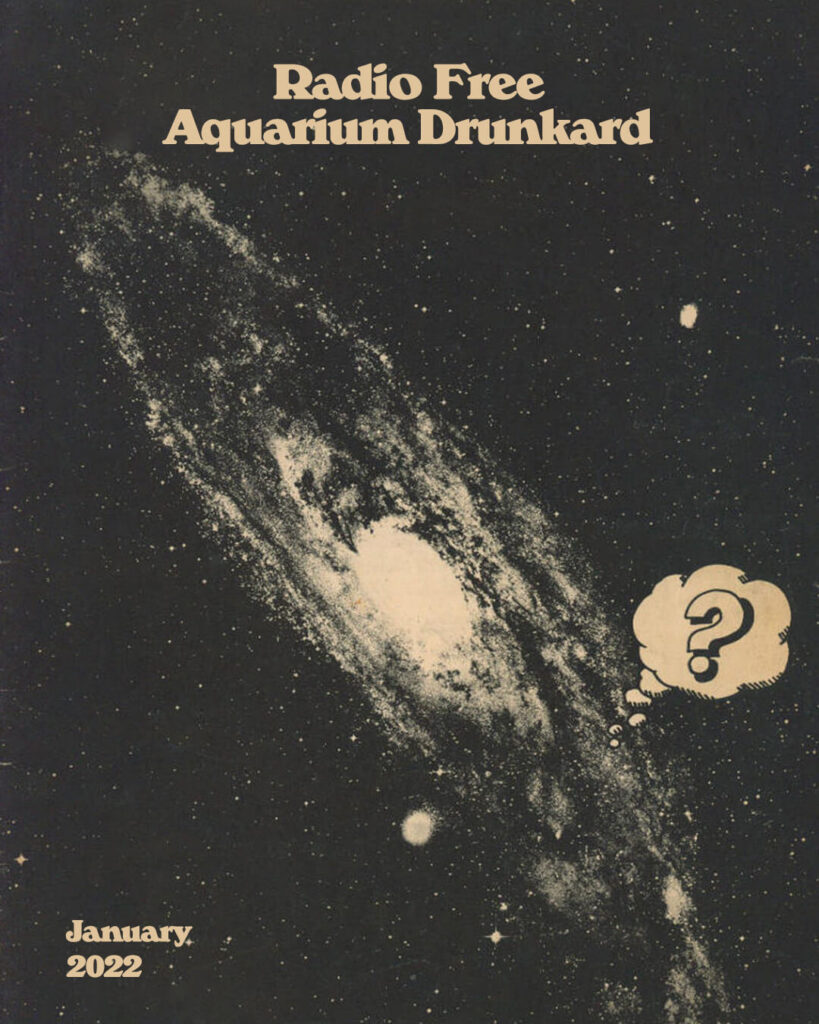 Signals coming in mighty strong. Radio Free Aquarium Drunkard on dublab returns for its regular third Sunday broadcast. Four hours of freeform radio from the RFAD crew on January 16th, 4-8 PM Pacific. In hour one, a new recurring show: New Happy Gathering with Chad DePasquale, an hour of lo-fi soul, psychedelic folk, hypnotic highlife, and post-punk ambience. In hour two, Jason Woodbury's Range and Basin, a freeform freakout veering from psychedelic pop to cut-up sonics and phantom sound. In hour three, Tyler Wilcox brings us Doom and Gloom From the Tomb, featuring a set of Neil Young rarities, digging deep into the archives. And to close out, a special audio benediction by Justin Gage.
New Happy Gathering with Chad DePasquale: Goat, "Union of Mind and Soul" ++ Hilda Murillo, "Roses en la Oscuridad" ++ K. Frimpong and his Cubanos Fiesta, "Daben Ni" ++ Gasper Lawal, "Kita Kita" ++ Silver Apples, "Ruby" ++ Jake Xerxes Fussell, "Frolic" ++ Jennifer Castle, "We Always Change Reprise, Part 1" (edit + interview excerpt) ++ Deloro, "Watertower" ++ Kikaguku Moyo, "Blanket Song" ++ Jorge Ben, "Cinco Minutos" ++ Sonny Sharrock, "Who Does She Hope to Be?" ++ Peggy Lee, "Me and My Shadow" ++ Shira Small, "My Life's All Right" ++ Ural Thomas, "Smile" ++ Floating Action, "Parts Unknown (So Glad)" ++ Sleeper and Snake, "Shoot Through" ++ The Durutti Column, "Otis" ++ Trance Farmers, "Like Dreamers Do" ++ Tobacco City, "All the Tired Horses" (Aquarium Drunkard Lagniappe Session)
Range and Basin with Jason P. Woodbury: Michael Krassner and the Basineers, "Theme From Range and Basin" Mekons, "Ghosts Of American Astronauts" ++ Laraaji, "Is This Clear? 1″ ++ Stark Reality, "Comrades" ++ Son Raw, "Head!"  ++ The Sugarcubes, "Birthday" (Jesus and Mary Chain 'Christmas Eve' Remix) ++ Boxhead Ensemble, "The Communicator (For Bill)" ++ Dirty Beaches, "Stye Eye" ++ Girl's voice, singing, rec. North England 1974 (from Occult Voices – Paranormal Music, Recordings of unseen Intelligences 1905-2007) ++ Ryley Walker, "Everybody Is Crazy" (Amen Dunes cover) ++ Alvin Curran-"Fiori Chiari, Fiori Oscuri" (Excerpt) + The Ray Russell Quartet, "Spinning Disc" ++ Boxhead Ensemble, "Rank" ++ Colin Blunstone, "I Won't Let You Down" ++ Frank and His Sisters, "Shida" ++ Mike Adams at his Honest Weight, "Howling At the Moon" (Ramones) ++ Boxhead Ensemble, "Credits Song" ++ Paul Humphrey, "Chin Music" 
Doom and Gloom From the Tomb with Tyler Wilcox: Neil Young, Cortez The Killer (Live 1999) ++ Neil Young – Tonight's the Night (Outtake 1973) ++ Neil Young & The International Harvesters – Interstate (Live 1985) ++ Neil Young – Down To The Wire (Live 1969) ++ Neil Young – Instrumental (Outtake 2010) ++ Neil Young – Dance Dance Dance (Outtake 1971) ++ Neil Young – High School Graduation (Demo 1967) ++ Neil Young – You Never Call (Live 2010) ++ Neil Young – For The Love Of Man (Outtake 2010) ++ Neil Young & Crazy Horse – Down By The River (Live 1976) ++ Neil Young – Barefoot Floors (Outtake 1974)
RFAD Benediction with Justin Gage: Shintaro Sakamoto, "From The Dead" ++ Ronald Langestraat, "Girl Where Are You?" ++ Patrick Cowley, "Somebody To Love Tonight" ++ Harald Grosskopf, "Emphasis" ++ CAN, "Shikako Maru Ten" ++ Amon Düül II, "A Morning Excuse" ++ Cluster, "Caramel" ++ Bernard Fevre, "Earth Message" ++ Tonto's Expanding Head Band, "Cybernaut" ++ Jan Hammer Group, "Don't You Know" ++ Bruce Haack, "When Mothers of Salem" ++ Gorillaz, "Dracula" ++ Lee "Scratch" Perry, "Huzza A Hana"
Only the good shit. Aquarium Drunkard is powered by our patrons. Keep the servers humming and help us continue doing it by pledging your support via our Patreon page.