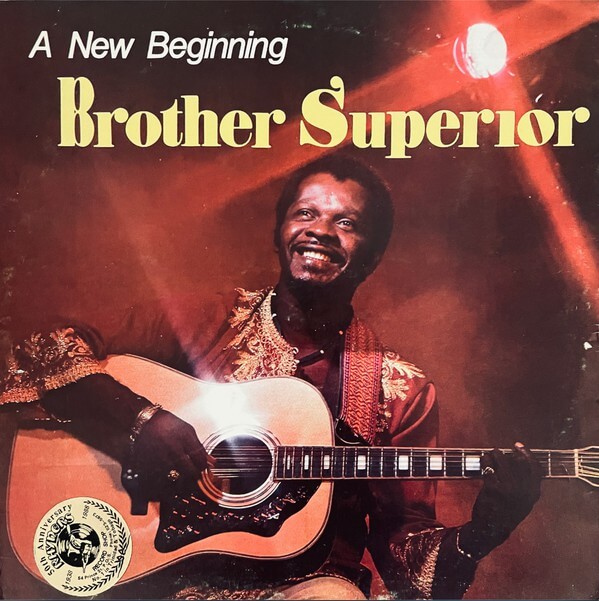 Both as a Lord and a Brother, Andrew Marcano was a legendary calypsonian. His first recordings in the late 1950s as Lord Superior, a bold name for a teenager, were instant hits in Trinidad. Twenty years into a career as Lord Superior, stacked with calypso gold, carnival competition victories, and tours with fellow calypsonians Lord Kitchener and Lord Melody, Marcano traveled to Nigeria in 1978 to meet Fela Kuti, and record with afrobeat icon Sonny Okosuns. The musicians collaborated on an ambitious album, Sonny Okosuns Meets Lord Superior, combining Okosuns's afrobeat and highlife styles with Superior's Calypso and Afro-Caribbean rhythms.
Following this transatlantic experiment in sound and approach, Marcano returned to Trinidad, leaving the Lord part of his name behind. He was now Brother Superior, and the energy that accompanied him west from Africa drove him to compose, arrange, produce, self-fund, and self-release A New Beginning. This new and inspired music came from everywhere at once. The West African rhythms danced around American jazz while Afro-Caribbean melodies twisted in eights around both. A New Beginning was bold, brightened by the intensity of Brother Superior's inspiration and the confidence to make it sound dynamic.

Brother Superior :: Trini Groove

"Trini Groove," the last track on the flip side of A New Beginning, is generous and animated. Afrobeat hits first, its place at the head of the composition a gift to the mother muse. Calypso follows that slower groove from Lagos, its percussion balanced and ready as horns fuse ensemble jazz into a melody that carries a chorus, surging upwards and back over riffs from an electric piano and bass. The head returns, looser and in time, as the melody follows in three more sets, each pass with a different instrument taking an essential solo: saxophone, steelpan, and clarinet. As a groove, the sets integrate musical styles and cultures as ambitiously and soundly as the two musicians first did an ocean away. | a bellmas
Only the good shit. Aquarium Drunkard is powered by our patrons. Keep the servers humming and help us continue doing it by pledging your support via our Patreon page.