It was a tough sell to get greenlit. Following a slew of canceled meetings, Harry Nilsson managed to secure an airplane seat next to an ABC executive to finally pitch his idea for an all-ages animated film. Like a true passion project, Nilsson feverishly sold his concept of an unconventional children's fable based around fictitious characters with pointed heads (and an archetypal "outsider" protagonist). It's hard to imagine the musician's legacy without it. The elusive, charming quality of The Point is as much a mystery as it is understood. By the early seventies, the musician had been on a prolific trajectory, releasing an album a year since his 1966 debut. A sudden experiment in animation truly came out of left field.
Retrospectively, the idea of a Nilsson animated film conjures up thoughts of the musician's well-publicized friendship with The Beatles. 1968's landmark Yellow Submarine feature redefined animation as an artform that was anti-Disney in both visual sentiment and storytelling (it was the same year that John Lennon infamously answered Nilsson as his favorite "American group" at a press conference). The band, though, had little to do with the film. The hallucinatory, psychedelic world was crafted by designer Heinz Edelmann and animator George Dunning. And while the two films shared a noncommercial visual style, The Point was distinctively Nilsson's brainchild, with the animation being done by one individual (Yellow Submarine boasted a traditional studio staff of over 200 artists). And rather than a theatrical release, The Point was literally made for the small screen.
The Point's origins trace back to the early weeks of 1970, with Nilsson taking a brief hiatus from the album recording cycle. Now spending more time at home in Los Angeles, he launched his own production imprint as an outlet for other projects: "Nilsson House Productions". Harry had dabbled in the musical side of the film world in the years prior, providing an original score for the transgressive counterculture comedy Skidoo. Most notably, Nilsson's reworked version of Fred Neil's "Everbody's Talkin'" became synonymous with Midnight Cowboy when chosen as the film's theme song (an original Nilsson composition had been rejected: director John Schlesinger chose the single previously released on Aerial Ballet). The story is apparently a loose adaptation of an original Kurt Vonnegut short story called The Paradise Hat (a Los Angeles Times article from January of '70 reports that Nilsson House Productions had purchased the rights).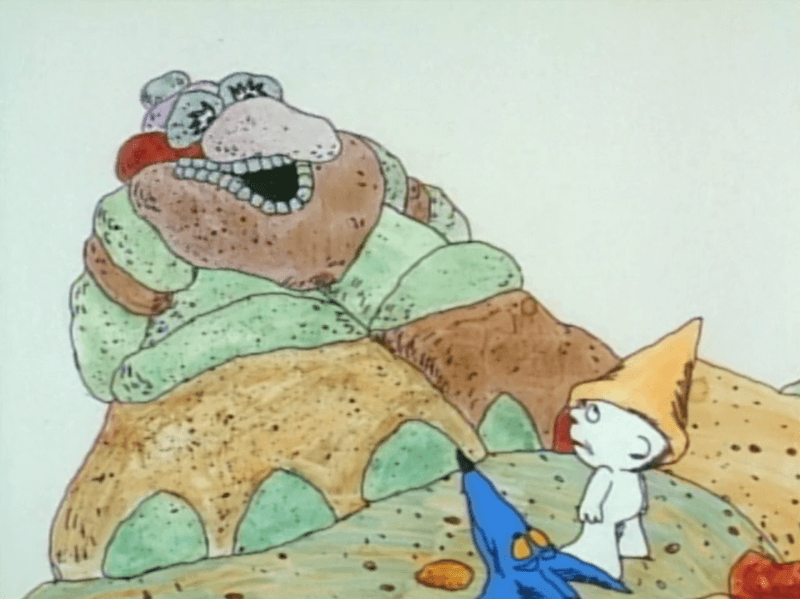 Originally, the film was to be a futuristic sci-fi epic. Two events quickly spurred the transition to an animated fable for television. One was the musician's increasing experimentation with LSD, in which he made the discovery that the trees and shrubbery around his scenic Hollywood Hills home were indeed rounded shapes with no "points." In his own words, "I just realized it was the world's longest pun. Point of sale! Point of view! Point of … and all of those things. I wrote a twenty-two page treatment, and submitted it to a guy at ABC". The other was his viewing of The Box, a 1967 animated short film by Fred Wolf. Meeting via mutual friend Paul Williams, Nilsson and Wolf bonded over growing up in Brooklyn.
Wolf's loose illustration work gives the film its iconic visual language, with sequences full of clever animated surrealism and unforgettable character design: from protagonist Oblio and dog Arrow to the "Pointed Forest" backgrounds. The loose drawing technique is reminiscent of other house styles of the era, utilizing scratchy, crosshatched lines typically only seen by print cartoonists … Jules Feiffer meeting an underground comic ethos. With a minuscule budget and just under eight months to produce the film, Wolf single-handedly animated all 74 minutes of the film (or a rough translation of about 28,000 individually drawn frames).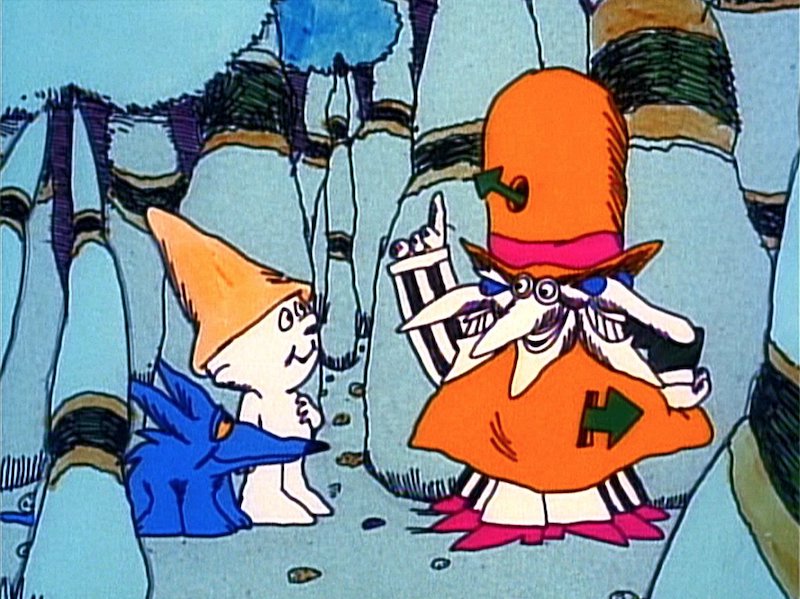 Isolating himself from Hollywood and the industry at large, Wolf produced the entire film from a rented beach house in Malibu (only interrupted when Nilsson himself popped in to goad him into a night on the town). Even more remarkably, he was confident enough to skip the laborious 2D animation development process known as "pencil testing." Rather than the rough line drawings being shot on film beforehand to test the fluidity, the process jumped directly to the final rendered ink and paint stage. Reflecting on the whole experience in a 2004 interview, Wolf claimed "I damn near made the Guinness Book of Records".
In one of the film's most enduring scenes, the syncopation of the sound and vision of "Think About Your Troubles" works as a perfect example of the project's charm. Lyrically another acid trip visualization, Nilsson's soft and descriptive ballad pairs perfectly with Wolf's undersea, tactile watercolor animation. After being swept away in bubbles, Oblio's tears fill up a giant teacup and make the trajectory into the ocean where a whale ultimately decomposes. "Think About Your Troubles" was among the first rough tracks cut for the movie at RCA. In another variety of the production's quick and disjointed production pipeline, Nilsson's original songs were being recorded while the animation of the general dialogue scenes was already in full tilt, given the tight schedule. As Nilsson biographer Alyn Shipton notes, some of Wolf's more innovative sequences (such as the late "Are You Sleeping?" montage) do impressively recall the musical fantasy vignettes of Fantasia and other foundational works.
Animation as an alternative visual medium was still relatively unseen by mainstream audiences at the turn of the decade. When Fred Wolf's The Box won the Oscar for best animated short (as an independent work), the feat had first been established in 1959. Independent, auter animators had long utilized the short format to create personal works, often financed by their industry or freelance careers. With limited distribution outlets, these shorts were largely screened at international film festivals. During the television boom, advertising agencies looked to animation for innovative commercial spots, allowing fringe and unorthodox styles (a stark contrast from the handful of major studios streamlining film and television programming) to emerge in short intervals.
A longer format work that actually reached household screens was another accomplishment entirely. It would still be a few years before audiences experienced alternatives such as a Ralph Bakshi film. And the same year as The Point, Frank Zappa would tap into animation for his own special effect hybrid film 200 Motels. Unsurprisingly, it was Fred Wolf and partner Jimmy Murakami who produced the frantic animation. Despite the limited budget and decisively underground optics of The Point, it was anchored by dialogue featuring first-rate voice acting and narration by Dustin Hoffman for the lone broadcast (re-recorded by Ringo Starr on video releases). When the film premiered on the Movie of the Week program in February of 1971, it was technically the first animated film to air on primetime television. Equipped with a still of the "Pointed Man" character, newspaper advertisements flaunted "The thoughtful words and simple truth of this animated musical tale promise rare and warm entertainment for the whole family".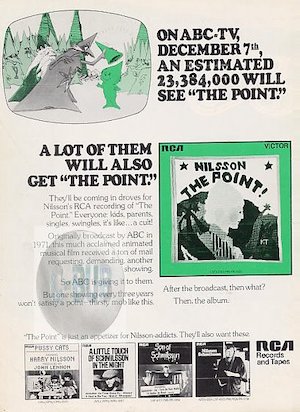 When the album counterpart was released in December, it expanded the visual aesthetic even further. The record cover was a beautiful needlepoint canvas embroidered by Kathy Torrence (sister of Dean, who had painted cover art like Nilsson Sings Newman). Included as an insert was a full-sized storybook comic, oozing with busy and colorful panels. Given the film's nature, it largely languished in the home video realm over the years, with a minimal second life at midnight theater screenings. Somewhat surprisingly, it also became a classroom tool: the rentable 16mm print being used as an anti-bullying moral resource. Today, it's remembered mostly by Nilsson fanatics who celebrate the soundtrack, or in waves of animated nostalgia.
An interesting hypothetical is what The Point could have become, had it been equipped with a full budget and ultimate theatrical release. Certainly, Nilsson's catchy and charming original songs were strong enough to carry such an endeavor on the big screen (the gleeful "Me and My Arrow" even achieved considerable success as a single, and charted respectfully). Nevertheless, it's difficult to imagine this peculiar tale working in such a capacity. It took one acid-soaked vision and one remarkably small, core creative team. Any such larger scale, traditional production techniques and you simply don't get The Point. | m neeley
For Heads, by heads. Aquarium Drunkard is powered by its patrons. Keep the servers humming and help us continue doing it by pledging your support via our Patreon page.