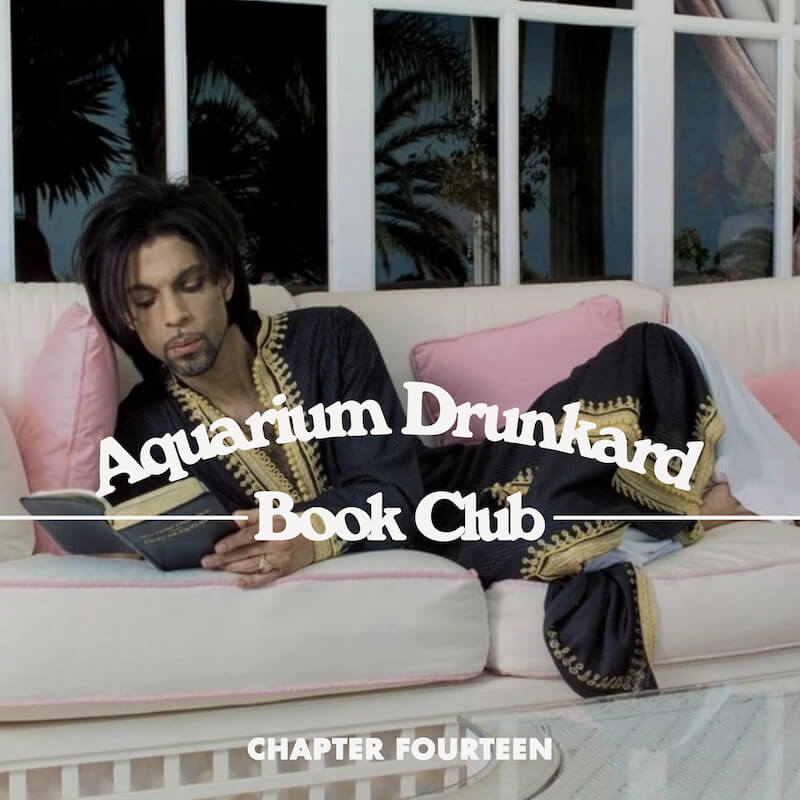 Welcome back to the stacks. It's Aquarium Drunkard's Book Club, our monthly gathering of recent (or not so recent) recommended reading. Your librarians this month are Tyler Wilcox, Justin Gage, Kyle Fortinsky, Jarrod Annis and Jason P. Woodbury.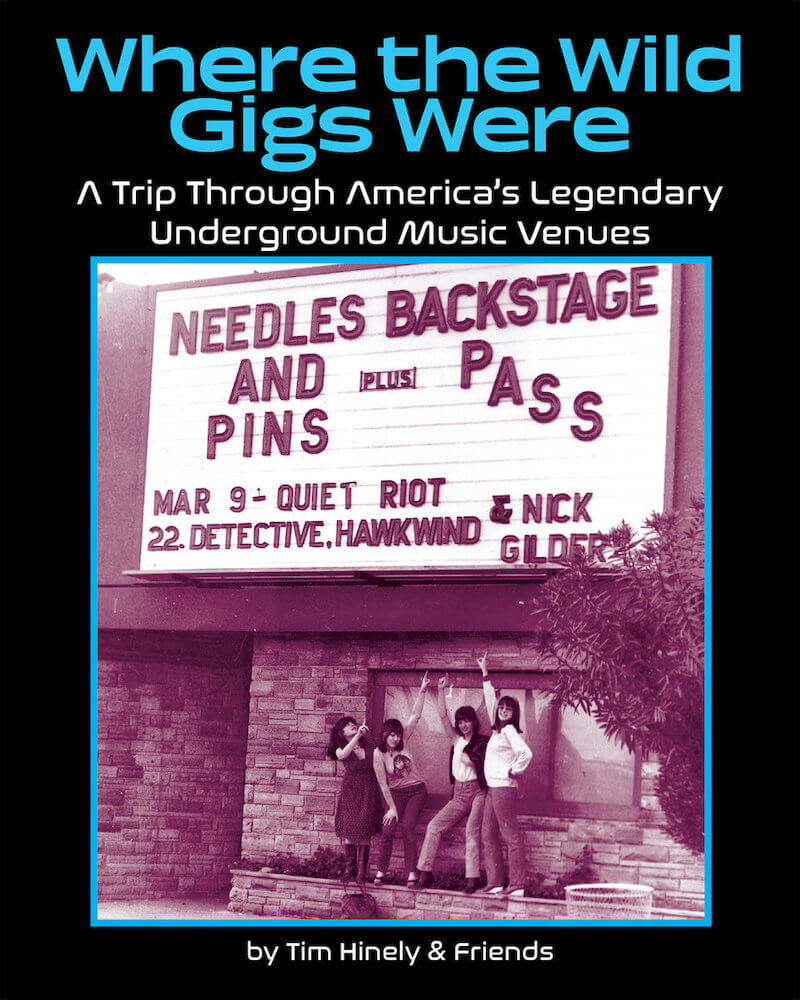 Where The Wild Gigs Were, Tim Hinely & Friends: From the 40 Watt Club in Athens, GA, to the now defunct Starwood in Los Angeles, Where The Wild Gigs Were lovingly documents a wide swath of the institution that is the American underground music venue. At 235 pages, it's chock full of photos, original newspaper ads, flyers, and long-lost monthly calendars of the pre-Internet age, along with firsthand accounts of the myriad subcultures orbiting these disparate rooms. Go ahead, get in the van …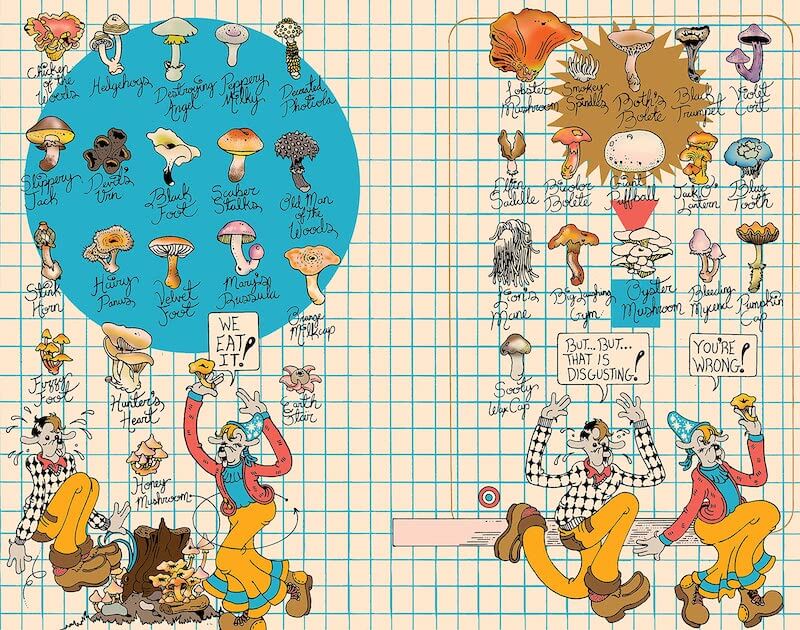 Mycelium Wassonii, Brian Blomerth: Mycelium Wassonii is Brian Blomerth's second graphic novel delving into the history of modern psychedelic research, following 2019's Bicycle Day. Awash in Blomerth's dayglo prankster fantasias chock full of dog-people and sentient fungi, it's a gorgeous psychotropic romp into the lives of Valentina and R. Gordon Wasson—amateur mycologists whose endeavors provided foundational research to the burgeoning field of ethnomycology. After years diligently investigating varying cultural traditions involving mushrooms, the Wassons get a break that leads them to the doorstep of María Sabina—a Mazatec curandera who allowed them to document and participate in the sacred mushroom rites of her people. Though their intentions were genuine, the Wassons opened a Pandora's box when they published an account of their Mexican travels in a 1957 issue of Life magazine, touching off a widespread explosion of interest in "magic" mushrooms that's remained in effect for the last 65 years. Dense with imagery that reveals itself gradually with each reading, Mycelium Wassonii hints at the secrets of the unseen landscape existing at play all around us if we know where to look.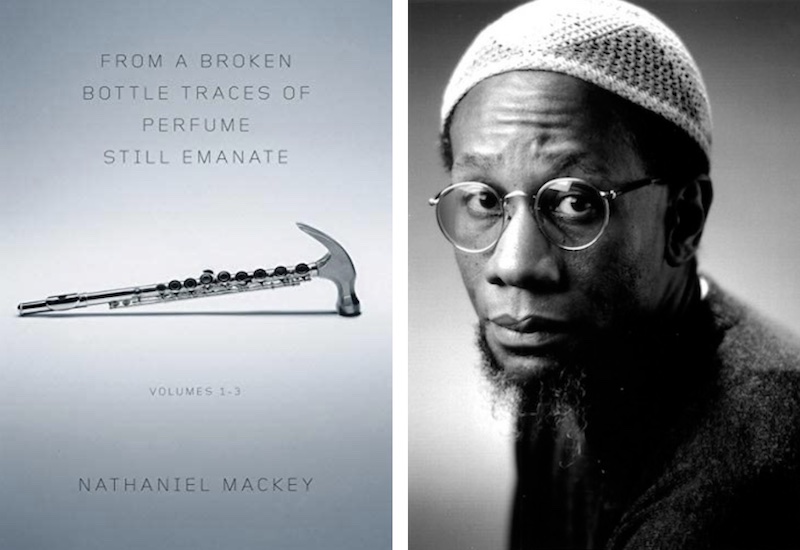 From A Broken Bottle Traces of Perfume Still Emanate, Nathaniel Mackey: Dense, surreal, and alive with rhythm, From a Broken Bottle Traces of Perfume Still Emanate is an ongoing epistolary jazz novel that poet Nathaniel Mackey has been channeling over the last forty years. In its current state, the work comprises five volumes, the first three of which are collected here—Bedouin Hornbook, Djbot Baghostus's Run, and Atet A.D. (followed by Bass Cathedral, and The Late Arcade). Through dreamlike missives to the spectral Angel of Dust, a composer/multi-instrumentalist called N. traces the musical, spiritual, and cosmological permutations of his ever-evolving ensemble as they gig around Los Angeles in the late 70s and early 80s. Encompassing the nature of jazz, folklore, African American art and culture, collective thought, and improvisation, Mackey riffs until language becomes an instrument in and of itself—melodically fluid, unhindered by time, breaking the reader's ear with its own music and nuance. Like the most free-blowing loft session imaginable, From a Broken Bottle Traces of Perfume Still Emanate is enthralling, unwieldly, and utterly transformative.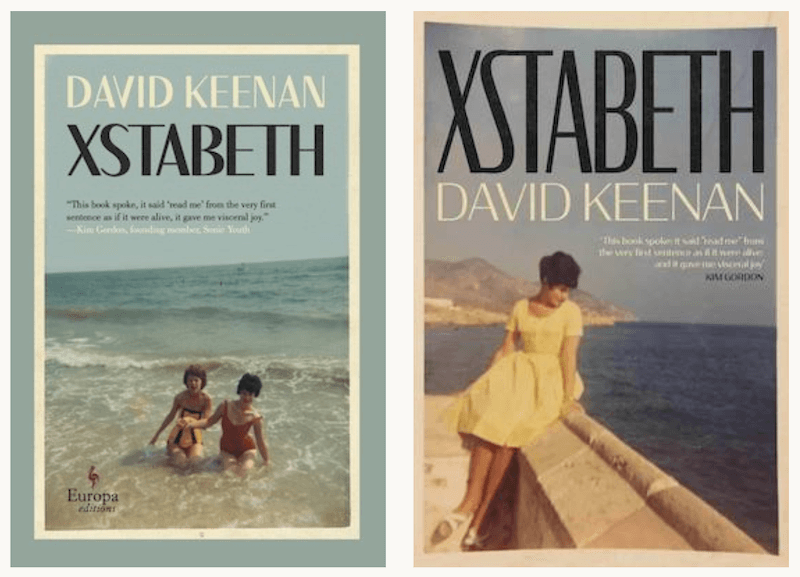 Xstabeth, David Keenan: Equal parts strange, funny, beautiful and disturbing, David Keenan's Xstabeth doesn't fit into any particular box. But its overall effect is one of pleasing disorientation, a kind of derangement of the senses that you want to prolong. In its own weird way, Xstabeth is a page-turner. The novel follows its Russian narrator and her singer-songwriter father from folk and strip clubs in St. Petersburg to golf courses in Scotland, both characters haunted by ill-fated love affairs and anonymous private press bootleg LPs. Interspersed throughout the tale, Keenan inserts commentaries on the work of "David Keenan" — the author's long-dead alter ego. These short essays don't clear things up by any means; instead, they add another layer, more texture, more mystery. Xstabeth remains full of secrets, but once you've finished it, you'll feel as though you've beheld some rapturous vision.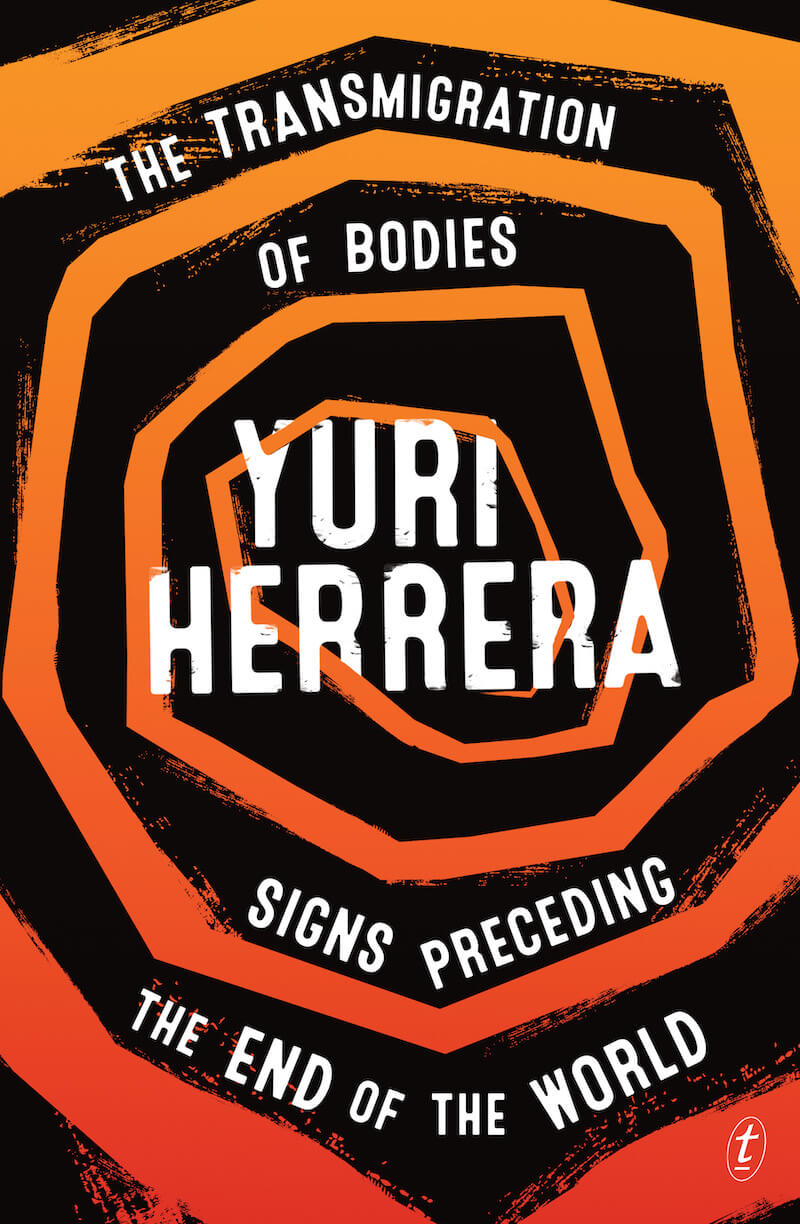 The Transmigration of Bodies &, Signs Preceding The End Of The World, Yuri Herrera: Discussing set and setting within his writing in a thoughtful 2017 interview with Latin American Literature Today, Yuri Herrera said: "Literature cannot take full responsibility for creating good or bad men and women, but what it can do is give you the tools to make yourself into a conscious citizen. In this sense, I believe literature always entails a political responsibility." In reading Herrera's fiction, particularly the Lisa Dillman-translated pairing of The Transmigration of Bodies and Signs Preceding The End of The World, we're offered the foundation and honesty of contemporary Mexican reality, told by a man who's lived in, and ruminated on, all manner of the subject.
Signs, at its core, is a border-crossing tale. We follow Makina as she's smuggled into the US from Mexico, searching for her brother on the other side. Once there, Makina is trusted with delivering two notes: one to her brother, from her mother, and one from a Mexican syndicate to a mysterious party. Transmigration, on the other hand, takes place during a plague, charting the path of The Redeemer and his attempted brokerage of hostages between two underground Mexican collectives.
The books together are readable in a couple sittings – novella length stories that pack tome-sized context. Both Makina and The Redeemer are stoic characters, though not indifferent, to the pain and suffering they encounter and witness along their respective journeys – an example of Herrera's aforementioned willingness to be so matter of fact when presenting readers with raw topics.
The towns and locations in Signs and Transmigration are undefined (think broadly of an El Paso, Juarez, or Matamoros), but his characters, dialogue, and surrounding habitats carry plenty of stark realism, rendering a geotag unnecessary. Here is where we participate in Herrera's "conscious citizen" exercise. His works chronicle enough real-world detail and imagery to conjure our curiosity and challenge our preconceived notions of what, in many cases, goes unseen.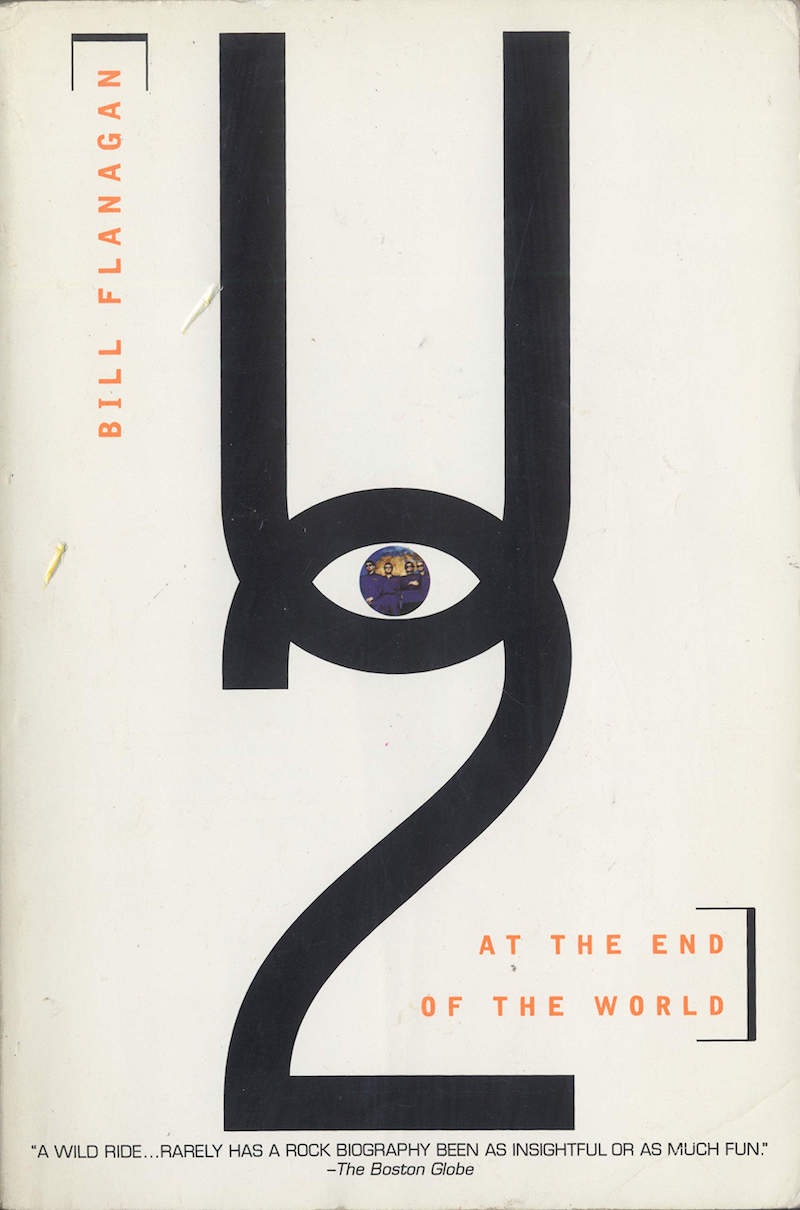 U2 at the End of the World, Bill Flanagan: You don't have to be a U2 superfan to enjoy Bill Flanagan's 1995 U2 At The End of the World—there's enough geopolitical context, presidential cameos, music industry forecasting (at one point, then manager Paul McGuinness basically predicts streaming music), and fascinating digressions from figures like Mick Jagger, Salman Rushdie, Naomi Campbell, and R.E.M. to make this book feel less like it's about a single Irish rock band and more like a capsule history of the post Cold War world in general. But if you do dig U2, this look at the hyperactive post Rattle and Hum era is a thrill ride, exploring and exposing the band's artistic fitfulness, brilliance, and human complications. As well as documenting the group's time making Achtung Baby and Zooropa with Brian Eno, Daniel Lanois, and Flood, Flanagan takes readers on the "sensory overload" inducing Zoo TV tour, which found Bono adopting a series of post-modern disguises—the devilish MacPhisto, the crooked televangelist "Mirror Ball Man," and the shades sporting leather daddy "The Fly"—surrounded by William Gibson-esque screen landscapes, suspended automobiles, and check-ins from war-torn Sarajevo. Granted extraordinary access to the band, Flanagan drives, flies, late night bar crawls, and globetrots along with Bono, Edge, Larry Mullen Jr., and Adam Clayton, unpacking their blend of zeal, spiritual searching, ambition, humor, and artistic restlessness. "Those aristocrats who fall on the floor writhing and swelling their tongues when writers put rock & roll into the same boat as high art, poetry, philosophy, and other university subjects should get out now," Flanagan states in his author's note. Like the members of U2 themselves, he takes these things seriously—maybe too seriously—right up until he doesn't.
Keep reading. Aquarium Drunkard is powered by its patrons. Keep the servers humming and help us continue doing it by pledging your support via our Patreon page. For heads, by heads.