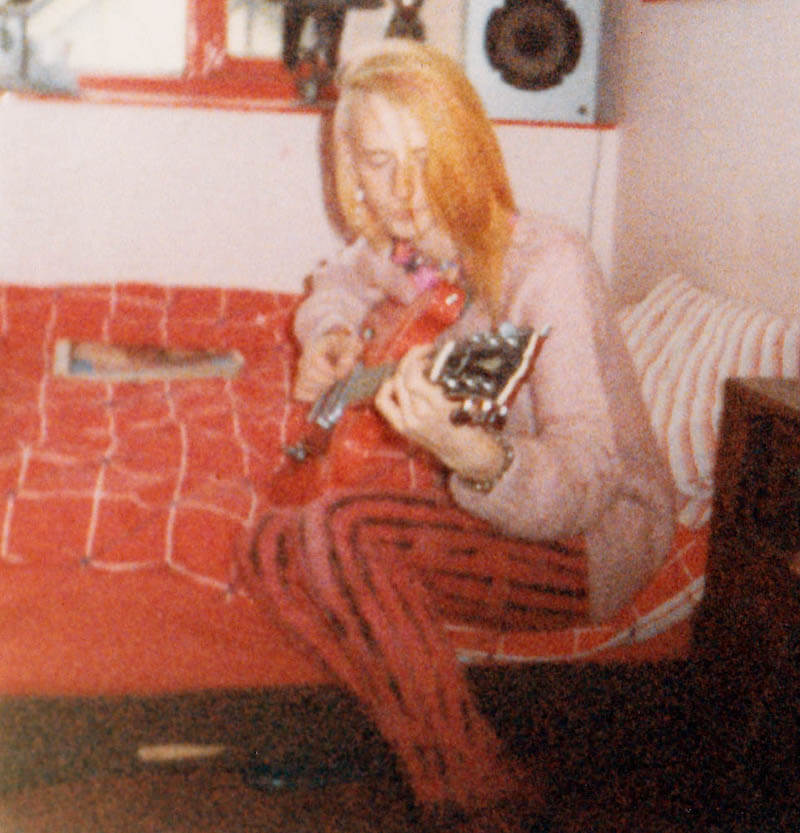 Few people take the concept "create your own culture" to the extent of Stan Batcow. Since the launch of his label Pumf (Parsnips Under My Feet) in 1984, the musician, visual artist, and zine publisher from Blackpool, England has burrowed down into an unfathomably deep rabbit hole. What sets Batcow apart from other sub-underground dwellers is that he performs on the majority of the label's hundreds of releases, using a variety of absurd aliases for each different project. As he writes on the Pumf website, "we are eternally dedicated to the task of continuing to find and release the strangest music on the planet."
If Pumf's decades of output sound daunting, Floating Mill Records are here to offer an entry point with their new compilation, Parsnips Under My Feet. Beginning with last year's excellent reissue from the Stick Figures, the Pittsburgh-based label have made it their mission to unearth obscure pockets of post-punk, new wave, and weirdo rock from around the globe. This collectionfeatures six of Batcow's bands (The Def-A-Kators, Howl in the Typewriter, BILE!, Troll, Gravelin, and Rrrrrrr) plucked from seven different Pumf releases from 1986 to 1998.
In a rare interview, Batcow shares the story of the label's origins, describes some of their very strangest releases, and explains his obsession with the number seven. | j locke
---
Aquarium Drunkard: When the punk / DIY movement began in the late 1970s, what kind of impact did that have on your ways of thinking? Did it inspire you to take production into your own hands with your fanzine and later the label?
Stan Batcow: Absolutely. Prior to that I'd been into the music you could hear in the Pop Music Charts – faves being Slade, Sweet, T Rex, and others of that ilk. I have two brothers, seven and eight years older than me, so I was also listening to the music they liked as I grew up – Beatles, 1960s generic pop, plus loads of prog rock – Pink Floyd, Genesis, Yes, Led Zeppelin, etc.
When punk happened it was something new, something I'd discovered for myself (yeah, I know, just like thousands of other kids!), something where you didn't have to have a music theory degree and years of practice in your chosen instrument to be able to play – you just had to have the attitude and self-belief. You didn't have to rely on a manager, or be sold by a record label; you could simply get on with it on your own terms and deal directly with the people who wanted to come to your shows, buy your tapes, read your fanzines.
I published fanzines from 1982 alongside other poetry / art / comic book-type publications, and still dabble nowadays (though it's seldom and irregular). The music zine tailed off in 1999 with a final issue after about 10 years – and, to be fair, by that time it had very little to do with music. It was more opinionated, quasi-political, and nicely balanced (it had a chip on BOTH shoulders).
AD: Did Pumf begin as a home for your many different musical projects, or did you have other initial goals in mind for the label?
Stan Batcow: This follows on nicely from my answer to the previous question, really – yes, Pumf was intended as an outlet for the recordings of A-void, the band I was in at that time, although I was clear in my mind that I would release other music as well. From the get-go I was spreading my musical activities around many groups of people and always willing to have a go at collaborating with anybody.
Over the years I've been in many bands, but only a few of them played live. It was often just recording projects, with the resulting multi-layered music / sound being too complex to recreate live. Having said that, there were a few live shows that relied on using elements of pre-recorded material on tape alongside whatever instruments or beatboxes etc. we were able to utilise to recreate the songs in a live setting.
My solo act Howl in the Typewriter is a case in point – I originally tried to make all the songs I wrote playable live. Typical performances would include drum machines, guitar, and bass played alternately (with the other one possibly feeding back lying in its case), tapes and loops, sound / noise generating boxes and occasionally a TV, usually tuned to static, which I would sometimes sit and watch for a while with my back to the audience.
As I progressed musically (I use the term 'musically' loosely, you understand) I found it harder to recreate live the songs I'd recorded by multi-tracking rhythm and lead guitars, bass, keyboards, other sound sources and vocals – though I often tried my best. There came a natural divergence in what I was recording and what I was playing live. I did one Xmas show that got round this problem by having the entire set on a backing tape; there was a mannequin wearing my clothes on stage with my guitar round its neck, and I was dressed as Father Xmas going through the audience giving out gift-wrapped squeaky toys. I always tried to bring an element of the theatrical to live shows.

Pumf released music by other bands as well over the years, though the emphasis was always on releasing music I'd been involved in creating. Three 'albums' were released which were the collected recordings of songs produced by myself working with a multitude of different people at various times and places. It seemed to make sense to collect the songs together, each time enough had been recorded to make a sizeable enough album, and give each album a band name, though the songs didn't really come from a specific 'band' as such. That trilogy of albums were by BILE! (1986), Troll, (1988) and Gravelin (1997), though arguably they're the same 'band', in whatever free-form improvised experimental time-spanning framework you wish to place it.
AD: You play with all six bands featured on the new compilation. Do these projects feature other collaborators, and how has that changed over time?
Stan Batcow: Those six acts give quite a good cross-section of Pumf inasmuch as they demonstrate different ways of working: Howl in the Typewriter is my solo project, running from 1985 to the present day (I doubt I'll ever split up and cite the usual 'musical differences' – unless the split personality disorder really runs amok, or course!)
The Def-A-Kators were a band formed specifically to play live, and the other two members of that band also cropped up in a variety of other Pumf acts over the years. We didn't play that many gigs – only a handful between 1986 and 1988. We only had two rehearsal sessions before the first gig. The first album was released on Pumf in 1993, though the recording of the songs on that album happened in two sessions in 1987 and 1988 – they were quite accurate renditions of what we attempted to sound like when we played live. I can't quite remember why there was such a long gap between recording and releasing the album.
After having a rest for about 10 years we got back together in 1996 and wrote and recorded another batch of six songs; we felt they were not live material owing to the multi-layered nature of the recordings – though, to be honest, I bet we could have had a go! We continued getting together sporadically and the last batch of recordings happened during 1997 and 1998. These songs were definitely not live material, with much of their content being studio-technology-based. After having another rest for about ten years we got round to mixing and mastering those songs in 2008 and 2009, and they, along with the six songs from 1996, formed the second album (from the laziest band ever).
Rrrrrrr was a collaboration between myself in Blackpool, North West England, and a chap living 240 miles away in London, Southern England. We never met in person*. We would each record a part of a song on a multitrack cassette and post it to the other person, who would add a layer and send it back (then repeat as often as necessary). It was a fascinating way of working, nothing immediate about it whatsoever, with lots of time between layers – by the time the tape came back, I'd forgotten completely what stage the song was at. That level of remove from one's collaborator made for some interesting, unexpected results.
BILE!, Troll, and Gravelin I mentioned previously. Those albums contained the results of my working with loads of different folk over long periods of time. From memory I'm fairly sure all those recording sessions took place with whoever was involved at the time in the same room – some were almost like rehearsal / jam sessions, others were specific recording sessions. I tell a lie – I've just remembered that he came to see a show I played in London a few years after the Rrrrrrr album was released.
AD: How does your songwriting process typically work with this many different incarnations and aliases for your musical output?
Stan Batcow: It varies. The majority of what I now do involves working alone, and even though I work solo as Howl in the Typewriter (whose musical style varies wildly from song to song), there are times when what I'm producing doesn't feel like Howl material and I feel the need to create another alias.
Most recently that has been the recordings I've released under the name Quougnpt (four albums so far). When working with other people, sometimes we'd sit down together and work things out from scratch, other times one of us would have an idea as a starting point and the other people would contribute from there. There have been many recordings throughout Pumf's history that have been spur-of-the-moment, either improvised there and then or spaced over time (rather like the Rrrrrrr recordings I described earlier).
AD: How did you connect with Floating Mill Records for this release? Do you feel kinship with what they're doing?
Stan Batcow: Floating Mill approached me, as they were aware of Pumf (from whence, I know not) and interested in releasing the retrospective compilation that has become Parsnips Under My Feet. From what I gather they're releasing long-forgotten music by bands / labels who might have been virtually ignored at the time and no longer exist – so maybe that makes Pumf some peculiar evolutionary throwback akin to the coelacanth, because although the music on the compilation is from way back when, we're still alive and kicking . . .
As for feeling kinship, in the words of Stan Laurel, "why, certainly!" – in my dealings with Cullen he's struck me as a massively enthusiastic person, passionate about spreading the music he loves to a wider audience. I know he's putting a huge amount of care and effort into Floating Mill, and the detail he strives for is commendable.
AD: Is this compilation a good introduction to your work with Pumf, or does it only highlight a small segment of what you do?
Stan Batcow: A tiny fragment, I'd say. Returning to the evolutionary comparison, some of the music on the compilation could be seen as Neanderthal Man banging a few rocks together (with recording equipment dating from that geological time, it may seem) whereas these days the recording processes and equipment are much better. Regarding my material, the actual songs still come from the same place deep inside, although they're now being excreted with nearly 40 years more experience – so there's bound to be a huge difference . . . that difference is in the ear of the beholder, however. And there are always new artists surfacing and becoming part of the Pumf family in some way.
AD: Your website states that "We are eternally dedicated to the task of continuing to find and release the strangest music on the planet." Was that the goal from the very beginning?
Stan Batcow: Yes, I could safely say that – although back in the early 1980s I think everyone was attempting to create strange-sounding music, or anti-music. The actual wording you've quoted above came much more recently (10 years or so, perhaps?) but I think it was just a summing-up of what had come before. A mission statement, if you like.
AD: What are some of your very strangest releases from over the years?
Stan Batcow: The Amazing Ron Brewer – Donkey Man by Barbara Dwyer was a quite peculiar album. Barbara Dwyer consisted of two brothers (who lived about 120 miles from me, in the English midlands) and myself. They came to Blackpool in 1985 or '86 and we recorded the six songs that were featured on the BILE! album, but for the next recordings they just sent a batch of cassettes as source material for me to work with. I describe it on the Pumf website as a 'dadaist surrealist avant-garde mishmash'.
There were a couple of albums by HITT, which were some of the recordings created to be used as backing tapes for Howl in the Typewriter shows. Each album featured two 30-minute long pieces.
There were also a few 'found tape' releases, such as The Desperate Accountant Tapes(featuring a love letter, interviews, discorporeal answerphone messages, a monologue and a play) and Movement and Drama 2, a series of radio broadcasts aimed at getting nice to 11-year-olds to move and exercise whilst using their imaginations.
Then of course there was the Treewirehead album Invite you to Chew on your Yeasty Bits, which was completely hatstand. One of the songs on that album was a recipe for raspberry buns. And there are always tracks on the compilation albums that stand out as strange, for one reason or another . . .
AD: Can you tell me a bit about your other creative pursuits in visual art and publishing?
Stan Batcow: The publishing side of things was a natural progression from my having produced the fanzine, and I still occasionally release bookthings under the Stanzine Publications imprint. Over the years I've published short stories, poetry, comics, collage art pieces and loads of other ephemera. I create booklets regularly as well, of course, to accompany album releases.
Making art is something I've always done, so Batcow Artworks is the outlet for my 3D artwork. I generally use recycled materials to make welded scrap metal pieces, smaller soldered copper wire sculptures and the like. I'll also re-purpose materials into other creations, and I also carve soapstone into small sculptures.
AD: How did you become interested in the number seven?
Stan Batcow: Seven has been used in many ways over the years, in all aspects of what I do. A seven-pointed star is the closest thing I've ever had to a logo, which is used across all my activities. The Pumf catalogue numbers are all multiples of seven. In the early days all the product prices had a seven in them (all the tapes were initially 77p).
I created a section of the Pumf website that featured 77 Facts About The Number 7, then found that I'd collected another 77 facts so created page two, then found that people were e-mailing me with their own facts about the number 7, and suddenly I was up to page 10. I realised it was turning into a Frankenstein's Monster, so decided to call a halt at 777 Facts About The Number 7. Although even that got overshadowed, and I had to put another secret page up there with a bonus 77 Facts. But that's definitely it. No more.
AD: What else do you have planned for the future of Pumf?
Stan Batcow: I'm still releasing volumes of godspunk, a compilation album series I started in 2003 and which is currently at volume 23 (it's at the pressing plant as I write, in fact, and should be released in March 2022). It has a roughly 10-month cycle, meaning that volume 24 should be released at the start of 2023.
It's a co-operative project where all contributors pay a percentage of the manufacturing costs, then get a percentage of the finished CDs to do with as they see fit. It struck me as a good idea because it's quite a task to distribute 500 albums single-handedly – I realised that if each band distributed their own quota, the potential audience would be that much wider / diverse and the task itself much more manageable. It's worked well – so much so that the last two volumes have been double albums.
I always have recording projects in progress, and at present there are no less than three Howl in the Typewriter albums underway – one virtually complete, two in gestation – as well as the fifth Quougnpt album (although that's only in a contemplative state at present). There are no plans for Pumf to quit anytime soon. Whether that's a good thing or not is negotiable.
Aquarium Drunkard is powered by its patrons. Keep the servers humming and help us continue doing it by pledging your support via our Patreon page.