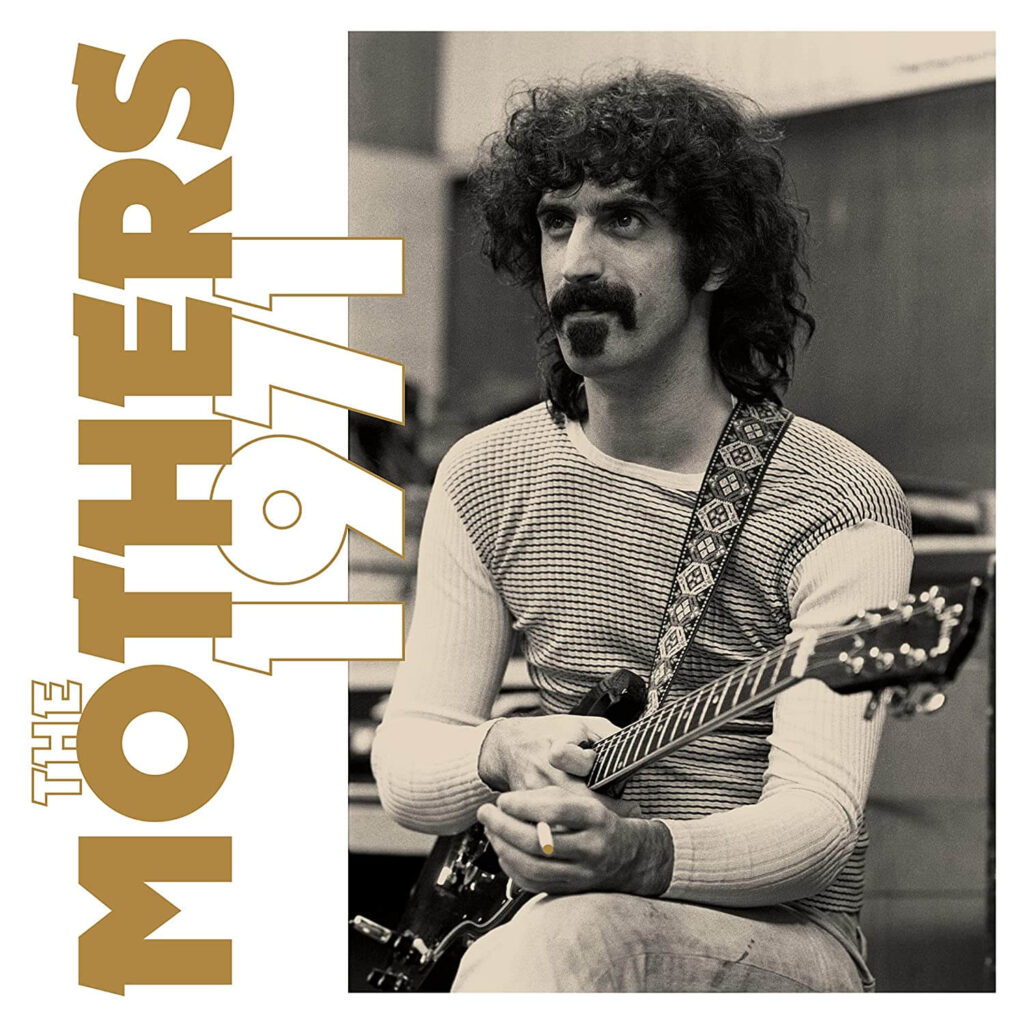 Though the latest Frank Zappa archives box set The Mothers 1971 covers familiar ground, make no mistake: it's a doozy. Offering another look at his Flo and Eddie-era band—like the Mothers 1970 set before it—this one is largely drawn from shows that were previously released, but are presented here in their entirety. This deep focus draws out new details and wrinkles, not to mention some choice cuts. Let's dig in, shall we?
On June 5 and 6, 1971, Zappa and the Mothers hit New York's Fillmore East for four shows, playing two gigs a night. The core of this group had been together for about a year, featuring Ian Underwood on reeds and keyboards, Ansley Dunbar on drums, Mark Volman and Howard Kaylan on vocals, with Zappa on guitar and occasional vocals. For this tour, the bandleader had hired Jim Pons on bass and Bob Harris on keyboards. They'd been gigging for about a month, playing mostly new songs. They weren't exactly a well-oiled machine when they rolled into New York, but they were in pretty good shape. 
Each of the two days followed roughly the same format: they'd open with "Peaches En Regalia," an instrumental tune off Hot Rats, a quick diversion into "Tears Began to Fall," which was Zappa's choice of a lead single for summer 1971, and then into "Shove It Right In," a routine from 200 Motels about sex with a groupie. It hasn't exactly aged well, although it's interesting to hear Zappa play rhythm and it does aptly demonstrates the band's ability to work up a groove.
From here, the early shows go into a medley of older Mothers tunes—"Status Back Baby," "Concentration Moon," and "Mom and Dad," with a little stage routine in the middle—before heading straight into a new and almost overwhelming Zappa set piece: "Billy the Mountain."
This one, which wouldn't be officially released until early the next year, is a lengthy, complex tune that's almost a cartoon for the ears: it's something of a rock opera (although it's more tightly structured than, say, Tommy) about a mountain who goes on vacation with his wife, a tree living on his shoulder. It's fun on a first listen, but while it's presented on this set in five different performances and it's remarkable how much of it stays the same each time. It's less a spontaneous piece and more of a tightly constructed performance: the same motifs and jokes repeat every night, showing this band's talent in performing something as long, complex and as demanding as this every night. It's also a hoot, a fun story involving right-wing newscasters, secret agents and an unusual use of maple syrup, not to mention a nice instrumental section where the band lets loose in a series of solos. 
They wrap things up with two different encores: "King Kong" on the first night, "Chunga's Revenge" on the second. These give the group a chance to stretch out and jam, with both providing some tasty soloing from Zappa. The first disc, in particular, shows this band's musical muscle, with Zappa taking a raw, almost bluesy solo while Dunbar crashes away behind him.
The two late shows both follow a similar format, each with their own identical setlists. Instead of the medley, they launch right into "Billy," and after a moment to let the audience catch their breath, into the familiar "groupie routine" that took up most of the original Fillmore East record. It doesn't really change much from either night, and although there's some nice musicianship on "Little House I Used to Live In," the scripted banter and routine about a groupie who wants to get laid, well, it hasn't aged especially well either. It comes off as somewhat juvenile and a repeat of the same ideas Zappa covered in 200 Motels and, arguably, earlier in the night. Granted, a couple of the songs open up into vehicles for Zappa to show off some guitar—"Latex Solar Beef" and "Willie the Pimp" both feature some exciting playing, but for these, a little goes a long way. Both late shows close with "Happy Together," and presumably both parties finally get off after a bunch of role playing.
The second evening closes with a surprise guest: John Lennon and Yoko Ono sat in for an old R&B cover and a rollicking version of "King Kong," where Ono yells and performs (she climbs into a bag) and the band rocks out. It's a nice performance, and although it's been released a couple of times—first by Lennon on Some Time in New York City and later by Zappa on Playground Psychotics—it's presented here in a nice new mix, without any edits and sounding better than ever. 
The Fillmore shows are a little repetitive, but that's likely because Zappa was recording a live album and wanted to be able to pick and choose the best performances, even if that meant cutting from one set to another mid-song. As such, it shows off this group's talent and ability to perform the same material day in and day out, even if it does mean a relative shallowness in their songbook.
The second big feature of this box is the complete show at London's Rainbow Theatre from December, 10, 1971, which is auspicious for a couple of reasons. First off, Zappa had hired a mobile truck to record the show professionally. Secondly, it represents their first gig after a disaster in Montreux, where the venue burned down mid-show and the band lost all their equipment. With rented gear and some jangled nerves, the band carried on.
On its own, it's a good performance, but in this context, it's a nice counterpoint to the Fillmore run. The songbook runs deeper, with less reliance on banter and routines. The band shows off its instrumental and jamming chops on "Pound for a Brown" and the improvised "Zanti Serenade," while Kaylan and Volman shine on "Cruising for Burgers" and "Sharleena." And everything comes together on "King Kong," which closes the evening's festivities, when the group stretches out and everyone (even the vocalists) get to solo. 
But the encore is where the night turns tragic: during a cover of "I Want To Hold Your Hand," a fan charges the stage and pushes Zappa into the Rainbow's orchestra pit, a fall that broke several of Zappa's bones and nearly broke his neck. The set ends in chaos, as does this era of Zappa's music. Before long, Kaylan and Volman went solo (taking most of this band with them on their first couple of lps), while Zappa spent 1972 working with larger, jazzier ensembles. 
While both a set of highlights from the Fillmore run and the entire Rainbow gig are available separately, the box set adds some nice bonuses, including period road tapes of gigs in Harrisburg and Scranton shortly before the Fillmore run, and both sides of the "Tears Began to Fall" single. The road tapes sound a little rough, but they feature two rarely performed songs, some nice solos, and even a variation on one of the routines the band performed at the Fillmore: a "flaming hoop trick." 
In sum, eight CDs is a lot for anyone other than the devoted, and it's a little hard to recommend the entire box for anyone who's not already a big fan. Thankfully, for more casual fans, there's two vinyl-only sets—a deluxe reissue of Fillmore East, June 1971 and the three-LP Rainbow Theatre—that are both carefully curated highlights. But anyone who's spent as much time with Fillmore as I have will be delighted by this set: there's a lot to chew on here, and even if the setlists aren't very deep, there's more than enough guitar heroics and full-bore jamming to keep one occupied. | r milner
For Heads, by heads. Aquarium Drunkard is powered by its patrons. Keep the servers humming and help us continue doing it by pledging your support via our Patreon page.