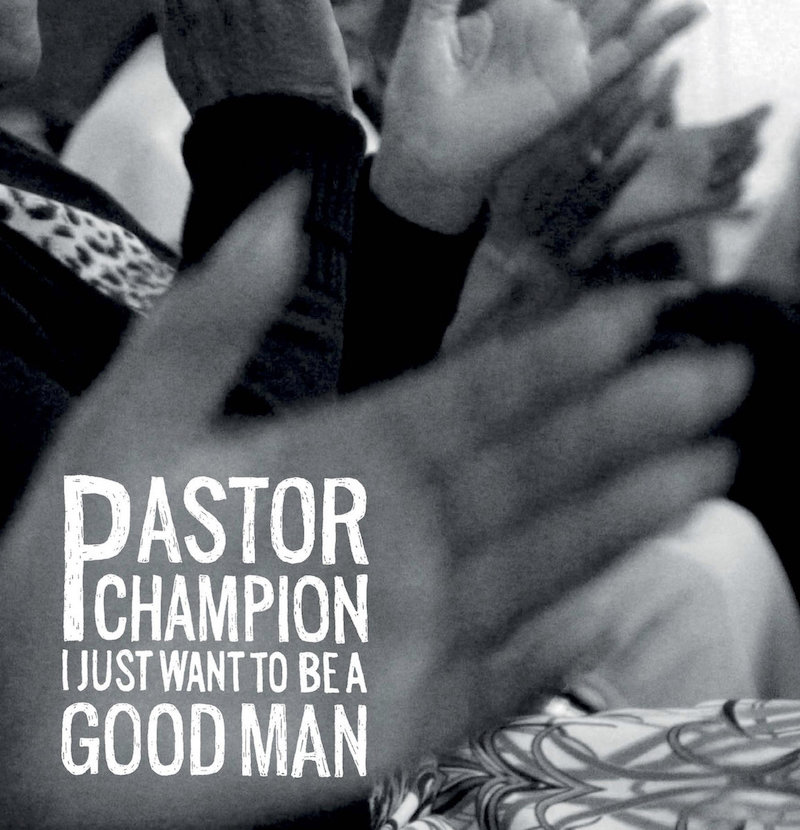 Pastor Wylie Champion walked a path tough traveled—he grew up in the Deep South, spending some time on the wrong side of the tracks, before heading west to California. Later on, a saved man, he worked as a carpenter and raised four children. He also took the good word, now equipped with his electric guitar, on the road, visiting congregations and homes from the West Coast to the Gulf. He did this alone, well into his seventies, living a life some might find unadorned without the faith that Champion so fiercely possessed – his desire to "be a vessel used by the Lord" persevering against all doubts.
Champion came to the attention of Luaka Bop several years back, while putting together their excellent 2018 compilation, The Time for Peace Is Now: Gospel Music About Us. All those miles put on the map, it was back home—the 37th Street Baptist Church in Oakland, California—where it all came together, the label discovering Champion on the church's YouTube channel, administered by their pastor Bishop Dr. W.C. McClinton. Later that year, two nights of recording sessions were assembled at that church, Champion bringing his guitar, voice, and a handful of songs to be joined by a group of musicians who had never played together before, including members of his congregation and his own family on backing vocals, and a spartan band of players on keys, bass, drums, and saxophone.
What results is the now posthumous (Champion passed away suddenly this past December) sole release of a man made to lay it down. I Just Want to Be a Good Man is a record of raw gospel-blues, laid down on a two-track reel-to-reel and led by a fervent and deep passion. Champion's vocals are deep and gravelly, weighted with sorrow, but also booming with belief— urging faith in the face of lost hope, against being "church hurt," a phrase he favors across these tracks. His guitar resonates in pure, analog tones. The band sounding true in their organic, under-rehearsed essence. And, spiritedly, they follow Champion wherever he may lead them.
And lead them he does, on the gently grooving soul beat "Talk to God" — handclap percussion and drums simmering low and slow with funky stabs of synth. On the fiery "Storm of Live (Stand by Me)," they blaze a blistering downbeat display of vulnerability, Champion professing: "sometimes I get weary … I'm not able to see my way," and conjure a stirring lo-fi spirit on the fearlessly searching "Who Do Men Say I Am"—a scratchy Champion ripping righteous over a close shuffle beat. A steady guitar groove, key zaps, and the distant, eerie background vocals coalescing into a timeless take.
On the album's closing moment, "I Want To Be A Good Man (To Be Used, by You)"—the second of two pseudo-title tracks—things are pared back down. Champion alone on his guitar, reaching down to shout guttural growls of service in song. Knowing the duel with the devil is never finished, he marches on in the spirit of a spontaneous revival. His vessel coming to realization—now committed to tape and time. | c depasquale
Aquarium Drunkard is powered by its patrons. Keep the servers humming and help us continue doing it by pledging your support via our Patreon page.