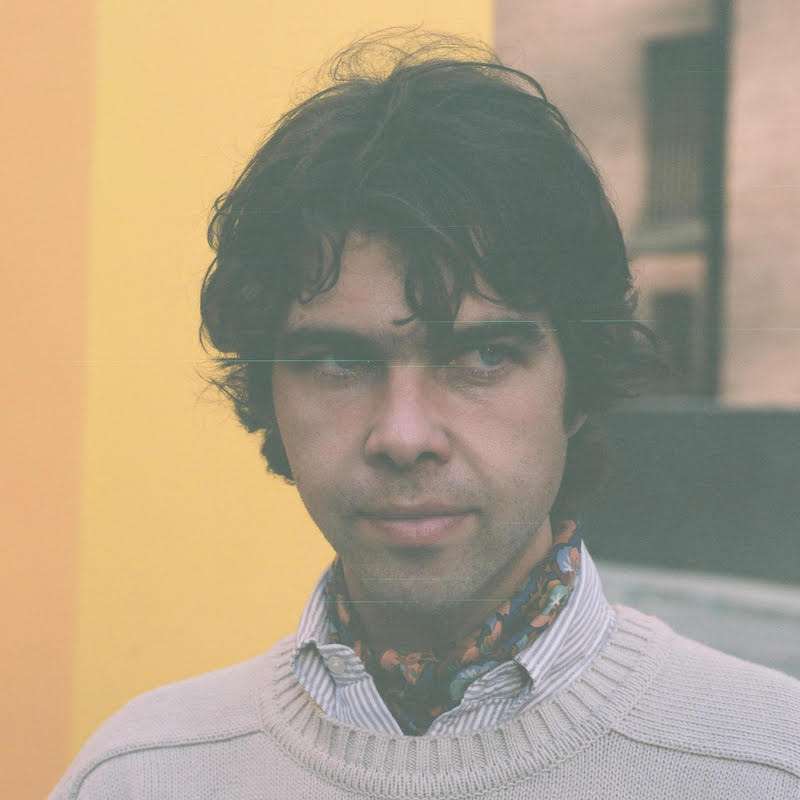 Back in June 2020, I was sent an album by Sagittaire, the alias of LA's Ivan Mairesse. The title Lovely Music was the first thing that intrigued me, especially when my suspicions were confirmed that he was playing tribute to the late "Blue" Gene Tyranny and his label. After pressing play, I was immediately dazzled by Sagittaire's melancholy pop songs with ornate arrangements bumping up against Fripp & Eno-esque guitar tones, all guided by his tender vocal delivery. A new favorite artist emerged out of the blue.
My writing on Sagittaire captured the attention of Org Music, who are now teaming up with Aquarium Drunkard to release Lovely Music on vinyl for the first time. As it turns out, this album is just the tip of the iceberg for Mairesse, with at least three other records of varying styles in the pipeline for the future. We caught up over Zoom for a conversation. | j locke
---
Aquarium Drunkard: Hello! Where are you right now?
Ivan Mairesse: I'm at a studio called Panoramic House in Stinson Beach. It's in West Marin in the Bay Area. I was recording my new album and I'm house sitting for a few days. It's a really incredible place.
AD: Who runs the studio?
Ivan Mairesse: This guy John Baccigaluppi has run the place for a while, and he's filled it with all of this amazing gear that he's accumulated. It's spread throughout the house, but John's not working as an engineer anymore. He's hired someone else to take care of the house and do most of the recording sessions. That's Jeremy Harris, who I worked with. John was involved in Tape Op Magazine early on, and was one of the founders of that.
AD: He sounds like a major gearhead.
Ivan Mairesse: Oh yeah! The gear here is unlike anything I've seen. The collection of synthesizers is just out of control.
AD: I read that you didn't start releasing music until you were 25. What were you doing before that?
Ivan Mairesse: I've been a music obsessive since I was really young. In high school, I started DJing and collecting records, probably from the age of 15 to 22. I wrote about music in college and had a radio show, but I never played in bands. For whatever reason, I didn't have that sort of confidence. I was pretty sheltered and focused on consuming music, diving deep into so many different areas.
At first, I was really into indie rock – Pavement, Yo La Tengo, Stereolab, Tortoise – but then in high school I started reading The Wire. That led me to John Fahey, electronic stuff like Aphex Twin, and the whole strain of free-improv with bands like Jackie O Motherfucker. I was also really into hip-hop and combining that with older records when I was DJing. I just wanted to listen and take in everything I could for years before I started writing music. It was very important for me to do something that felt right.
That said, it's also important to not take it too seriously. In my early years of songwriting, I felt a lot of pressure when I was entering into that world, and projected a lot of importance onto the endeavor. I had to let go of that.
AD: Was there someone or something specific that inspired you to start writing?
Ivan Mairesse: It was at the tail end of college. I took a semester off and was living with my mom in Mississippi. There was a two-month period where something happened in my brain and I decided it was time to pick up a guitar. I was 23 when I wrote my first songs. I had also played in these groups in Madison, Wisconsin – which is where I went to school – that were influenced by that free-improv, noise music thing. That wasn't really my own voice at work, though. I was just collaborating with other people for fun.
AD: Madison is where you met Joel Shanahan, who records as Golden Donna, right?
Ivan Mairesse: Yes, exactly. My last year in Madison had a very strong impact on me. Joel was there, alongside Zola Jesus, Julian Lynch, and Peaking Lights. There was a huge scene that just organically appeared. Peaking Lights had a clothing store called Good Style Shop where they put on shows. They were the first people in my experience who were very welcoming. A lot of people came out of the woodwork and started hanging out. The experimental scene was very insular before that. Just a group of people doing their thing and not inviting anyone.
AD: That checks out.
Ivan Mairesse: It's like a secret club! I ended up playing with some of those bands, but it took a while because I was a younger person who wasn't from Madison. I got closer to some of the locals through having a radio show where I played older, obscure music. I also curated an experimental film series. People with similar interests eventually find each other.
AD: You've said you like to inject a bit of darkness or conflict into your songs, even if they sound light and poppy, and have cited Jim O'Rourke as an influence on that. What do you do to achieve that quality?
Ivan Mairesse: It depends on the particular pieces of music I'm working on. For Lovely Music, I was trying to achieve some kind of conflict because the songs had an immediacy and a lightness on the surface. I wasn't necessarily trying to undermine the poppiness. The music I'm drawn to the most has a bit of conflict between what sounds approachable and easy to take in. When you listen closely, there's something a little bit off or uneasy.
On that album, I was trying to emulate a '70s pop-rock sound, but doing it in my way. The phrasing and lyrics could only come from me. That's why I like Jim O'Rourke's musc. He borrows things from the sounds of records he loves, but the lyrics are so idiosyncratic. That's what makes it his. He upends these influences that he wears on his sleeve by including a weird, personal touch. That's what I tried to do.
AD: I was initially drawn to it because the album was named for Lovely Music, the label that releases "Blue" Gene Tyranny's albums, which I know you love too.
Ivan Mairesse: I wanted to call it that because I'm a really big fan. Lovely Music is a record you can listen to and not gauge that I was into that sort of thing, because it's pretty poppy and straightforward sounding. I come from a background of experimental music, though, and am interested in the long-lasting influence that started probably around the same time as the pop music I was listening to. That music is as important to me as Big Star and Fleetwood Mac.
AD: It's a nice little nod in the same way that Jim O'Rourke named albums after Nicolas Roeg movies.
Ivan Mairesse: Exactly! I'm glad you got it, even though I'm sure a lot of people won't. [laughs] In terms of playing with darkness, I was also trying to do that with the arrangements and the production. Along with acoustic fingerpicking I would include feedback sounds and other conflicting musical choices. That adds an unexpected sonic detail that you might not typically find. I didn't want it to have a completely nostalgic or quote-unquote retro sound. Everything I like combines a bit of new with old.
AD: Lovely Music has come out in a few ways now. First on your label, Drury Lane Music, and now it's being reissued by Org Music and Aquarium Drunkard. Do you feel like you're introducing yourself to listeners each time?
Ivan Mairesse: Yeah, in a way. I wanted the record to come out on another label originally. I had accumulated a lot of music and wasn't sure which album I wanted to come out first, because I actually recorded Saravah Rollercoaster around the same time, and finished Lovely Music a few months after. They were both real labors of love that took a long time. I think it was a three-year process to get the albums done. At a certain point, I started Drury Lane as a digital label to put the first one out because I didn't want to wait anymore.
AD: Saravah Rollercoaster is yet to be released, right?
Ivan Mairesse: It hasn't come out yet, but I'm not sure if Drury Lane is going to turn into anything. I'd love to have the label continue, but that was a last minute decision to release Lovely Music digitally. That was a really difficult period in June 2020 when the world was falling apart.
AD: It was so hard to focus on music then, but when I heard your album I couldn't help but respond to it and love it, even though I wasn't really thinking about writing at that moment. It was difficult timing.
Ivan Mairesse: I was really surprised and pleased that Aquarium Drunkard was able to write about it. I almost didn't want to put it out because of the state of things in the world, but there's always going to be a reason to push it back, so I decided to just do it. I feel like a lot of people haven't heard that record because it fell by the wayside a bit, and I completely understand why that happened. I really hope more people hear it with the reissue.
AD: Can you tell me a bit more about Saravah Rollercoaster? The instrumentation sounds like it's a lot more elaborate on that album.
Ivan Mairesse: My mind was in two different places. I was writing these abstract pieces that were more like longform songs, influenced by Talk Talk's two albums Spirit of Eden and Laughing Stock, and Robert Wyatt's Rock Bottom. Those albums have epic songs that are more like art pieces than pop. Saravah Rollercoaster has two eight-minute songs that are basically three songs in one. I had never done that before, so it took a long time to get it to work. I recorded with a bunch of musicians and accumulated all of these parts, so we had to shape that into something that made sense.
While I was working on that, my mind went in a different direction and I started writing the Lovely Music songs. I'm also into nice, concise pop songs that pack a lot into a short period of time. I was thinking about Big Star, Bill Fay, Judee Sill, and Tusk-era Fleetwood Mac. That music is very important to me, and I think after working on longform, abstract songs I wanted to do something that was challenging in a different way. That was Lovely Music, and it was putting together a shorter album that had an urgency and immediacy to it. I ended up making these two records back to back that are companion pieces in my mind. Saravah Rollercoaster is part of the Lovely Music story. They're two sides of the same coin. Thematically, they're both autobiographical about me coming into myself as a person and a musician. The language is pretty abstract, but it's all there if you listen to the words.
AD: To conclude, can you tell me about what you're working on now?
Ivan Mairesse: I demoed a lot of music during the lockdown because I wasn't working a day job. I demoed a whole record, and put more work and attention to detail into that process than I ever have before. That made it a lot easier to go into the studio and recreate it. We just finished the tracking a few days ago. It's pretty different, but it seems like a perfect follow-up to both Lovely Music and Saravah Rollercoaster because it's kind of like the combination of the two.
I feel so removed from both of those albums at this point because they were started four or five years ago. This new album is more of a reflection of the last couple of years of my life, but I also wanted to stay away from having the subject matter be too personal. I played around with that and sang through the voice of other characters, in my own way.
I'm also working on a full-length instrumental record. Half of it is ambient synthesizer based music, and the other half is minimal orchestral arrangements of brass, woodwinds, and mallet percussion. It's still pretty homemade with a limited budget, but I am getting musicians to play those parts. Both that record and the songs record are really big projects, and I've also been working on some singles that are separate from both of them.
AD: Do you think Lovely Music is a good introduction?
Ivan Mairesse: Lovely Music is the first album people will hear, but there's all of this other stuff too. I almost feel insecure about it because the songs are catchy. Eventually when I put more music out, I hope people will realize it's just one side of what I do.
Aquarium Drunkard is powered by our patrons. Keep the servers humming and help us continue doing it by pledging your support via our Patreon page.