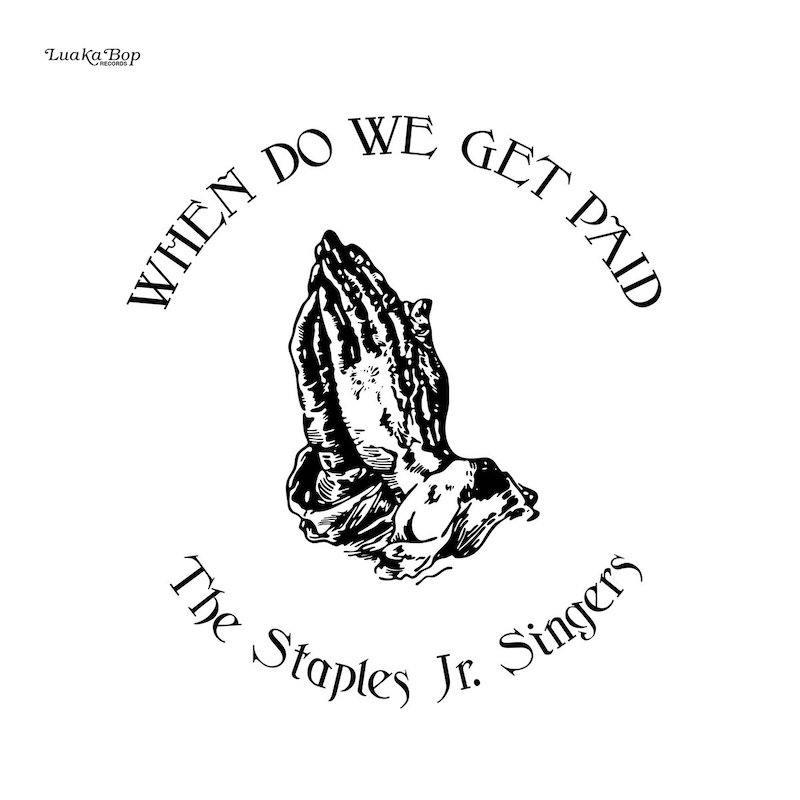 Luaka Bop continues to do the lord's work: following last month's release of Pastor Champion's fervent gospel, now, a reissue of the ultra-rare 1975 record, When Do We Get Paid, by teenage family gospel band the Staple Jr. Singers. Annie Brown Caldwell (14, vocals), A.R.C. Brown (15, guitar), and Edward Brown (16, vocals) grew up in Aberdeen, Mississippi, and started playing school talent shows, local churches, and neighborhood front yards. As their reputation grew, they soon started booking weekend shows across the Delta and the Bible Belt, and pressed their own copies of their sole record to be sold and shows and on their front lawn. 
That record, as so many do, came along with a little luck: traveling gospel singer Joe Orr introduced the siblings to a studio owner in Tupelo named Big John. They brought in brothers Corl Walker and Ronnel Brown (all of 10 or 11-years-old) to fill up the rhythm section on drums and bass, and proceeded to lay down original songs the lyrical depth and musical singularity of which belies the Staple Jr. Singers' youth, but testifies to their experience.
Edward sings like a man twice his age—soulful, weary, and impassioned, but sometimes daggered with hurt. A.R.C.'s guitar resonates clear as a bell, plainspoken and homegrown. And Annie's bellowing, screeching spells are pure, haunting gospel; as raw as it gets while conjuring incendiary funk. "I can be a witness," Annie tells Luaka Bop. "Back then you could feel it. You were basing it on yourself. These are the songs that are really going to take us over." The Browns drew from the pain and sorrow of the poverty and racism they knew so intimately & the struggle and strife they watched their parents power through. And they did so with a confidence and command of their own repertoire and sound that's likely more awe-inspiring now than it was when first received.
The Browns had a unique eclectic sound, unpracticed yet perfected in its singularity. Their youthful, sponge-like sensibilities emit a gospel of multitudes. Across 13 tracks, they step sure-footedly into plaintive, rural blues, stomping shuffle-beat soul, and ecstatic, electrified chants. The title track carries a swaying, heavenly harmony while "On My Journey Home" jumps with a feverish revival energy. On the dueling "Somebody Save Me," Annie and Edward conjure a lean, tempted downbeat blues with A.R.C hounding a guitar line so devilish it verges on the secular. An organ gleams and piano keys dance on the paradise-bound blues of "Trouble of The World," the brothers and sister of the Staple Jr. Singers—sounding ageless, timeless, and electrified—crafting their own tome for eternity. | c depasquale
Aquarium Drunkard is powered by its patrons. Keep the servers humming and help us continue doing it by pledging your support via our Patreon page. For heads, by heads.