A good way to start an argument is to ask fans to name the very best Yo La Tengo record. You'll get someone who says the band peaked with Painful or a latter-day Fade booster. You'll get a Fakebook lover or even a New Wave Hot Dogs freak. It's a testament to the width and breadth of YLT's sprawling catalog that there's really no right answer (Well, maybe not Ride The Tiger.).
However! If you had to pick one album that encompasses the awesomely eclectic nature of Yo La Tengo's vision, 1997's I Can Hear The Heart Beating As One is your best bet. It's got it all (almost), careening from crunchy noise-pop to spacey ambient, from free-form experimentalism to delicate balladry, from homespun electronica to blown-out Beach Boys covers. Somehow, the band fits all these puzzle pieces together, creating a masterful whole. The double LP's closer aside, this isn't a little corner of the world, it's an entire galaxy.
With I Can Hear The Heart Beating As One celebrating its 25th anniversary this spring and a "revisionist history" edition on the way from Matador in a few months, we took a deep dive into the album's 16 tracks with Yo La Tengo's multi-instrumentalist James McNew. | t wilcox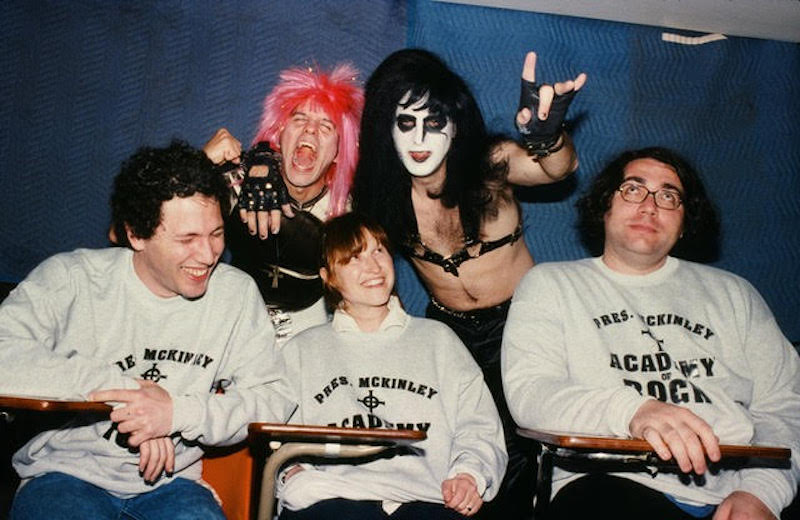 ---
"Return to Hot Chicken"

Aquarium Drunkard: Tell me about your first Nashville hot chicken experience.

James McNew: The first time we worked in Nashville was when we made Electr-O-Pura which would have been in the fall of 1994, I think. We had worked with our producer Roger Moutenot on Painful and in the interim, Roger and his family moved to Nashville. We still wanted to work with him because we had had such a great experience on Painful. So we thought: "Why don't we just decamp and go to Nashville?" And we were there for two or three weeks. We'd never really done that before. We'd never had such a big amount of time to make a record, be away from home and just be immersed in making a record. And it turned out to be extremely enjoyable and really rewarding, so we did it again for the next couple records.
But when we were down there the first time in '94, we really didn't know anybody there. We sort of knew Lambchop, but not personally. We had seen them play at the Merge 5th anniversary, and we said, "This band is amazing." But we had a mutual friend in the band Versus, Richard Baluyut, and he sort of arranged a playdate for us and Kurt [Wagner] and Jonathan Marx, and everybody. And when you're friends with Lambchop, all of a sudden, you have 15 friends in Nashville. I think there were that many members at that point.
Richard, after that amazingly successful matchmaking for us, also suggested Prince's Hot Chicken. He said, "You're gonna like this a lot." And we did. It blew our minds wide open. To this day, I can still remember going in there for the first time and asking for "Extra Hot" and the response being: "Have you been here before?" "No." "Then you can't have Extra Hot." "All right!" They were right. That location is since gone — the one on 123 Ewing Drive. Someone drove through the front of the restaurant several years ago, and they never reopened, sadly. I think the new spot is on 8th Avenue. I haven't been yet – I'm ready to go. The gentrification of hot chicken has been super weird. It's all over the place now. But the real thing is just the best. I was also a huge fan of Bolton's in East Nashville. They have the hot fish sandwich, which is totally incredible.
"Moby Octopad"

AD: Are you playing the bass line all the way through on this one? There's no looping involved, is there?
James McNew: No. That was pre-looping technology for us. It's kind of evident in my bass playing style that I like to play one thing over and over again forever [laughs]. I find nothing more pleasurable than locking right onto something like a pit bull and not letting go. I like that very much.
AD: Did this song feel like a breakthrough when you were recording it? I'm not sure if there's anything quite like it that Yo La Tengo had done before.
James McNew: I can't speak for everybody, but I don't think I thought of it as a huge departure. The way that we would rehearse, we would just try all kinds of things. It reminded me of things that we had done in private. It didn't feel like walking out on a limb or anything. It felt pretty natural.
AD: Was it a tough song to pull of live?
James McNew: We recorded it and didn't touch it for years — just kind of forgot about it until we did a tour in 2000 with David Kilgour and Mac McCaughan as auxiliary members of the group. And we did it with them for the first time where they fleshed out the instrumentation. Since then, we've figured out ways to do it with just the three of us. It's in fairly regular rotation now.
"Sugarcube"

AD: The video for "Sugarcube is easily one of funniest music videos of all time. What are your memories of making it?
James McNew: We had made the video for "Tom Courtenay" — and the "Sugarcube" video really felt like the major motion picture version of "Tom Courtenay." For "Tom Courtenay" we stayed at home to make it. We filmed at the Holland Tunnel and Mercury Lounge and places like that. For "Sugarcube," we actually went to Los Angeles. Hollywood! [laughs] Though it was actually Santa Monica Community College. It was just so much fun. All I remember is us laughing all day long at the things that Bob [Odenkirk] and David [Cross] were coming up with. A couple of our friends are in the video — the members of the band Refrigerator — as fellow students at Rock School. It was just amazing to do this thing together. It still doesn't seem possible. Bob and David were amazing. They were absolutely 100 percent committed to the idea and really went above and beyond anything anyone could have expected out of them.
AD: The primary question we all have for James McNew about this video: do you like trip hop?
James McNew: [Laughs] You know, I bet some of it holds up. It's been a while. I mean, what was trip hop? Is Tricky trip hop? Or was he something else? That might hold up. Massive Attack — do they count? Anyway, at the time, everybody was talking about it.
AD: Speaking of hilarious things, I've always loved the I Can Hear The Heart Beating As One insert with all of these fake bands and records. It never fails to make me laugh. How'd that come about?
James McNew: That was all of us and our friend Peter Walsh who was the drummer and one of the singers and songwriters in the band Hypnolovewheel. He also did sound for us right around that time, so we saw each other a lot. He passed away last summer — he was an amazing dude. That insert came from one drunken night at Ira and Georgia's place where the four of us came up with pretty much everything for the sleeves. And then, Mark Ohe, who was the art director at Matador, put so much work into that. I think he enjoyed himself [laughs]. But it was like, "OK, Mark, here's the art for our album cover … and here's 14 more album covers that we would like you to mockup." He nailed it. It still makes me laugh.
AD: It's the debut of the Condo Fucks, too, who would become your alter ego a few years later.
James McNew: I believe the Condo Fucks actually existed prior to that … I mean, on paper. Georgia did the art for a Homestead Records compilation called Human Music. While she was mocking up the artwork, she was putting placeholders for where the band names would go, and she would just make up fake band names. I believe the Condo Fucks were one of them. That would put it at '89 or '88. That's a good compilation.
"Damage"

AD: Was your songwriting approach changing around the time of this record? I know starting with Electr-O-Pura you were all sharing songwriting credits.
James McNew: Yeah. Right around the time of Electr-O-Pura. And at the same time, we made a record with Jad Fair that was basically improvised on the spot. That kinda pushed us towards working that way. We saw that we could work really well as a committee. And that's been the way we've done it since then. It's definitely uncommon, at least as far as I've seen with other bands. It also means that we work pretty slow for the most part.
But my memory of "Damage" is that it did come kind of easily. I think we were becoming more comfortable with more atmospheric playing. On that song it leans that way. It becomes weird, after being alive for so long, that we do kind of feel suspicious when something is that easy. We're like, "Ehhh, I dunno. Let's change it somehow." And then we have to really think: is it really so bad that something comes easily after being together for a hundred years? I don't think it is.
"Deeper Into Movies"

AD: This one has been a live standard for years now, just a huge, powerful song. Let me ask you this — what's it like playing with Georgia Hubley as a drummer?
James McNew: It's awesome. She's a powerhouse. I just set up right next to the snare and we're good to go. I think she's an incredibly dynamic and really sensitive drummer. It's a challenge and a blast to roll along with her. I love it. I've played with other drummers and it's super different to play with someone who plays at just one level of intensity or volume.
AD: I don't think I really knew the lyrics to this one fully until the acoustic version you did a while back. Does the band write lyrics together, too?
James McNew: Lyrics are something that develop more on their own. Someone will start with something and then it'll come to the group, and we finish it. Lyrics are usually the very last thing to happen in the process. Usually everything is done, and we just need words to sing. We know how the melody is going to go, we just need words. That's usually the last step. Back then, and probably not as much now, we leaned towards burying the vocals in the mix a little bit.
AD: The title is a Pauline Kael reference — was that just a working title or did it have "deeper" significance.
James McNew: Gosh, I don't remember. Sometimes working titles just stick around. We were going to the movies a lot in those days.
"Shadows"

AD: "Shadows" is one of my favorite Georgia Hubley vocals — but it's also got Jonathan Marx from Lambchop playing a great trumpet solo, too. How'd he end up on this song?
James McNew: We did a tour with Lambchop around when Electr-O-Pura came out and we became pretty close friends really fast. I think Jonathan was pretty perplexed that we asked him to come down and play [laughs]. He's a very humble fellow. I thought he did a really beautiful job. I heard it on WFMU about a month or so ago and I dropped him a line. "I heard you on the radio, still sounds great." And he said, "Yeah, I still don't know why you guys asked me to do that!" So it's the 25th anniversary of Jonathan thinking that maybe we were putting him on [laughs].
AD: He nails it. It's a great addition to the Yo La Tengo sound.
James McNew: I think we were becoming more open to playing with other people. We were still playing mostly with our friends, but we did get the slide and steel guitar player Al Perkins on this album. We didn't know him. We just looked him up when we got to town, and he came over and played on maybe three songs? It was amazing.
"Stockholm Syndrome"

AD: "Stockholm Syndrome" is kind of your big debut as a lead vocalist with Yo La Tengo. Another expansion of the Yo La Tengo galaxy! Did it start out as a Dump song?
James McNew: It did. It was a song I'd come up with on my own. I recorded a version of it that could've appeared on [Dump's 1997 LP] A Plea For Tenderness. But it went the other way. Sometime right around then, I played a Dump in-store at Other Music as a duo with my friend Dave Ramirez from Hypnolovewheel, and we played it then. Then, the next time Yo La Tengo practiced, Ira and Georgia said, "Hey, how does that song go?" And we took it from there.
Originally, "Stockholm Syndrome" had an extra verse at the end. I don't even remember what was in there, but we shortened it for the Yo La Tengo version. There's a great thing on YouTube — the original multitrack live recording of "Purple Rain" that winds up on the soundtrack. And there's a whole extra verse right in the middle of it that just does not go with the rest of the song. It's about partying, and it's like, this just does not fit! "Cut that out!" I can relate.
"Autumn Sweater"

AD: "Autumn Sweater" was the first single from the album and I can remember being pretty surprised by it — like, did Yo La Tengo lose their guitars? How'd this song develop? Was it more of a standard arrangement at first?
James McNew: It started out that way. My memory is that it came together kind of fast. We had recently purchased the Farfisa Compact Deluxe, which had an extra octave of bass keys. I think that plays a big part in the song. That was the first two-drummer arrangement that we had. We would do that in our practices a lot; we shared practice spaces with other bands and there would often be two drumkits set up.
It's funny — again, I can see in retrospect how people might think, "Wow, that's totally different!" But it felt so in rhythm with how we were working at the time that I didn't think twice about it really. When I first started playing with Yo La Tengo, Fakebook had just come out. People were still coming to shows expecting to hear acoustic songs. And it was not that. We were playing "Mushroom Cloud of Hiss" for 10 minutes. I remember a commonly repeated thing in previews for our shows was: "You don't know which band you're gonna get!" I guess we had come to terms with that. And we were hoping other people would, too! You're going to get Yo La Tengo. We do all of these other things. Whatever we do together is a Yo La Tengo song. We felt really comfortable changing and growing. We liked incorporating different feelings into what we did.
AD: There was a great "Autumn Sweater" remix EP that came out prior to the album. The big question here has to do with Kevin Shields. How did you get him to say he'd do a remix — and then how did you get him to turn something in?
James McNew: We opened for My Bloody Valentine in 1992 for what was their final tour in America before the reunion. Late June and early July of 1992 — and then they disappeared for, what, 20 years? But we became and remain friends. We approached Kevin about doing that remix and we were very excited that he said "Yes." I love what he did with the song.
"Little Honda"

AD: Is it safe to say that you're the biggest Beach Boys fan in Yo La Tengo?
James McNew: It's not a competition [laughs]. Everyone's in on that.
AD: Where did the idea to do "Little Honda" come from?
James McNew: Ira did a set by himself, which he almost never does, but I think he played "Little Honda" at a solo thing in Germany. And right when he got home, we said, "Let's do that." It worked right away. It's so much fun to play.
AD: I was always surprised that you left out the chorus backing vocals! Did you ever try those out?
James McNew: You know, I never did. It seems more malevolent without them. It's kind of vaguely threatening, which I like.
"Green Arrow"

AD: "Green Arrow" is the beginning of side three. Did you always know that this was going to be a double album?
James McNew: Once we realized how many songs we came away with from the sessions in Nashville, we did start thinking: "Double album." That certainly made it easier.
There was an earlier version of "Green Arrow" that came out as a single — a 4-track recording that we did at our practice space. It may have been called "Blue Green Arrow" then. I guess I can reveal that I lifted that bass line from my memory of a Tara Key album that had just come out. I had that song in my head all the time and I'm pretty sure it came out when I started formulating that bass line. So I really owe Tara.
"One PM Again"

AD: We mentioned Al Perkins' involvement with I Can Hear The Heart Beating As One — what was it like playing with him on "One PM Again"?
James McNew: He was delightful. Total pro. He rolled up around lunchtime with a big case full of instruments and was down for anything. We were throwing these crazy songs at him and he was ready to go. And then of course while he was packing up, we had him tell us stories about everyone he's played with. It was really great. A really, really fun couple of hours … and then he was gone [laughs]! He moved on pretty fast. But we all cherish that afternoon.
AD: Yo La Tengo has played with all kinds of legendary musicians over the years — how do you approach collaborating these types of characters? I can imagine it can be a little nerve-wracking when, say, Alex Chilton shows up to play with you.
James McNew: Yeah, it's insane. I couldn't have predicted it ever in a million years. We never plan them out. But these unbelievable opportunities would arise to play with — and in some circumstances to become friends with — these people that you've idolized since you were a child … it's overwhelming. I always shy away from talking about it because I don't want to jinx anything [laughs]. I think, "I don't want to scare anybody away!" But the fact that we've worked with Yoko, Neil Innes, Alvin Lucier, Alex Chilton, I mean, it's crazy to think about. The countless amounts of people who have joined us at Hanukkah. The Sun Ra Arkestra! It's something that I really treasure and am really very proud of.
"The Lie and How We Told It"

AD: The three-part vocal harmonies on this one are beautiful — had you been consciously trying to bring that element of your sound forward more?
James McNew: No! We were so intimidated by it. We were so surprised that we managed to pull off the harmonies in that song that we've never played it live. Since the moment we finished the recording, it's never been touched.
AD: No kidding! That's gotta be pretty singular in the Yo La Tengo catalog.
James McNew: I believe it is singular. One of these days, maybe we'll revisit it?
"Center of Gravity"

AD: This is one that just feels like a classic right off the bat — I think I assumed it was a cover at first. Were you listening to a lot of Tropicalia at the time?
James McNew: At that time, I don't think we really were. I knew about Os Mutantes in the late 80s and early 90s from friends passing around cassettes of those records. There was no way on earth you could actually get them then so I had like fourth generation tapes. But no, I think we were thinking of it more like … I don't want to say easy listening, but something light and breezy. And we had a drum machine setting. That might be the first appearance of a drum machine on a Yo La Tengo record — the Casio keyboard drum machine. It got used a lot after that.
"Spec Bebop"

AD: We go from the beaches of Brazil to "Spec Bebop." I think this is the most radical mood shift on the album. You're playing drums here, right?
James McNew: Yeah, I'm on drums. I can't remember how long the version on the album is — I know it's over 10 minutes — but "Spec Bebop" was cut down from an even longer recording. I don't think it occupied an entire reel of tape, but it might have been close. It's just us going wild [laughs].
It's another thing that we had always done. We actually had this whole other band called Sleeping Pill around 1992 or so where we would just play for an hour, unbroken. Ira would put together this tape collage — he'd do a different one for each show — and Georgia and I would play drums. There would be some kind of a drone underneath it, an organ usually. I guess they call that "durational music" — long pieces without stopping. Again, as crazy as "Spec Bebop" may seem in that context, being from the band that brought you our version "Speeding Motorcycle," … it felt just like rolling out of bed for us. Totally normal.
"We're An American Band"

AD: What came first, the idea of paying tribute to Grand Funk Railroad with this title, or the song itself?
James McNew: If I remember correctly, the title came after the lyrics. Maybe right at the same time. It was our version of lyrics to a Grand Funk Railroad song: We're gonna tell you how it is, just like Grand Funk [laughs]! That's kind of what it's like being an American band, just on a slightly different scale than Grand Funk [laughs]. We were talking about missing verses earlier and Grand Funk Railroad probably left out a verse from the original version about having your flight canceled and having to take a bus to Akron to play the next show. You know, losing the snare drum case and having to go get another one. Those are two verses Todd Rundgren told them they had to cut [laughs].
AD: The question that your lyrics never answer — did you go see Big Bully or White Squall?
James McNew: I believe we divided and conquered that day. I'm pretty sure that was a day off in Athens, Georgia, and that's what we did.
AD: You guys have played "We're An American Band" by Grand Funk too, right?
James McNew: Yes, we would do it often! Ira would take the lead and Georgia would come in and Don Brewer it.
"My Little Corner of the World"

AD: Do you remember where you first heard "My Little Corner of the World"? 
James McNew: Somewhere in Florida we bought a record of a guy. It was a private press record that you got for a quarter. He may have been playing in a casino of some kind? Or maybe on a ship? I can't remember, but that song was in his set. I had never heard it before. I don't think any of us had heard it before. We thought that he wrote it! We said, "This song is amazing!" There were no credits, so we thought that we had discovered an amazing songwriter. Somehow, Ira's mom heard us doing this song and she started singing along! We were like, "Do you have this record?!" "No, it's a famous song!" "Really?!" So, we discovered that yes, it was a well-known song.
Georgia performed it first at a Chickfactor related show at the Fez in New York City sometime before we made the record, with Ira and our friend Bruce Bennett playing guitars. That was the first time it was played. The second time was the next practice we had. I made them teach it to me.
AD: And Ira's mom has taken over singing this song at your Hanukkah shows.
James McNew: Yeah, she nails it. Talk about playing with people that you idolize and love! There's not that many people that I can think of who get to work with their mom. That's fuckin' awesome [laughs]!
Only the good shit. Aquarium Drunkard is powered by our patrons. Keep the servers humming and help us continue doing it by pledging your support via our Patreon page.