When an artist dies young, we're often left wondering what could have been and looking for clues among their final records and performances. In the case of Albert Ayler, the search is especially frustrating: his death by suicide in November 1970 cut short an intense and singular career, right as he started moving in a new direction. Revelations: The Complete ORTF 1970 Recordings, a new four-CD/Five-LP set available through Elemental Music provides a tantalizing glance at some of the saxophonist's final performances: two full shows finally presented in complete form.
Throughout the mid 1960s, Ayler had pushed free jazz to new heights: one critic likened Spiritual Unity to hearing someone scream "fuck" in a crowded church. John Coltrane, meanwhile, said he learned as much from Ayler as Ayler did from him. Ayler's bands often lacked a cordial instrument, instead lashing out at listeners with intense bursts of trumpet, violin and overblown sax. Ayler's tone could be rich and deep or high and reedy, almost scratching the listener's ears. But by decade's end Ayler's music softened in tone, and by the time he recorded Love Cry or Music Is the Healing Force of the Universe, he was almost into R&B of a sort.
In July 1970, Ayler rolled into France with a band featuring his wife Mary Parks (billed as Mary Maria) on soprano sax and vocals, Steve Tintweiss on bass and melodica, Allen Blairman on drums and pianist Call Cobbs (but on the second night only: he'd missed a flight). They were booked to play two shows in late July and both were recorded by Radio France. Parts have dripped out over the years – on Live on the Riviera and Nuits De La Fondation Maeght, respectively – but both sets are presented here in full for the first time. Let's dig in!
"Music Is the Healing Force of the Universe" opens the first show, propelled by the driving rhythm section and Ayler's squawking sax. But as the music rises to a crescendo, Maria enters with spoken poetry: "It makes one want to love instead of hate," she says of music as Ayler blows in the background. It sets the stage for a night of deeply spiritual jazz, music presented as force to be reckoned with and powerfully felt by both Ayler and Maria.
By the time "Birth of Mirth" comes to a head, Ayler's hit a groove: he takes extended riffs, his blowing canvassing the map: low booms, high squeaks and even a duet with Maria's wordless vocals. Meanwhile, on "Masonic Inborn," Ayler stretches out on the soprano, his playing taking a thin and reedy sound but one that cuts through the rhythm section and sticks in one's mind: it's a powerfully felt playing.
Indeed, Maria's the wild card on this set. Her vocals are one thing, but her soprano playing adds a new element to Ayler's music. The two trade off licks on "Revelations 1," the first extended improvisation of the set. It can be a little hard to tell the two apart (at least to my ears) but each pushes the other along, taking long lines that twist and turn around each other like two vines growing on a trellis. Tintweiss' bass keeps things grounded while Blairman crashes around his kit.
While Ayler isn't remembered for his vocals, he steps up to the mic and sings on this set. On "Oh Love of Life" he sings with a voice that warbles and lacks a little polish, but comes across as heartfelt. He slowly rises in intensity and when he reaches a peak, he steps back and starts blowing his horn again for a short solo before yelping into vocals again.
A little later in the set, Ayler digs deep into his songbook for "Ghosts," a song he'd been playing since the mid-1960s. His solo builds up with short little darting phrases and segues nicely into Tintweiss taking an extended bowed solo on his bass, his tone bending and scratching like sheet metal. But on "Love Cry," things take an interesting turn: Ayler shouts and vocalizes into the mic while Tintweiss plays a sort of deconstructed melodica, music that's discordant and eerie, but imbued with a spiritual awareness. It's almost like something playing at a revival meeting.
The first set concludes with several improvised pieces. "Revelations 2" is an interesting showcase for Maria's soprano playing and for Ayler's use of bagpipes. It emerges out of a frantic drum solo, with the two horns almost attacking each other – it sounds a little like when John Zorn played Ornette's music at breakneck speed on Spy vs Spy. Meanwhile "Revelations 3" has Ayler back on sax, playing a theme over and over like a mantra while Maria goes hog on her soprano.
For the second show, recorded two days later, Call Cobbs joins the band on piano. Almost immediately one hears the difference: with an instrument guiding them along on chords, he adds a new textural element to the music. "Truth is Marching In" opens this set (another older Ayler tune), and it's played a little more deliberately than on records like Lorrach, Paris 1966: he doesn't seem like he's intent on breaking down doors, but has a more comfortable, almost relaxed vibe to his blowing.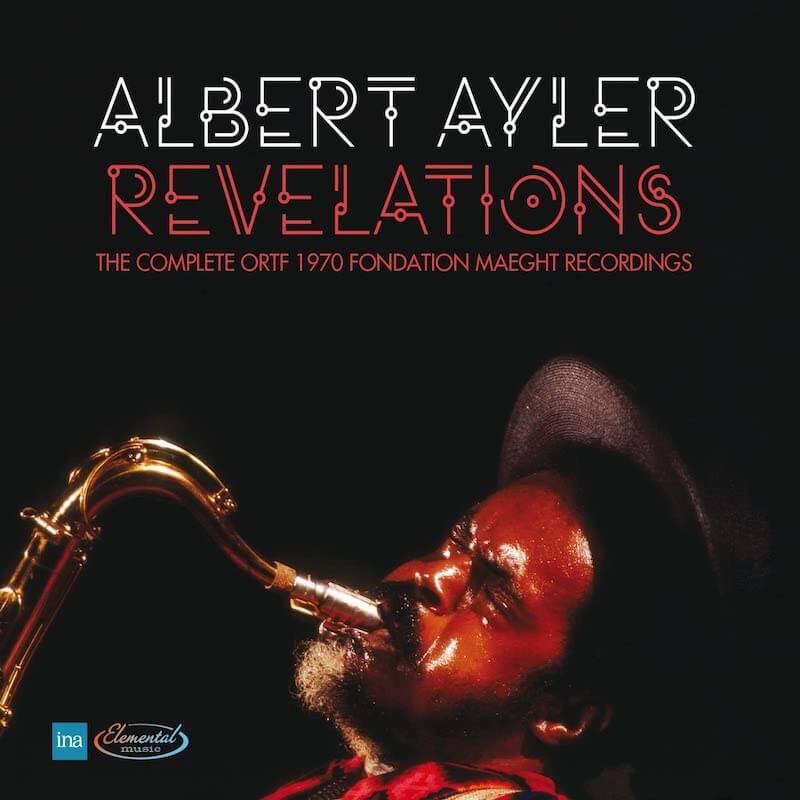 Maria makes her first appearance of the night on "Again Comes the Rising Sun," where she recites poetry against the band slowly swelling up behind her. It leads neatly into two extended pieces: "Holy Family" and "Revelations 5," a twenty-minute long improvisation. "Holy" has Ayler taking an extended solo on his horn, but near the piece's end, Cobbs steps up with a tasty solo of his own, little sprinkings up and down his piano. "Revelations 5" is more of a free for all, however. Whereas there's a stomping groove to "Holy," this one has Ayler taking long jagged lines, notes that squiggle and seem like they're being wrestled out of his instrument.
A little later in the set on "Revelations 6," Ayler breaks out a novel instrument: the musette, which has a high, buzzing tone to it. Things slow down as he feels his way around on the instrument, with Tintweiss playing slow, bowed lines and Cobb taking gentle strides across his piano. It's an interesting contrast to the bombastic fire earlier in the set, a change of pace letting the audience catch their breath but also meditative and reflective.
Finally, on the fifth LP (or fourth CD), the band returns to some of Ayler's classic themes: "Spirits Rejoice" and "Spirits," both of which the audience would've been familiar with. Comparing these two, which are almost stately and deliberate, to earlier live performances (Lorrach, Paris 1966 or European Radio Studio Recordings 1964) shows how far Ayler had come in a short period of time. No longer the intense blower of the mid 1960s, he seems more at ease with himself and assured with his playing. It's less abrasive and intense, more confident.
The set ends with another performance of "Music Is the Healing Force…", providing a nice bookend to this set. With Cobbs in tow, it's a little more reflective and feels less like a performance art piece and more like a piece of music, with Maria singing and the band gently lifting her aloft.
Revelations is a lot to take in, and it took me a couple of weeks just to digest this set. The music isn't as blistering as some of the earlier live recordings, but it's powerful and deeply felt. It's a compelling mixture of poetry and spiritual jazz, with some powerful blowing by Ayler. Within a few months of these gigs, Ayler's body was found floating in the East River, giving his career a tragic and anticlimactic end.
But between the growth of his sound, the less-abrasive performances and the interesting new tones and instruments Ayler employs on this record, one's left wondering what could have been and thinking about where his music would have gone. The playing here is powerful and spiritual, comparable to what Pharoah Sanders was doing at the same time. As John Zorn points out in the liner notes, it's something like a religious experience: "His live performances often approached the intensity of an exorcism or mystical ritual." It's hard to disagree after sitting down and taking this music in.
Indeed, a good 50 years after Ayler's death, it's about time this period of his music gets the reissue treatment. The Penguin Guide to Jazz kind of missed the point when it looked at the two abridged releases of this concert and said "it's hard to reconcile them with the great statements of previous years." These records feel less in competition with those and more as an outgrowth from them: between the way he was constantly searching for new sounds and pushing the limits of his music, and the way he incorporated the music and words of Mary Maria suggest he was headed in a bold new direction: less encumbered by the Post-Coltrane path some of his peers traveled and more something that mixed genres and styles. For him, it was a short path that ended a few months later, but this set lives up to its name and offers a few clues where that path might have led. | r milner
Only the good shit. Aquarium Drunkard is powered by our patrons. Keep the servers humming and help us continue doing it by pledging your support via our Patreon page.