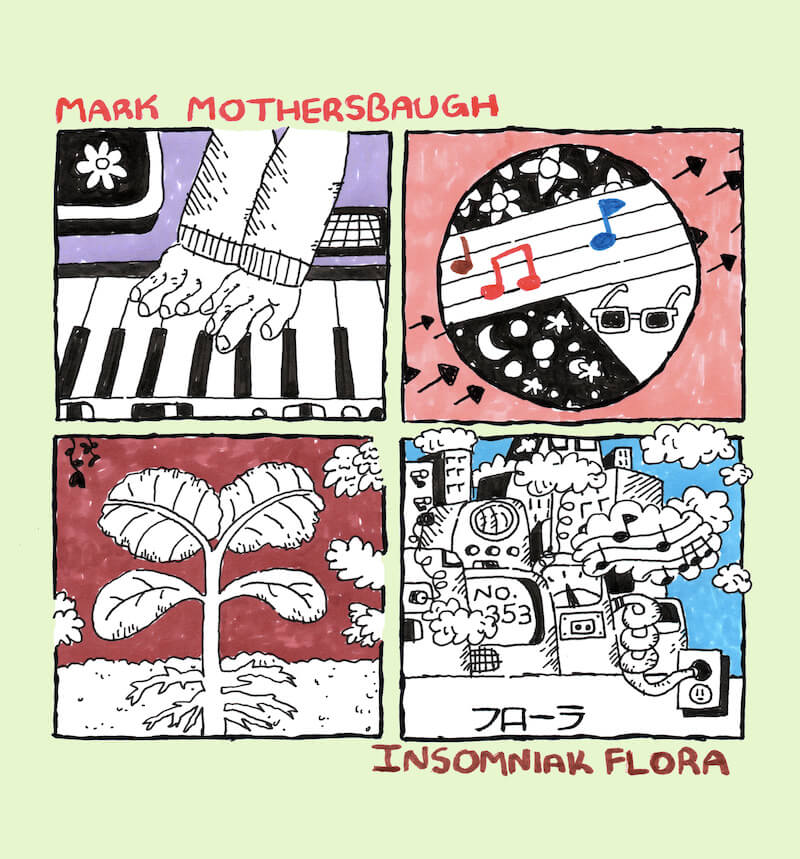 "Please play at low volume." That was the greeting in the liner notes of a peculiar rarity called Muzik for Insomniaks, a Japanese cassette release from the mid-eighties. The reminder came a couple years back, when Mark Mothersbaugh was doing bizarre live performances with, what else, but a brand new instrument he created: a six-sided keyboard. Immediately, memories triggered of this charming, strangely infectious two volume set. Recorded entirely with an eight-bit synthesizer, the instrumental soundscape playfully evokes the concept of minimalist background "muzak" (similar to Devo's E-Z Listening experiments around this era). Self-proclaimed "audio aromatherapy", the ambient tracks are reminiscent of Esquivel, Steve Reich or even Roedelius.
The prolific Mothersbaugh recently estimated that he has worked on a combination of over 180 film, television and video game projects. These early experiments, though, were responsible for the musician's early collaborations involving animation (having been previously inspired by composers like Cab Calloway of classic Fleischer cartoons). Reminiscing on a scene from Devo's "The Day My Baby Gave Me a Surprise" music video, Mothersbaugh recalls that "the ironic thing is I actually did animation for music before I did music for animation." Animator and experimental music collector Gábor Csupó came calling, asking to use the Insomniaks cassettes as the soundtrack to his new production called Rugrats. Mothersbaugh would instead create an original piece, and Csupó would go on to release music by the likes of Eno and Holger Czukay, via his own label.
The following is a one hour compilation of assorted Mothersbaugh muzak, from Insomniaks cuts to highlights from 2017's 45 RPM box set Mutant Flora. Sprinkled in are other rarities, musical pieces composed for some of the musician's visual art exhibitions. The weirder the better. | m neeley
1. Osoy 2. Anona Tribola 3. Chechi 4. Niberia 5. Echinops Riiro 6. Slactime 7. Mayoma 8. XP1010 9. Trebrene 10. Syntax Error (Sedandundundun Edit) 11. Anthericum Liliago 12. XP137
Only the good shit. Aquarium Drunkard is powered by our patrons. Keep the servers humming and help us continue doing it by pledging your support via our Patreon page.