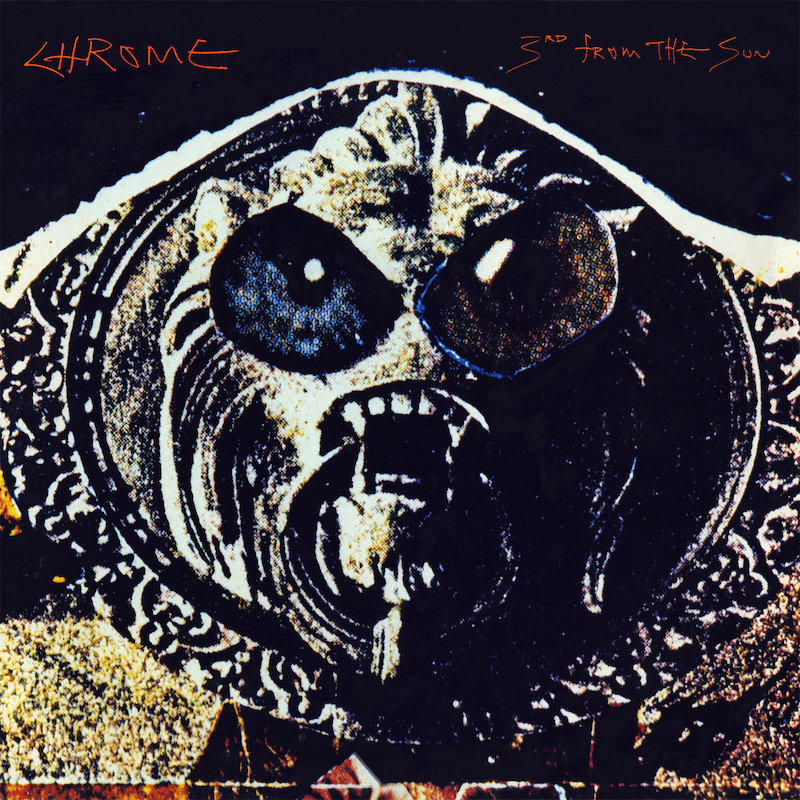 How many hours have I spent trying to determine which Chrome album is the greatest example of their diseased, dystopian imagination? Too many, but still not enough. For decades, Alien Soundtracks, Half Machine Lip Moves, and 3rd From The Sun have competed in a three-way race for the lead. Yet it's still difficult to definitively pinpoint which is THE ONE. Whatever the case, last month saw the 40th anniversary of 3rd From The Sun's release, providing an opportune time to take a closer look at Chrome's sixth LP.
Led by guitarist/vocalist Helios Creed and Moog master/vocalist Damon Edge, Chrome often got dubbed as "industrial psychedelia." And while that term's fairly accurate, it's too generic to capture the apocalyptic terror vibes heard on these Bay Area sci-fi obsessives' releases from 1977-1982. While I may listen to Alien Soundtracks more often, I think 3rd From The Sun actually represents the zenith of Chrome's foreboding worldview.
Take "Firebomb": It stands as one of the greatest side-one/track-one songs of all time, swooping into earshot with all guns blazing. Hilary Stench's bass surges into a girthy groove while Creed's guitar goes into full-on abattoir mode, sawing through bone and gristle with impunity. John Stench's beats concuss like savage whip cracks while Edge's vocals ooze in the faux-suave, confidential vein that Frank Zappa deployed on "I Am The Slime": "the way you finger my flame/you're a firebomb/the way you blow out my brain/you're a firebomb."
The grinding rock noir of "Future Ghosts" sounds as if it's writing its own eulogy. Dense with sonic information and malignant noise, it's a dirty IED fizzing in all directions. Creed—or is it Edge? How about we simply call the entity Creedge?—sings with an impertinent intonation that may remind some of Jennifer Herrema. I bet your drug money that Royal Trux are Chrome fans.
The boom-boom-BAP/bip-bip-BAP beats of "Armageddon" signal impending doom, while Creed's diabolical guitar timbres hint at Black Sabbath-esque horror, all solarized drones and sci-fi laser fusillades. Despite its title, "Armageddon" is no end-of-the-world maelstrom, but rather a poised display of scalding chaos. If one thing is clear by this point, it's that Creedge's grimaces and their mangled timbres convey Chrome's hellish thrust better than their actual lyrics, which are mostly disjointed fragments that don't resonate.
You want Gothic gloom? "Off The Line" is a glowering trudge, an indelible display of profound anguish, as awe-inspiring as medieval church ruins, as heavy as the extinction of a species. Fabienne Shine's backing operatic wails only deepen the despair. The title track elevates like a charred hovercraft, using Creed's excoriating yet exquisitely crafted guitar skree for fuel. This is the logical, extraterrestrial extension of Black Sabbath's monolithic doom mood, exacerbated by Creedge's magma-gargling vocal grotesqueries. It took titanium balls for Prong to cover it.
We couldn't ask for a more apt finale than "Shadows Of A Thousand Years." This song really feels like the termination point of the human race. The riff descends hellward with inexorable grimness and the beats sound like they're marching to the electric chair; Shine's shrieking, ghostly vocals seal the infernal deal.
3rd From The Sun was the last album of Chrome's imperial phase, and it cemented their status as one of the most inhuman and superhuman rock bands that America ever produced. More people need to recognize. | d segal
For heads, by heads. Aquarium Drunkard is powered by its patrons. Keep the servers humming and help us continue doing it by pledging your support via our Patreon page.