On a chilly mid-December evening in 2021, prior to the rush of the holidays, a new era in jam was born. With nary a note being heard, the band — whose collective pedigree was known — took to the stage in front of a sold out crowd at Gold Diggers in East Hollywood, CA. What came to pass was a truly communal performance, with jaw-dropping displays of musicianship, fully-realized potential and an epic set of tracks. Featuring Dave Harrington (DARKSIDE), Alex Bleeker (Real Estate, AB & the Freaks), Chris Tomson (Vampire Weekend), and Zach Tenorio-Miller (Arc Iris), Taper's Choice firmly arrived and have since built upon that night with style, humor, and a reverence for history… and jams, man.

Things caught on quickly. Following that night, Taper's Choice have rolled through a smattering of dialed-in shows: more nights at Gold Diggers, Big Sur freakouts, New York rooftops and playing amongst the wine vines of Sonoma. Tapes have followed, archives devoured and if it feels like the bus is off and rolling, it most certainly is. We caught up with the members out front of their inaugural festival (Choice Fest) to get a bit more detail about what's ahead for the band, how fast things have come together, and much more. We'll see you on the lot. | t hale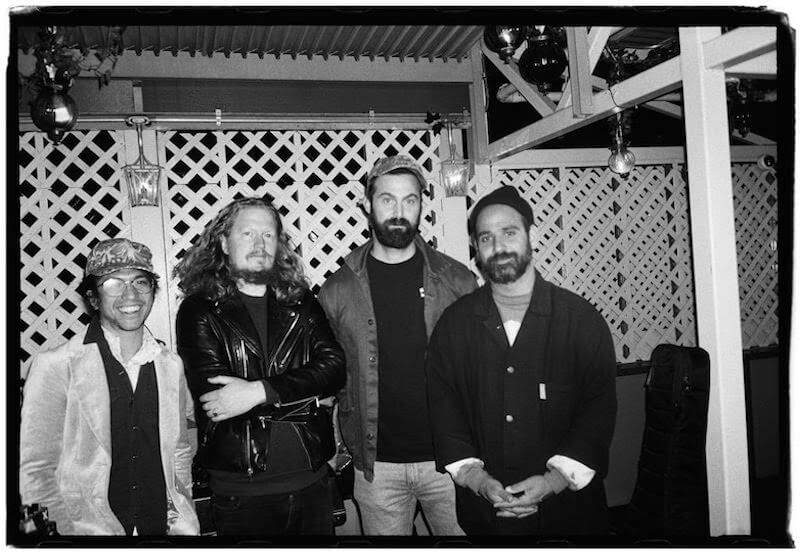 Aquarium Drunkard: As genres continue to cross-pollinate, how would you define the term 'jam band' in 2022?
Chris Tomson: To me, being a jamband has never meant adhering to any one specific musical style or another, but rather is a question of intent. It's a balance between playing fully written and realized songs and then having the desire to take chances within those songs that might (and ideally will) rip them to shreds. Just having guitar solo sections (even very long ones!) does not a jamband make, and, in my opinion, neither does getting up there and playing fully free with no grounding in any composition. Within that very wide spectrum lies the fertile and flowing land of jam! I love it in here!
AD: The Taper's manifesto proudly dubs itself as a 'self identifying and unapologetic jam band'? Do you feel like the term gets a bad rap, or in some circles can feel a bit like a dirty word?
Alex Bleeker: All things being as they are in this alternate timeline we may have slipped into in 2022, I weirdly feel like the term gets its worst rap among jambands themselves. I was joking around with Brownie from the Disco Biscuits a few months back and he said something like "We're not a jam band, we are an alternative independent art rock improvisational ensemble!" And it's really true! The headiest jammers don't want to be pigeon-holed, and I get that. It took me years to just swallow my pride and describe Real Estate as Indie Rock – but let's get real, that's what it is. Similarly, Taper's Choice is a jam band – full on. And we are not afraid to admit it.
AD: The band made its live debut at Gold Diggers in Los Angeles late last year. What was the initial impetus behind the project, how did it originate?
Dave Harrington: Location definitely facilitated the endeavor, but the spirit came from a shared love of the music. About a year ago now I was catching up with our mutual friend and Jam Godfather, Mike Greenhaus and I told him I'd reconnected with Chris Tomson since I moved to LA and he planted the idea. I literally hung up the phone and texted the fellas and before we knew it there was a band. Because we were all still basically home all the time, we took whatever free time we had and just threw it straight at Taper's Choice. We wrote some songs together and spent the week before our first gig kind of rehearsing and recording all at the same time, just to see where it took us, and we landed squarely in the zone of "this is definitely a band." It was too much fun not to keep doing it. That's kind of the whole point of the thing, really.
AD: You all come from various levels of demanding projects… has there been some natural crossover throughout the years? Behind the scenes collaboration?
Alex Bleeker: If you scour the internet and WNYC's radio archive, you'll find a hilariously dated episode of Soundcheck called "my secret jam band life." I'm a featured guest on that episode discussing whether or not it's "cool" to like the Grateful Dead. Imagine that. Chris Tomson's well documented affinity for Phish was discussed at length in that episode, and that's the first time he really popped up on my radar, believe it or not. From then on I knew that one of the Vampire Weekend guys liked Phish – respect. I met Dave for the first time in Australia, we were on a touring festival together. He was playing guitar in Nico Jaar's band (pre-Darkside) and I was with Real Estate. We shared a taxi to a hotel one night and have been friends ever since. We even got to play with Bill Kreutzman together once … so I guess the short answer is yes? Our entire musical journeys thus far have been leading us to the inception of Taper's Choice.
Dave Harrington: Yeah! I used to do this Holiday Spectacular show every year in NYC (CT and Bleeker have both been a part of it over the years), and I remember so vividly after the first year we did it at Glasslands (during their last week as a venue), sitting on the floor of the green room and Bleek leans over to me and says, "hey man, do you like the Grateful Dead…I'm doing this thing with a bunch of guests at The Bowl…" and I was like "Hell yeah man!" And so Bleek was kind enough to bring me into his world with The Freaks for a little while when they played these Brooklyn is Dead shows around Fare Thee Well and the anniversary and everything…and that really got me deeper into the GD songbook, really learning the tunes in a heavy way. That was part of what led to playing with Kreutzmann and playing Dead tunes with Jenny Lewis and Ira from Yo La Tango in Chicago and a bunch of other really fun crazy stuff, also how I first met Joe Russo who's become a really close friend and collaborator of mine ever since.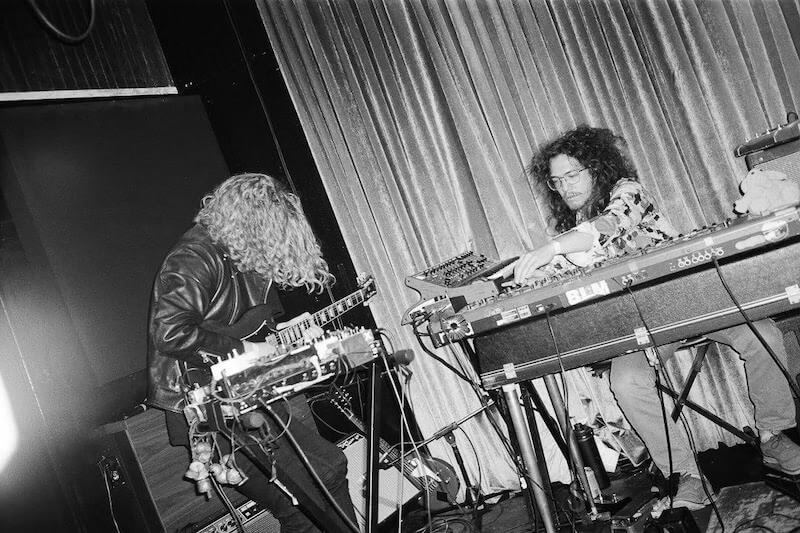 AD: Watching that first performance in LA, I was surprised how incredibly fully formed the band was from the start. Far from a free form, two-hour improvisation, there were already proper songs on display. How long had you all been writing prior to the gig?
Dave Harrington: I guess we spent a couple months kicking ideas around and doing some writing sessions at The Factory in LA whenever we could get Bleeker down here, but it all came together really naturally and easily. At the beginning there it was just the three of us working on the initial book, but once we pulled Zach into the mix it just kind of happened like ZING! We rehearsed and jammed every day for about a week or so, like I said before, and ever since then we've just kind of been in it. I think we're starting to find a language together, or at least it feels that way to me–where we can both execute ideas more fluidly, but also be open to going far out, without-a-net, chasing the ideas around together. Hard to describe, but fun as hell to be in the thick of it while it's happening.
AD: Speaking of writing, are there plans to release a studio album down the line, or is the vision here to exist as a wholly live experience?
Chris Tomson: Yes, absolutely. I think all roads lead towards us trying to make the best (headiest?) album we possibly can. How long and how winding those roads might be, however, is hard to say. For some artists, I think there's a very understandable and sometimes necessary drive towards rushing into a studio and releasing music Now! Now! Now! But, in keeping with our general air of anachronicity, we are consciously trying to avoid that impulse and give our songwriting and group playing/cohesion/vision time to properly steep.
Also, I feel like we've released a ton of music already! Every show (when taped and shared) feels like a bit of an album, a snapshot of that room or that Big Sur deck on that evening. We've also made it up to Volume 3 of our Choice Tapes series, which has been a mix of in-studio jams, live odd and ends, Harrington concrète, CT/Bleeker iphone demos and much more. I really love how the parallel Taper's tracks of the live shows and a more considered writing room are somehow both separate and cross pollinating. I'm excited for our albums to come!
AD: The depth and breadth of Taper's collective resume goes deep, spanning various sonic and aesthetic modalities. As the project began to take shape, what were some of the touchstones that you could all agree upon as a north star, vibe-wise?
Alex Bleeker: Before anyone had heard this band and I'd describe it to friends I would say: "Can is a jamband, Neu! Is a jamband, Popul Vuh is a jamband, the Velvet Underground is a jamband…. AND Phish is a jamband." …. And I stand by that.
Dave Harrington: For sure. Also, we all come to this music from a different place, and with different ideas about improvisation/jam, and I think that's kinda what makes it feel special to be a part of. Zach is really into prog-rock and Brazilian music. I love all that groove-meets-out territory stuff, Medeski, Martin & Wood, Scofield, Frisell, and especially all the electric Miles stuff, that's my personal north star to be sure. And I think we can ALL agree that Electric Miles Davis, Bitches' Brew-era and the related, that's a hell of a jamming band, too.
Chris Tomson: To be honest, we're still trying to find that perfect blend of 11/11/73 "Dark Star" and "Slow Llama" …
AD: Alex, your 2009 solo debut, Alex Bleeker And The Freaks, felt jam adjacent in its approach. Outside of your music with Real Estate, is this a sound you feel you have been chasing for awhile? Was something like what you are doing now with Taper's inevitable?
Alex Bleeker: My solo records, and my records with The Freaks, have almost always aspired to pull influence from the jam scene in one way or another, I've been very vocal about that. The Freaks did a stint as a Dead cover band (WNYC has a few of these shows in its archive, with a number of Dave Harrington sit-ins logged) But weirdly I had never considered going "full jam" until I was tapped by Dave and Chris for this project. This is the jamband of my dreams that I never even knew I wanted.
AD: Throughlines certainly exist across everyone's other projects, but this feels incredibly realized and fully aware of itself. Do you look at your other bands for any bit of inspiration or continuity?
Chris Tomson: I can only speak for myself here but my answer is a pretty resounding "of course!" Vampire Weekend is so elemental and inspirational to me and my musical/creative self that it's nearly impossible to not have that history influence how I approach most things in my life, and Taper's is no exception. That said, my Taper's experience is sometimes taking place in what feels like a different part of my brain than I'm used to using, so it's fun to trailblaze internally a bit too.
AD: In an era of blurred lines related to releasing music, do you see concert tapers and outlets like archive.org and nugs.net playing a pivotal role in what you're doing and your trajectory?
Alex Bleeker: The way we see it, our music is constantly shape shifting. We are letting it breathe and morph and live in whatever form it might want to take. Traditional "album" releases these days freeze the music into some sort of crystalline amber – and we aren't ready to do that, at least not yet. So – for the heady cohort of Choice Freaks out there, tapes of live shows on archive.org or ReListen are an invaluable way to dig in and to take the journey with us and with our expanding repertoire. We're also really enjoying putting together our CHOICE TAPES series and releasing them officially on Bandcamp. These aren't studio albums per se, but they are choice tapes.
AD: Did you all grow up following certain bands on tour, and/or collecting tapes of live shows?
Dave Harrington: I never followed any bands on tour, but growing up in NYC I used the hell out of my fake ID when I was in high school sneaking out to Tonic and The Knitting Factory to see Medeski Martin & Wood, John Zorn, I've probably seen Steven Bernstein (either MTO or Sexmob) like 20 times, and same goes for MMW thereabouts. I used to go see them play every Halloween when they did the Beacon for awhile, and I always went to the Allmans at the Beacon back then too.
Chris Tomson: I was extremely down the Phish-hole in my formative years, catching as many shows as humanly possible but never quite tipping over into "following a tour" mode. Was able to catch one 1.0 show and then just gorged myself on all of the music and mythology during that first hiatus. I'm not sure if I've ever been as excited for anything more than that 12/31/02 MSG show.
Interestingly, this period (2000-2004) in retrospect feels like the tail end of actual tape trading culture and the beginning of the digital archives that still dominate today. While I can remember when nugs.net was a pretty simple database of downloadable mp3s, I also did some legitimate blanks & postage deals with cassettes. Getting those packages back in the mail was so thrilling! And, to whomever hooked me up with the Herbie Hancock Mwandishi band live at the Boston Jazz Workshop 3/22/73, your generosity is still appreciated and I remain ever grateful to you!
Alex Bleeker: I saw The Other Ones at the Continental Airlines Arena when I was 14. When Phish got back together after their first hiatus on New Years Eve '02 I was there – and I chased them around the tri-state area as much as I possibly could while maintaining a healthy C average in High School. CT and I both grew up in New Jersey and we're around the same age, so naturally we were at a lot of the same shows before we knew each other. Back in those days I was rocking a loose knit beanie, fat courds, and Birkenstocks without socks every day of the year regardless of the weather. My friends called me "the hobbit" – so yeah, I saw a lot of shows. Almost more than the music, the scene felt like my own private world to escape to. I'd be dancing and sharing joints with weird hippies in a parking lot somewhere, and then the next morning I'd be sitting in Geometry class thinking, "nobody knows where I've been." The Dead talked about how their travels provided a sort of updated experience of American adventure for their fan base … and music shows, mostly in and around New York City, certainly provided that for me growing up. I was seeing all kinds of stuff that was blowing my mind regularly … from Victor Wooten at Irving Plaza to Black Dice, Sonic Youth and Lightning Bolt in the same venue less than a month later – I was hooked.
AD: Y'all are set to host your first festival in Los Angeles next month. How did that come about, and are there plans to do more down the road?
Dave Harrington: Anything is possible! Here's hoping we do it every year. We really just thought it would be fun to throw a festival, a great excuse to bring bands we like together and also bring together some artists from different scenes here in LA. We're all into different stuff so Taper's Choice can be a big tent, and the other artists playing reflect that: there's room for pastoral guitar AND art-pop-prog, groovy rock AND electro-bebop-post-beat music.
AD: Lastly, how do you anticipate keeping the Taper's coals burning when you head your separate ways with other projects?
Alex Bleeker: Those other bands are all side projects now.
Dave Harrington: Taper's Choice is a Lilac Palace in your hand.
Chris Tomson: If you look at it right, in many ways one is never not jamming…so feels like it won't be that hard to be honest!
photo credits: Michael Taylor, Peter Wallace, Alex Bleeker, Steph Port
For heads, by heads. Aquarium Drunkard is powered by its patrons. Keep the servers humming and help us continue doing it by pledging your support via our Patreon page.