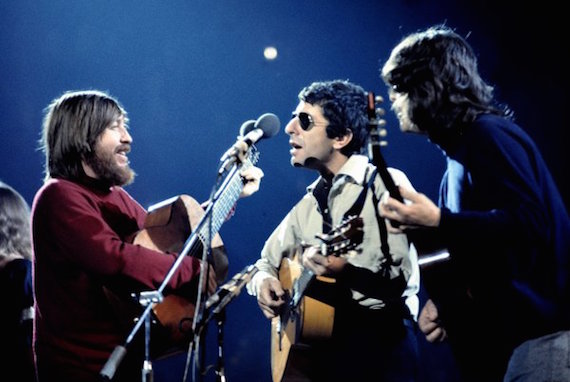 "He was looking forward to playing Israel," writes Leonard Cohen's biographer Sylvie Simmons of the songwriter's first tour of the Holy Land in 1972. "He was terrified of playing Israel."
The kickoff show in Tel Aviv was certainly eventful, as a tape of the gig shows us all these years later. You wouldn't think that the delicate and poetic sounds of Cohen and his band would ever serve as soundtrack a riot, but that seems to be what's happening. Clashes between security and the audience continually break out. "I know you're trying to do your job," Cohen pleads. "But you don't have to do it with your fists." He improvs a dark and ominous tune, dedicated to "the machines:" "I know you got souls, machines / But you've fallen into slavery." At the end of the tape, things seem to break down entirely, as Cohen desperately dips back into the folk revival days for "We Shall Not Be Moved."
Amidst all the chaos, however, there's some fantastic music, including lovely, heartfelt renditions of Leonard's early classics like "Suzanne," "That's No Way To Say Goodbye" and "Avalanche." There's also a fascinating, embryonic version of the then-unreleased "Chelsea Hotel," with a different chorus and expanded lyrics.
But best of all is the brief little ditty Cohen precedes "The Sisters of Mercy" with: "I love spending the night with two girls," he croons. "It's better than one … and it's better than none." Even the machines probably cracked a smile at that point. words / t wilcox

01 Famous Blue Raincoat 02 Hey, That's No Way To Say Goodbye 03 Song To The Machines — I Love Spending The Night With Two Girls 04 Sisters of Mercy 05 Chelsea Hotel (#1) 06 Avalanche 07 Suzanne 08 We Shall Not Be Moved
This post brought to you by The Black Crowes 1972 (Amazon Original) EP, now available only on Amazon Music.