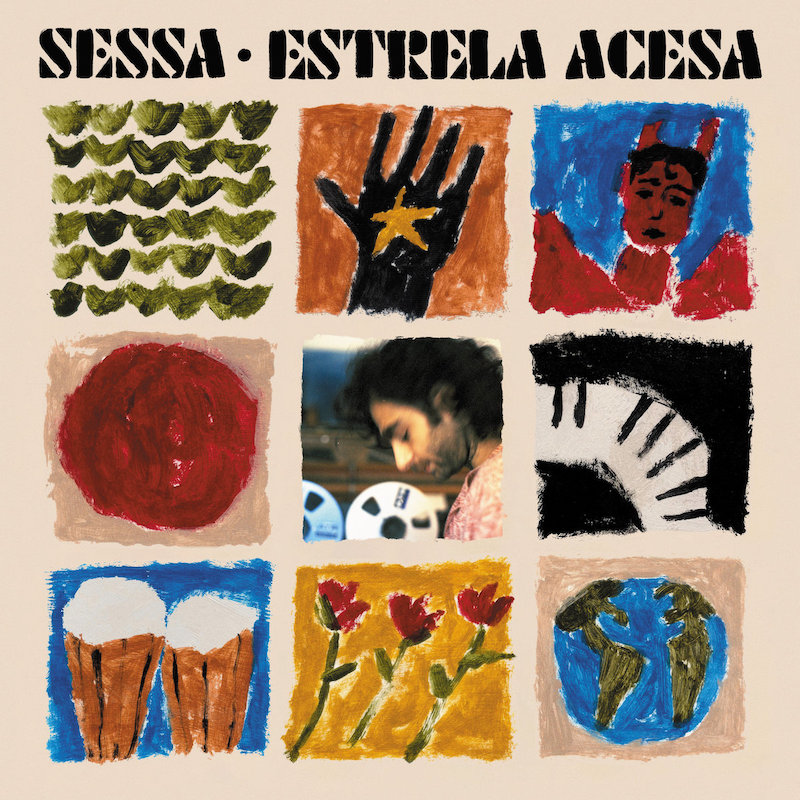 A celestial nocturne, Estrela Acesa is the sophomore stunner from Sessa. It's been three years since the São Paulo-born singer-songwriter dropped his perennially stellar debut, Grandeza—a jubilant, sun-dappled LP embodying a confluence of Brazil's rich past and musical traditions. But where Grandeza was an ode to temporal pleasures, Estrela Acesa is a humble meditation on the nature of love, eternity, and the point of intersection between music and spirit.
Recorded early in the pandemic on the island of Ilhabela, just off the coast of São Paulo, the music on Estrela Acesa came together "to remind people of how music grounds our existence in a meaningful way, with its potential to give roots to the divine in a modern world lacking in symbolic weight," Sessa says. The pensive lilt of "Gostar do Mundo," opens the record with Sessa's gentle croon coasting over a nylon-string guitar, while strings and a distant chorus waft over the undercurrent bass and percussion like a warm, welcome breeze.
The core trio of Sessa, bassist Marcelo Cabral, and percussionist Biel Basiel is supple as ever, drifting gracefully through lean arrangements and never wanting for space. Like the last bit of gloaming light, the album's subtle orchestration smacks sweetly of maestros like Rogerio Duprat and Arthur Verocai, radiating through songs like the resplendent centerpiece instrumental, "Helena". There's also plenty of slinky funk on offer—the bassline for "Pele Da Esfera" sounds like Brazilian session legend Lanny Gordin laying down a track for Shuggie Otis. But the grooves found on Estrela Acesa are a bit like those found in the spiritual jazz canon, providing a grounding rhythm for the body so the spirit can commence its travels elsewhere. Estrela Acesa is about the relationship between the two, as Sessa says, "Connections with the cosmos, gods, nature …in many cultures that means a relationship with music. I think life can be fulfilling and meaningful and music is one of those experiences."
But it's the plaintive, searching core of the songs themselves that places Estrela Acesa alongside works by Sessa's contemporaries like O Terno, Chico Bernardes, and Ana Frango Elétrico, while also encapsulating the wistful feel of the work recorded by Caetano Veloso and Gilberto Gil during their London exile. While the touchstone influences of Bossa Nova, Tropicalia, and MBP are ever-present, Estrela Acesa finds Sessa looking back at them affectionately as he heads ever further into his own horizon. | j annis
Related: The Lagniappe Sessions :: Sessa (Volume One)
For heads, by heads. Aquarium Drunkard is powered by its patrons. Keep the servers humming and help us continue doing it by pledging your support via our Patreon page.