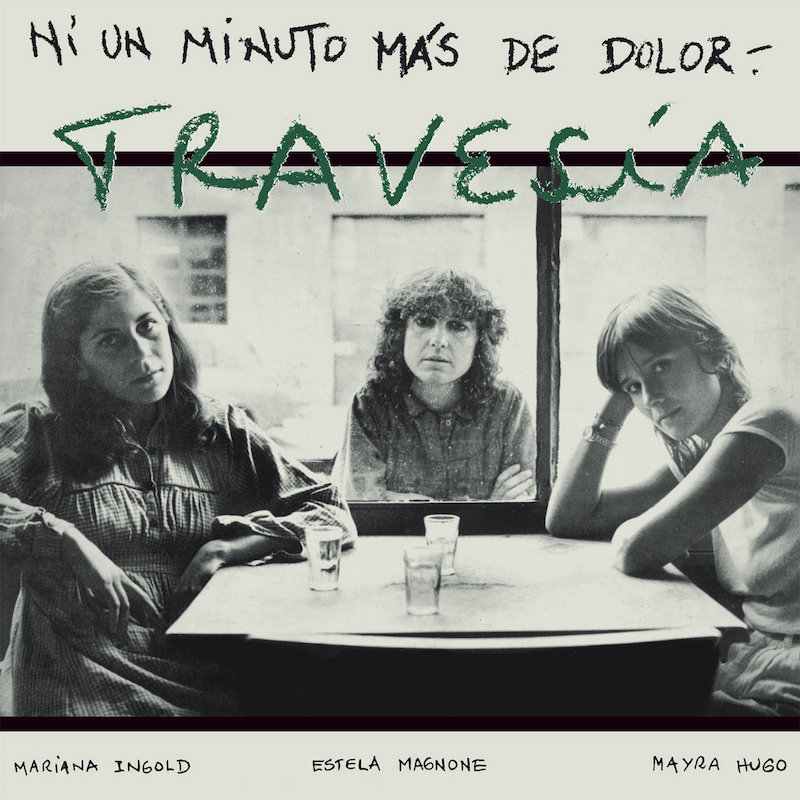 Under the name Travesía, the trio of Estela Magnone, Mariana Ingold, and Mayra Hugo graced a handful of albums that defined the direction of Uruguay's music coming out from under a dictatorship in the early 1980s: Jorge Galemire's Segundos Afuera (1983), Leo Maslíah's Recital especial (1983), Eduardo Mateo's Cuerpo y alma (1984), and Jaime Roos's Mediocampo (1984). Separately, they featured on even more records including ones released under their own names, notably Magnone's Vous et Nous-like release with Jaime Roos, and Ingold's ongoing solo career. In the trio's short lifespan, though, they released only one album–1983's Ni un minuto más de dolor, the first Uruguayan record performed and arranged entirely by an all-female group.
Shortly after Travesía guested on Jaime Roos's album Siempre Son las Cuatro (1982), he persuaded the Ayuí label to sign them, taking on the role of artistic director for their first album. Estela and Mariana, both beginning their careers as songwriters around this time, were classical pianists in training but performed live with guitars given the scarcity of pianos, let alone electric keyboards, in the live venues of late '70s Uruguay. Enthralled by their mesmerizing, simplistic chamber folk, Roos suggested they keep the dynamic intimacy of their live performances by maintaining the same instrumentation and not calling in additional performers to dilute their sound. They heeded his advice. | i forsythe
For Heads, by heads. Aquarium Drunkard is powered by its patrons. Keep the servers humming and help us continue doing it by pledging your support via our Patreon page.