Depending on your entry point, Andy Paley's body of work might be familiar via a number of unique gateways. Beach Boys fan? Brian Wilson's proclamation of Paley being "the greatest musical genius I've ever come across" might pique your curiosity, as Paley was instrumental to Wilson's renaissance period during the late eighties, and the primary collaborator on both Wilson's solo record and the infamous Paley Sessions bootlegs. The musician's roots go back to the art rock and proto-punk scenes of Boston and New York, the halcyon early days of clubs like CBGB and Max's Kansas City. In 1978, Paley and his brother Jonathan occupied a peculiar space in that scene, releasing the power pop classic The Paley Brothers (while sharing the stage with the likes of Patti Smith and writing with the Ramones). There is also music from the screen, with Paley's second act as a prolific composer of film and animated projects.
From recording with Phil Spector and the Wrecking Crew to producing the Shangri-Las, Paley's history is also tragically marked by projects that ultimately never reached fruition. The passage of time, however, has recently brought forth nuggets like the long overdue complete Paley Brothers recordings, as well as a grip of lost Beach Boys tracks (released on the soundtrack of last year's Long Promised Road documentary). Now residing in Vermont, Paley connected with us to discuss his long trajectory traveling all avenues of music, as well as current projects still rooted in the Spector-inspired tradition of the sixties "girl group" and French yé-yé sound. | m neeley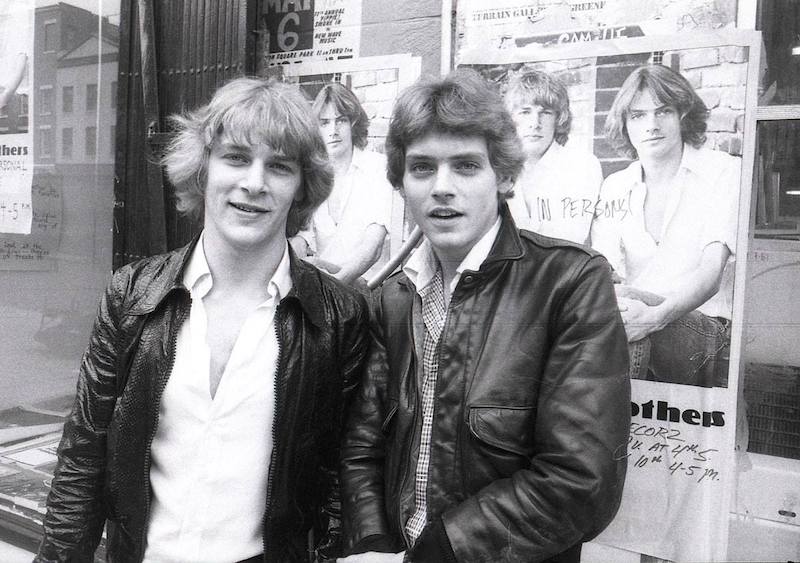 Aquarium Drunkard: You were still very young when you were in the Sidewinders. How did you become the house band at Max's Kansas City?
Andy Paley: Let me see … there was interest in the Sidewinders from New York people. We were a Boston band playing around there and New England, but once in a while played in New York. Lenny Kaye is someone I had known since I was fifteen years old. By the time the Sidewinders got going, I was seventeen or eighteen. A few years before, Lenny and I worked at a record store on Bleecker Street called Village Oldies (where Kaye would also meet Patti Smith). Lenny was a little older and an actual employee. I was this kid they would send to go get coffee and do odd jobs – and they paid me in records. There was another guy, Richard Robinson, who was married to Lisa Robinson.
They had a magazine in New York called Rock Scene, and he had done some record production for Flamin' Groovies and Lou Reed, I think. Anyway, Lenny and Richard had taken a train to Boston and came to see the Sidewinders. They got in touch with Sam Hood, who was booking Max's Kansas City. He brought the Sidewinders in – I think we were the second band to play there. The Velvet Underground was the first. All sorts of people played there, but we were the band who would go down and play for a week at a time, and the whole band stayed at the Chelsea Hotel. We were the house band, essentially.
AD: That was obviously a heavy scene in that era.
Andy Paley: Oh yeah, the Warhol crowd – all those people were there. It predated CBGBs and was a whole different scene. It was very close to Warhol's Factory, and the Chelsea Hotel. That was also its own real scene. And all of those people hung out at Max's. So we met all sorts of people, and were right in the thick of it in the seventies. And then we made a record with Lenny Kaye at RCA in 1971.
AD: Was this around the time that you met Jonathan Richman?
Andy Paley: Yes, a little earlier in Boston. Jonathan didn't have a band, but I remember I was walking through Harvard Square and there was somebody sitting in front of a music store. There was a guy playing an electric guitar but without an amplifier, before they had those little portable amps. He was playing one chord, and singing the jingle "Hooooward Johnson's Coca-Colaaaa" while strumming one chord on his guitar. We both had really short hair which was rare at the time, and he was wearing a white vinyl jacket with a pin that said "FREAK OUT". People were just walking by him, but I thought he was great. This was '69 or '70. We're still really good friends, I just hung out with him a few weeks ago in Vermont. I went to high school with his bass player Ernie, and we all lived in the same apartments in Cambridge for a while.
AD: Digging into the Paley Brothers album, I was surprised to learn that west coast people like Jack Nitzsche and Carl Wilson were interested in producing it. How did you get connected with them?
Andy Paley: Well, it wasn't just Carl. He and Billy Hinsche were talking about doing it as a team, but they were on the road and too busy. My brother and I used to follow the Beach Boys around in the late sixties and early seventies. That was during their kind of "slump" period when they weren't considered hip, but I was a huge fan and I'd follow them around New England. I saw them at the Orpheum Theatre in Boston once and they didn't even fill it … so if you wanted to meet them it was fairly easy, they were accessible. They were nice guys who were happy to meet enthusiastic fans like me. I got to know Carl, Dennis, Ricky Fataar and Blondie Chaplin. I didn't know Brian at the time, strangely enough. I would obviously know him better than all of them later on.
AD: Wow, so you became friends just from approaching them at concerts?
Andy Paley: I don't even remember exactly how it happened. Yeah, at a show, just talking to them about music. Dennis called me once and came over to my house with a tape when the Beach Boys were in Providence. I didn't even know they were in town. They were touring with an extravagant, 16-track portable studio, and we went out to a local studio to listen to these live Beach Boys recordings. Dennis asked if I would come to the show that night and work with these English sound guys because they really didn't know the songs. So he put me in the sound booth with these guys who had previously worked with Deep Purple, and I worked with them to identify the live cuts, like, "okay, this is Sloop John B" [laughs]. It was pretty ridiculous.
When the Paley Brothers were making a record, we ended up recording some of it at the band's Brother Studios in Santa Monica. Earle Mankey, a Beach Boys engineer, ended up producing it. Jack Nitzsche we met through Seymour Stein at Sire, who had played Nitzsche our stuff. We had a good meeting with him in New York, and he seemed pretty enthusiastic. When we got out to LA … without getting into detail, it was a little bit strange meeting with him and it looked like there might be a lot of problems. We also talked to Steve Douglas. Earle Mankey was a great guy and we loved him.
AD: How did the Phil Spector sessions for the follow up Paley Brothers record come about?
Andy Paley: I'll tell you exactly how it happened. I got a phone call at 3 am that said, "Andy Paley please, this is Phil Spector". I thought it was Lenny Kaye messing around, until I realized it was actually Phil Spector. So I got up and turned on all the lights and couldn't believe it. He had heard the four Paley Brothers songs that we did with Jimmy Iovine and asked us to come out to Los Angeles. Within a week we were there, staying right near his house at the Sunset Marquis Hotel. For about a week and a half, we would rehearse at his house every day, where I was playing piano and my brother and I sang as Spector gave us specific parts. A lot of rehearsing with Phil saying things like "try this, try that". And then he booked a couple of days at Gold Star Studios where we cut one song with him: "Baby, Let's Stick Together".
AD: Was that a surreal moment, to find yourselves at Gold Star?
Andy Paley: Oh, it was a huge thrill for us. We got there the same time the musicians did. We saw these guys walk in with Hal Blaine's drums … Steve Douglas and the horn guys, Don Randi, Barry Goldberg on piano. Phil had me playing upright piano. Tommy Tedesco and the guitar guys, Rodney Bingenheimer … all sorts of people were there. The session itself was pretty quick. We did some live stuff, and then the band left and we did some overdubs. The next day he had us do some more singing. My brother and I noticed that the stuff that he used when he mixed it was the stuff from the first day. And the second day, we were doing other songs with very crude recordings. None of that stuff ever came out and I don't know if it exists anywhere. One of them was an arrangement of "God Bless America", which was weird [laughs]. That was it, the session itself was quick. But a lot of rehearsing the same songs over and over again beforehand.
AD: Speaking of music that never surfaced: was your stint with the Shangri-Las your first producer gig?
Andy Paley: No, but it was early. That happened because my brother and I were on Sire, and they wanted to do something with the Shangri-Las. They asked me if I was interested in producing it, and they interviewed a few people. I was chosen to do it, and I got together with them for a summer in New York. We went over songs and ideas, there was an 8-track studio in the basement of Sire, by Amsterdam Avenue. I would visit them at their houses in Long Island and we would rehearse. We ended up doing a spontaneous gig at CBGBs one night with me, Lenny Kaye on bass, and Jay Dee Daugherty on drums. Quite a few people came, it was so spontaneous. One of them just said, "wouldn't it be cool if we could do a gig somewhere, we sound really good right now". Word got around, and the likes of Lou Reed and Debbie Harry were there. Unfortunately, the recordings never came out. This was the summer of 1977.
AD: I read that early on, you once lended your equipment to Big Star and Badfinger for a gig. Besides your past influences, did those kinds of contemporaries have an impact on the Paley Brothers at the time?
Andy Paley: It's funny, I got to be friends with Alex Chilton. But I was into … what was the name of his band before Big Star? The Box Tops. I really didn't know about Big Star. We did a couple gigs with them with the Sidewinders in the early seventies when they came up to New England. I think their van got ripped off or something, and they ended up using our equipment. I was more into … kind of like, what was happening on the charts, you know. I loved the Jackson Five. I had nothing against that stuff, but I wasn't a "power pop" freak, really. I did gigs with them and Flamin' Groovies, but I didn't know until much, much later about that whole scene. And I found out later that we were sort of lumped into that whole scene, but I didn't know we were a part of it [laughs]. At the time, I was more square in my taste and heard what was on local stations like WMEX.
AD: It seems like the band was promoted in a "bubblegum" fashion compared to your labelmates such as Talking Heads. It reminds me of situations in the sixties with groups like the Lemon Pipers. Were you or Jonathan bothered by that treatment, and the coverage in teenage gossip magazines?
Andy Paley: It honestly didn't bother us at all. The thing that's really funny is, we played Max's all the time and were at this place that was super hip and trendy. But there were a couple nights we played there and they set up a "non drinking section". And there were all these kids there [laughs]. Some of them even came with their parents. The Paley Brothers had some very young fans, but we also had these punk and weirdo fans. It was all over the place, but it didn't bother us. We thought it was funny.
AD: In the early/pre-internet era, I first learned of your unreleased Brian Wilson collaborations from scouring some of those early fan zines, and people still trying to piece together the SMiLE bootleg tapes.
Andy Paley: That's right. The majority of the stuff I did with Brian Wilson never came out.
AD: Was it working on Brian's solo record that had you relocate to LA permanently?
Andy Paley: Yeah, that's what brought me to California.
AD: "You're Still a Mystery" is a real favorite of mine from those nineties recordings. I know there is a ton of material in the vault, but do you have any highlights that stand out?
Andy Paley: Oh, cool. Well, the one you mentioned is a good example of something. You know, that recording, I think it has a legitimate release now because of the movie. Of course, it used to just be bootlegged. What is kind of a drag is that, with the stuff I did with Brian, we were working together every day in the studio and at my house and his house. Traveling together, writing together for a long time. So there's a lot of stuff that never got recorded at all, or on cassettes that we would play on boomboxes. I have shoeboxes of cassettes and all kinds of great stuff. That particular song, there's a middle section. I remember recording it and everything I did on it: I built that song from the bottom to the top … but there's a middle section where nothing happens. And there was supposed to be a very big vocal arrangement.

I'm glad that you like the song, but people don't really know what it was going to be. And it's one of those situations where songs get out there to the public, and you wish you could have finished them so that people know. Unfortunately, not one part of the choral arrangement was ever sung, just a guitar strumming and a backing track. It's a bit frustrating, because if I was to get together with Brian or do it myself now, people would find ways to complain that it ruined the original recording, even though we would actually be finishing the original intention. Brian and I were co-writing and co-producing throughout that whole time … we had equal say in everything we were doing. I encountered Brian at a time when he of course wasn't eighteen years old and full of pep.
AD: I was just revisiting an old SMiLE mix that you had compiled with Mark Linett and David Leaf. Given your relationship with Brian at the time, I wondered if you served as any sort of mediator at all when the SMiLE project resurfaced.
Andy Paley: Not really, no.
AD: During those sessions, did you ever meet Sean O'Hagan?
Andy Paley: Yes, I think so.
AD: As he tells it, Bruce Johnston had heard the Pet Sounds-inspired album Hawaii album by Sean's High Llamas. O'Hagan was flown in for meetings to produce a Beach Boys record, but it fell through. I was surprised to see that this was also mentioned in Brian's autobiography.
Andy Paley: An English guy? Yeah, I met him once … I think he came by the studio one day. But that was it, I never worked with him. I don't really know anything about that.
AD: Given your longer history with Carl, did you get a chance to work with him at all?
Andy Paley: Here and there, not very much. We did two songs at Ocean Way. I wrote a song called "Soul Searchin'" which is the last lead vocal he ever did. He sang on the track that you mentioned, and we did three or four songs with the Beach Boys. We did "Dancin' the Night Away" which he sang on. The other thing is that a lot of the stuff that Brian and I were writing back then, we were always thinking about the Beach Boys. In many ways that have been easier, because of Brian's mind and muscle memory. During the process, he would often say things like "this is a Carl part, this is a Dennis part, Mike would sing this". This is how his brain worked from years and years of doing that. Whether it would actually end up with them, he and I both knew the chances of that were pretty slim because of the politics and circumstances. Nonetheless, in the creative process of the writing, he would refer to them all the time. It was a part of his DNA, you know … it's what he does.
AD: Was it when you were a staff producer at Warner Bros. Records that when you started really diving into composition work?
Andy Paley: No, it wasn't at Warners. I don't know exactly when that started. I did a couple of little things like movies when I was living in Boston, and music for local ads and such. I was really more interested in working in recording studios, and there wasn't really much happening in Boston. So when I got to LA, I got very into recording and meeting a lot of session players and producers. That world interested me. I guess it was my job at Sire that led me to do a lot of movie soundtracks.
AD: Your trajectory from underground music to a career of film/animation scoring reminds me of someone like Mark Mothersbaugh. I was wondering if you could speak on your prolific relationship with animation? Were you inspired by any of the classic composers like Carl Stalling?
Andy Paley: Yes I was … and also Leroy Shields. And I don't know if you know the Beau Hunks? That's something you should check out. It's a Dutch group, they did a few albums of Carl Stalling and Leroy Shield's music. I'm a big fan of that stuff and wondered what it would be like to score things like that. And I was also really good friends with Billy West in Boston, he worked at a guitar store. He's a really good guitar player in addition to his voice acting, which people don't realize. When I moved to LA to work with Brian Wilson, I met this guy, John Kricfalusi, who at the time was working on a remake of Beany and Cecil. We ended up writing a bunch of stuff together for his shows. Tommy Ardolino, the late drummer for NRBQ, suggested that Tom Kenny and I should write music together. And now we have a band together called Tom Kenny and the Hi-Seas. Since then, I've done a bunch of other cartoons. I just did something for Pete Hannan, a great artist. That's not out yet. And I'm still interested in doing it, I love cartoons.
AD: Besides that future animation score, are there any current projects in the works?
Andy Paley: There's two I'd like to mention. I recently did an album with an artist who goes by Victoria, who does a version of French yé-yé music from the sixties. I'm also doing a record with The Damselles, which is a group I put together a while ago. They were the backup singers in Tom Kenny and the Hi-Seas, but I'm doing stuff with them that will come out very soon, I hope. It's very, very faithful to sounding like sixties girl group stuff. Unapologetically very retro.
For Heads, by heads. Aquarium Drunkard is powered by its patrons. Keep the servers humming and help us continue doing it by pledging your support via our Patreon page.