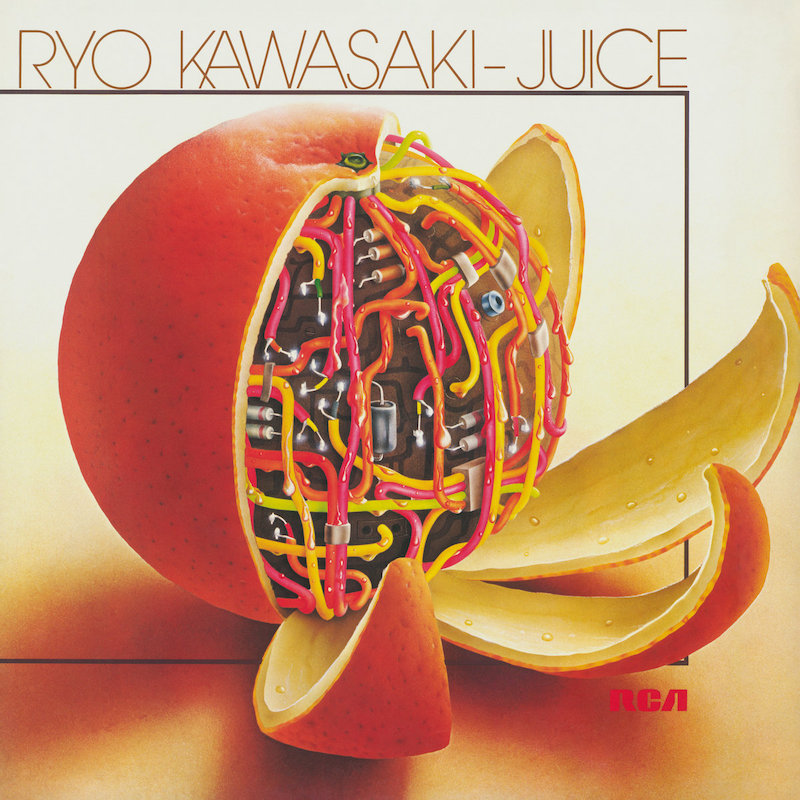 A deeply pleasing sensation arises when terrific cover art not only fully delivers on the music, but also bears a distinct resemblance to it. Ryo Kawasaki's 1976 jazz-funk album Juice is one such record. Bright and refreshing like a piece of citrus, peel the skin back and you'll find an electric fantasyland of traversing wires and circuits. Over the course of its seven tracks, the visually sci-fi-tinged world of Juice feels at once perfectly of its time, yet remains delightfully vital in 2022.
Kawasaki, primarily a guitarist, began his jazz career in Japan, making records in his early 20s and playing with notable Japanese musicians like saxophonist Jiro Inagaki and pianist Masahiko Satoh. In 1973, Kawasaki headed for New York, where he'd become the guitarist in the Chico Hamilton Band. Three years later saw the release of his striking stateside debut, Juice. The contributions of two of its sidemen draw obvious parallels to their work elsewhere: Tom Coster (keyboards/synths) with Carlos Santana and Sam Morrison (sax/flute) with Miles Davis. And because we love a Miles quote, he is alleged to have said, "I haven't heard that much fire on the saxophone since 'Trane was in my band".
Sonically, the atmosphere of Juice travels from city pop to progressive rock without ever actually leaving the kingdom of jazz-funk fusion. "Raisins" is as close to perfect as an album opener can be, an intensely funky jammer that sets the tone for what's to come. Kawasaki ends with sublime shredding over a consummately Headhunters-esque beat. Really, the whole album is of a mind with Hancock's Headhunters, with "East Side Boogie" coming the closest to sounding straight off the group's 1973 debut. "Sometime" and "Bamboo Child" share the underwater barroom ambience of the Sun Ra tune "Lanquidity," the latter a lovingly languid charmer guided by Morrison's floating flute. "The Breeze and I" is practically disco, imminently danceable and serotonin-inducing, while "El Toro" is pure jazz-funk fun. The album closes with "Andes," another shredder in which Kawasaki rips with a palpable sense of glee.
In 1979, working on the technology with Roland and Korg, Kawasaki invented his own guitar synthesizer. As this post-dates the release of Juice, Kawasaki's homemade guitar synth does not make an appearance, yet the album is nevertheless stamped with his adventurous curiosity and sharp sense of the coming electro-trends. All tech aside, sonically, Juice radiates joy like a beacon. Pick up the signal and let yourself be moved. | a gavrilovska
The cover is by artist Stanislaw Fernandes, who illustrated numerous science-fiction works, including several Omni magazine covers in the '80s and early '90s before the magazine folded in 1997.
For Heads, by heads. Aquarium Drunkard is powered by its patrons. Keep the servers humming and help us continue doing it by pledging your support via our Patreon page.