Iggy Pop has never been a stranger to collaboration. Throughout his illustrious career as rock 'n roll's feral poster-boy, Pop has teamed up with a variety of bands and artists from across the musical spectrum, ranging from acts such as Green Day to Peaches. In 1990, Pop teamed up with Kate Pierson from The B-52's for his biggest commercial hit, "Candy," the first and only time he would reach the Top 40 charts in the U.S. The same year, Pop would work with Debbie Harry from Blondie on, "Well, Did You Evah?" for the AIDS benefit compilation Red Hot & Blue. From Josh Homme to Ryuichi Sakamoto, New Order to Ke$ha, Simple Minds to Danger Mouse and Sparklehorse, Iggy Pop has continued to evolve and stay relevant within the zeitgeist throughout decades of musical alliances that have spawned some of his most revered music.
The most seminal of Pop's creative partners was David Bowie, no stranger to collaboration himself. Whether he was working with John Lennon on "Fame" or Queen on "Under Pressure" (or lending himself to unlikely Christmas duets with Bing Crosby or dancing around darkened alleyways with Mick Jagger), Bowie was well known for being collaborative with his own material, as well as working on others. Every key stage of Bowie's genre-bending career can be credited to a creative partnership that informed and enhanced his musical prowess: the glam-rock sleaze chiming out of Mick Ronson's Les Paul during the Ziggy Stardust-era; the esoteric, synthesized alchemy of Brian Eno during the Berlin period; the pop sheen and clean-channel funk of Nile Rodgers during Bowie's mid-eighties commercial tenure via Let's Dance; the ominous, dark-tinted jazz of Donny McCaslin's ensemble that would close out Bowie's discography on Black Star. From Tony Visconti to Carlos Alomar to Robert Fripp to Trent Reznor to Arcade Fire, the Thin White Duke kept a diplomatic court throughout his reign. Aspianist and collaborator Mike Garson told Bowie biographer Paul Trynka in Starman: The Definitive Biography: "I tell people Bowie is the best producer I ever worked with because he let me do my thing."
While producing The Stooges Raw Power (1973), Bowie found a kindred spirit in lead singer, Iggy Pop. In 1976, after Pop checked himself into a UCLA mental hospital following the Stooges' breakup, Bowie visited him and invited him on tour. "He sees me as a character. Probably an American beatnik who survived, Kerouac thirty years later," Pop would say of Bowie in 1987. "And I see him as one of the only representatives of the enfranchised world that understands me or that I can stand." Following Bowie's death in 2016, Pop would comment on their relationship by saying, "He resurrected me. The friendship was basically that this guy salvaged me from certain professional and maybe personal annihilation – simple as that."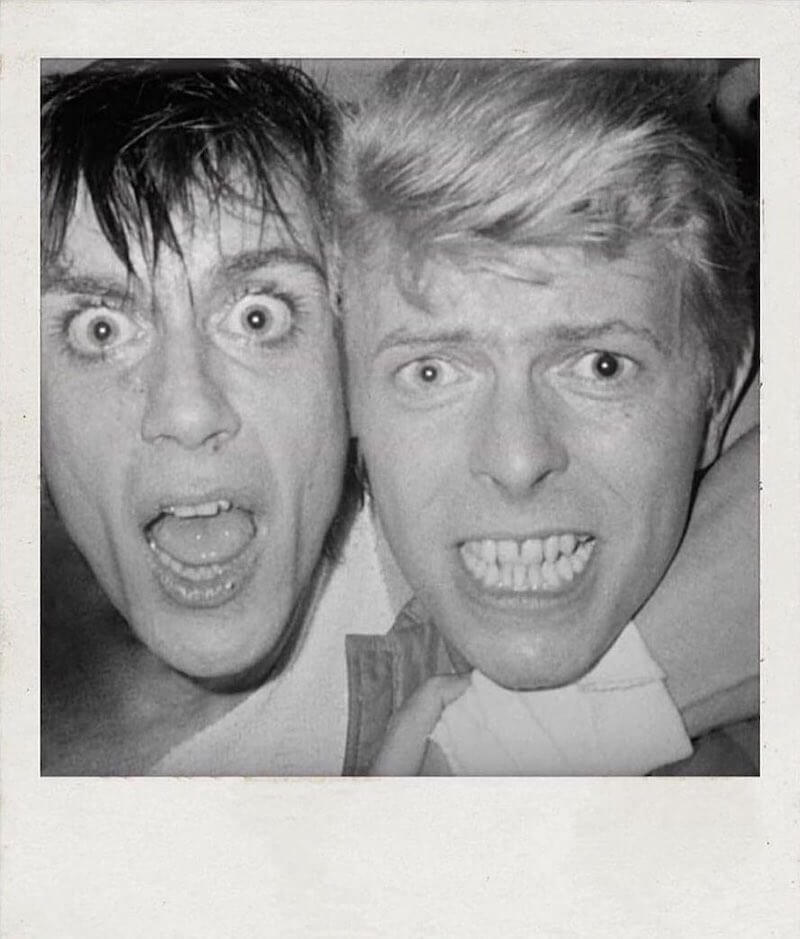 Towards the end of 1976, the two creative soulmates would journey to West Berlin together, where both struggled to get clean while producing a prolific amount of music. The Berlin years would lead to Iggy Pop's first solo records, 1977s The Idiot and Lust For Life, which were carefully sculpted by Bowie, his defacto producer and co-writer.
These records would become the first of many Bowie/Pop collaborations, fostering both set-list staples and B-side gems that blurred the line between producer and artist. Is it Iggy Pop singing Bowie songs? Or is it Bowie producing Iggy Pop songs? The Iggy Pop albums that credit Bowie are not only decidedly different from Pop's other material, they're decidedly Bowie. From the lyrics to the arrangement, Bowie's musical fingerprints are all over Pop's songs. Much like Lee Hazelwood and Nancy Sinatra, or Prince and Morris Day, Iggy Pop served as the perfect conduit for Bowie's musical output during his most productive periods. In many ways, records such as Lust For Life or The Idiot function as lost Bowie albums, displaying the same musical palette and artistic temperament as Heroes or Low (also released in 1977) but released underneath Iggy Pop's name. When Pop would begin performing his solo material live in 1977, Bowie would become Pop's keys player, humbly falling into the shadows of the backing band, plucking away at an upright piano and ARP String Ensemble synthesizer as Pop took the spotlight. A few years later, when Pop was going broke and barely recording, Bowie would rerecord "China Girl" for his wildly successful Let's Dance album – a co-write between the two that originally appeared on The Idiot – as a way to help pull his friend out of bankruptcy.
While tracing this collaborative trajectory, you inevitably end at Iggy Pop's 1986 album, Blah- Blah-Blah, which would be the last collaboration between Pop and Bowie. Blah-Blah-Blah finds a reclusive Pop coming off of a four-year hiatus, and Bowie in the midst of starring in and composing the soundtracks for Absolute Beginners (1986) and Labyrinth (1986), following the disappointment of his sixteenth studio album Tonight (1984). Outside of a cover of Johnny O'Keefe's 1958 rockabilly hit "Wild One" and three songs co-written with ex-Sex Pistols guitarist Steve Jones, Blah-Blah-Blah was produced and co-written by Bowie. At least that's what the liner notes say.
The larger story – the one dipped in gossip and swirled in rock 'n roll folklore – is that Blah-Blah- Blah is a repurposing of throwaway material from the ill-fated Tonight sessions. Hugh Padgham, who served as a co-producer on Tonight, recalled that Bowie and Pop collaborated on songs that Bowie ultimately rejected forTonight, but would revive for Pop's Blah-Blah-Blah. Bowie biographer David Buckley reported that Pop "virtually disowned" Blah-Blah-Blah after its release, calling it "a Bowie album in all but name." To this day, it's never been specified what tracks on Blah-Blah-Blah, if any, were originally intended for Bowie's Tonight album. What is known is that Bowie and Pop would never make another album, and Blah Blah Blah – despite being certified gold in Canada and peaking at No. 75 on Billboard's Top 200 Albums Chart – would be received by fans and critics with distaste, dubbed "the most calculatedly commercial album of Iggy's career."
"Shades" would be the third single from Blah-Blah-Blah, as well as the most transparent Bowie composition. Supposedly inspired by watching a delighted Pop give a present to his wife, Bowie wrote the song as a straightforward pair of melodic verses tied together by a reprising "everyman" chorus. The lyrics hone in on appreciating the small things in life – like getting a pair of cool shades. Pop initially liked the idea of doing "one of those 'reformed guy' kinda songs," and thought the simplistic sentimentality of the lyrics ("You gave me a present/The paper was blue and green/I unwrapped it with pleasure/These are the best shades I've ever seen") would serve as a nice juxtaposition to the impulsive hedonism of "Wild Child." Bowie originally wrote the chorus as "I know what kind of man I am/I'm not Saint Francis of Assisi or Baudelaire's son," which Pop felt sounded dubious: "Bowie tends to be a little grand in his allusions," Pop told an interviewer in 1987. The chorus hook would be abridged to "I'm not the kind of guy/Who dresses like a king/And a really fine pair of shades/Means everything."
Despite the lyrical changes made to fit Pop's public identity, "Shades" showcases Bowie's songwriting at a pivotal and often confused point in his career. Just as songs such as "Sister Midnight" off of Pop's The Idiot share the same sneering, after-hours grittiness as "Beauty and The Beast" off of Bowie's Heroes, the sonic template of "Shades" is drawn from the same palette of mid-eighties corporate-rock production found on "Blue Jean" from Bowie's Tonight (and later on, the title-track from Never Let Me Down (1987). Amongst gated Linn drums, glassy guitars soaked in chorus, and digital delay, "Shades" not only captures a specific point in mainstream pop-production, but a unique and ultimately fatal point in Iggy Pop's and Bowie's collaborative partnership. Its blessing and curse are caught in-between Bowie trying to create a hit for his friend and Iggy trying to do what Bowie would do on a commercially viable single, once again calling into question where one ends and the other begins. The result is a song that hangs suspended between sugary-sweet genuineness and populous placating. The hallmarks of Bowie's mid-eighties success are all present through the vessel of Pop: the sultry, baritone croon; the lovelorn sentimentality, at once romantic and intimate yet frigid and superficial ("You can be my girlfriend/Forever and a day"); the pulsating backbeat and classic doo-wop chord progressions (the I to the minor 6th is a favorite of Bowie's during this era, also notable in "As The World Falls Down" off the Labyrinth soundtrack). Despite having the exact ingredients for a perfect chart-topping recipe, "Shades" is an often ignored Bowie/Pop song, as well as the end of their esteemed collaborations.
"It's not my favorite record," Pop would later say of Blah-Blah-Blah, "But it got me some hits, so maybe it should be." In the years since its release, Blah-Blah-Blah has faced a lot of critical rejection, in no small part due to Pop's own denouncement of it. The record, which was intended by Bowie to be Pop's version of Let's Dance – an instantaneously accessible pop record – has since been deemed as Iggy Pop dressing in the emperor's (or rather Duke's) new clothes. "Shades" marks the end of a musical partnership that would produce some of rock 'n rolls most precocious, left-of-center cult songs: "Nightclubbing," "The Passenger," "Fall In Love With Me," "What In The World," "Sixteen," "Play It Safe," and "Dancing With The Big Boys" to name a few. The allure of "Shades" is that it perfectly encapsulates the beautiful mystery of a Bowie/Pop collaboration: is it a Bowie song? Or is it an Iggy Pop song? And does it even matter if the song hits the right way? | e hehr
Only the good shit. Aquarium Drunkard is powered by our patrons. Keep the servers humming and help us continue doing it by pledging your support via our Patreon page.