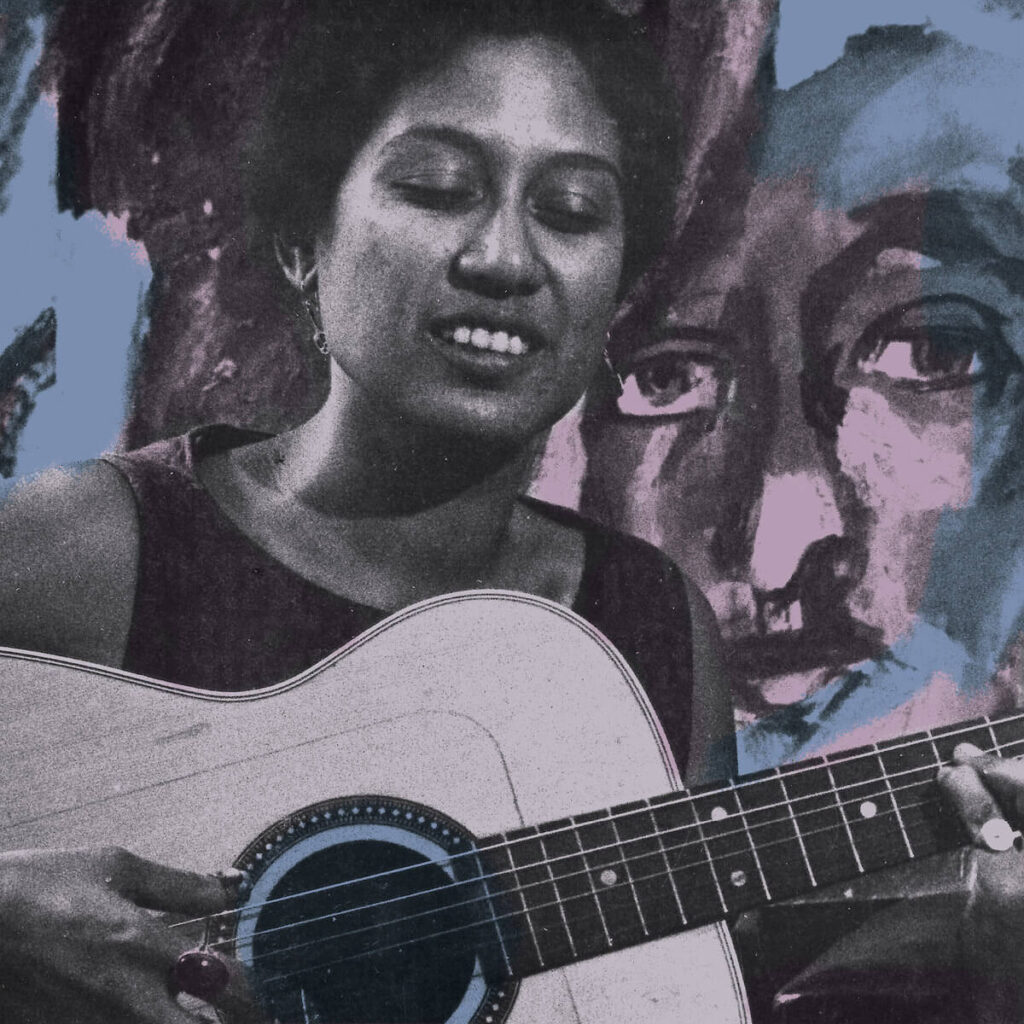 When I found Norma Tanega's first album Walkin' My Cat Named Dog several years ago, everything about it looked good to me. I only knew the title track (a 60's hit covered by many), but since I had recently adopted a cat I named Squirrel, it felt like the right time to dig deeper. A new collection of Tanega's music, recently released by Anthology Recordings, provides a bigger shovel.
I'm The Sky: Studio and Demo Recordings, 1964–1971 collects parts of her first two albums (her second is called I Don't Think it Will Hurt if You Smile, another fantastic title), as well as two songs from her unreleased 1969 album, Snow Cycles, and a healthy chunk of demos. Listening to this 2-lp collection and reading Erin Osmon's excellent liner notes (which include interviews with Tanega shortly before she passed in late 2019), Tanega's life and music feel inseparable. Whereas Fred Neil, who arrived in the Village folk scene shortly before her, was an existentialist, Tanega was an absurdist. Her voice, guitar, and autoharp laugh off the hardships of living and lean into the comic details, embracing self-amusements, aphorisms, and minuscule mysteries.
It is her demos that I find to be the most surprising and enjoyable discovery here. Unlike most archival guitar/vocal releases that serve only as sketches for the fully realized album, Tanega's feel musical and joyous, even self-contained. I love her studio albums, but it's nice to hear just more of her, alone with an instrument, her excellent right-hand motoring and picking like an assured self-accompanist. Her first studio album was arranged by Herb Bernstein, who a year later arranged the first Laura Nyro album. In some ways, Tanega and Nyro have a lot in common—their classical piano playing helped them create remarkable melodies while their inner lives breathed a deep and unique worldview into lyrics that distinguish them from other songwriters.
Many of these demos are as good or better than the songs on the studio records. They sound personal and playful with rhymes and rhythms that are sing-song-y. They sound casually composed, like they were made-up while watering plants or playing with Dog, but when you digest them, they feel more like haiku: short, deliberate, and deep. Besides being a musician, Tanega was also a painter. Her music and artwork share an imagination, use of color, and a clarity that is wise, wonderful, and fully her own. Anthology Editions has also issued a book of Tanega's journals, illustrations, photos, and more via their publication imprint titled, Try To Tell A Fish About Water, to preserve and share this other side of her as an artist.
Now, if we all named our pets after other animals, we'd never stop explaining ourselves. But sometimes, when we can hum along, nothing makes more sense. | j decicca
Only the good shit. Aquarium Drunkard is powered by our patrons. Keep the servers humming and help us continue doing it by pledging your support via our Patreon page.