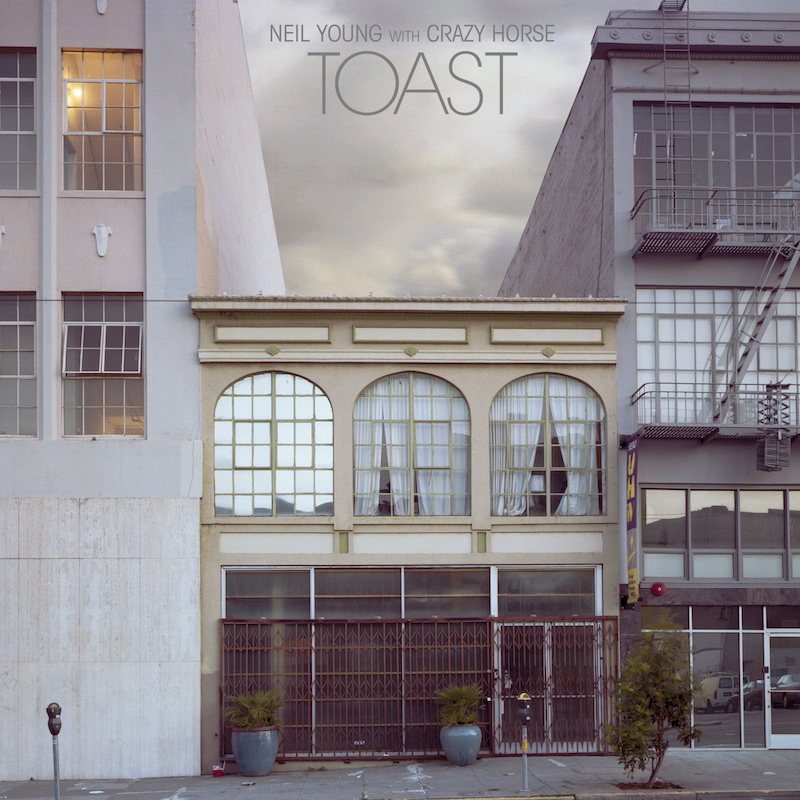 Never underestimate Neil Young's hype-building skills. He first teased Toast way back in the late 2000s, tantalizing fans with tales of a missing album recorded with Crazy Horse in San Francisco around the turn of the century. "It's a mind-blowing record, and I don't think it's a commercial record, but it's great rock and roll, very moody, kind of jazzy," Neil told Rolling Stone in 2008. "There's a lot of heavy stuff in there." He'd often claim that its belated release was imminent only for years to pass with nothing ever emerging.
Now, after nearly a decade-and-a-half, Toast is finally here — and we can decide for ourselves whether it lives up to Shakey's hype. One thing is for sure: Toast is superior to Are You Passionate?, the 2002 album that took its place (and with which it shares several tunes). As usual, Crazy Horse provides a necessary spark that's missing from many of Neil's other collaborations, a spirit that more often than not brings out the best in the songwriter. The dueling versions of one tune — "Mr. Disappointment" on Are You Passionate? and "How Ya Doin" on Toast — provide a useful counterpoint. The song was pretty forgettable on AYP?, with Neil slipping into an unconvincing growl on the verses, the band trudging along behind him. On Toast, it's a revelation. The arrangement isn't radically different, but Young's vocal is open-hearted and quietly devastating. Over the course of seven patient minutes, the song blossoms into something beautiful.
Toast also boasts three tunes that haven't appeared anywhere else: "Standing In The Light Of Love," "Gateway of Love" (both of which have been played live) and "Timberline," which has never been bootlegged. They're all solid additions to Young's official canon, especially the lengthy "Gateway," which sees Neil and the Horse cooking up a slinky, minor key groove that stretches out past the 10-minute mark, Billy, Poncho and Ralph adding lovely harmonies to the chorus. "Standing In The Light Of Love" is less successful; the brainless crunch/thump riffage gets a little tiresome after a while. "Timberline" is better with its pleasingly choppy gallop and Young telling the tale of a luckless lumberjack. A lost classic? Not quite, but pretty damn good all the same.
"There's a lot of heavy stuff in there." Minus a few sidetrips, Toast is a downcast album. And indeed, Neil has suggested several songs were inspired by middle-aged marital problems he was dealing with at the time (though his then-wife Pegi Young adds great backing vocals throughout). That puts Toast in the Homegrown category — both albums that perhaps cut a little too close to the bone when dealing with personal matters, soul-baring efforts that bore too much. While Toast definitely doesn't reach the heights of Homegrown (not much does), it still feels like an essential chapter in Young's tireless, lifelong search for that elusive heart of gold. The album ends with the 13-minute "Boom Boom Boom' (re-titled "She's A Healer" on Are You Passionate?), a Crazy Horse epic, but it's an odd epic for sure. As the band locks into a metronomic stroll, eerie washes of piano and trumpet waft through the mix, Young's falsetto vocals growing more ghostly as the song progresses. He doesn't sound like he knows where he's headed. But he's headed there just the same. | t wilcox
Only the good shit. Aquarium Drunkard is powered by our patrons. Keep the servers humming and help us continue doing it by pledging your support via our Patreon page.