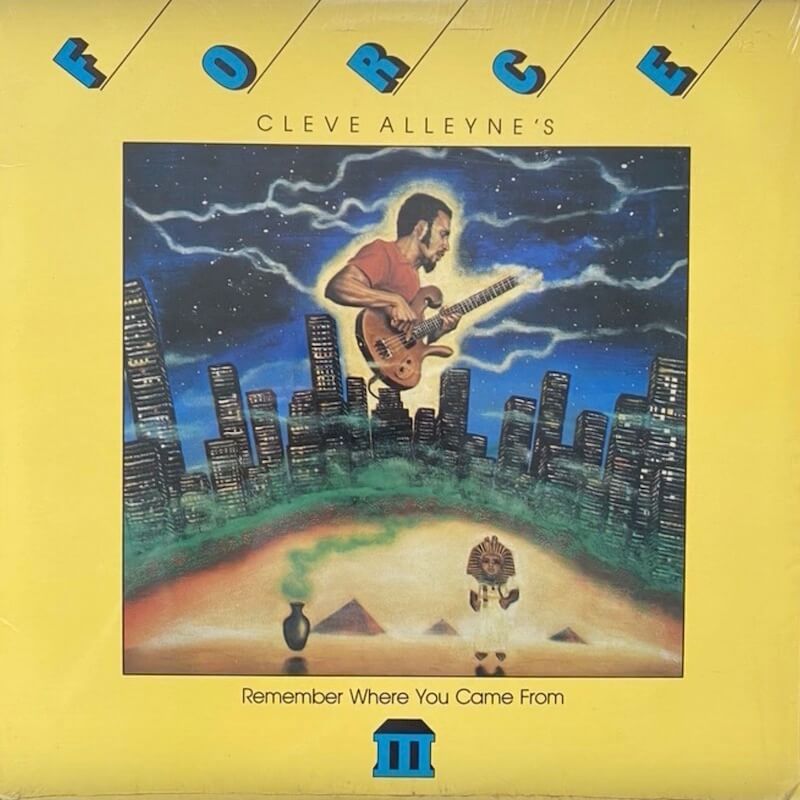 By the end of the 1970s music had become unhinged. Boundaries of genre had been eliminated. Progressive rock pushed rock 'n roll to its limits over the prior decade with its incorporation of jazz and classical elements. Fusion had turned jazz into a mainstream (and financially viable) pop venture—it would seem by merely adding distorted guitar. All the rules were off the table and for that, we were rewarded with records like Cleve Alleyne's Force 3: Remember Where You Came From. On the surface, a decidedly funky affair, but upon peeling back the layers within the eight cuts presented, we find a more complex and rewarding work of art. 
From an industry standpoint, Cleve Alleyne is a specter. No group membership. No performance credits. Not a standalone single. Just a remarkable bass player with one LP bearing his name from Fellowship Records in 1983. The band is notably low-key as well with a couple of exceptions. And for a record on a Gospel label, we are offered a grand total of 17 words spoken, sung, or chanted across the two sides. Whether the introspective funk here speaks to a higher power, or the tiny label may have been hoping for a surprise hit by crossing into relatively secular territory can't be known, but there is definitely something worth digging into within these grooves.
Cleve Alleyne's Force 3 :: The Interlude
Following a brief intro, things kick off with "The Interlude". Angular drums and harmonics from Alleyne's piccolo bass propel the tune. Alleyne and well-known RnB keyboardist/producer Barry Eastmond throw solos back and forth. Imagine if those Stanley Clarke-George Duke collaborations from this same period happened a decade earlier and there's an idea of the energy cooked up here. "Roller Jazz" offers double bass assault (Wayne Braithwaite handles the low-end and Alleyne remains on the piccolo) over honkin' clavinet. The piece charges ahead to a rhythm not unlike Stevie Wonder's "Higher Ground."
Though listed as separate tracks, the entirety of Side Two plays as a suite. The highlight of this already rewarding slab is the LP's back half, a testament to the potential of prog-funk. The piece erupts with the funky talk box intro to "The Lord Really Loves You" (and serves as the only real reminder that this is indeed a "Gospel" outing, after all). Alleyne belts the mantra in increasingly distorted successions before Force 3 slides into further funk explorations propelled by a precise shuffle from drummer (and fellow unknown) Adrian Grannum. The tune leads into the minimalist hypnotics of "Theme of My Dreams" and "Time Marches On." The former a clock ticking within a feverish haze and the latter a moment of waking before being carried away by the sanguine groove of "Remember Where You Came From (Part 2)."
Cleve Alleyne's Force 3 :: The Lord Really Loves You
The side lives in the same universe as Herbie Hancock's transitory explorations before remaking his identity with Headhunters in 1973—an organic merging of pop music with jazz and funk tropes that, despite feeling experimental, remains palatable to a broad audience. There aren't any cuts here, however, that explicitly reach out for one to 'get off their ass and jam.' Instead, Cleve Alleyne has created armchair funk on Remember Where You Came From. Take it in, open your mind, and space out. | j rooney
Aquarium Drunkard is powered by our patrons. Keep the servers humming and help us continue doing it by pledging your support via our Patreon page.