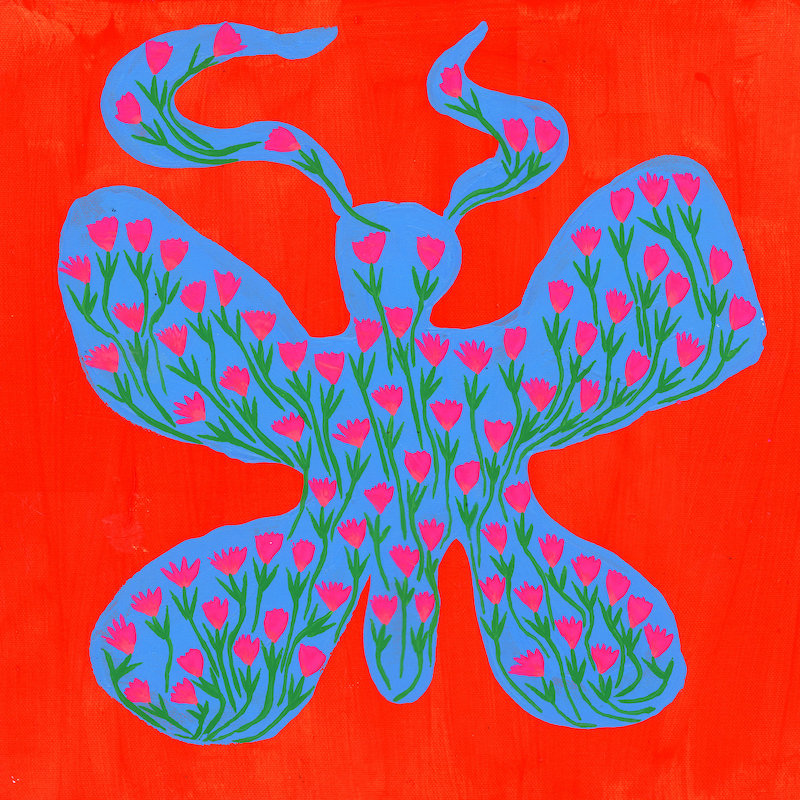 Shakespeare's "Sonnet 29" comes off as a mopey treatise …that is until he remembers the love of his life: "Haply I think on thee, and then my state, like to the lark at break of day arising, from sullen earth, sings hymns at heaven's gate." When you hear the lines "I've got a heart full of / I've got a heart full of / ruh-ruh-redemption" in the opening moments of Blue Skies' "Bad Love," it feels like that lark at break of day. It's the exact moment of an album cracking open, or even in this case, a band cracking open some unreached potential.
Dehd has been evolving with every release since their 2017 debut, but 2020's Flower of Devotion brought them a new level of attention. Unfortunately it also came in the middle of the pandemic. So a record that had been mostly worked on prior to the world shutting down, didn't get to take its normal course. This ended up affecting what would eventually become Blue Skies as well. Where normally the band would have been out on the road testing out new material while promoting the previous album, they were left to develop the record without the normal audience and band feedback.
But the band got to spend more time in the studio than previously and that shows in Blue Skies more effusive sound. Where earlier albums felt murky and like reverb-drenched minimalism in spots, the new album finds the band channeling all of those instincts into a bright, loud and engaging record. You can even say it sounds, well, happy, which for an album written and released in the dregs (fingers-crossed) of a pandemic, or in the case of a couple of songs like standout "Palomino" entirely in the studio, is an intriguing tone. "It was a reflection of the joy that came out of experiencing that connection again," Dehd's Jason Balla said in a phone interview. "Feeling that music is a collective thing and not just something to be experienced on its own."
That joyful feel on this record – even in songs that lyrically seem more fraught – is a natural fit for the relative speed at which a Dehd record goes by. Only two of the 13 songs on the album surpass three minutes in length, the rest breezing by. "Bad Love" is a sprightly gallop of a song that uses the percussive lyrical moments to further energize a song that is unquestionably a song of the summer. It's followed by the stutter-stop anticipation of "Bop" — a track that flies by in a minute and a half. (Is this the summer of 'bop' lyric songs? Between this and Kevin Morby's "Rock Bottom," we've got a theme going.)
One of the things that makes Blue Skies feel and sound like Dehd's best work to date is the fullness of the material. Songs build in a way that would've been left empty or unexplored on previous albums. The rousing back half of "Window," where Blue Skies gets its name, is the kind of soaring song that has been missing from Dehd's recorded output to date. It takes off where previous iterations would've flowed or coasted.
Undoubtedly, some of this is connected to more time to explore given by the pandemic and extra studio time. When reflecting on his time watching a lot more YouTube during the quarantine, Balla mentions that the algorithm started sending him down weird rabbit holes of unexplored music after he spent a lot of time watching videos for technical help when setting up a home studio. So when he sings on "Dream On" that "I'm dreaming all the time / I'm falling into light / I'm feeling out the void / I'm looking for the noise," it's easy to hear it as a search that comes to fruition in Blue Skies. It's easy to hear the lark singing at the gates at last. | j neas
For heads, by heads. Aquarium Drunkard is powered by its patrons. Keep the servers humming and help us continue doing it by pledging your support via our Patreon page.