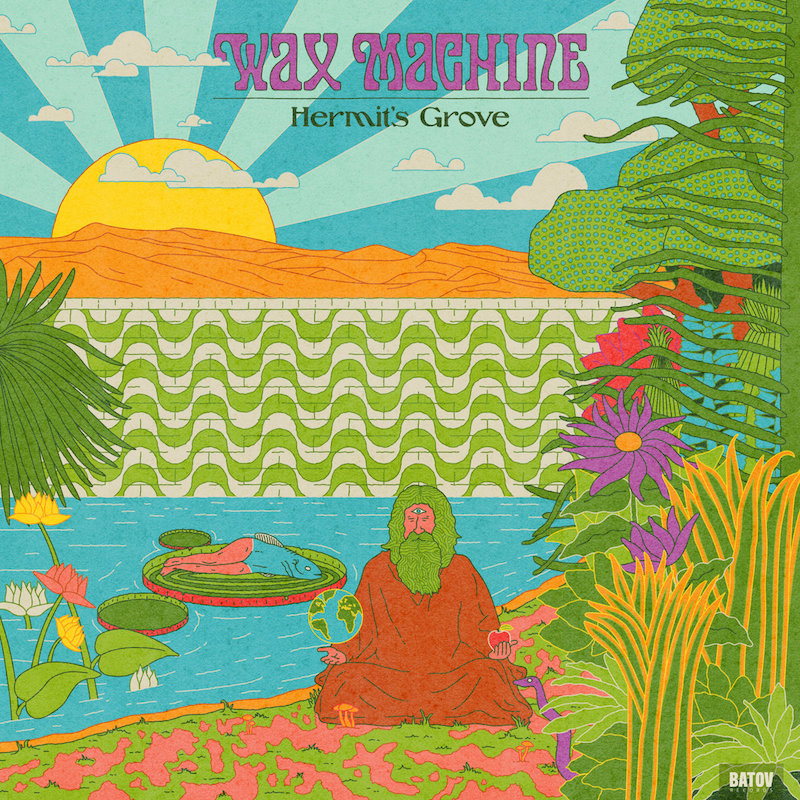 The bounty of early quarantine records was immense. Fantastic material from Chris Forsyth (with Garcia People's backing him at that), Zachary Cale, and newcomer guitar wiz Josh Kimbrough were practically glued to the turntable. As we trudge through our third pandemic summer, it's easy to forget that this was all once unfamiliar. Those records released in the early days of lockdowns and daily briefings, offered consolation and some sense of normalcy–great art would still be made, despite the industry changing for the foreseeable future. Among these was the lush psych-funk of Wax Machine's Earthsongs of Silence. Two years on, the UK ensemble has followed up with Hermit's Grove.
If Earthsongs was a blanket of dense sounds, unknowingly recorded to guard to against the coming isolation, Hermit's Grove embraces solitude. The group rejects the woes of the 21 st century and offers an alternative solace in the form of field recordings, shimmering guitar, and dream sequence choruses. "Guardians of Eden" enchants with its birdcalls, lightly strummed classical guitars, and winding flute excursions; making clear the group's intentions within moments of the LP's opening. Over the course of its first side, the album answers the question of what a collaboration of Pharoah Sanders, Ian Carr, and Caetano Veloso would sound like. By the time you reach this conclusion, the group launches into a stoney rendition of Baden Powell and Vinicius de Moraes's "Canto de Iemanja."
Through and through, Hermit's Grove is a record intent on daydreaming. "All I Can Do," employs ringing electric piano, slide guitar, and haunting background vocals to demand that the listener, "let it go, leave it in the past." As the song ends, you can't help but demand more of the infectious groove, when suddenly, Wax Machine invokes a wave of sound. Removing the secure shroud they have crafted hitherto with the skronkin' intro to "Face of All." A full-on horn section assault with pounding drums and distorted guitar, the group dives into the tightest number on the record. There are brief guitar solos, sax breaks, a few stop-on-a-dime time changes until its back into the haze of the completely freeform "Gaian Dream." As it began, the album fades out to the calls of birds. | j rooney
For heads, by heads. Aquarium Drunkard is powered by our patrons. Keep the servers humming and help us continue doing it by pledging your support via our Patreon page.