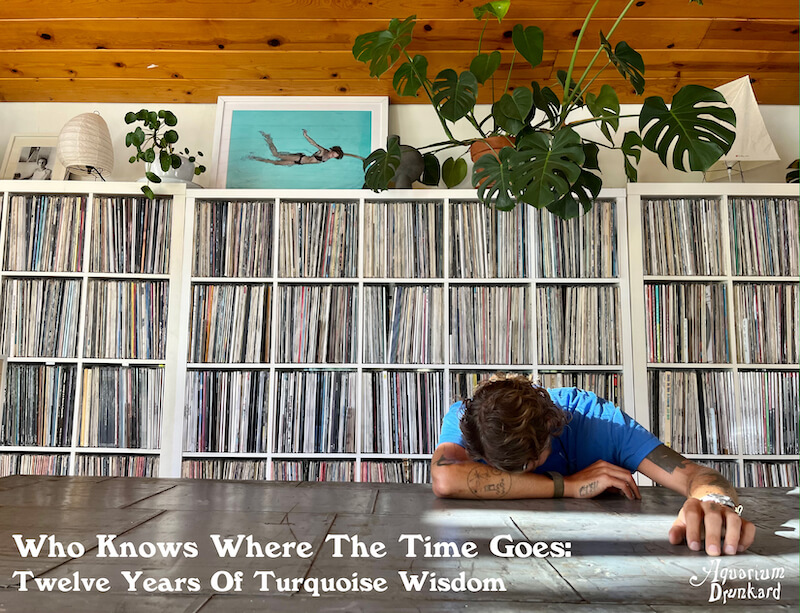 Aquarium Drunkard turned 17 a few months ago, and Zach Cowie (aka Turquoise Wisdom) has been a part of it for 12 of those years, beginning with the third entry in our (then new) guest selector series. A music supervisor by trade, Cowie's mixes span myriad decades, genres, and moods, always aesthetically maintaining an empathetic through line. Now totaling a baker's dozen, we have re-upped each individual mix beginning with the first volume from 2010. MP3 download version available via our Patreon. Cowie, on how time flies, below….
Not sure about all of you but my already impaired sense of time has become non-existent since the pandemic hit— the same event can feel either five minutes or five years away. I don't do much looking back when it comes to my music research— it's been 'find it, share it, find more' ever since I started digging for records as a teenager. But when Justin hit me up last week to see if i still had the files for some early mixes I made for AD, I unknowingly set foot on a bit of a journey…

Going thru all these tracklists, plus the various movies i was 'sampling' dialogue from to help give them a flow, was the closest thing I have in my life to reading old diary entries. Diving back in flooded me with memories of where I first found these things, and more importantly- the people who played them for me, and I felt for the first time in quite some time…time.

This re-examination was something I didn't know I needed and has left me extremely grateful to Aquarium Drunkard for always giving me a place to put these ideas, to Jess Rotter for the constant cover art, to all the friends and mentors who've taken the time to teach me about all this music, and to anyone who's been listening. – Zach Cowie at age 41 in Topanga Canyon on August 1st, 2022.
Turquoise Wisdom :: Volume One | Turquoise Wisdom: Heavy Summer Nights | Turquoise Wisdom :: Fall Downers | Turquoise Wisdom :: Springtime Promises | Turquoise Wisdom :: Like A Coat From The Cold | Turquoise Wisdom :: Angels In The Abstract | Turquoise Wisdom :: Floating | Zach Cowie :: The Use Of Ashes | Zach Cowie :: How Small We Are | Abstract Truths: An Evolving Jazz Compendium – Volume One | Zach Cowie :: Goodbyes & Beginnings | Zach Cowie :: A Deep Breath | Zach Cowie :: An Evening In Mono
Cowie will be in Denver, CO August 5-7 for a weekend residency at ESP Hi-fi. Catch him playing records at the ESP record fair August 5th, a deep listening DJ set inside the bar 10p-midnight, August 6th, and as a guest speaker at the Makings of You lecture series at 3pm, August 7th. typography: jess rotter photo: dan terndrup
For heads, by heads. Aquarium Drunkard is powered by our patrons. Keep the servers humming and help us continue doing it by pledging your support via our Patreon page.