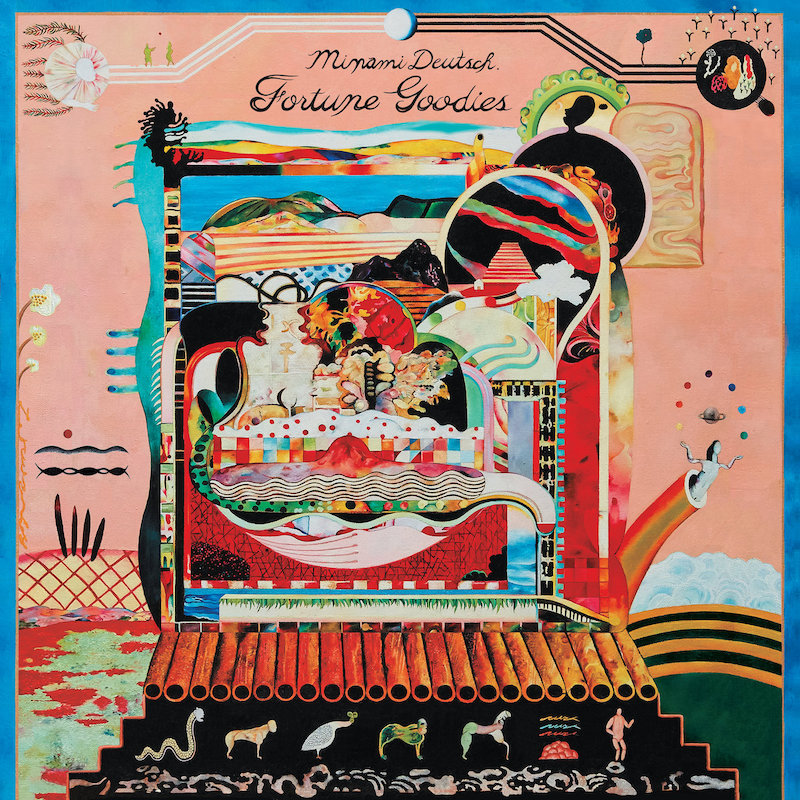 Minami Deutsch are not shy when it comes to krautrocking. Their name in Japanese translates to "South Germany," they've self-identified as "repetition freaks," and band leader Kyotaro Miula calls the Japanese trio's third album, Fortune Goodies, an "encyclopedia of krautrock."
Luckily, it's a wide and diverse encyclopedia to reference (see Sasha-Frere Jones' fantastic guide for a taste of just how wide-ranging the term is). The first two tracks, "Your Pulse" and "Still Foggy," have a razor-sharp rhythmic core that recalls the minimal techno of Nisennenmondai, with tight drumbeats and vertical bass lines. The panning, tactile coin droppings and varied rumblings of "Still Foggy" contrast with this precise playing, sounding like Can gutting and reworking the Slits' "Spend, Spend, Spend," all while maintaining Dennis Bovell's articulate touch. The space between the defined notes contrast with the concrete noise like a dub juiced by powdered substances instead of hashish.
With "Grumpy Joa," Minami Deutsch test the threshold of that motorik anchor. "Pueblo," offers slow-burning psych while "Interpreters of Forest," interlocks acoustic guitars over hand drums. Even when the band dials back the foregrounded bass and drums, it never loses touch with the overriding quality of metronomic propulsion. Meanwhile on "Fortune Goodies" and "Floating Fountain," the band engages its pastoral, loner folk tendencies. The guitars and synths drift between cool and searing temperatures, equally decorative and assertive.
The fat bass with controlled fuzz on "Stellar Waffle" comes off as a distant relative of Neu!'s "Negativland," but instead of pushing double-time into a manic ransacking, it surprises you with a nimble Beacons of Ancestorship-like riff that quickly subsides and settles back into the same mesmerizing groove with skittish synth parts that could have been plucked from Zuckerzeit. And the drums incorporate measure-long, dynamic swells but are still likely to hit that crash at the same point every four bars in true motorik fashion. Whether faithfully adhering to established frameworks or playfully subverting them, Minami Deutsch create something that moves beyond the realm of pastiche into a creatively fertile spiritual homage. | i forsythe
For heads, by heads. Aquarium Drunkard is powered by our patrons. Keep the servers humming and help us continue doing it by pledging your support via our Patreon page.