As a boy in 1960s Japan, Hiroshi Asada would sit listening intently to the country and folk sounds transmitting over the airwaves of a US Military radio station, soaking up the folklore and the fretwork. Inspired to pick up the guitar, he made tentative steps in college folk bands, meeting up with like minded musicians to develop his playing and songwriting chops, even touring America in those early days. Fast forward to 1972, Japan's beat group inspired Group Sounds bands have faded, either getting heavier and further out, or exploring stripped back, wistful folk rock sounds and the cosmic roots music of The Band and American Beauty-era Dead.
Seeking something closer to the source, Hiroshi again finds himself in America soaking up the culture while blowing through city after city to film Matatabi USA. A long lost TV series about three Japanese youths traveling around America by car, he finds himself hanging out with Jackson Browne in Chicago (who lovingly dubbed him the 'Japanese Cowboy' and found time to compliment his boots onstage in Philadelphia), before pitching up in Nashville. There he enters an Acuff-Rose studio to record an album's worth of his own compositions with the industry's most in-demand session players including members of Nashville's Area Code 615.
That album, Greetings From Nashville (You Who's In My Mind) turned 50 this year. The record is an expressive aural love letter to Country Music and America, with Hiroshi making the most of the talent at his disposal to take one final, definitive, freewheeling journey stateside, taking in everything from his beloved Bluegrass and Bakersfield Sound to lush orchestral Nashville country. Hiroshi crosses these well worn country paths with his own take on the hammond heavy roots music of Dylan and The Band. The album has since had somewhat of a second coming via a CD reissue, and is spoken of reverentially by fans and artists from Japan and beyond.
Upon his return to Japan, Hiroshi released one last single in 1974, backed by Haruomi Hosono and members of Tin Pan Alley, before starting a decades long, successful career as a music promoter. His company Tom's Cabin Productions brought hugely successful western acts like Talking Heads, Tom Waits, The Band and Elvis Costello over to Japan for the first time.
We caught up with Hiroshi to celebrate the 50th anniversary of Greetings From Nashville and find out more about his time in the US and the recording of the album. | m wall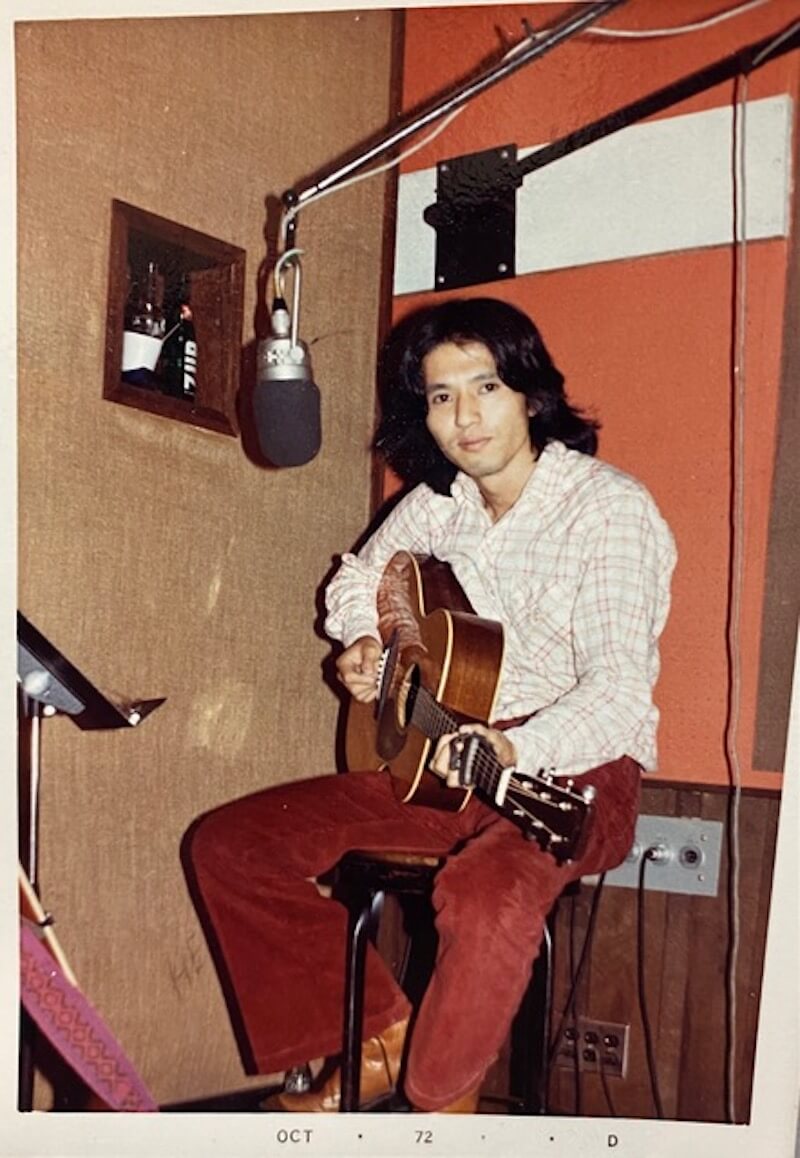 Aquarium Drunkard: Congratulations on 50 years of Greetings From Nashville. First off, I was wondering if you could briefly speak as to how you came to be a fan of country music and how you started playing music yourself.
Hiroshi Asada: When I was in junior high school, I started listening to Far East Network (FEN), which was a US military radio station, and I mainly listened to pop music. At that time, Country & Western was often played on the air and I listened to that as well. On Saturday nights Grand Ol' Opry Live (probably a recording) was on the air. There was a program called Honshu (Main Island) Hayride, which I listened to.
One day I heard "Tom Dooley" (North Carolina folk song made famous by The Kingston Trio) on FEN and I thought it was something completely different from the music I had heard before. I thought I might be able to do it myself and started a folk band with friends, MFQ (Modern Folk Quartet).
AD: How did you end up in America and how did the opportunity come about to record in Nashville?
Hiroshi Asada: In 1965, MFQ (not to be confused with the US MFQ which featured famed 60's musician and photographer Henry Diltz) were invited by an American organization to join a show called Sing Out '65 and tour the USA for two and a half months. Then in 1967 I went to America on my own to see the Newport Folk Festival, the Philadelphia Folk Festival and finally, I saw Bob Dylan at the Woodie Guthrie Memorial Concert at Carnegie Hall (January 20, 1968) and he was backed by The Hawks. I didn't know about The Band at that time … I found out later!
Then, in 1972, I appeared in a TV road movie called Matatabi USA directed by Hisao Kurosawa, a friend of mine from my student folk days. He is the son of the film director Akira Kurosawa (now an established producer in his own right). On this same trip I saw Jackson Browne and David Lindley (founding member of Kaleidoscope, session player and solo artist) perform in Chicago. I got to know them afterwards. Also singing that evening was country folk singer songwriter Steve Goodman.
Around the same time, CBS Sony asked me if I would like to make an album, and I said that if I could record in Nashville, I would do it.Recording in Nashville was made possible by Shoichi Kusano. Shoichi, Executive Producer and President of Shinko Music Publishing, was an honorary citizen of Nashville and a friend of Fred Rose (Country Hall of Fame songwriter, musician and one half of Acuff-Rose music publishing). He arranged it so that we were able to record at Acuff-Rose Studio.
AD: The players on Greetings From Nashville are some of the most respected Nashville session players of the era – did it feel intimidating going into the studio with them?
Hiroshi Asada: No, not intimidating, I was very excited because I wanted to do it. The musicians were all very friendly and nice. First of all, the guitarist Takahiko Ishikawa and I played a song, and the musicians listened to what we were doing and recorded it quickly, then we listened to it, and if there was anything we wanted to change, we recorded it again. other songs were recorded in the same way.
AD: You sing in both English and Japanese on the album, sometimes in the same song. Was this your decision or was it something that came from the record company?
Hiroshi Asada: I wrote all the songs on Greetings From Nashville myself, so they are my own. I wrote the English language songs myself because I thought that was the best way to do it. But some English lyrics were changed after consulting with the producer, Don Gant.
AD: Were you listening to Bob Dylan at the time? Did that play into the decision to recruit those particular session players (the Nashville A-Team)? The song "In the City of Hillsboro" in particular has a Dylan feel.
Hiroshi Asada: Of course, I bought and listened to Dylan from his first album, so I was a fan, I bought every record that came out. I had heard his Nashville recordings, and at the time a lot of American singer songwriters were recording in Nashville (Eric Andersen, Neil Young, Steve Goodman etc). I really wanted Weldon Myrick on steel. but he had other commitments.
AD: "Cajun Girl" reminds me of Lee Hazlewood's more upbeat country rock moments – great playing and sounds like everyone was having a lot of fun. Is that the case?
Hiroshi Asada: Is that right? I didn't know much about him, I only knew about his work with Nancy Sinatra. I liked Cajun music and listened to it a lot, so I wanted to write a Cajun-style song.
AD: What were your hopes for the album at the time? Did the album's reception on release meet your expectations?
Hiroshi Asada: It was my first Nashville recording released in Japan, so I thought it would be more popular, but not so much.
AD: Any memories from the recording that have stuck with you through the years?
Hiroshi Asada: I am still impressed by how great they were, how fast they worked and how they always asked me what the lyrics meant. Also, the Nashville number system! A trick that musicians use to figure out chord progressions on the fly.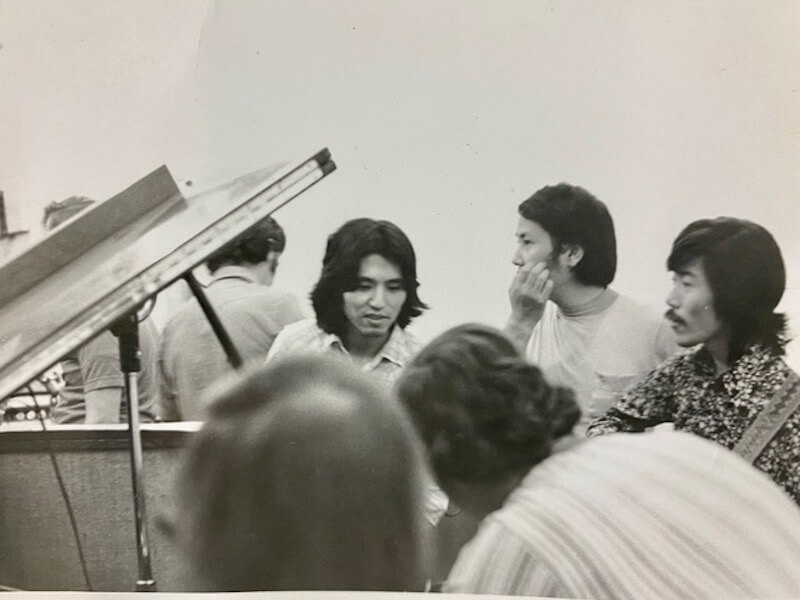 AD: The photo of you from the album cover shows a young man literally wearing his influences on his sleeve. Do you still have the shirt?
Hiroshi Asada: I bought that shirt in Nashville and I still have it, but it's a bit tight now, size-wise!
AD: How much time did you spend in the US in the 60s and 70s?
Hiroshi Asada: I was in a group called Sing Out 65 for about three months in 1965, touring all over the USA, and from April 1967 I lived in the USA for a year. In 1972, I filmed the road movie with Hisao Kurosawa and saw Jackson Browne live in Chicago on the way and became friends with him. Then I did this recording, and after that I started working as a promoter for Tom's Cabin in 1976, so I think I've been there five or six times.
AD: The song "Meguri Ai" stands apart for me, it has a Big Pink/The Band feel compared to some of the more conventional or classic country sounds you explore on the album. What American music were you a fan of that may have influenced the songs on Greetings from Nashville?
Hiroshi Asada: The Band was my favourite band and I listened to them from their debut album onwards. I invited them to Japan myself (on behalf of Tom's Cabin concert promotions) and toured Japan with them. I also liked a lot of singer songwriters … too many to mention. Eric Andersen, John Prine, Steve Goodman, Tom Rush, Little Feat, Van Morrison, J.J. Cale, etc etc.
AD: Back in Japan in 1974 you released a single, this time your band included ex-Happy End members Haroumi Hosono and Shigeru Suzuki. How involved were you in the folk and country music scene back in Japan?
Hiroshi Asada: When Sony asked me to make a second album, I decided to record the next one with my friends who lived in a suburban town called Sayama, because I wanted to make it sound like Muscle Shoals, Ry Cooder and Little Feat. Hosono had already moved from Sayama to Tokyo, but I recorded four songs with his group Tin Pan Alley (available on the double CD reissue of Greetings From Nashville).
We recorded the songs in the style of Little Feat, Ry Cooder and Jesse Ed Davis, and at the same time invited Hiromi Wada on bass (Hachimitsu Pie), Toru Okada on keyboards (Moonriders), Hirofumi Tokutake on guitar (The Last Show) and Eiji Shimamura (The Last Show) from Tokyo to rehearse and record the songs in Tokyo. But back then I didn't have that much to do with the music scene in Japan because it was different from what I wanted to do at the time.
At one point Hosono, Chu Kosaka, Hiromi Wada, Toru Okada and Hirofumi Tokutake all lived in the same American Village in Sayama (houses built for the US military during the Post WWII occupation), so I would sometimes watch their rehearsals and recordings at Hosono's house.
AD: Lastly, what are you up to now? Your time with SXSW ended in 2019 I believe, are you still promoting shows in Japan with Tom's Cabin? Do you still write your own music?
Hiroshi Asada: Tom's Cabin is still going but it stopped for a time due to Covid. I went to the Big Ears Festival in Knoxville, TN earlier this year. I'd like to do the same kind of festival in Japan. I'm going to restart the Hyde Park Music Festival I produced 15 years ago. It's an outdoor festival in Hyde Park in Sayama.
I write songs when asked. I've also written a few songs for others such as "30 years in two and a half hours" for Ryoko Moriyama and "Toast with Margaritas" for Bread & Butter. I play in a western swing band called Muddy Greeves and in a Hank Williams tribute band, which stopped due to the Coronavirus, but I'm planning to restart it this year. I would also like to resume recording an album with the duo Petty Booka, which I previously produced.
Only the good shit. Aquarium Drunkard is powered by our patrons. Keep the servers humming and help us continue doing it by pledging your support via our Patreon page.