Located roughly halfway between Cleveland and Buffalo in the country side off the 1-90, Erie, Pennsylvania isn't exactly the first place you'd go looking for rock music. But if you're looking for Zappa? Well then, Erie has plenty for you on that front. Earlier this year, the Zappa estate released a six-CD box set of live material all recorded in the area within a three-year span: a show from May 1974, another from November 1974, and one from November 1976. All three are from Zappa's mid-'70s prime, and two of them are great examples of bands that get short shrift in his massive discography.
In spring 1974, Zappa was coming off the series of shows he recorded for Roxy and Elsewhere. It was a tight and talented group: George Duke on keys and vocals, both Chester Thompson and Ralph Humphrey on drums, Napoleon Murphy Brock on lead vocals and sax, Ruth Underwood on percussion, and a few more. Already road-tested and with a deep songbook, when Zappa hit the road he added a handful of musicians: Jeff Simmons on guitar and vocals, Don Preston on synth, and Walt Fowler on trumpet. An 11-piece group, it was one of the largest bands he'd ever tour with—but it was for a special occasion: the 10th anniversary of The Mothers of Invention.
When Zappa and company rolled into Edinboro State College on May 8, they were missing Underwood, but still put on a remarkable show. The night is basically split into two halves: in the first they play a selection of new songs: "Inca Roads," "Montana," "Cosmik Debris," among others. All of those songs are showcases for the band, and especially for Zappa's guitar solos, but the big event of the evening is "Dupree's Paradise," a nearly 40-minute long performance where the band gets to strut its stuff: Duke, Simmons and Brock take turns in the spotlight before Zappa rips into a lengthy wah-drenched solo, ripping out licks as the rhythm section pounds along behind him.
When "Dupree's" ends, and the crowd gets to catch their breath, Zappa introduces the second half of the night: a lengthy medley of old Mothers songs, most going back to his first record. "You're Probably Wondering Why I'm Here," "Help I'm A Rock," "Hungry Freaks Daddy" and others are given new arrangements for this lineup and the group whips through them with ease, with Brock's singing giving them a new, soulful twist. The group closes the evening out with two lengthy performances: "Son of Orange County" and "More Trouble Every Day." Zappa felt highly enough of them that edited versions of them filled side three of Roxy and Elsewhere, but here they're presented in full, complete with tasty Zappa solos.
This lineup was one that never got a proper release before this: aside from the two songs on Roxy, the only other document is the quasi-legal bootleg Unmitigated Audacity, a title that might refer to what it took to release a bootleg of such poor sound quality. But on Zappa/Erie, one gets to hear this short-lived lineup in all its glory: the tight arrangements of the older material, the chemistry of the group when they take extended jams, and the last horn section Zappa would tour with until 1988, which gives this performance a nice, rich sound.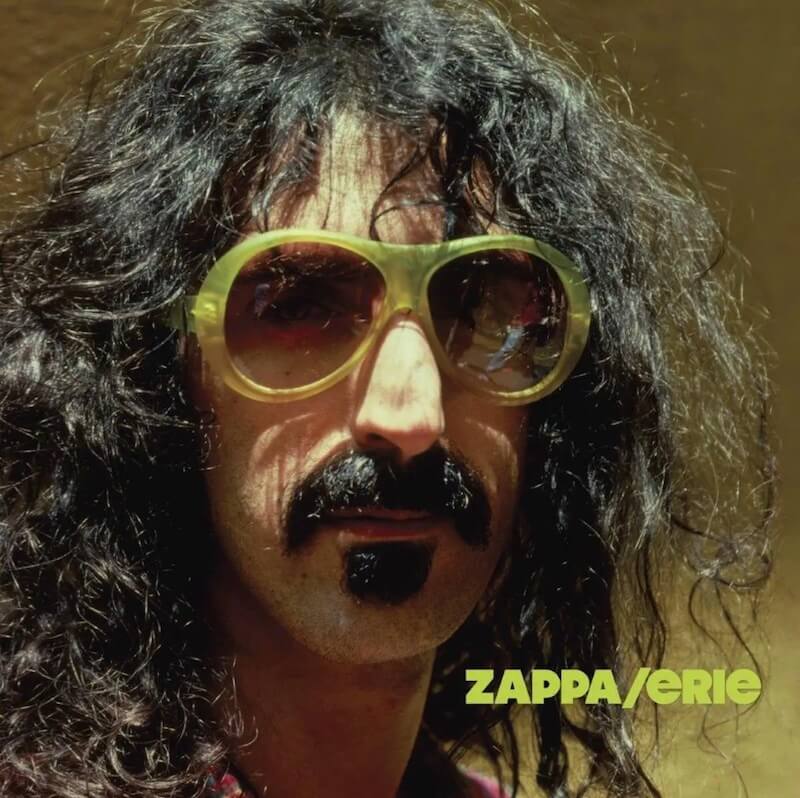 Later that year, Zappa's fall tour went about half an hour north to the Gannon Auditorium in Erie, where a stripped-down band would entertain another college crowd. Ruth Underwood was back and joining her were Duke, Brock, Thompson, and Tom Fowler on bass. Zappa, meanwhile, was sick with the flu. This group sticks closer to what fans expect from this era of Zappa's music: musically intricate rhythms that are mixed with a few extended pieces for the group to take solos.
The show opens with "Stinkfoot," where Zappa's guitar howls with a speaker-distorting tone, and segues nicely into "RNDZL," a trickier piece and a showcase for Underwood's skill at the marimba. She's occasionally overwhelmed in the mix, but when the band drops down she shines, the tricky and orchestrated figures take full advantage of her classical training. Duke's bluesy keyboard chops also get a chance to shine here.
The core of this band had been playing for over a year at this point, so when they get to songs like "Village of the Sun," they're able to blast through them at light speed. It goes right into a medley of "Echidna's Arf" and "Don't You Ever Wash That Thing," the band working up a nice groove and running through its tricky figures with skill. Zappa cracks a joke at Underwood's expense, but her skillful playing adds a nice element to this group.
Indeed, on the percussion-driven medley of "T'Mershi Duween," "Dog Breath," "Uncle Meat," and "Building A Girl," her playing really stands out: her and Thompson all but carry the group and you can almost see Zappa conducting the band, guitar slung over his shoulder, leading them in group improvisations.
A little later in the show, Zappa goes into a slow version of "Montana" where he launches into a nice solo, but he keeps reminding the audience to sit down and the song comes to halt in a mix of crowd noise and Zappa talking to the audience. You can hear shouting in the background and practically see the band looking at each other, trying to figure out what they should do.
Someone told me once that if a group loses the crowd, they've got to start playing for each other. Maybe that's what happens in "Dupree's Paradise." The performance doesn't go on as long as the first show's version, but has some cool moments: Duke tells a monologue about a talking camel as his synth makes spooky, chirping noises; Brock takes a slow, bluesy solo; there's a spacey improvised section. The momentum is lost a little, but the band quickly regains its bearings.
After a quick run-through of the "Yellow Snow" suite of songs, Zappa ends the show with more versions of "Orange County" and "More Trouble," both of which are briefer than the earlier versions, but have some nice moments in Zappa's solo.
Audience issues aside, this set is a nice document of a classic Zappa band: this group was bursting with talent and had great chemistry on stage. They could turn on a dime, goof around on stage in a way that feels natural and like they're including you in their inside jokes, and run through some of Zappa's most memorable melodies. "With this band, Zappa thought he could take over the world," said Ruth in the liners to another album. Maybe that's why this group is featured on so many of his records. But not long after this show, Fowler broke his hand and the group drifted apart.
Finally, in late 1976, Zappa made his final appearance in Erie, PA, with a show at the Erie County Fieldhouse, a hockey arena that held a bunch of concerts in the 70s. This was a radically different band from the one from two years earlier, featuring Eddie Jobson, Patrick O'Hearn, Terry Bozzio and Ray White. On this night, Biana Odin was in the group, too: she'd only last a few dates with the band before quitting mid-tour.
Gone were the lengthy group jams and sections where they goofed around with each other, and in their place was a new set of songs with sardonic lyrics, a few older ones of similar feel, and a few songs that were launchpads for Zappa's guitar pyrotechnics.
Chief among them is "The Torture Never Stops," where Zappa's solo builds in tension, pushed along by Bozzio's drumming which builds in intensity as Zappa goes at his fretboard. "City of Tiny Lights" is another one, a hard rocking tune where the rhythm section of Bozzio and O'Hearn pounds away, locked into a groove.
Meanwhile, on "You Didn't Try To Call Me," an old Mothers tune is reinterpreted as a soul ballad: Odin's singing gives it a slow, almost bluesy feel as she steals the spotlight. Her sultry voice is an element Zappa's music never really had again after she left the group, which gives this show something even hardcore fans something to be interested in.
The monster song of the evening is "Black Napkins," a signature Zappa song and a springboard for solos. Zappa takes one, but so do Jobson and Odin, on violin and vocals respectively. Zappa's solo is less frantic than the ones earlier in the night, instead going between slowly played phrases and darting runs along his fretboard. You can hear the seeds of how his playing would go by decade's end, when he was regularly using this song to explore new musical themes in his extended solos (for example: the Shut Up and Play Yer Guitar album). The song winds down extended solos by Bozzio and O'Hearn.
The night comes to a close with a rare cover by Zappa ("Stranded In the Jungle," a 50s tune recorded by The Jayhawks) and a couple of fan favourites: "Camarillo Brillo" and "Muffin Man."
This third show is notable for Odin's appearance (she's only really featured one other Zappa release, Philly '76) and for a slew of Zappa shows. It's an interesting night and there's some good performances, but truthfully, by this point Zappa's music was starting to take the angle he would in the late 70s on albums like Sheik Yerbouti and Zappa In New York, where you either love or hate his lyrics.
All in all, though, Zappa/Erie is a welcome set. It gives both the spring 1974 and fall 1976 bands nice airing, which is nice because both are generally overlooked in his discography, while fans will eat up another concert by the late 74 group. It's a nice compliment to both Philly 76 and Roxy and Elsewhere which feature these same bands, but it has enough unique material that even diehards will be interested in this one. It might be a lot for newcomers – if only the fall '74 show was available on its own! – but there's a lot here to like, especially if you're into this era of Zappa's music. | r milner
For heads, by heads. Aquarium Drunkard is powered by our patrons. Keep the servers humming and help us continue doing it by pledging your support via our Patreon page.