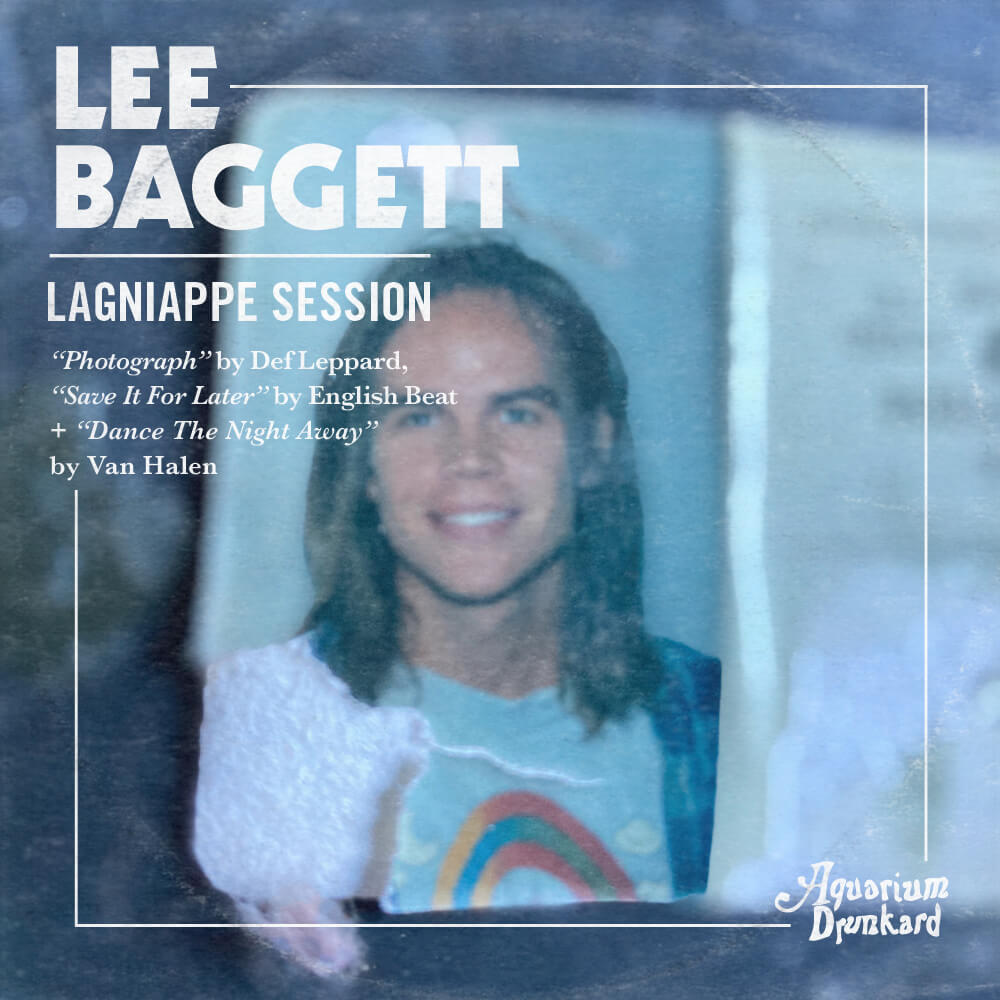 Lagniappe (la ·gniappe) noun 'lan-ˌyap,' — 1. An extra or unexpected gift or benefit. 2. Something given or obtained as a gratuity or bonus.
Classified by his label Perpetual Doom as a "journeyman," Lee Baggett has been kicking around the West Coast underground for decades, first with bands like his '80s-era outfits Unknown Origin and Fever Tree, and more recently with Little Wings, with whom he's collaborated off and on for more than two decades. But Just a Minute, released last year, marked his first outing under his own name. It was worth the wait, a shambolic collection of loose-limbed junk folk. And now he's back with Anyway, which leans into sinewy riffs and boogie-driving choogle. For his first-ever Lagniappe Session, he breaks out selections from Def Leppard, The English Beat, and Van Halen, reflecting on the cuts as he goes along.
Lee Baggett :: Photograph (Def Leppard)
When this song first came out, I went to spend my summer vacation working on a ranch in Australia where it was winter. I had a Walkman and I just wanted the Pyromania cassette so bad. I could see it and almost touch it, but any kind of record store was hundreds of miles away. When I got back, school was starting and Def Leppard wasn't cool anymore. Iron Maiden was supposed to be the next cool thing. Anyway, this is still a sexy song forever shining in a summertime backyard pool I never swam in.
Lee Baggett :: Save It For Later (English Beat)
If you're going to dance the night away, you need The English Beat . When we lost Ranking Roger in 2019, I had to learn this song. Three magical chords in Dave Wakelings weird guitar tuning.
Lee Baggett :: Dance The Night Away (Van Halen)

Cover a Van Halen song? No hesitation. I love Eddie. Wall of speakers, a million suburban swimming pools and your third best girlfriend. A simple three and a half chord song, I had to mess up a little by keeping my guitar in the Dave Wakeling tuning.
Credits: Sam Farrell – Bass, Matt Berger – Drums, Cory Gray – Keyboard, Trumpet, Mixing, Lee Baggett – Singing & Guitaring
Lagniappe Sessions Archives / imagery via d norsen
For heads, by heads. Aquarium Drunkard is powered by its patrons. Keep the servers humming and help us continue doing it by pledging your support via our Patreon page.