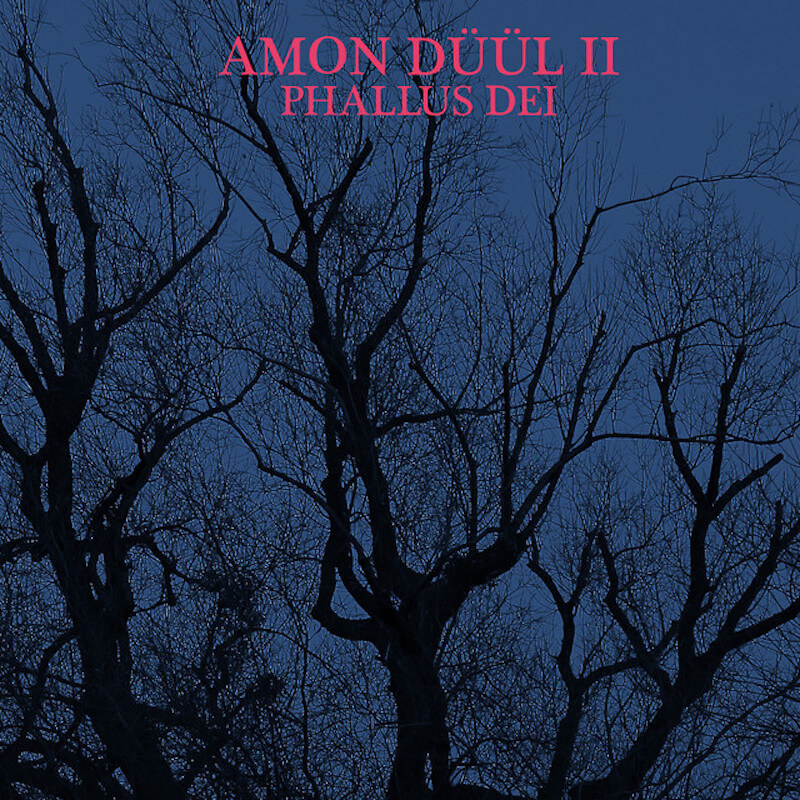 The break up was cemented. The live reputation established. Amon Düül's more musical half – adopting the suffix 'II' – entered the studio and laid down the first identifiable Kosmische slab. In name alone, Amon Düül II's debut demanded attention. "The God Cock" would formally signify Germany's emergence as a world power once more—though this time on the countercultural stage. Preceding CAN's Monster Movie by two months, Phallus Dei would be the introductory major-label document of a burgeoning Gegenkultur coming out of West Germany at the end of the 1960s.
Ambitions are made known immediately. The first side runs through a history of modern music: "Kanaan" offers a teutonic impression of early-Pink Floyd, with a far more pronounced eastern tilt. The psychedelic excursions of The Mother's early material show up in full-force on the exaggerated chaos of "Dem Guten, Schonen, Wahren." Sudden start-stop dynamics haunted by carnival barker vocals stymy any chance of Amon Düül's commercial acceptance, while fully promoting a freaked-out Weltanschauung. Often overlooked, the final two minutes of this tune could possibly be the heaviest in the entirety of Rock n Roll up to this point. The ensemble brings it all back home – transcending German nationhood – with the Prussian military march of "Henriette Krötenschwanz." Interestingly, in translating the barely discernible lyrics, Amon Düül present the blood-soaked scene of a car crash before closing the side.
The rambling sidelong "Phallus Dei" establishes an archetype for Amon Düül and the larger Kosmische movement as a whole. Its improvised form becomes crucial, as it is this spontaneity that Krautrock thrives upon. As footage from the winter of 1968-69 shows, the varied themes of the title cut were fleshed out ahead of time. Amon Düül, like fellow astral surveyors the Dead or Soft Machine, used these themes as moments of departure. Creating something in-the-moment is essential but underpinning even the most far-flung improvisatory passages is a steady pulse of melodicism that propels the tune forward—a driving or hypnotic quality to be later termed (and then far-overused) motorik.
The title cut takes listeners on a circular journey among minimal drones and noises that build into complete full-band jams. Nuance is crucial. Amon Düül, taking a cue from Miles Davis's electric bands of the era, develop a habit of building up these cacophonies only to halt the proceedings at their climax, leaving just one or two players to solo. The cyclonic drum circle forged from one of these moments halfway through the tune remains a high point of the group over 50 years later. One at a time, more and more players rejoin the menagerie until a fiddle-led hillbilly freak-out overwhelms everything. With repetitive fanfare, Amon Düül close out their debut; a miasma of violin, guitars, and syrupy vibraphone.
As far out as Phallus Dei takes first-time listeners, it was Amon Düül's next record that would firmly establish this proto-Kraut assembly as the apex of psychedelic sounds. | j rooney
Previously: Amon Düül: A Young Person's Guide 001
For heads, by heads. Aquarium Drunkard is powered by our patrons. Keep the servers humming and help us continue doing it by pledging your support via our Patreon page.