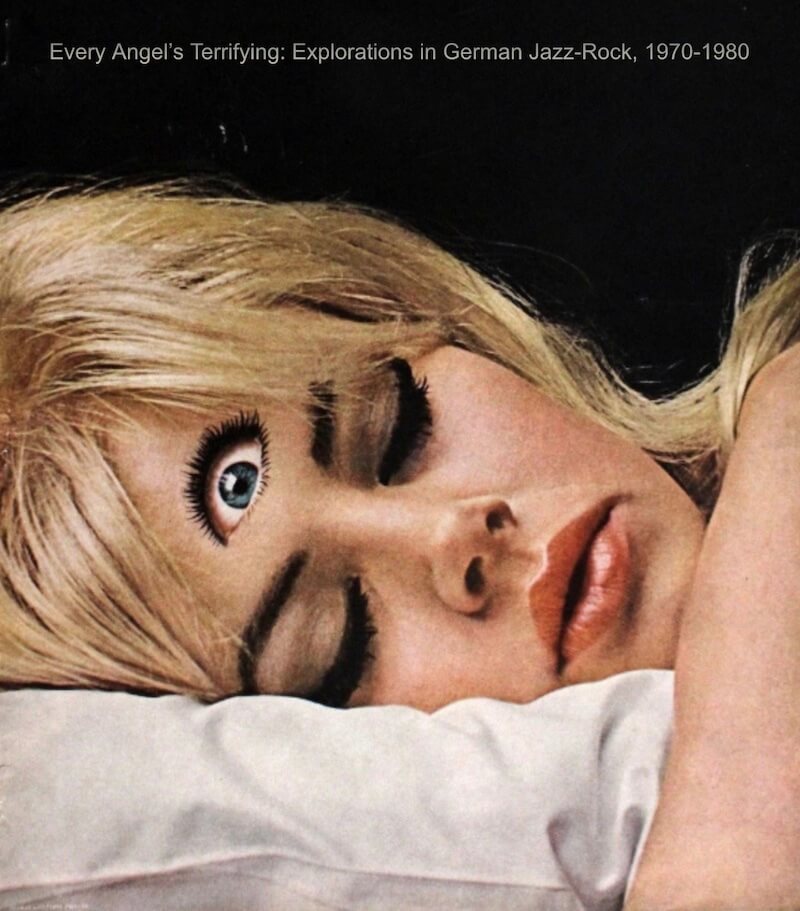 It's difficult to overstate the influence the sounds produced in West Germany in the 1970s had on the course of late twentieth century music. The extraordinary range of musical experiments and innovations that occurred in the Federal Republic over the course of a long 1970s (let's say from about 1969's Phallus Dei to 1981's Computer World) cut a path for at least half a dozen new musical idioms. The legacy of what still, for better or worse, gets called krautrock is audible in everything from post-punk to industrial, electro to house, new age to post-rock. There is no possible history of music in the final decades of the millennium that doesn't confront the outsized influence of West Germany.
But there was one strain of the broader krautrock sound whose influence has been somewhat more elusive. While no one in modern music deigns to claim descent from the sinewy grooves of CAN, the motorik thrum of Neu! or La Düsseldorf, even the lava lamp intergalactics of Tangerine Dream, the jazz-rockers of 1970s West Germany have a more uncertain progeny. Young West Germans, with roots in the beat music and ex-pat jazz scenes, began experimenting with some of the skronk they gleaned from abroad: some Coltrane, some Zappa, the Soft Machine, King Crimson. No small amount of it was, frankly, misbegotten. But there was also some magic there. Like their cousins in American fusion, Canterbury prog and French zeuhl, German jazz-rock became part of the general bloat and excess against which punk austerity and amateurism rebelled. Even the retro-maniacal late 90s struggled to recuperate the self-seriousness and virtuosity of the prog era.

In recent years, however, the influence of German jazz-rock has begun to make its presence felt: the new weird Arizona cats in Sunn Trio and The Myrrors; the constellation of colossal space rock bands around Denmark's El Paraiso records; international stalwarts of the great Beyond Beyond is Beyond label like Tokyo's De Lorians and Stockholm's Our Solar System—all of them would seem to owe something to the flute and sax-drenched smoked-out weirdness of the likes of Xhol or Kollektiv. In 2020, Chris Schlarb's supposedly unearthed, but sadly fictional 70s Swedish jazz-rock ensemble Klyfta served up an irresistible facsimile of precisely this vibe. It seems fair to suggest that continental European jazz-rock may be having a moment. And in the spirit of AD's previous excavations of the intercontinental fusion scene of the 1970s, we thought a solid compendium of the West German contribution to that movement was more than warranted.
The compilation assembled below definitely hews to the imperatives of head music. The boundaries of what counts as jazz-rock are always up for debate. We erred on the side of labyrinthine jams and deep grooves, and tried to steer clear of the slicker, funkier fusion gloop that would come to dominate the sound by decade's end. Vocals are mercifully scant. As for what counts as German, that too is subject to argument. Association P.C., for instance, was half-Dutch and half-German. And the great Don "Sugarcane" Harris was from Pasadena—but the track included is a performance in Berlin, featuring the massively influential Wolfgang Dauner on keyboards. Elsewhere on the mix, Dauner plays with American fusioneer Larry Coryell. And it is the Anglo-Belgian guitarist Philip Catherine that blazes the way through the cut from Klaus Weiss's Sunbirds. Embryo had two American keyboardists: Jimmy Jackson and, improbably enough, the legendary Mal Waldron. The borders and checkpoints of the musical continent were far more permeable than those of the physical one. The quality and, often, obscurity of the music more than justifies these trespasses.

As for the sound, it goes all over. There are reverberating flutes, amplified saxophones, liquid Fender Rhodes keyboards The guitars are jazzy and lysergic in turn, sometimes in the very same track. At times, the drums sit right in the pocket; moments later, they are thundering out for the old gods. It was not so much a fusion of jazz and rock as a continuum where these forms could mutate one into another and back again. All of this music is compelling; some of it is sublime. This darker corner of the krautrock era of the 1970s deserves a good deal more light. | b sirota
Download: Explorations in German Jazz-Rock, 1970-1980
Kollektiv, "Tamboura"
Exmagma, "Marilyn F. Kennedy"
Volker Kriegel & Spectrum, "Mindwill"
Embryo, "Entrances"
Wolfgang Dauner's Et Cetera, feat. Jon Hiseman, Larry Coryell, "Yin"
Missus Beastly, "Geisha"
Thirsty Moon, "Big City"
Panko Music, "Eröffnung"
Frederic Rabold Crew, "Januschka"
Ibliss, "Drops"
Brave New World, "Alpha, Beta, Gamma, Delta, Epsilon . . . Ford"
Aera, "Papa Doing"
Sunbirds, "Spanish Sun"
From, "Festival Rock/Use the Bridge"
Nanu Urwerk, "Zhawoh"
Tortilla Flat, "Leere, Chaos, Schöpfung"
Dennis, "Grey Present Tense"
Ginga Rale Band, "Bügleisen"
Dzyan, "Electric Silence"
Xhol, "Weird Bossa"
Contact Trio, "Engelstanz"
Association P.C., "Rock Around the Cock"
Don "Sugarcane" Harris, "Song For My Father"
Annexus Quam, "Osmose III"
Michael Naura, "Salvatore"
Toto Blanke, "Minister Ed"
For heads, by heads. Aquarium Drunkard is powered by our patrons. Keep the servers humming and help us continue doing it by pledging your support via our Patreon page.