Magic Carpet were a London based group that consisted of four members: Alisha Sufit, Clem Alford, Jim Moyes and Keshav Sathe. The band recorded one album in the winter of '71-72 on the English based label Mushroom. Influenced by the sitar and other cosmic elements of ancient acoustics, Magic Carpet's lone debut LP is magical, a poetic journey through space and time. Alisha Sufit of the group joined us to discuss the untold story of Magic Carpet. | d brown
Aquarium Drunkard: Did you grow up in the UK? When did you first begin playing music and what was it that initially fascinated you about it?
Alisha Sufit: I was born in an area of London called Hampstead, not long after WW2. It was a great place to grow up, with its many intellectual and arty inhabitants, including refugees from eastern Europe, such as my father who was born in Warsaw. He met my English mother in a commune during the war. I went to the Arts Educational School when I was eleven, where I did a dance and drama training, but it was not till I went to art school when I casually started playing the guitar. It was only after I left art school that I started playing more seriously, greatly influenced by an Irish man I had a brief liaison with, which triggered some huge psychic changes for me. I was amazed that he could listen to a tune and then play the same thing having learnt it by ear. I realized that you didn't have to learn to read music to create it—you could simply learn some chords and just invent a tune. I was brought up on classical music, but I bought my first Indian music LP when I was sixteen, an album called Ravi Shankar, Master Musician. I remember my parents standing, puzzled, in my bedroom doorway and my mother saying, "You can't possibly understand this music, it's from a totally different culture." But in fact it moved me to tears. For me all music is less about intellectual understanding and more about feeling.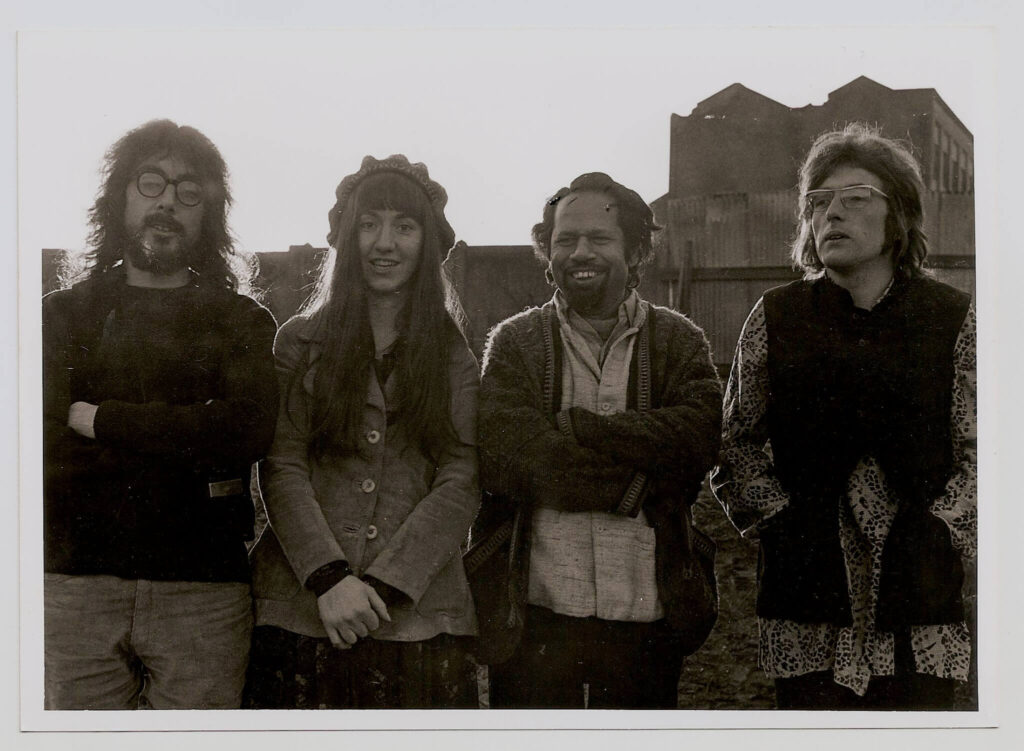 AD: Who were some of your influences early on?
Alisha Sufit: My father regularly took me to the Royal Festival Hall in London when I was a kid, to the Robert Meyer concerts for children. I loved them. But I also remember hearing Bill Haley for the first time and being totally struck, same with Elvis, and later, "Good Vibrations" by the Beach Boys. They were such novel sounds. Bob Dylan was a shining star and means more to me than I can expand about here. And then there was the whole Black music scene —early blues musicians, gospel and later all the R&B greats, Aretha Franklyn, James Brown, dozens of others, with that fabulous Tamla backing band The Funk Brothers. So my tastes were, and still are, very wide spread.
AD: How did you initially meet your Magic Carpet band mates?
Alisha Sufit: Six months before Magic Carpet formed, a friend asked me if I'd like to be in a band and I replied "Yes, but it would have to have sitar and tabla in it!" I knew the guitarist Jim Moyes from when we were at Chelsea School of Art. Back in the early '70s, he was playing guitar in a trio with tabla player Keshav Sathe and sitar player Clem Alford. They named their trio Sargam, after a note in an Indian musical scale. Mentored by Kesh, they played tunes based around Indian ragas. Someone (whose name I forget) lured them into doing a 'test' recording of their music and he later released it as an LP without their permission or knowledge, misspelling their name Sagram, to add insult to injury. The full name of the LP was Sagram, Pop Explosion Sitar Style, a misleading title as the tunes are acoustic and Indian-based. Plus the cover photo of a slithery hippie surrounded by half-naked dolly birds was nothing short of outrageous, not least because people often presume the man pictured is Clem. The first the guys knew about it was when they saw the LP on offer in a supermarket, the bootlegger having left the country by this time.
In 1971 the guys approached Mushroom Records, looking for a bona-fide recording contract, and Vic Keary, the company owner, said he would sign them only if they found a singer. So Jim called me and we very soon formed the band, which I named Magic Carpet. I designed the record cover using an Indian print I had hanging on my wall, the image of Buraq, the half-woman/half winged-horse creature traditionally depicted as the vehicle to enlightenment. Because I used open tunings on the guitar, many of the songs I'd written perfectly blended with the sitar, so we were able to sit down and play together almost instantaneously. I remember we played at a festival and we also did a launch gig at the 100 Club in London, but we got a bad review from New Musical Express. We had very little promotion, as that was not Vic's forte, but we did do a lovely gig at Wavendon, a venue owned by John Dankworth and Cleo Laine. Always battling with stage nerves, I got myself regular bread-and-butter gigs in bars and restaurants where people didn't focus on me too much. But I also did loads of college and university gigs as a solo performer. Sadly, in 1972 the Magic Carpet band soon disbanded due to lack of promotion and a certain amount of discord. We were together for less than a year.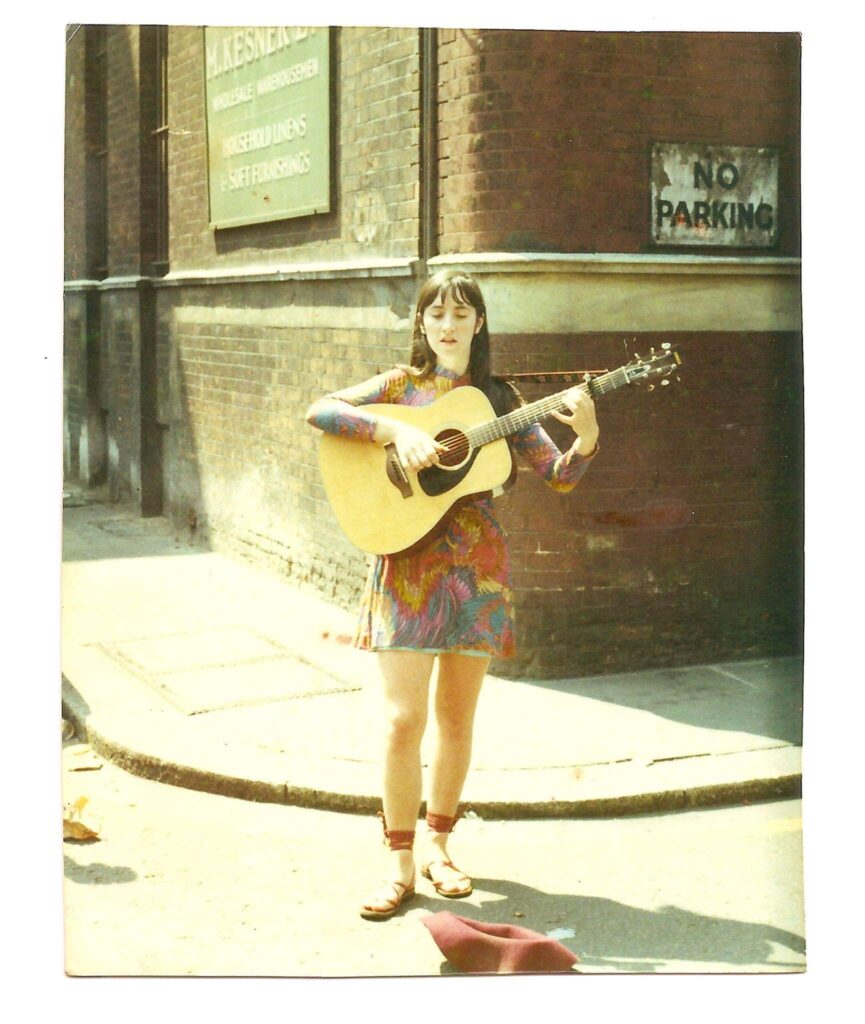 AD: Tell me about writing as well as recording the band's legendary debut LP. Can you tell me about recording this masterpiece at Chalk Farm Studios in the Winter of 1971/2? What were those experiences like for you creating those songs with your bandmates?
Alisha Sufit: Recording the album was a simple affair, lasting no more than a few days. We just sat down in Chalk Farm Studio in north London and played through the songs. The weather was very cold, but the feeling was warm and full of optimism. My friend Gabriel Weissmann took lots of photos during one session. I wrote all the songs on the album except for "La La" and "Do You Hear the Words," the latter written by Jim Moyes. The instrumental tracks are entirely by Kesh, Clem and Jim, a reflection of their existing collaboration and their love of Indian classical music, with which Magic Carpet had a deeper connection than the sprinkling of sitar "flavor" on other contemporary recordings.
We did that launch gig at the 100 Club, but Vic was never a good promoter, more a great sound engineer, so things started to unravel almost before they'd begun. But I stayed in touch with Clem and Kesh, who carried on performing separately. I began writing songs about a year after leaving art school, and I've written hundreds since. Some are out on other recordings I released, including Love and the Maiden (1974), with sleeve notes by guitarist Davy Graham, and Alisha Through the Looking Glass on CD and LP (1993), engineered by Vic Keary, plus I released a few more recently on Bandcamp in an album entitled Alisha's Cellar. Clem and I got together to do what we laughingly called the "rush follow-up" in 1996 entitled Once Moor. Love and the Maiden came about when a sound engineer spotted me singing in the street, which I used to do most Saturdays in Portobello Road market in London. He asked if he could record me and we did a late-night session in the studio where he worked. After the band split up, I carried on doing lots of solo performances. I was adopted by the band The Enid as a support act, including a gig at The Marquee where they had one of the the largest audiences ever in that cramped venue–997 people. Much later in 2008, Gaz Cobain of The Future Sound of London invited me to go on tour with his band The Amorphous Androgynous. We did an amazing gig in Kazan in Tatarstan, part of Russia. It was the free Festival of Peace with 250,000 people attending, so quite a jump from performing in local wine bars and folk clubs! We then flew to Moscow and did another performance there. The following year we played at the Electric Picnic in Ireland, plus The Green Man Festival, and we also flew to Kiev for a big gig there. Our final gig was supporting Kasabian at the HMV Forum in London. It was hugely exciting to play with those young guys. I've had a few good gigs since, but these days I'm more singing to the spirits in the ether in my own home space, especially since Covid knocked live performance sideways.
AD: Tell me about the band's reunion in '96 for the release of Once Moor. What led to the decision to write and record this record some 20 years later? When you reflect back on those times during the band's history, what are you most proud of? What have you been up to more recently during these rather strange times?
Alisha Sufit: The Magic Carpet album didn't sell much when it was released. Some years later, Nick Saloman (who owns the Woronzow Records label) found a box of Magic Carpet LPs in an old warehouse. He started selling the albums in The Record Collector magazine, so in effect he promoted the album, and suddenly there was talk of a reissue. I had the master tapes and also the rights, as I had never actually signed a contract with Mushroom Records back in the '70s, so I released the recording on CD and LP. It suddenly took off and there was lots of interest, plus quite a few interviews and magazine coverage. People began to ask why don't you get together and play again, do another album? Keshav Sathe had retired and Jim was not an option, so I recorded Once Moor on my own home gear with two new tabla players Clem knew. The LP metal was cut at Abbey Road and was pressed at the old EMI plant in Hayes, London. It's an excellent example of audiophile heavy-weight vinyl. As well as CD format, I reissued the Magic Carpet recording on vinyl, too, again a high quality audiophile LP. The metal was cut from the analogue tapes at Abbey Road and pressed at EMI. The limited edition LP sold out very fast and has since become a collectible itself. The CD version keeps steadily selling, although that format has since been superseded by downloads, of course. Meanwhile I wrote an eccentric novel entitled Falling Upwards, available on Smashwords and Amazon, plus I've self-published a couple of volumes of poetry, entitled Moon Clippings and Cluster, and you can view some of my visual art on the Saatchi Art website.
For heads, by heads. Aquarium Drunkard is powered by our patrons. Keep the servers humming and help us continue doing it by pledging your support via our Patreon page.