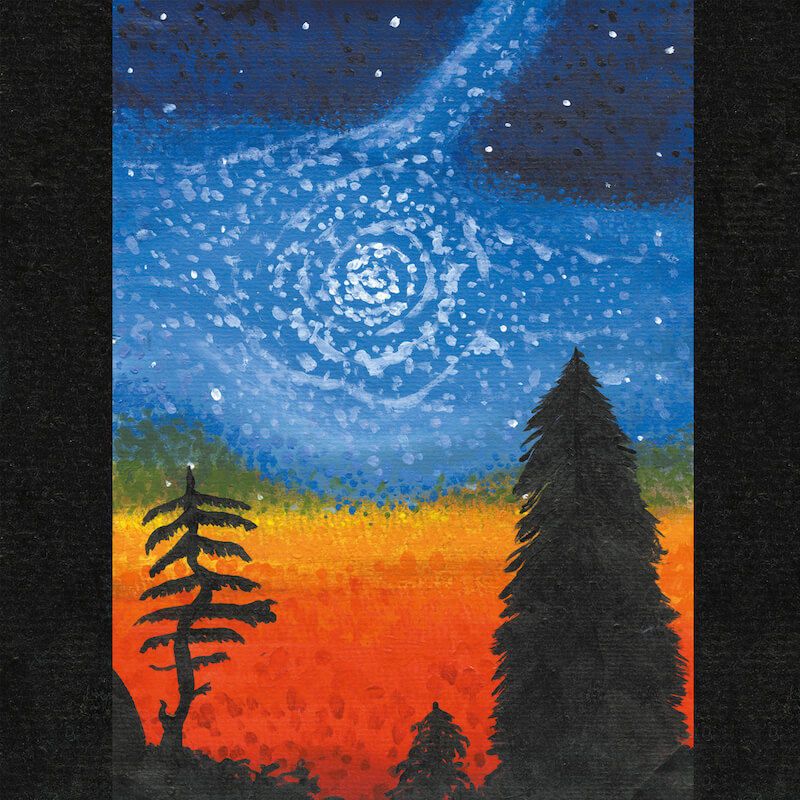 This album is not going where you think it is. "Spiritual jazz" has become a recognizable enough musical idiom that when you first hear the cymbal washes and rich plaintive saxophone of Gisle Johansen's debut as leader, you have a pretty good sense of where it is headed. The answer is usually up—and out. And in the short term, you wouldn't be wrong. After a brief, gorgeous duet of bass and pedal steel, the drums on the title track begin to skitter and Johansen's lyrical tenor resumes that melancholy, searching theme. But it is Even Hermansen's fractal guitar that suggest something else might be going on here. And after Johansen's ferocious solo, "Kveldsragg" the song (and, frankly, much of Kveldsragg the album) belongs to Hermansen's cutting guitar. If this is spiritual jazz, it is beset on both sides: by a vast ECM-ish chill above and a low-key guitar grind below.
Still, nothing can prepare the listener for the turn the album takes with the next track, "Morrasol." At its start, a noisy, eerie dirge of a song, "Morrasol" reminds me more of Rock in Opposition than anything recognizable as straight-up jazz. There's hints of Magma and Art Zoyd here, but more than anything, Mona Julsrud's haunting wordless vocals remind me of Fred Frith's leftist avant-rock trio Art Bears. Eventually though, "Morrasol" explodes; and above an absolutely frenetic rhythm section (Rune Nergaard on electric bass and Gard Nilssen on drums) Johansen and Hermansen tear each other to pieces. It is beautiful, violent stuff.
And then, it turns again. The third and final track, "Jon" begins as a Nick Cave-esque elegy for the late musician Jon Klette, sung in a strangled rasp by Harald Tusberg Jr. It momentarily becomes a space-age cabaret, before this one too is set aflame. Once again, it is the interchange between Hermansen's guitar and Johansen's horn. One is reminded of the white hot interplay of Sonny Sharrock and Peter Brötzmann in the late 80s death jazz outfit Last Exit. When this burns out, "Jon" returns to that jaunty cabaret and fades away.
None of this sounds like it should work. But it is one of the more thrilling releases I've heard this year. The turns this music takes, random as they seem, are never cheap jump-scares. They are developed organically throughout, and Johansen's crack squad of Norwegian musicians fully commits to them. Somehow they manage to weld spiritual jazz and icy ECM and martial prog and no-wave noise into an improbable, and emotionally stirring, unity. It is one of the most inventive and consistently surprising records out this year, and it might be one of the finest. | b sirota
For heads, by heads. Aquarium Drunkard is powered by our patrons. Keep the servers humming and help us continue doing it by pledging your support via our Patreon page.