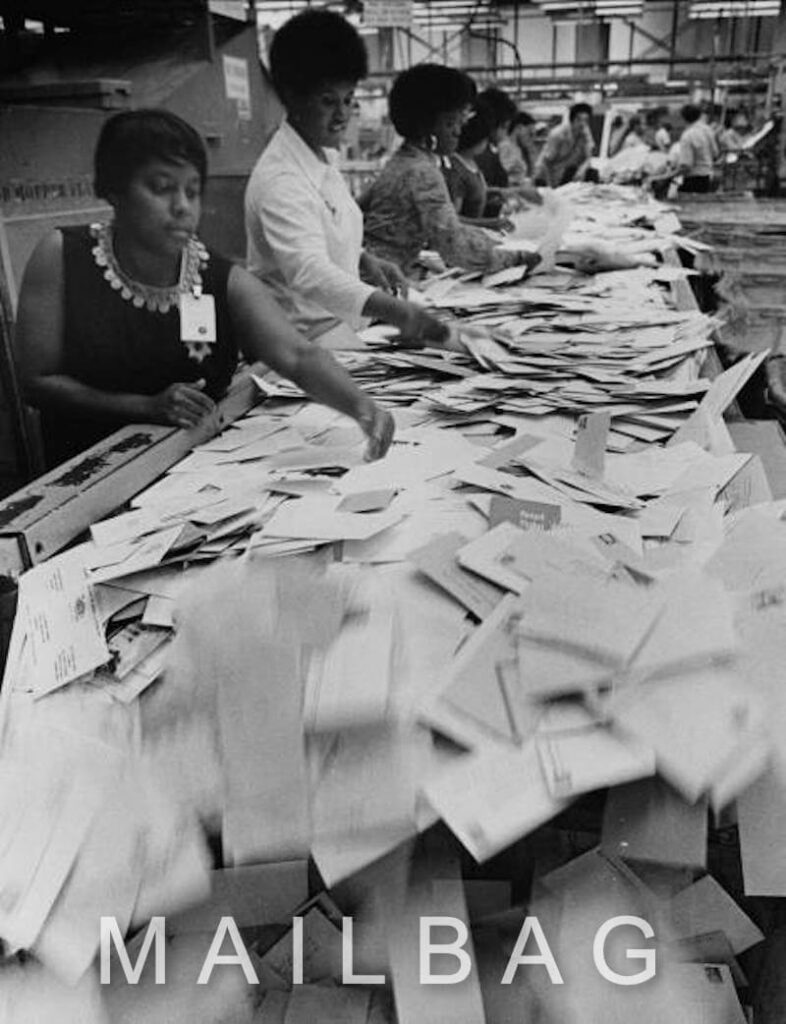 Long time reader, first time caller? Welcome to Mailbag, our new monthly column in which we dig in and respond to your questions. Got a query? Hit us up at aqdmailbag@gmail.com. In this month's bag: Holiday music recommendations, the art of the music documentary, Lee "Scratch" Perry lost treasure, Charles Stepney, and a grip of AD favorites for normals.
Chicago, here. With the holidays approaching, what kind of seasonal music (if any) do you gravitate towards that doesn't reek of Rudolph, Frosty and the like? I'll take my answer offline, thank you. – Bret
I know there are grumpy elves among us who can't abide any holiday music, but I find the world of Christmas music a welcoming one if you dig a little deeper than the radio station fare. The first recording that comes to mind comes with a deep tinge of sadness this year: Low's untouchable Christmas. The record speaks to the power and grace of the late Mimi Parker, whose voice makes "Just Like Christmas" unbearably moving, capturing both the majesty and melancholy of the season. On the more uptempo side, I recommend AD's great Lit Up Like A Christmas Tree mixes, featuring "vintage jazz, twang, fuzz, scuzz, r&b, blues, country, garage, lounge and beyond"—you even get Sun Ra's nascent Christmas tunes in that last batch—as well as the great Christmas Jambree collection of yuletide reggae and rocksteady (Jacob Miller's Natty Christmas scratches that itch too). And while we're at it, I know Phil Spector's A Christmas Gift To You and the Vince Guaraldi Trio's Charlie Brown Christmas soundtrack both qualify as standards, but I never manage to get sick of listening to either of them. And don't forget Emmett Otter. | j woodbury
Does listening to Charles Stepney's Step on Step feel like being on a playground with the early Sesame Street crew to you? Does to me. Sorry, leading question. – Eli
I think I know exactly what you mean — there's definitely a perfect 1970s childlike wonder at work on that Stepney release. And yet it's still so cool and sophisticated! Another recent record that puts me in that vintage afternoon PBS zone is the just-released Ernest Hood collection Back to the Woodlands, which Jason Woodbury reviewed nicely on AD this past month. It's this absolutely beautiful collection of wistful instrumentals, equal parts innocence and experience, paradise both found and lost. Not so much a playground hang, but a magical field trip through a pastoral wonderland. | t wilcox
I've been going down a documentary rabbit hole the past few months, so I thought I would pose a couple of related questions. First off, aside from the subject matter, what generally makes for a good music doc? And second, what are some of your all-timers and why? – Cobie
I can kind of jibe with most music docs if I'm interested in the subject — I don't even totally mind the talking head approach (though there are certain commentators I don't need to hear from ever again). But the really good ones are the ones that don't take too heavy handed a narrative approach, perhaps even going narrator-less and just let us soak in the vibes. Something like D.A. Pennebaker's Don't Look Back or Les Blank's A Poem Is A Naked Person or even the new Harvest Time film that Neil Young is putting out this month. These music films immerse you in a scene or a specific period of time and — without hitting you over the head with it — provide valuable insight into the artists involved and the creative process in general. | t wilcox
I have friends who only listen to the latest popular music or are stuck in whatever genre nostalgia from their high school days. I feel like they're otherwise savvy and open enough to explore new music, but whenever I try to plug AD (or my own recs), I maybe shoot too esoteric without realizing it. In short, what I think is accessible may sound like noise to other people. So, if you had to pick five records that would be an introduction to all that AD is, but also accessible to non-heads, what would they be? Help me open their minds, as Kuato opens Quaid's. – Y2
Thank you for this wonderful and difficult question. The answer could vary by the hour, and obviously, the writer, but you drew me to help feed your friends' heads and these are five records that I think are a fair shake:
Milton Nascimento and Lô Borges – Clube da Esquina: It feels only right to start with a non-english language record and if Clube da Esquina does one thing, it proves that you don't need to understand what an artist is saying in order to enjoy their music. Luckily, that's far from the only thing this album does. A Brazilian music collective pairing Milton Nascimento with songwriter, singer, and guitarist Lô Borges, Clube da Esquina is 'world music' in the purest sense… it literally sounds like the whole word—blending bossa nova, jazz, folk, pop, psychedelia and Música popular brasileira in a singularly harmonic fashion. Music that is spacious, open, and enveloping. Simultaneously intimate and immense.
Nina Simone – To Love Somebody: Nina Simone is also world music. Her sound and style were entirely her own, making her perhaps the greatest interpreter we've ever seen. With covers of Dylan, Leonard Cohen and, of course, The Bee Gees, To Love Somebody sounds like Simone coming into her own in the year of our lord 1969. She grasps her source material with delicate hands and then vigorously turns it over with her idiosyncratic vocal stylings and her graceful eclecticism. The band is kickass—seamlessly flowing from soul to jazz to folk to pop to rock & roll until it's just Nina Simone, full stop.
Neil Young – On the Beach: One had to be either Neil or Bob. If, to your question's point, this is to succeed as an introduction to all that AD is, it's imperative to note that both of these men are our collective dads. I decided to go with Neil and, while not necessarily as immediately accessible as Harvest or After the Gold Rush, On the Beach is dollars to doughnuts my favorite Neil Young album and one that I believe everyone should hear at least once. Part of his notorious Ditch trilogy, it's seedy 70s nihilism, "honey slide" daze, and often shockingly vivid lyricism conjure dark, thrilling, and tragic mirrors.
Cotton Jones – Tall Hours in the Glowstream: Let's move into the 21st century, since Aquarium Drunkard is a child of it. And Cotton Jones is canon here at AD. It's probably the band AD founder/editor-in-chief Justin Gage and I talk about the most. This particular record, their third after off shooting from the "poppier" Page France, finds partners Michael Nau and Whitney McGraw atop a mountain of their own making. With flourishes of 60s psychedelia, gospel-inflected melodies, marching band jaunt, and chamber-pop atmosphere (McGraw's electronic autoharp is the record's signature sound) it's a modern marvel, cast in a dreamlike haze. They sing "Lord, don't let me lose this feeling," while sounding just out of grasp.
Éthiopiques 21: Ethiopia Song: Emahoy Tsegué-Maryam Guèbrou, Piano Solo: Emahoy Tsegué-Maryam Guèbrou was an Ethiopian nun who, in her lifetime, was a prisoner of war and a civil servant. She studied violin and piano, and here, plays the latter with a stunning and impressionistic virtuosity and a uniquely vocal style, blending classical, jazz, and folk, and speaking volumes without saying a word. | c depasquale
Regarding the reissues of Robert Palmer: The Island years (1974-85), still missing are the Lee Perry-produced demos that Palmer made at Perry's very own Black Ark studio in Jamaica, but for a while, Amazon referenced the Perry tracks on their website. As far as I know, this expanded remastered version never happened… Any idea if these tracks ever will see the light of day? – Koen
Glad you mentioned this, as Palmer's back catalog is far too slept on. But, yeah, unfortunately this latest round of reissues (slated for 2023) does not appear to house the 1978 session they cut in Jamaica at Perry's Ark. And per the Amazon inclusion of the Perry-produced tracks in the product description, that is indeed bizarre. Maybe next time… until then, YouTube crumbs it is. | j gage
Aquarium Drunkard is powered by our patrons. Keep the servers humming and help us continue doing it by pledging your support via our Patreon page. Only the good shit.