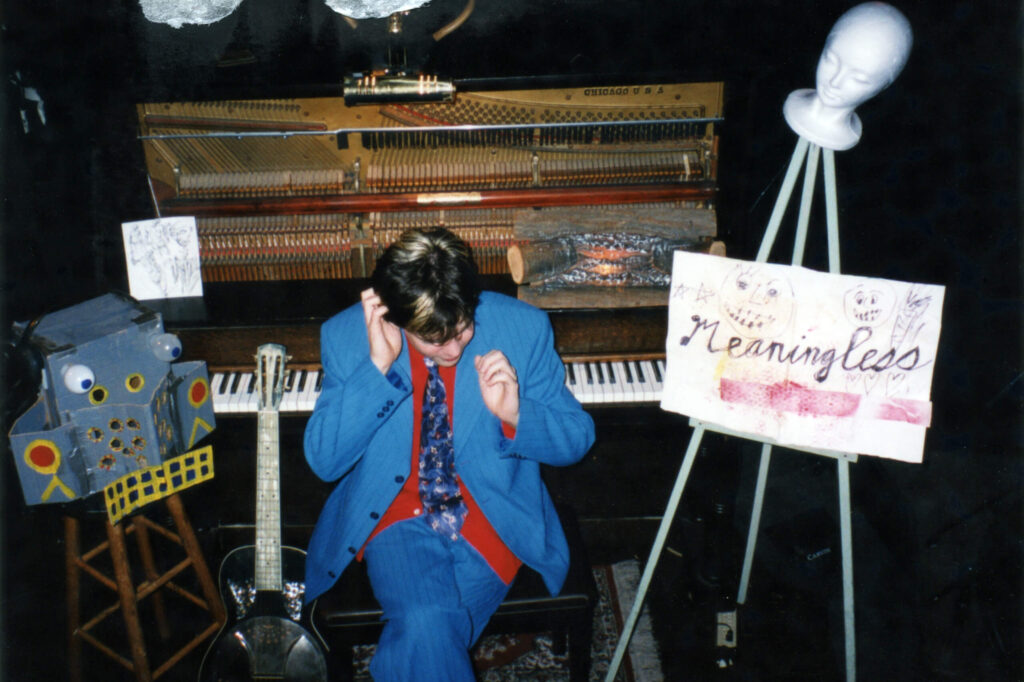 Though it spent years stuck on the shelf of Atlantic Records subsidiary Lava Records in the late '90s and early 2000s, 2022 finally saw the proper release of Jon Brion's debut solo album Meaningless. For years, the only way one could hear its hyper-literate power pop was to get your hands on one of the self-pressed version sold at Brion's storied gigs at Los Angeles club Largo, but thanks to via Portland label Jealous Butcher Records, the album is finally available far and wide, remastered and souped up in a process overseen by the artist himself.
What about the the record's fetching melodies, layered production, and wry lyrics baffled execs so? More than 20 years later, Brion still isn't sure. Not that he's paused in the years since to dwell on it much. He's kept prolific pace as a composer, crafting memorable scores for films like Lady Bird, Step Brothers, Punch Drunk Love, and Eternal Sunshine of the Spotless Mind; produced records by Spoon, Best Coast, and of Montreal; and worked on high profile recordings by Beyoncé, Bruce Springsteen, Mac Miller, the disgraced Kanye West, and more. As Craig Jenkins put it in an excellent interview for Vulture: "If you're a prodigious reader of liner notes, you've probably seen Jon Brion's name somewhere over the last 30 years."
And while his contributions are many, Meaningless remains the only work released under Brion's own name—and a true solo album, too: save for "Trouble," culled from earlier recording dates with Ethan Johns and an all-star band of session players, it was self-recorded and self-played. Listeners familiar with Brion's collaborations with Aimee Mann, Fiona Apple, and Elliott Smith will immediately recognize a kindred songwriting sensibility—not to mention his signature use of electro-mechanical keyboards like Chamberlin and Mellotron and Beatles-inspired orchestration—but Brion's reflections on the intimate nature of reality, broken hearts, and the human need to create and instill meaning are all his own, at once widescreen and intimate.
As a long time obsessive, I was honored to work with Jealous Butcher on promotional and biographical materials for the release, and that necessitated (at my insistence, of course) a proper sit-down with Brion and his studio. With his trusted engineer Greg Collins buzzing about at work on projects and a fresh Guinness at the ready, Brion walked me "down memory lane" and shared his reflections on what Meaningless means in the present day. Our talk, edited for clarity and ease of reading, is presented here alongside a brand new video for "Walking Through Walls" by Paige Stark. | j woodbury
Aquarium Drunkard: How does it feel, the idea that Meaningless will be out in the world in a more accessible way?
Jon Brion: I have no idea.
AD: You don't know how you feel about it?
Jon Brion: I mean, I have no idea what it means. Do I think people should be able to find it? Yeah. Did I make it with the intention that people could hear it? Yeah. But there are so many stories, even leading up to it "coming out"—and it barely come out. Different versions of the record got shelved by one record company. Then the thing was about to come out. I started doing press, and was informed it wasn't going to come out. So it sat for couple years. Then somebody tried to start up the first non-record company record company, a thing called ARTISTdirect. I was very down conceptually with that. Somebody from [ARTISTdirect] called me and asked, "Hey do you still have the record?" I said yeah and sent them the master and they put it out. It was a little anti-climatic. By the time Meaningless came out, they were already realizing, dot com-style, that they had started too big. They had a large staff and a couple of floors in a large building in mid-Wilshire, an old business district here. You'd visit and there'd be less offices than the last time you were there, you'd ask, "Hey, where's so and so?" and get told, "Oh, they're not here anymore." "What are they up to?" "I don't know." Everyone got a little mush-mouthed when coming to specifics. 
AD: It kind of fizzled out.
Jon Brion: Eventually, I pressed up some CDs just to have something to sell at gigs [in 2001]. That's why I don't have a quick immediately answer for your question. It's been a long time, and [there's always been] a sort of dismissiveness about the whole project. The way it's worked in my life is just a few people who know of me as a songwriter get mad at me that I do other things. And so I have to describe to people why collaboration is creatively interesting to me, too. I'm always writing or composing in some form. For me, it honestly doesn't matter. God's honest truth. I make [music] hoping if people hear it and like it. But other than that, I'm divorced from it. That was somewhat an intentional decision decades ago and it works for me. If I'm writing, I'm writing. If I'm performing, I'm really there. 30 years ago when I said, "Hey, I want to do a bunch of different things," I was warned off it by everybody.
AD: When you say a bunch of different things, you mean producing, doing session work, and working your own songs all at the same time?
Jon Brion: People would ask, "Why are you producing? You're fooling yourself. You're not a producer. You're a studio musician." Or, "Why are you not just writing songs? Why do you work on this worthless stuff over here?" Or some soundtrack person goes, "You're not a producer. You're soundtrack." Or people would go "Why won't you put out records?"
That's been my life experience. In the mid-'90s professional people would insist, "You should concentrate on one of these things and you'll be the most famous at it. You'll be set for life." And that, by the way, isn't ever true in life in general and in the entertainment business especially. But I had people really pull me aside, and give me a heart to heart: "You're a record producer. Come on, you're one of the best record producers I know." I had people say, "Stop fooling yourself that you're a writer." No joke.
AD: Were you hearing stuff like that making Meaningless?
Jon Brion: Oh yeah. I also had inverse experiences here. Now, was [producing, playing sessions, and performing] a great tragic business mistake? No. After doing it for three or four years, everybody saw me as doing a bunch of things. It was fine and I was happy with that. It was a life I asked for. I write what I want. I record what I want. It's been a little bit of an odd ride. When you ask me how I feel, there's no quick answer. I feel a lot of different ways. Would I have liked if more people heard it? Sure. People get to hear it now? Great. I don't think that's a bad thing.
AD: The ins-and-outs of the industry, it can get Byzantine and so insane to think about.
Jon Brion: Oh my God, yes.
AD: But that said, Meaningless has been a favorite of mine for a very long time.
Jon Brion: That's lovely. I think there are very few things lovelier than somebody genuinely liking something.
AD: I got Meaningless after getting into your work through the soundtrack for David O. Russell's I Heart Huckabees. I worked backward.
Jon Brion: I like that one. A lot of it is instrumentals for a movie, but there's half a record's worth of songs there too.
AD: I feel like there's a lot of thematic overlap between the pop songs you wrote for that movie and the themes on Meaningless.
Jon Brion: I thought that movie was really funny. I remember talking to David at the time about it and expressing that some people were going to have issues with the idea of him calling it an "existential comedy." I thought people would perceive it as pretense. He said something great. He had met with some Buddhist monk at some point and he told me, "Yeah, it turns out they have a saying: If you're not laughing, you're not getting it." I thought that was great.
With that soundtrack and with Eternal Sunshine of the Spotless Mind, I already had songs that were about the subject matter—not about the philosophy or study, but more the sensation of life. With Eternal Sunshine, there's a song of mine that's used in that movie as an instrumental called "Strings That Tie to You." On the soundtrack record, there's a vocal version. Well, that's from the first version of Meaningless that the record company scrapped.
AD: There you go.
Jon Brion: Afterwards, one of the producers asked, "How'd you do it? How'd you write that song about this movie?" I'm like, "No, one of the issues I've been interested in my whole adult life is memory." Memory—how it relates to the arts, how it interacts with our life. That's what "Meaningless" is actually about also. Objects are just objects until you have an experience that makes that object symbolic of it. In the case of that song, you're driving around saying things with somebody and they're pointless before. They can even be famous things, but they don't have a relevance to you. When they're then combined and stored as a memory in relation to something emotional or something you're interested in, well then, the memory's restored with that new information.
The idea is learning. You now know more, you recontextualize and experience. You learn something as an adult about human behavior and how people interact. One day, you're thinking about something from earlier in your life and you realize, "Oh my God, this is what was actually going on." "Same Mistakes" is about things related to that subject too. And "Knock Yourself Out," from Huckabees, is sort of my opinion about the great beyond and religion. I just don't think we as creatures have the RAM to understand even the physical universe and I think beyond that, that's beyond us. Maybe we get to know, maybe we don't. I'm okay with it.
AD: Meaningless is intricately layered but doesn't feel overstuffed.
Jon Brion: A lot of it, you'd probably be surprised how slapdash it was done. I put a studio in a basement of a house in town after the first version of the record got refused. I mean, we were a good 70% done with the thing. I went off and did other things. I was producing. I did a little bit of soundtrack work—though that wasn't quite as all-consuming as it became. What would happen is a few months would go by and the record company would ask "why haven't we heard anything?" To be honest with you, I'd be a little bit shocked. I had been sending stuff for months and the label was unenthused. They'd ask for more and I'd say, "Okay, I'll send you something in two weeks."
AD: That was in 1997?
Jon Brion: I got signed in 1997, but the bulk of the recording was done in 1998-99. I'd work on whatever I was working on, then I'd hear from the label and let the project I was working on know "Hey, I need a week off. I've got to make some things." I would go into the basement and I would treat this 24-track basement studio like the old device we used to have in the '80s and '90s, the TASCAM Portastudio, which was just a cassette player you could record four tracks on. I got one of those and kept it upstairs in the house to occasionally write with quickly while the studio is being built.
I took a couple of things from that and literally just put the 4-track onto the 24-track. The first thing I recorded while the studio was being built and then just started throwing things on, and I mean, really fast. I'd wake up, have some tea, record, and probably go out and play Largo that evening in town. And that's "Got to Start Somewhere." It was just a song about moving into a house and getting a record deal. There's a ton of on that track—it's me having fun with the cheapest of keyboards and the percussion sounds on them. I'd slam my fist across the keyboard of this Casio.
What would happen is, I'd record three or four songs at a time and send them to the record company. I wouldn't hear from them for weeks. So I kept working. In fact, by the time this was going on, I was working with Fiona Apple on her second record When the Pawn… So a month would go by and then the label would ask, "Hey, why haven't we heard anything?" I'd say "Give me two weeks" and do the same thing, record four or five new songs. This happened about three times. Every time, it was the same.
AD: The first line of the record is so funny to me: "I might not have anything to offer you." It's funny to think of that as what you might have been saying to the label.
Jon Brion: They ended up being two years worth of stuff. Stuff that ended up being movie themes.
AD: Most of the record ends up being comprised of these basement recordings, but "Trouble" is from previous sessions with Ethan Johns.
Jon Brion: That's from version one of the record. We recorded at Ocean Way Recording.
AD: With an incredible band: Jim Keltner on drums, Benmont Tench on piano, Greg Liesz on pedal steel.
Jon Brion: My literal favorite people to play with. Keltner is about a billion times more creative than anybody thinks. I talk to people and I recommended him for gigs. In a way, he's suffered from something I suffer from. People will relate him to a specific project or to a particular artist. "Oh, he's a studio guy" or, "He's that Steely Dan" guy. But he's an improvisor every second of his life. He'll go further left field than the most untrained musician, whatever your punk ethic would be—he's not [always] going to do "drummerly" stuff.
Benmont is just amazing and Greg Leisz is, harmonically, the most valuable player of anyone who goes around and plays on records. I'm somewhat harmonically obsessed with what's called "contrary motion." It's in most of my string writing —it's just the way the notes interact with each other individually. The all-time famous master of it would be Bach. Well, Greg lives there all the time and he can improvise like that. Having played on a few records with him, I don't think there's anybody of his caliber, emotionally. I see him at gigs all the time and I've seen him with tons of different people. Like Keltner, you could put him with the most aggro noise band and he'd be down. I mean, him and Bill Frisell had been playing together for years. Bill is that way too.
AD: Frisell is known for his beautiful, calm playing, but then you hear old recordings of him with Naked City.
Jon Brion: I mean, it's a certain spirit of person who has married their musicianship to life in a real way, who can see more than one thing at a time. Sometimes, that takes the form of just listening to what other people are doing and realizing "I don't have to do anything right now because it's covered." There was a track we cut mostly live on Rufus Wainwright's first record called "Sally Ann," a slow waltz. The groove is in the way he turns his hand at how each one lands. I sat next to Jim with the baritone guitar. I think Benmont was on that session. I played the minimum amount of notes. Jim's playing a brush with one hand and I watched Benmont not come in for a verse and a chorus. He's sitting there, and finally comes in with one big note at a moment in a verse. It's great. By the time he plays a full chord, it's already like the orchestra has come in. It's a mindset where they're paying attention.
AD: You worked with your frequent collaborator Aimee Mann on the song "I Believe She's Lying." The lyrics on that one are incredible.
Jon Brion: She had the stuff in the second verse: "As soon as we're committing/We're admitting our mistake." That's her.
AD: Was she an encouraging force while you were working on this record?
Jon Brion: It's more that we ended up being quite an influence on each other in ways that'd be very hard to describe. We're both so opinionated about writing and in our discussions we ended up codifying some things we both already felt. She was already a better writer than me at that time we met, but she's a person who always mainly collaborated by hearing something of somebody else's and maybe finishing it off. She's somebody who, when the inspiration hits her, it's best to just leave her alone, because in 20 minutes, whatever needs to be done is going to be done. I've watched her get an idea for a song and open a notebook and 20 minutes later have something astonishing, beautifully written, emotional as fuck. There's almost nothing to see. Lightly played a few chords on guitars, singing some melody quietly to herself, and she'd come over and go, "Hey, I think I've got something." 
She is incredibly fast and truly gifted, but I think the influence would be really difficult to say, but it's profound and because of the way the past works, it's inexorable now. There's no getting around that, it just is. To some extent, my just being a music lover ended up being an influence because I used to play records in the studio, and any time we were just hanging out. She'd often go, "Hey, what's that?" 
AD: What kind of records were you spinning?
Jon Brion: A lot of things that now people sort of take for granted.  The Zombies' Odessey and Oracle. Now, it's just understood that you know that record. It's sacrosanct. You know about Big Star. You know about the Kinks—other than "You Really Got Me." Back then, those things weren't obvious. I rarely met people who knew about those things. Pet Sounds was just that "one weird Beach Boys record." As a music lover, I kept playing different things. I think probably that influenced her in terms of there being different ways of working and recording—not that she's repeated things from that period or done specific things.
When we were working together, I just wanted to [showcase] what I saw as the really humanistic high quality of her songwriting. People looked at her as '80s product. That pissed me off. She really isn't some corporate creature or writer. I wanted her to be seen in the same light that people saw Paul Westerberg or somebody like that.
AD: You also co-wrote "Walking Through Walls" with Grant-Lee Phillips. Were those formal songwriting sessions were you both sat down with guitars and hashed it out?
Jon Brion: Not at that time. I just visited his house one day and he had an upright piano. I sat down and played. He's like, "Oh that's cool. Keep playing that." Talk about fast. I've watched Grant write two pages of lyrics in less time than it would take somebody to dictate them. It's strange. During that period, he was still with Grant Lee Buffalo. That song was something we composed at his house. He and his wife used to have friends over and play a game called "10-Minute Song." We'd all going to go into different rooms and write the silliest shit in the world, and reconvene in the living room in 10 minutes.
AD: To perform it?
Jon Brion: Yeah. I really prefer that to fucking charades, which I hate. But that song came out of me playing around on his piano. He had an old Houdini poster framed on the wall behind his upright piano with these phrases: "See him escape this torture, the man who walks through walls." I think Grant-Lee wasn't used to having something with that particular piano-based feel in his band. He's going, "Yes, go up!" "Go here, do this, do that." I'm laughing hysterically. He's like, "Oh, great. We'll call it 'Walking Through Walls.'" Then once that was settled, here's the A and the B section, we put the keys in a notebook and it was done. It was written in much less time than we've been sitting here.
AD: Another great song from the album is your Cheap Trick cover, "Voices." Do you know if any of the members of Cheap Trick ever heard it?
Jon Brion: [Session player and producer] Brian Kehew, of all people—we used to be roommates—came by here for something a little while ago and he said, "Hey, by the way, Rick Nielsen likes your 'Voices' cover." That was great. Great to hear.
There's some weird tug in that song. There's some little underpinning. It's something in a lot of Cheap Trick songs. I can't quite put it into words. I think people who are fans of them, it's part of what they like. It's not just the melodies. Sometimes, it's the way the chords move into each other with the melody attached. Even without the words, it already gives you some sense of place. There's a pull in some of it.
For example, the bridge in their huge hit, "I Want You to Want Me." It's a big uptempo shuffle when it goes to that B section. It's similar to that B section in "No Matter What" by Badfinger, which is another great example. It has to do with internal motion of note relationships where it's not just a chord, it's like, "Hey, if that chord's a seventh, before we go to this thing, it makes the thing expand and contract in this interesting way." You sense that motion going on. Then, if on top of it it's actually pleasing, and that's another thing entirely. As a writer, I can look at it and, regardless of what the lyrics are, I can see why he wanted to finish that. You can see why Rick wanted to play it or the band would go, "Let's play that one."
Good music abides by no sell by date. Appreciate an outlet that gets it? You can help out: Aquarium Drunkard is powered by its patrons. Keep the servers humming and help us continue doing it by pledging your support via our Patreon page. For heads, by heads.