Have you been keeping up with our Mailbag series? Last month a reader submitted a question in regard to our stance on hi-fi. Digging in a little deeper, we caught up with our friend Matt Reilly, of the UK based Cambridge Audio, in regard to gear – specifically, new vs. vintage. Below, we get into the pros and cons of different audio options, insights on what to consider when purchasing a quality sound system, along with tips to hear music at its very best – as the artist intended it to be heard, where nothing is added or taken away.
Aquarium Drunkard: Sonically, how can we get the most out of our music?
Matt Reilly: For your vinyl playback, first and foremost, make sure your turntable is level and is on a solid shelf, credenza, rack, etc. Make sure your cartridge, the body at the end of the tonearm that holds your stylus, has the correct tracking force. Then establish if your turntable's speed is accurate. A simple search online will show you how to perform the set up.
Tip two is to purchase a digital-to-analog converter, or DacMagic 200M, which converts digital information — 0's and 1's — into analog music signals. In most cases, your music player is probably your smartphone. Its built-in DAC usually does a good enough job for casual listening with earbuds, but it doesn't deliver the same level of performance you can get from the more advanced DACs. Connecting your smartphone to a stereo via a USB cable lets you use the stereo's DAC. This decodes your music with maximum detail and the strongest sound.
The third tip I pass on is to triangulate your seating and angle your speakers. This will create an acoustic sweet spot, where listeners can enjoy the full benefit of distinct, directional audio sources. To create an equilateral triangle, set your left and right-channel speakers at an equal distance from each other, and from you. This will maximize the stereo effect, and avoid any delay or overlap in oncoming sound waves.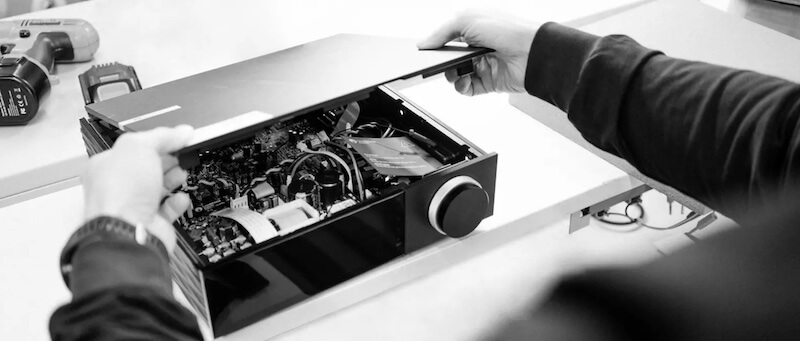 AD: In terms of vintage gear vs. modern, what are the pros and cons?
Matt Reilly: Vintage hi-fi is definitely having a moment as many cashed in during the pandemic to recreate the home music experience they had in their youth. While vintage classic components look great and create a recognizable warm sound that is pleasing to the ear, the challenge buyers often face is noisy stereo controls — adjusting the balance, volume or tone results in ugly scratchy interference noise. Additionally, dirty input selection switches interfere with the contact to one or both channels altogether. The final challenge is ongoing servicing and finding replacement parts which are tricky to find or costly.
While vintage gear certainly has a cool factor to it, modern amplifiers and speakers have come a long way in sound quality and design. Developments in capacitor, crossover network, transformer, driver material, and digital-to-analog conversion technology over the last five decades has brought about a new age of audio. Benefits of combining vintage and modern is that you can show the evolution of design over time, create a unique signature look and sense of nostalgia.
With all the technological advancements of the past few decades, it's never been easier to get better sound. Many brands like Cambridge offer the best of both worlds. A vintage design concept in a modern offering, giving you a perfect blend of classic externals and contemporary internals. Cambridge Audio's Evo all-in-one music system has been super popular in the US. The company is a British, independently owned audio company that has a lot of creative freedom and its core company value is respect for quality sounds. It is all about the listening experience so the technology is designed with that at its heart.
AD: What's the best vintage vs. modern mix?
Matt Reilly: The best way to mix vintage and modern is to think of the sound first and then look at other factors that create an ambient experience. This can be done with the clever use of light, interior textures, patterns, and positioning of equipment. Music can be a multi-sensory experience so you can even consider this when listening to your favorite album. What cocktail would match this album and my current mood? I love In Sheep's Clothing's Listening Rooms concept as it is getting us back in touch with the magic of music. The escapism that can happen when you're taken away to another time or memory by a melody. This can only happen when you fully embrace a song with no outside distractions. I imagine we will soon see lots of studies which show a ritualistic take of 'quality sound' as therapeutic exercise and a key well-being trend.
AD: What should a buyer consider when investing in quality sound?
Matt Reilly: I always recommend buyers to stick to reputable manufacturers with warranties who will stand behind their work. For your next purchase I also advise you to go to shops where you can sample different systems side-by-side to ensure you get precisely what you want.

AD: What's the latest over at Cambridge Audio?
Matt Reilly: Lots! For anyone new to the brand, Cambridge Audio has its grounding in the heart of British hi-fi, with its roots in Cambridge. Founded in 1968, it's the oldest British-owned hi-fi company. The company launched several world-firsts in audio technology, from the iconic P40, the first amplifier with a toroidal transformer (in 1968), and CD1, the first two-box CD player in 1985. Recently, in 2019 the Alva TT was the world's first Bluetooth AptX HD-enabled turntable and in the last 20 years, it has evolved dramatically, now based in London, with a global audience with overseas markets accounting for over 75 percent of its global business.
Most recently Cambridge Audio has been involved in a new exciting chapter with ambitious plans for the US business, including the recent global partnership with the incredible DeLorean Motor Company and recent EarthPercent partnership where the company joined forces with other industry veterans to raise its sustainability credentials to better protect the planet. Partnering with DeLorean – an iconic US brand – is just one example of how the company is finding like minded global partners and is excited to do more with its sustainability vision.
In 2023, Cambridge Audio is launching a #MusicMoments podcast on its Youtube channel where international figures, producers, artists and music veterans will be sharing insights and stories on their favorite songs, sound system set up tips and musical memories.
Aquarium Drunkard is powered by its patrons. Keep the servers humming and help us continue doing it by pledging your support via our Patreon page.