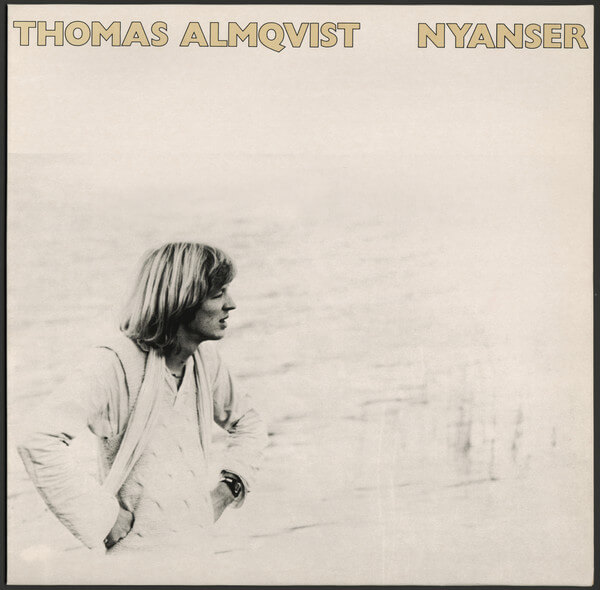 Listening to Thomas Almqvist's Nyanser, a profound and overwhelming sense of déjà vu sets in, an emotional sense of nostalgia and remembrance. After a moment, it dawned on this listener that the album's closing number, "Sortie" was mimicking the album's introductory melody—whereas previously heard starkly, on Almqvist's resonating guitar strings and cherubic flute, now surrounded by the gentle vocalizations of singer Turid Lundqvist and the astral expansion of Almqvist's synth. Caught in that weird, brief in-between state of ambiguous familiarity, the moment is both warmly enveloping and inexpressibly lonesome.
Such is the transcendent power of Nyanser, the 1979 debut of Swedish composer and multi-instrumentalist Thomas Almqvist, a Noridc masterpiece of folk, fusion, and world music, which receives its first ever reissue this March courtesy of Be With Records.
A guitarist first and foremost, Almqvist plays the record largely himself, his patient and winding passages often leading the sojourn across the album's majestic thirty-eight minutes. He also lends his hand at Rhodes, flute, synthesizer, tabla, bass drum, Amadinda, and all manners of percussion, the virtuosity of his playing spiritedly matched with the fervent erasure of genre—flowing freely between folk, jazz fusion, synth-pop, new age guitar, and heady dives into percussive, tribal chants.
His gentle guitar amblings on the title track bring to mind the Takoma Records universe and then, in the next breath, on "Mon Natten," crosses that with a plunking percussive minimalism that channels the likes of Francis Bebey. Almqvist yips and yelps like a man possessed on a track like "Quebec," or rather, like some guitar cowboy freak free at last—running amok in his own grand musical splendor. The evocative nature of the playing is no happy accident either, Almqvist having described his own work as "picture music," stressing stressing the importance of the visual element.
Inhabiting these images too were a group of young, experimental Swedish musicians including composer Ann-Sofi Söderqvist, the aforementioned Lundqvist, and saxophonist Hans Peter Andersson, a key contributor who takes the music into jazzier territories on three tracks, perhaps most notably on "Kampsång" where his horn bursts with a warmth that glows like an unexpected shot of sunlight across the song's wintry chamber tone. "Horisont" presents the truest ensemble effort on the album, with Almqvist and Andersson joined by a quintet of bass, drums, electric piano, flugelhorn, and flute for the what easily becomes the album's closest brush across jazz—a tight, breezy bossa-nova groove split into two by Almqvist and Andersson's respective freak flight solos.
But it's Almqvist all by himself on what is perhaps the album's most stunning moment, "Coral Reef." Credited on guitar, synth, mandolin, tabla, and 'sandpaper,' he crafts an infectious Eno-esque earworm. Woozy, reedy synths blare out over the calm tabla groove, and again, it's almost too much to bear. How could you be hearing this music for the first time, if it sounds like forever? | c depasquale
Thomas Almqvist :: Coral Reef
Aquarium Drunkard is powered by its patrons. Keep the servers humming and help us continue doing it by pledging your support via our Patreon page. For heads, by heads.