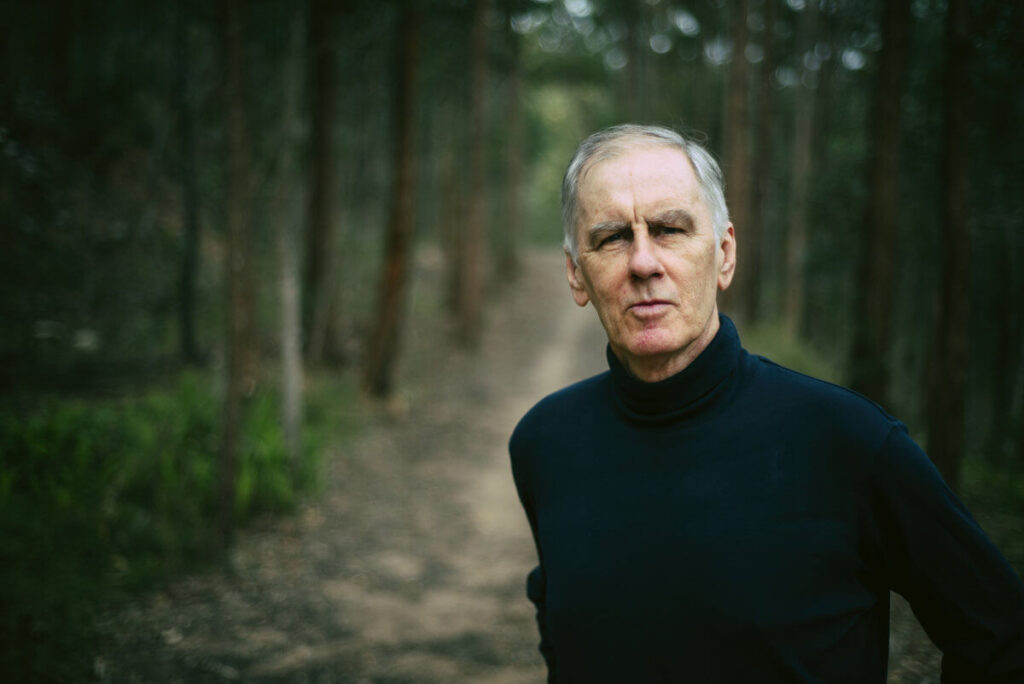 Robert Forster spent the late 1970s and 1980s in the Go-Betweens alongside Grant McLennan, in what Robert Christgau called "the greatest songwriting partnership working today." Then in 1989, after a tour promoting 16 Lovers Lane, Forster stayed behind in Germany while the band returned to Australia. He had fallen in love with Karin Bäumler, who became his wife and musical partner. Over the next several decades, she was his musical and spiritual partner, singing and playing violin on his songs and making a life and a family with him.
In 2021, Bäumler was diagnosed with ovarian cancer and entered intensive treatment. But far from ending her lifelong musical collaboration with Forster, her illness only reinforced it. In between bouts of chemotherapy, she and the family gathered in the kitchen and in the recording studio to lay down homespun versions of Forster's songs, mostly written before the diagnosis. Their son Louis came in to play guitar and former Go-Betweens bassist Adele Pickvance stopped by to add some bass.
The music sessions became an oasis of normal during a very stressful time. Says Forster, "There was no intention of making a record. What we've done astonishes us. We just started playing music because Karin and I have played music for over 30 years together…It was a way of taking us away. It was just an escape route."
An escape route, yes, but these sessions also turned into one of the year's loveliest, most moving records, The Candle and the Flame, out February 3rd on Tapete Records. To mark the release, we talked to Forster about life and love, time and memory and creativity—and his top favorite concerts in a lifetime of going out to see music. The story's end is a happy one, too. Karin is doing much better now, and Forster and his son Louis (ex- of the Goon Sax) are heading to Europe soon to test drive these songs live. | j kelly
Aquarium Drunkard: I'm finding your album very moving. I think "Tender Years" is probably my favorite. It's kind of a panoramic view of your life with your wife. How long have you been together?
Robert Forster: Since 1989. Obviously it seems like a long time. It is. It's gone quickly. But yeah, over that time, we've made music and music has been very much at the center of our lives.
AD: There's something so matter of fact and touching about that song. There's a line, "I remember carrying a baby/while you lie in bed waiting for another baby to come." It's so simple, but a glimpse at a whole life.
Robert Forster: It is. That song "Tender Years" became more biographical as it went on through the four verses, and that was just a really important moment that stayed in my head. We have two children. That was me bringing them into the song right at the end. That seemed like a good thing to put into the song.
AD: I understand you had a lot of these songs already written when your lives took a dramatic turn. I know it's probably hard to talk about this, but how do you go on with your life and your art and your music and your work when something like that happens?
Robert Forster: Well, I don't. I didn't. I had, in June 2021, about a year and a half ago, I had ten songs that I'd written over the last three or four years. And I was thinking about recording them the following year, in 2022. I sort of put that aside and I thought, if I write anything more, that's good. And then I had another melody in June, but when the diagnosis came through in early July, I didn't have time to write anything more, because everything changed. I had no intention of writing anything or trying to put what happened to Karin and in extension to our family in any sort of self-expression. But watching Karin [Bäumler] gather herself before she went into chemotherapy, just her spirit and her strength, she was mentioning that she was going to fight her condition as hard as she could. That line, "She's a fighter" came to me, and then a couple of days later, "Fighting for good." And it slotted exactly into this piece of music that I had. And because the fit was so perfect, that just worked. Those six words were almost the only….I thought well, I'll just put them into that piece of music and that's it. Done. And that's what happened.
And so, the other songs were all written over the last three to four years.
AD: She's on a lot of these songs. I can hear her singing in "It's Only Poison." I understand it became kind of a family activity.
Robert Forster: Yeah. There was no intention of making a record. What we've done astonishes us. We just started playing music because Karin and I have played music for over 30 years together. A lot of the music that we've made has been very domestic. I really enjoy working that way, and that's the way she likes to play music, too. So just sitting around in the kitchen. So that's what we started to do a couple of weeks after she started chemotherapy. And it was just the music, me playing those songs at night, songs that she knew. She started singing to them. She couldn't play the violin anymore. It was a way of taking us away. It was just an escape route.
Then our son Louis started to come over and he started to play guitar on these little things that we were doing. And then the bassist, Adele Pickvance, who played in the Go-Betweens in the last years of the band, she was living nearby. She came over. We used music making as a diversion.
Karin had a big medical procedure about a month later, and we decided to go into the studio just to document these recordings we had done. Then, with the procedure over, we had two of the songs, "I Don't Do Drugs, I Do Time" and "It's Only Poison." We could hear those live, no headphones, just four people playing around microphones, sitting on chairs, we could hear that they worked. It was two complete songs. So, then we thought, okay, with Karin going through her chemo, let's just pick days here and there where we go in and do the same thing. Just sort of doing it live with little bit of overdubs. So, the record grew. It wasn't our intention from the start. It grew through time, and we managed to finish it with COVID waves happening. In about six months.
AD: I spoke to your son, Louis, at one point about two years ago because of the Goon Sax, and I guess I was under the impression that he had not done a lot of playing music with you.
Robert Forster: That's true. Nothing on stage. Nothing together. Right from the start of the Goon Sax, he wanted to do his thing, and I wanted to do mine. We're in contact all the time, talking about music. But just sort of keeping things separate. He had his and I had mine. There was always a lot of communication between us.
He was going to go to the U.K. just before the diagnosis came, like days before. He was going to do a tour with the Goon Sax and he pulled out. He stayed with us. He was going to stay until Christmas, and hoped to go over, but because of COVID it was about a year later before he left. So, he was just wanting to be here to be with the family and with his mother. He started playing guitar with us. He knew some of the songs because I played them to him, but he sort of started playing along, and that was just beautiful. We sort of moved to doing that one day in the studio and then it just bloomed into this thing that none of us saw coming. But it was a really great thing that we could do this as a family.
AD: Just as a human thing, it must have been nice to be all together.
Robert Forster: Exactly. Exactly. That sort of feeling. Yes.
AQUARIUM DRUNKARD: And I think that really comes across. It seems like a very unfussy, natural, warm album.
Robert Forster: And that's what we wanted. We couldn't have done it differently anyway with the amount of time that we had. But we didn't want any sort of drone-laden, string-heavy musical tragedy. Karin very much drove the album. We wanted it to sound joyous. Things like "Tender Years" and "She's a Fighter" and "It's Only Poison," there's lyrical content that is complicated and a bit heavy, but we wanted the instrumentation to be fresh. It's what you said, "unfussy." That's what we wanted. We didn't want to get into any of the lyrical themes and have heavy, droning synths or any of that sort of thing with it. And we didn't have the time anyway.
AD: Was she feeling well enough to sing?
Robert Forster: It was very much driven by her. She really wanted to go in. She was on three weekly cycles with chemo, so it was like every third Friday. For two weeks, she'd be pretty knocked out, and then the third week, she was always at her best. And that's when we did it. We started one or two days right before, and then she'd go down again. She'd go in for a couple of days or one day and do as much as she could for a couple of days, and then we'd listen to it for the next two weeks. So, we had entertainment. Talking about how this was sounding and how it was all moving provided us with conversation matter other than the usual things when people are on chemotherapy.
AD: Right and it must have been good for her to do something normal.
Robert Forster: Yeah, exactly. Exactly. That's very true. That was very important to her. She'd played with me on my last two records, sang and played violin. So, for us to be able to do that again was really important.
AD: I love this line, "We know the roads and where they go/they disappear into people's homes." What does that mean?
Robert Forster: It's very literal. That song is set in Bavaria. Karin is German. We have lived for periods of time in Bavaria. When we're over there, when we lived there or visited on holiday, she does all the driving. I'm in the passenger seat, driving through this lovely Bavarian countryside. The song is really what I see out the window. We've been doing this so often. It's the typical little villages, farmland, people on tractors, people in fields bent over picking vegetables, the one church spire in every town. I'd see these roads, and some of them were quite small that actually seemed to end going to people's houses. I found that, when I was writing the song, sort of interesting. I never thought of it that way, but the roads ended at people's houses. Which sort of makes sense, you know, like you come up to your house and the road ends there where your car or your tractor parks. These small roads.
AD: But it also could be a metaphor.
Robert Forster: Yes, exactly. And that appealed to me a great deal as well.
AD: You said, Karin was not well enough to play the violin. Who plays the violin on that song?
Robert Forster: It's her violin teacher. Karin and I, when I wrote this song in 2022, we did a rough demo of it. Because it was just like it always was. I'd write a new song. I'd show it to her, and with some of them, she'd say, I hear a melody on the violin, and then we'd start playing it, and then we'd know with the next album even if it was two or three years away, we'd have that arrangement. And sometimes we'd play it in the intervening time. But she had this arrangement and so we could just play the recording to her violin teacher who could learn it, and then when we were in the studio, she could play that line that Karin wrote.
AD: That makes sense. You just talked a little about "I Don't Do Drugs, I Do Time" which is another one of these songs that slips in and out of scenes from your life with Karin. Can you talk about how that imagery came to you?
Robert Forster: I wrote the music to the song one morning, and then, that same afternoon, Karin and I were talking and a phone call came through. It was about how friends of ours in our 50s and 60s are still partying. People in their 50s and 60s, some of the people we know, don't necessary tone it down as they get older. They're still drinking and taking drugs and carrying on, which is great, which is fine, but I hadn't drunk or done drugs since the late 1990s. So, this line just came to me, "I don't do drugs, I do time," and I soon knew what that meant. It's basically the correlation between—and I had to simplify this for the song, this is just the thinking behind it—but basically when people talk about drugs, they talk about altered consciousness, about colors, about your sense of being more alive, all of these things correlate to the way that I think about time. I can do that naturally without drugs. I can go back to when I was 12. I can go back to when Karin and I met. It was this interesting thing that came to me that I just sort of riffed on. How memory and drug taking, the imagery around it, is pretty much the same. I was just riffing on that.
AD: How did you meet, the two of you?
Robert Forster: She was playing in this band, this Bavarian folk rock band called Baby You Know in the late 1980s. They made a number of records. The Go-Betweens were living in the U.K. when we first met. But we toured Germany quite a bit on each record. People liked us there. And just as you meet people on tour, we met Baby You Know. They'd come to our shows, especially in the southern part of the country. Karin was in the band playing violin and singing. So, we just met and we'd talk and this went on for a couple of years. And then on the last Go-Betweens tour of the 1980s in Europe, we were doing some shows playing with R.E.M., and so we met again, and this time it was like, we'd been seeing each other for a couple of years, and talking, and we didn't want to part. So, I stayed on with her, and the rest of the band at the end of the tour, flew back to Australia, so our relationship started there.
AD: I love this image of you finding the ticket stub in your jacket in "There's a Reason." Which winds you back to the past, a theme throughout. I was thinking that you've been in music, playing and going to shows your whole life. What are some of your favorite memories of seeing shows or being in shows?
Robert Forster: Oh. I can rattle them off. Seeing Talking Heads in 1979. They came to Brisbane. I had the first two albums. They were playing this place called Festival Hall, which was the standard 4,000-seater that the Beatles played in and Dylan played there in 1966. Everyone played there. And they had about one-tenth of the equipment that I've ever seen any band have there. They had the same equipment, basically, that the bands playing around town would. They also played a lot of songs from Fear of Music, which hadn't come out yet. So to be in the audience of a big, international rock band coming and playing new material was mind-blowing. They were playing stuff beyond what the audience knew. And just seeing the band, the four of them, completely charismatic, great players, fantastic songs, playing music. That was a real moment.
Another one would be seeing Orange Juice a year later. We were on Postcard Records in Glasgow and Grant and I were over there. We were over there for six months. So, we played with Orange Juice on the same bill in Glasgow in 1980. It was a revelation. They'd only put out one record, Falling and Laughing, at that stage. They had ten incredible songs that no one knew. There were 20 people there. Having played and then staying and watching them was a really, really enormous monument. Seeing them was really incredible. That's two. You want more?
AD: I'm enjoying this. If you don't mind?
Robert Forster: That was two. We played a bill…going back to this early period. We played quite a few shows with the Birthday Party and did a couple of tours with them. That was really interesting.
Another really interesting thing that I saw in London in 1980 was the Cramps. Original line-up at the Electric Ballroom with the Fall supporting them. But the Cramps, I've never seen a band do a show like that. Normally, even seeing — The Beach Boys did a great show in Brisbane with the original line-up in 1978. I remember that. But bands played, but even the Talking Heads and a lot of other Brisbane bands, they just played their music. I hadn't seen a band so overcome with image, but also being an original great rock band. That was a show. I really hadn't seen anyone do that. And I'm not talking about an Elton John show or a Led Zeppelin show or an Elvis Presley show. It was a show in another way and very powerful. I hadn't been entertained or challenged by a band in that way. We played with the Birthday Party after we saw the Cramps and with the original line-up and that was extraordinary.
AD: But you guys never did that kind of theatrical stuff in the Go-Betweens.
Robert Forster: No, we didn't. I think because we were concentrating on our instruments. There wasn't a lead singer with the Go-Betweens. I'd be playing guitar. The guitar anchors you to that place where with the Cramps, Lux had his shirt off and his trousers halfway down his ass and Ivy was incredible and Bryan Gregory was just amazing. We've never done that, but it doesn't mean, obviously, that I don't have a great appreciation for it. I love bands that can put that on.
AD: Will it be hard to play these songs live given that they're so personal?
Robert Forster: I think a lot about that, and I go on tour in early March. I've come up with a set list. I really don't know, but I think that I want to play the songs on the album, and what I find when I look at the set list is that the other songs have got to work with these songs from The Candle and the Flame. There are a couple of songs that I thought I might play, but they just don't sit with the rest.
AD: In terms of sound or in terms of subject matter or…
Robert Forster: In terms of lyrical intent. Mood. The other songs in the set will span back to the 1980s. And so, it will be a selection of songs, but they'll be a little more in sync with the songs and the mood of The Candle and the Flame.
AD: Do you play the same set list every night?
Robert Forster: It changes a little bit. It depends on whether I'm in a band or not. With a band, it doesn't. Because it's hard to do a swerve with a band. Whereas when I'm by myself…In March, I'm playing a bunch of shows in the U.K., in Ireland, Germany and Austria. It's quite compact. It's three weeks, because I don't want to be away for too long. For those shows, Louis is going to be playing bass and guitar. It's almost an extension of what we've done making the record, playing here in the house, being in the studio together, making that first video we did for "She's a Fighter," where he's in it and our daughter's in it. It's almost like a logical next step if he wanted to take it and he does. I don't know if we're going to do more, but we're going to the initial shows that way. So, with him there, maybe we are a bit more flexible. And this is why I've been thinking about the set because I had to send it over to him. We're in London for about four or five days before we play the first show in Glasgow on the 11th. So, the seven from the album, he already knows. But he'll be playing on the other ones, too. I think with him and I, if something's not working or we want to try something else, we can do that. We can move a lot more when it's just the two of us.
AD: Do you have any favorite bits or sounds or lines on this album?
Robert Forster: I really like, in the last song, "When I Was a Young Man," I like that lyric. I talk about elder brothers in that song. And there's David and Lou, which is David Bowie and Lou Reed, and then at the end of the song, it comes up again, and it's David and Tom, which is David Byrne and Tom Verlaine. And I'm just glad that I…in a low-key way just using their first names that I got them in because they were very important to me when I was around 20 or 21. And of course, to this day. But when I was writing about that year in my life, it was a really important year for me, but that I got them in there. That I just threw them in there was really nice. For me.
And also, in "Drugs," there's sort of a joke. There's this line about Marrakesh.
AD: Oh yeah, what was that about?
Robert Forster: I always wanted to go to Fez. I just threw that in. "One day we're going to Fez/in a train, an express/ that comes slowly from Marrakesh/to this city that time forgets." I just bring in the "Marrakesh Express" which is a Crosby, Still, Nash song. It's another musical reference that probably only I get. It's nice to just throw in a reference to a song as beautiful as "Marrakesh Express."
AD: Sure. I gather that you're working on your tour now. Are there any other projects that you want to talk about?
Robert Forster: Not really. I'm going to tour in May here in Australia, and I think that will just be by myself. I'm writing a novel. I'm trying to get my second draft in, finished before I go on tour.
AD: What's your novel about?
Robert Forster: It's set in the musical world. It's a story that I had. It's set in 1991. It's just a story that I had. It wasn't starting with an idea and seeing where it goes, which I know a lot of people do. I tried that and it doesn't work. You read writers and they say, well, I had one image. I'm in a train and see a horse in a paddock and that's where it starts. I can't do that.
AD: Stephen King in his book On Writing, which I would highly recommend, even if you don't like his fiction, he said that he feels that he's more uncovering the story than creating it. Which I think is interesting, because I think the subconscious plays a role in all of the arts, and to some extent, you are just finding what's there.
Robert Forster: Yes, I agree. But anyway, I don't know how many more novels, probably none, that I'll write. But I had this idea and I started and it's going well.
AD: Is that your first novel?
Robert Forster: Yes it is.
AD: Well, I'll look for it.
Aquarium Drunkard is powered by its patrons. Keep the servers humming and help us continue doing it by pledging your support via our Patreon page. For heads, by heads.