When Frank Zappa broke up the Mothers of Invention in the summer of 1969 he was at a crossroads. He'd toured North America and Europe, released a handful of records, and played with everyone from Eric Clapton to Jimi Hendrix, but the Mothers were at a dead-end. They couldn't get their music on the radio and Zappa's ideas were shifting away from rock and towards composition. So as the Mothers were winding down, Zappa hit the studio for three days in July.
Generally, Hot Rats is thought of as a studio creation, a good example of how Zappa used the studio as an instrument. Songs are layered with overdubs and the only two constants in the album's credits are Zappa and Ian Underwood. These were not road-tested songs or even anything Zappa would generally play in concert throughout his career. But an interesting thing happens when one works their way through the Hot Rats Sessions box set: the songs start as sketches and run-throughs, but slowly over a few takes, they come together. And it's less sterile and more spontaneous than you'd imagine.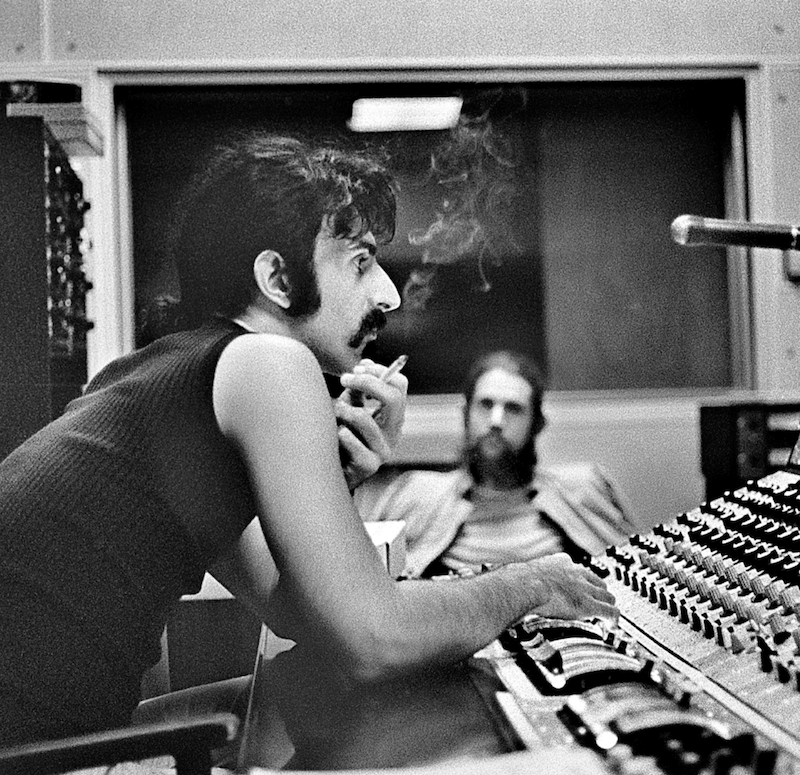 The set opens with two tracks from a session in mid-July. It's Ian Underwood, sitting at a piano and working through some themes: "Peaches En Regalia," "Aybe Sea," and "Little House I Used to Live In." Both are interesting, although they're just preliminary sketches for what's to come. Fast forward two weeks: Zappa's booked three nights at TTG Studios in Los Angeles and he's brought in some session players to flesh out these themes. Monday night opens with a loose version of "Peaches" that features a handful of Mothers, plus session musician John Balkin. It chugs along, and although it lacks any polish, it's a recognizable cousin to the finished product.
But it was back to the drawing board for Zappa. A good chunk of this disc shows how "Peaches" came into being. It was recorded in two sections by a trio of Underwood, Shuggie Otis, and Ron Selico and you can hear the song evolving in over a dozen takes as Zappa makes suggestions ("More fills!" or "As crazed as you can make it!") reminiscent of a director on a movie set.
It segues nicely into a two-part "Peaches Jam" where Zappa, violinist Don "Sugarcane" Harris and Johnny Otis (here on tack piano) join the trio and push the song's edges outward. Harris takes a nice solo, and Otis's piano is a nice, punchy counter to Underwood's. Near the end, Zappa joins in and stretches out with a short but bluesy solo. Next comes "Arabesque," an older theme that Zappa's been working on since the early 1960s. The trio of Underwood, Shuggie, and Selico work on this one for a dozen takes before Zappa settles on a take. After some edits and overdubbed guitar, parts of this would end up on Weasels Ripped My Flesh as "Toads of the Short Forest." The disc closes with the oddly titled "Dame Margaret's Son to Be a Bride," a driving number where Otis plays a funk bass line against Underwood's electric organ. Had Zappa been listening to the Tony Williams Emergency? It crashes to an end, and so does the night's work.
Disc two opens on Tuesday night, a new set of musicians, and a new set of music. Underwood's back, but now he's joined by Max Bennett on bass and drummer John Guerin. First they tackle "It Must Be A Camel," which even from its first take sounds more or less complete. But stripped of the overdubs this one sounds like a relaxed west coast jazz number. Again, you can hear Zappa directing the band between takes: "Destroy the mood completely," he says to Guerin, wanting the drums to counter Underwood's piano chords. From there it's on to "Natasha" which the trio nails in four takes.
The next track's one of the treats of this session. "Bognor Regis" was one of those Zappa tunes that superfans tried to track down for years. At one time it was slated as a B-side, but it never got released or even bootlegged until about a decade ago – and even then it was just a snippet. But here it's presented in full. A blues driven by Underwood's tack piano and Harris's searing violin, it's a studio jam with some tasty playing by Harris and Zappa, building off of each other and trading fours.
Disc two closes with a pass at "Willie the Pimp." Stripped down, it's a pretty simple song that's built around a repetitive, see-saw violin and guitar riff. The band circles around this theme for a few minutes before Zappa steps in with an explosive solo. Indeed, this track was the first time where he really got to show off his chops on record and in some ways, it helped cement his reputation as a guitar hero. Interestingly the jam goes on past where it ends on Hot Rats: Harris gets to show off his chops while Zappa plays some chunky rhythm guitar. Next comes the start of the overdub process: one layer of guitar solo he'd use, and another he wouldn't. Having them both is a nice inside look into how Zappa worked, trying multiple passes at the same piece before he found one he liked.
Disc three opens with several takes of "Transition," another piece recorded in separate sections. A slow, almost late night blues, that's driven by Underwood's understated piano and anchored by Bennett's acoustic bass. Zappa would later overdub some guitar on this and release it as "Twenty Small Cigars," but it sounds practically finished right out of the gate, showing how sharp these musicians were. Around this time, Zappa makes an offhand comment about how the sessions lasted over seven hours, but before the evening's work ends, the band gets together for one last jam: "Lil Clanton Shuffle." Another blues that's built around Harris's violin leads, this one starts off a little slow but builds up as they get into the groove and take turns soloing. This one ended up on 1996's The Lost Episodes but in a much shorter edit; here it's almost 13 minutes long.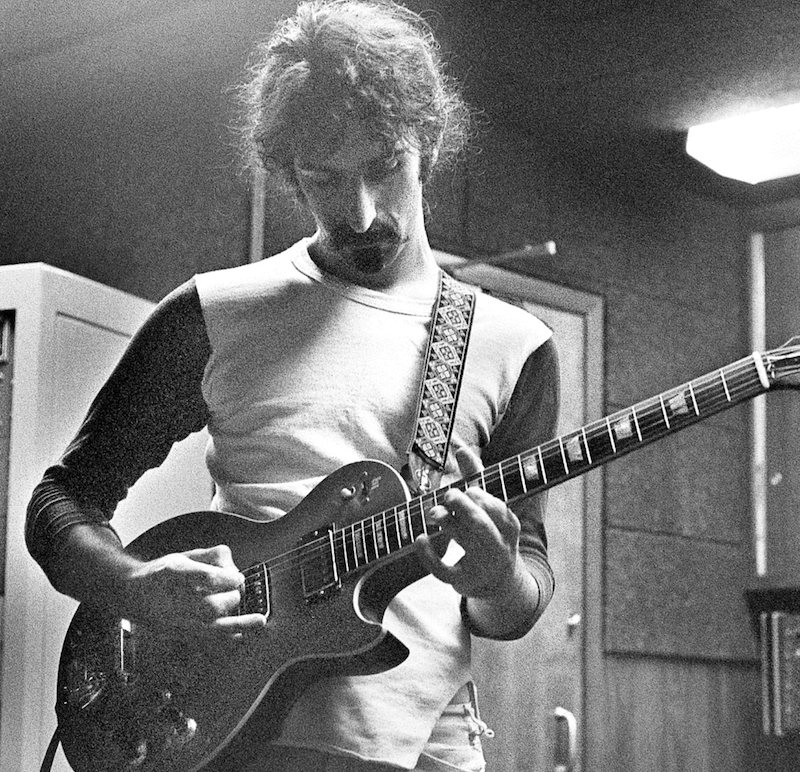 Wednesday was the final night of these sessions and it opened with an interesting pick: a cover of "Directly From My Heart to You," an obscure Little Richard side. It's a good example of how Zappa was never as far from his R&B influences as one might think. Interestingly, Zappa's brought back some of the Mothers for this one: keyboardist Don Preston, bassist Roy Estrada, and drummer Jimmy Carl Black. With this rhythm section, the music's looser and leans harder into R&B – but then, Black and Estrada had been playing this kind of music for years. Harris, too: he'd been half of Don and Dewey back in the 50s. Both him and Zappa stretch out for a bit here, although when Zappa released this one (on 1970's Weasels Ripped My Flesh), he'd edited out his solo.
The disc ends with a lengthy performance of "Another Waltz," an interesting outtake from the sessions. It feels like a studio jam – at times reminiscent of "King Kong," a song the Mothers would use as a springboard for improvisations. Zappa and Harris improvise and trade leads while Estrada and Preston hold things down. Late in the song, Preston takes a solo, showing his jazz chops. Parts of this would end up on Burnt Weeny Sandwich, but the whole performance sat in the vault for decades.
Disc four finds the session continuing with Bennett back on bass and another session drummer: Paul Humphrey. They take another pass as "Dame Margaret's Son…" but it's hard to really get a handle on this one; a victim of later overdubs, portions of the original masters were wiped by Zappa in the 70s. It's presented here as an electric bass/drums duo, a nice curiosity but not much more than that.
Finally, the group takes on "Son of Mr Green Genes," a sped up version of an older Mothers song. Stripped of the layers of overdubs, it's a lot sparser and less colorful, but also lets Underwood's piano and Zappa's nasty guitar tone shine. You can also hear how differently Humphrey approaches the drums: his playing is propulsive and heavy on cymbal crashes, but it's also more fluid than Black and busier than Guerin.
The day winds down with the group tackling "Big Legs," a lengthy studio jam Zappa would edit and re-title "The Gumbo Variations." Already lengthy on Hot Rats, this performance goes on for over half an hour with the group improvising around a simple bass riff. It isn't especially revelatory for longtime fans, but it's interesting to hear this group stretching out and everyone getting an opportunity to shine; interestingly, it's the only time Underwood really gets to stretch out on his sax during these whole sessions. He certainly makes the most of it, though.
From here, listeners get into the weeds a little bit. There's isolated percussion tracks, snapshots of Zappa overdubbing guitar onto basic tracks – "Arabesque" and "Transition" are especially interesting in showing how he'd layer his guitar onto something previously recorded – and alternate mixes. "Piano Music" from the first disc re-appears here with overdubs from Zappa and Underwood, showing how Zappa's music grows from a sparse piano reading into a sort of sea shanty. The alternate mixes show Zappa experimenting with sounds and different guitar tracks; the version of "Willie the Pimp" actually seems to hit harder than the released version, although it's a bit longer, too.
There are some nice additions late in the box. There's the 80s remix/re-edit of Hot Rats that's now out of print, a couple of single edits (oddly, the "Bognor" edit that's been bootlegged is absent here) and some old radio ads for the record. A couple of the mixes show that even in the early 70s, Zappa was still tinkering with these tracks, although nothing came of them. Captain Beefheart's isolated vocals from "Willie" are here too.
When Hot Rats came out in October 1969, it showed a new side of Zappa's music. It wasn't poking fun at trends or mixing genres in a blender. It highlights his compositions and skill in both writing memorable songs and as a guitar hero. The lengthy guitar solos showed him emerging as more than just the scruffy leader of the Mothers of Invention, while the musicians he surrounded himself with – from session players to heavyweights like Jean-Luc Ponty – pointed to his ambitions as a musician.
But when compared to the material within this box, it also shows Zappa as producer, too. He would approach songs like a painter, first working on the outlines and then using overdubs to fill in the spaces and add color. At the same time, the way he would roll tape and try to catch moments of spontaneity is almost a film director's approach – he'd take lengthy jams and instrumental passages and then tightly edit and re-organize them into a piece. "Big Legs" went from a baggy 32 minutes to a tightly cut 17; "Clanton" from over 12 minutes down to about five. He also wasn't shy about mixing these sessions into otherwise unrelated music: Harris's solo on "Another Waltz" was grafted onto completely different live performances for "Little House I Used To Live In."
In some ways, Zappa was more creative in the late 60s than he'd ever be again. He had a lot to prove with this record and even though he had only a few days to make it, the mix of strong songs, tight musicianship and careful post production resulted in one of his best and most accessible records. And while Hot Rats points forward to records like The Grand Wazoo, Waka/Jawaka and Sleep Dirt, it more than holds its own in Zappa's lengthy discography. Having over six hours of music from these sessions threatens to overwhelm listeners, but instead it's like hanging out in the studio and watching everything come together. It's a must for die-hards and even worth a visit from the merely curious. | r milner
Aquarium Drunkard is powered by our patrons. Keep the servers humming and help us continue doing it by pledging your support via our Patreon page. For heads, by heads.