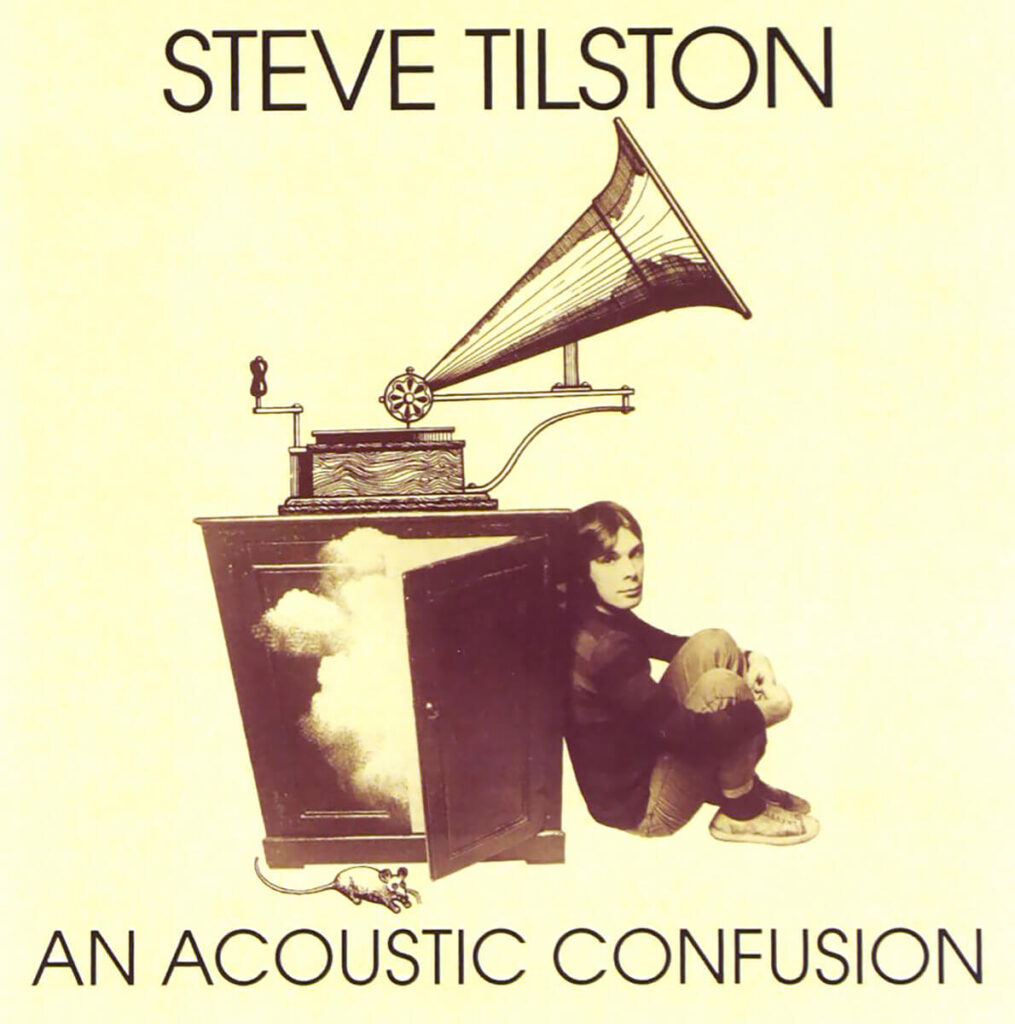 Born in Liverpool and brought up in Leicestershire, Steve Tilston spent his early years as a graphic designer before embarking on his musical journey as a solo artist. His youthful debut An Acoustic Confusion was released in 1971 and as legend has it, it caught the attention of John Lennon, who became fascinated with the then 21-year-old musician. Lennon wrote to him, but the missive never Tilston, who nonetheless has spent decades creating crafting affecting songs. In 2011, Tilston performed on Later… with Jools Holland, where he and the host played a tune in honor of the late Bert Jansch, a formative inspiration to Tilston as a songwriter. He joined us to discuss that ill-fated letter from Lennon, Jansch, and much more. | d brown
Aquarium Drunkard: When did you first begin playing music and what initially fascinated you about the guitar? Was music relevant around your household as you were coming up?
Steve Tilston: I was born in Liverpool in 1950. I was raised in Leicestershire, which is in the east midlands. My maternal grandmother was a good pianist with a natural ability to accompany pretty much any song that was thrown her way. Apparently as a young teenager she had a job accompanying silent films. She taught me to play an old pop song called "These Foolish Things," and I used to pick out melodies and simple chords on the piano. It seemed that with The Beatles and all the beat groups around in the early '60s everybody was getting guitars, myself included. I just loved everything about them and once I became aware of how the strings and frets worked I became obsessed. It was also very competitive on the school bus and the pooled knowledge was shared and expanded, I seemed to have a natural ability and affinity with the instrument. It seemed the better I became, the more my school work suffered.
AD: Did you participate in any groups before embarking out on your solo career? When and where did you make your first live debut playing music in front of an audience and what was that experience like for you?
Steve Tilston: I played in a couple of groups. Mostly it was rehearsing and annoying the neighbors. We did a couple of gigs at a local youth club and I remember not being able to hear anything because the drummer got over enthusiastic and took out his teenage frustrations on the snare drum. Consequently, when folky sounds became the rage, I was pretty relieved. I was taken to a folk club and as well as the music, I was both impressed and in awe of all the lovely, mysterious, long haired girls—Joan Baez was the rage. I borrowed a guitar and did a "floor spot," playing Josh White's "The Empty Bed Blues," and although being initially terrified, I didn't make any mistakes and the audience seemed to really like it even though my knee was shaking with fear.
I remember feeling really exhilarated that I'd survived, as if I'd climbed a mountain and to even top that, one of the young girls came up and complimented me. It gave me the confidence to go back and play again. I had my first paid gig at 16 for the princely sum of £5 and was able to treat me and two friends to a slap-up Indian curry. There was no turning back. A year later, I got a job as a trainee graphic artist in an advertising agency, but I couldn't really settle and I knew that a musical path beckoned. I was getting gigs at the same time, earning more money at music, burning the candle at both ends and when I fell asleep at my desk for the second time I gave my notice before I was given the push—one of the best things I ever did.
AD: When did you begin writing your very own material?
Steve Tilston: I started writing pastiches of Chuck Berry and Buddy Holly songs. As well as his brilliant guitar playing, I was really impressed by Chuck's witty lyric writing, especially on songs like "Too Much Monkey Business" and "Brown Eyed Handsome Man." He very much led me into more esoteric folk blues and in general acoustic sounds, which were drawing me in.
AD: I understand you were living in Bristol when you recorded An Acoustic Confusion. What was that process like, writing and recording those songs?
Steve Tilston: The recording of An Acoustic Confusion began in late 1970 at a farmhouse in the wilds of Gloucestershire. Everything, both solo and ensemble, went down live onto a Revox tape machine. I'd written the songs over a period of roughly two years previous. I left my job as a trainee graphic artist and moved to London to have a serious crack at making a name. I started playing and got booked at most of the major clubs, particularly the famous Les Cousins in Greek at Soho and I was seriously looking to record an album. Both Ralph McTell and Wizz Jones got in touch with Village Thing on my behalf and after a gig/audition at the legendary Bristol Troubadour, I was offered a recording contract. I was very taken with Bristol, particularly Clifton with its grand Georgian architecture and vibrant music scene and made a mental note to move there, but at that time the general consensus in the "music biz," was that London was the place to be. I very much had a love hate relationship with London. I finally moved to Bristol in 1973. I now live in the Yorkshire Pennines and I love it.
AD: You had some incredible musicians join in on this project from the likes of John Turner, Dave Evans, Keith Wamington and Pete Finch. What was your relationship like with these both inside and outside the studio? How did you go about choosing them to participate on your album?
Steve Tilston: At 18 I left home and moved into a spare room in Dave Evans' flat in Loughborough, Leicestershire. Dave was a decade older than me and was working as a potter; he was a great guitar player. We began playing as a duo, inventing long instrumentals in strange tunings and I began to seriously write songs, some became the backbone of my first album. At that time Dave was not writing songs, but had a handful of lovely instrumentals, most of which appeared on his first album. He moved to Devon to work in a pottery shop down there and when I got the recording contract, I went down to try to find him. I had the name of the village but no address. I remember knocking on a random door and was told that "that potter bloke lived next door." He was not happy in his new job so it didn't take much persuading to join me in Bristol for the recording. He also fell in love with the place and moved there, where subsequently he started writing his own songs, leading to a recording deal with Village Thing. Again a couple of the songs we used to play in the duo made it to An Acoustic Confusion. The other musicians just happened to be part of the Bristol music scene, Keith Warmington and John Turner, were both great players and became great friends. Keith has played harmonica on most of my albums. Back in 1970, we'd just met and were sitting in a coffee bar and I asked him if he played harmonica. He gave me a strange look, upturned his shoulder bag and out on the table, like a shoal of fish, spilled about a dozen harmonicas. "Just a bit," he said. He proved to be a bit of a virtuoso. Pete Finch was really a jazz guitar player and had not long been playing fiddle. Sadly our paths haven't crossed since.
AD: Is it true that Lennon had sent you a note about potentially supporting you after reading your interview in ZigZag?
Steve Tilston: The album got some pretty good reviews and after reading the article I did for ZigZag, John Lennon wrote in gently criticizing me for taking myself too seriously and sent it to the magazine whereby it was kept and I was not notified of its existence. I only heard about it ten or so years ago when an American Beatles memorabilia collector got in touch wanting me to verify it. I've still only seen a copy and it contains Lennon's home telephone number and the tone of the letter hinted at me making a reply, which I would have done had I received it. This all made me both angry and sad about what may have been, but, on the other hand, if I had received the letter, Al Pacino's film Danny Collins wouldn't have been made and I wouldn't have gotten to hang out with a very gracious Al Pacino for a day.
AD: What was the overall vision for the album? What does An Acoustic Confusion mean to you?
Steve Tilston: I wasn't aware of having an overall vision for AAC, other than they were a bunch of songs I'd written that I desperately wanted to get "out there.'" As the title suggests, I was a young 20-year-old and a lot was pretty confusing, both musically and personally.
AD: Did you go on tour, or play a run of shows to help promote the record?
Steve Tilston: The album created a bit of a buzz when it was released and the gigs started to flow, so I was traveling all around the country, mostly on trains as I didn't then drive. I think about that time there were nearly a thousand folk clubs in the country and also universities were a great source of venues that paid pretty well too.
AD: Between '72 and 1977's release of Songs From The Dress Rehearsals, there was a bit of a gap in your songwriting career. Can you tell me a little about what was going on during this time in your life as a person as well as a musician?
In the mid 1980's I was touring with my then wife, the late Maggie Boyle. She was an Irish traditional singer and we were playing a mix of traditional songs and my original songs – some of which were written in a quasi traditional style. The great guitarist John Renbourn, who was an old friend, came along to a show in Exeter, we went back to stay with him and over a few bottles of wine we came up with the idea of forming a band. With the addition of Tony Roberts on flute sax and pipes, we became Ship Of Fools, and toured twice all over the States and Europe. We made one album, Ship of Fools, that came out on Flying Fish in the States. Maggie Boyle and I released two duo albums, the first Of Moor and Mesa, came out Green Linnet in the States and All Under The Sun, which came out on Rounder Records.
AD: You've released and are continuing to release a huge body of work throughout the decades and even played on the Jools Holland show after the late Bert Jansch had passed.
Steve Tilston: It was a real pleasure and privilege to be asked to play on the Jools Holland show and also talk about Bert as both he and his music meant a lot to me. A few months later I was asked to appear on the BBC's songwriter's circle and that was a real pleasure too.
AD: What are you most proud of when reflecting back on the early days of your career?
Steve Tilston: I suppose I'm most proud of being able to earn my living as a musician and choose my own path without making any musical compromises.
Aquarium Drunkard is powered by our patrons. Keep the servers humming and help us continue doing it by pledging your support via our Patreon page. Only the good shit.