In 2020 Erik Hall released his version of Music for 18 Musicians by Steve Reich–the first in a planned trilogy of classical minimalist interpretations by the Chicago musician. This month sees the release of the second installment in the series, Hall's take on Canto Ostinato by the late Dutch composer Simeon ten Holt, an intimate, hour-long solo performance consisting of multitracked grand pianos, electric piano, and organ. For this edition of Diversions, Hall digs into the inspirations behind the series thus far …
Steve Reich: Clapping Music (1972): It is the playful, textbook example of Reich's phase pattern technique (which he likens to a simple canon). Like a street sign icon or a child's drawing of a house, if you were to distill phasing down to its most elemental form, Clapping Music is what you'd get. The beauty of Steve Reich, though, is that nothing is ever strictly clinical, and in fact this piece has as much depth, excitement, and mystery as any of his works. As a young percussion student I chose to perform it solo with a pair of wood blocks, one of which was struck with a pair of beaters attached to a double-kick drum pedal. A fun challenge, but in hindsight I'm confident the gimmickry of this act was completely unnecessary, and the simple spectacle of two people clapping this piece into existence is perfectly encapsulating and whimsical as it is.
Steve Reich: Drumming (1971): My friend bought me the 3-LP Deutsche Grammophon edition and it remains one of my all-time favorite records. It has the compositional scale and duration of Music for 18 Musicians but with a truly minimal arrangement and instrumentation. It was directly inspired by Reich's time in Ghana seeing an ensemble under the master drummer Gideon Alorwoyie, and it filters the energy of this traditional drumming through his use of phasing and the application of modern orchestral mallet percussion. Similar to his early experiments with asynchronous analog tape loops, it has a sort of vast and other-worldly inner-space, and to my ears the moment of transition from Part One (drums) to Part Two (marimbas) is pure magic.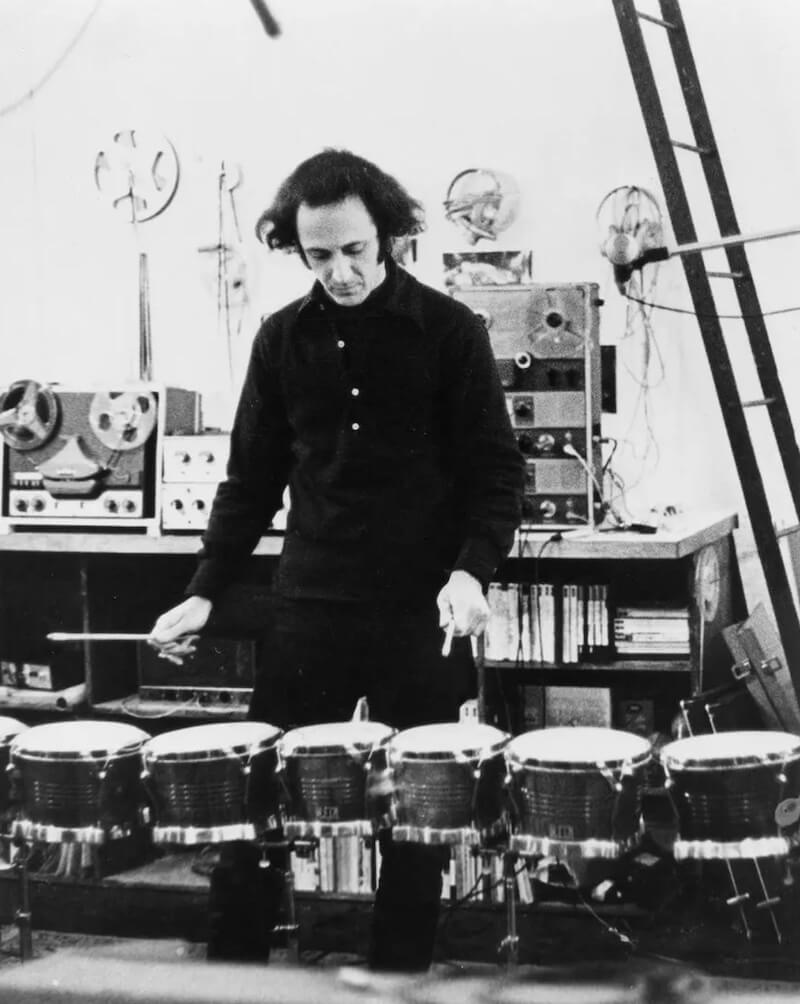 Steve Reich: Proverb (1996): Written for three sopranos, two tenors, two vibraphones, and two electric organs, this is Reich's ode to early choral music, particularly the medieval polyphony of Pérotin. It starts with a single, demurely beautiful phrase, and then it dissects, transforms, and expands on that lyric before eventually returning to a single voice again at the end. It was dedicated to Paul Hillier, who also directed its premier performance. I've always adored most any Hilliard Ensemble album on ECM Records, from Pérotin to Bach to the more epic works of Arvo Pärt, and this is like the unusual, more experimental cousin to those.
Steve Reich: It's Gonna Rain (1965): Brian Eno, in addition to being a brilliant artist and producer, is also one of the great articulators of what makes art resonate. I can't remember whether it was in Steve Reich's book Conversations or during a recent interview with Rick Rubin that I caught, but everything Eno had to say about It's Gonna Rain made me think "Yes! Exactly!" Not least of which was his realization upon hearing the piece that the concept of two identical magnetic tape loops just slightly out of sync with one another was the very basis of what he ended up dubbing 'generative music'. Or the fruitfulness of economy in composition, and how this piece's very simple construction and shifting minutiae over time creates the sensation that it's not really the music that changes but the listener. But what really hit me hardest was his admission that, as important as this piece is to him, he has probably only sat down and listened to it three or four times in his life. This I understand. There are works that strike so hard and directly that a permanent impression is made. And they really only ought to be revisited if and when that particular experience is desired again.
Simeon ten Holt: Canto Ostinato – Vredenburg Concert, performed by Gerard Bouwhuis, Gene Carl, Arielle Vernède, and Cees van Zeeland (1984): Since the score for Canto Ostinato inherently allows for so much variation from one performance to the next, the various available renditions can almost be treated like different and unique records. Once I had decided to embark on interpreting the piece myself, there were a handful of recordings that I studied, each with their own appeal. This concert recording from February 12th, 1984 is widely considered to be the 'original', and it's the one that I first fell in love with. It is the apex example of the exploratory possibility of the score, as the players repeat each section as many times as collectively desired while allowing for improvisation and near-complete freedom of expression. The music is at times angular and abstract and then delicate, lyrical, and profoundly beautiful. They repeatedly range far and wide before returning to the score and, as always, moving forward as a group. It is a conversation, it is a dance, and it is a true journey of almost three hours. Listening makes me dream of one day performing the piece live with fellow players.
Simeon ten Holt: Canto Ostinato – Live at the Concertgebouw, performed by Ivo Janssen and Mallet Collective Amsterdam (2016): At about eighty minutes, this Canto performance is faster paced and much more direct. The other major difference is that it features a lone pianist, Ivo Janssen, backed by a mallet percussion quartet. Some Canto purists might tell you this goes against the intended effect of multiples of the same instrument with the same exact timbre and all of the enigmatic micro-phasing and chorusing that occurs (much like 'double-tracking' a vocal or guitar on a pop song). But I find a separate and distinct appeal when spreading the parts across different instruments. It can bring out clarity and excitement, and there's phenomenal energy to this performance. Meanwhile Janssen has also recorded a solo piano rendition and appears to give regular concerts from a deep repertoire. For several years in Amsterdam he hosted his own series in a performance space that he built into the belly of a floating, former ammunitions barge. (I had really hoped to visit, but, sadly, the boat changed hands and the venue no longer exists.)
Simeon ten Holt: Incantation IV (1990): Written for 'piano and other instruments,' Incantation IV makes itself known with its immediacy and darker, slightly more frenetic energy. It is also supremely process-driven, and it takes ten Holt's modular composition technique to new heights. The players are allowed to move freely from one section to the next at their discretion, as well as individually choose between no fewer than 15 layers of music at any given time. As ten Holt says in the score's notes: "It must be clear that Incantation IV is about a composition that is performed in an area between a fixed score and improvised music." The resulting spontaneous patchwork is what comprises the musical backbone of any given performance. This resonates deeply with me, as I'm always looking for ways to create controlled randomness in my own music. There's magic that can occur that is greater than anything I would intentionally or even consciously come up with. Ten Holt allegedly preferred this piece to his 'hit' Canto Ostinato. For years he had adhered to atonality before making a bold and decisive shift towards more traditional harmony and the simple triad (or as writer Paul Janssen put it: "sounds that every ear could understand.") So I can't help but wonder, after the success of Canto, if this work was a shift back towards offering something a little more challenging… if still completely lovely.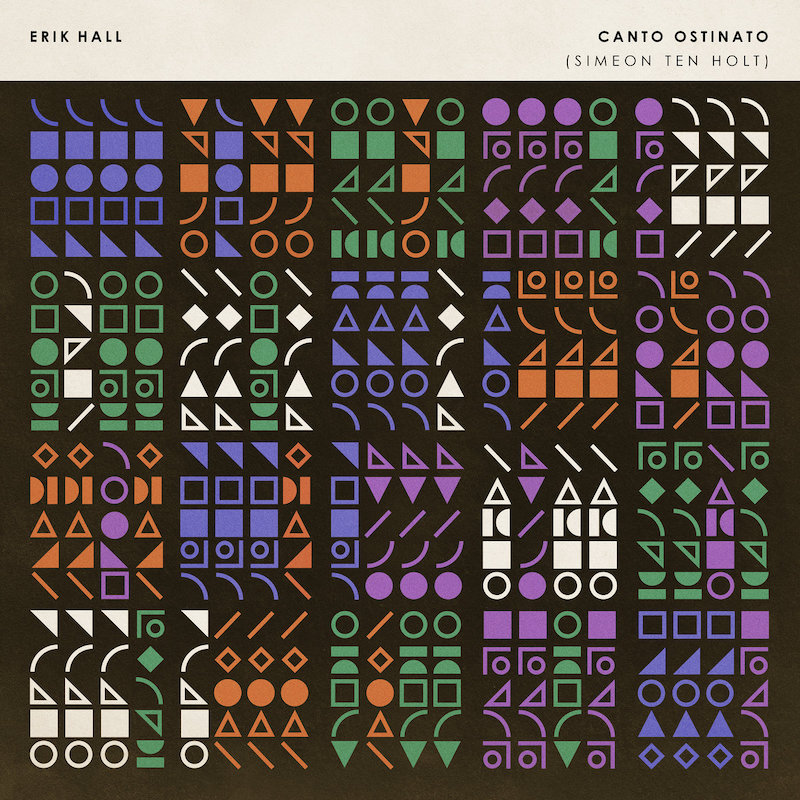 Aquarium Drunkard is powered by our patrons. Keep the servers humming and help us continue doing it by pledging your support via our Patreon page. .