(Welcome to Videodrome. A recurring column plumbing the depths of vintage and contemporary cinema – from cult, exploitation, trash and grindhouse to sci-fi, horror, noir, documentary and beyond.)
It's no coincidence that many films that seek to reflect the American condition happen to be set in Texas. The Lone star state not only looks like America, but intrinsically feels like America. Whether it's the state's diverse geography, the association with cowboys and outlaws from folklore, or the twangy sound of dive-bar platitudes spoken in plain language, cinema has always favored Texas and Texans as a distillation of the national ethos. It's a place where the remnants of frontiersmen and oil barons intertwine into the fabric of modern society, where multiple timelines from America's checkered past run parallel with its uncertain future. It's a place where tech tycoons and ranch hands co-exist, where white picket fences and wooden church steeples stand next to shopping malls and stadiums, where unpaved country roads and four-lane highways can take you from The Alamo in San Antonio to NASA in Houston; where capitalism and commerce intersect with traditional American values and Christian morals.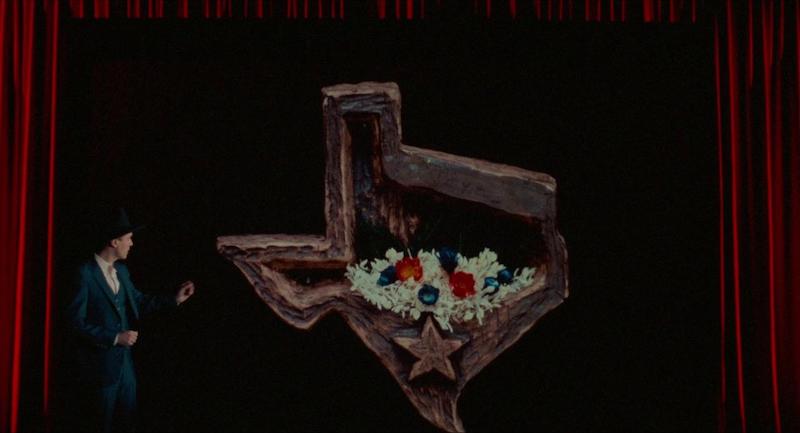 Whether it's the sprawling cattle ranches and family rivalries of George Steven's Giant (1956), the lonesome one-horse towns and wayward relationships in Peter Bogdanovich's The Last Picture Show (1971), the arid plains and tragic romances of Wim Wender's Paris, Texas (1984), or the desolate highways and inevitability of fate in the Coen brother's No Country For Old Men (2007), Texas has always served as a formidable backdrop for the exploration of the national consciousness; the crises of heart and spirit for both character and country. Because so many films have used Texas as a microcosm of the American condition, it can be a place of inspiration or devastation; the fine line between comedy and tragedy depends on its framing. Furthermore, the characters who inhabit it can be hospitable or antagonistic, good-natured or vengeful. The barbed-wire amorality of Martin Ritt's Hud (1963) has little in common with the southern-noir cupidity of Blood Simple (1984), which has even less to do with the rural mayhem of The Texas Chainsaw Massacre (1974). But what all these films share is a setting: Texas, a paradigmatic example of American values, or lack thereof, depending on who's behind the camera.
"Look at this," David Byrne tells the audience in True Stories (1986) as he drives down the block of a developing suburb. "Who can say it isn't beautiful? Sky. Bricks. Four-car garage. Hope. Fear. Excitement. Satisfaction." It's one of many moments in True Stories where Byrne – the film's director and narrator – breaks the fourth wall to comment on Virgil, Texas: a fictional town preparing for its "Celebration of Specialness" to commemorate the 150th anniversary of Texas' independence. In the real world, Byrne is best known as Talking Heads' lead singer and songwriter. But in True Stories, he's a stranger in town, observing his foreign surroundings with wide-eyed curiosity. There is something almost alien-like to Byrne, who presents as a blank canvas with no particular credence or allegiances, attempting to blend into his surroundings by sporting a western suit and cowboy hat. It recalls David Bowie's detachment in The Man Who Fell To Earth (1976) – another famous rock star who forayed into film. But unlike Bowie's Jerome Newton (who is gradually corrupted by humanity and civilization until he becomes a derelict alcoholic, unable to return to his home planet), Byrne's character isn't contaminated by his environment. Instead, he maintains a child-like wonderment at even the most mundane details. He's fascinated by the highways around Virgil, which he calls "the cathedrals of our time." While visiting the Varicorp Corporation, a computer manufacturing plant in Virgil ponsoring the "Celebration Of Specialness," Byrne comments on the Varicorp building by saying, "It's cool. It's a multipurpose shape, a box. You have no idea what's inside there." Later,as he walks past The Gap and Waldenbooks in Virgil's brightly-lit mall, Byrne tells the audience, "The shopping mall has replaced the town square of the center of many American cities. Shopping itself has become the activity that brings people together. And in here, the music is always playing. What time is it? No time to look back."
Byrne's anomalous pronouncements never pass judgment on Virgil or its citizens, and his impressions of the town's culture remain positive, if not slightly abstract. Rather than represent capitalistic greed, The Varicorp corporation is a place of progress and enthusiasm for the future. And the shopping mall – which embodies the rapid rise of mass consumerism, materialism, and chain conglomerates during Reagan's presidency – is viewed as a communal gathering place for the community. Even the evangelical church in town, led by a conspiracy theorist preacher (John Ingle), is treated with kid gloves instead of damnation (and as sensational and collusive as they may be, much of the preacher's "Puzzling Evidence" declarations have more or less come true in the intervening decades).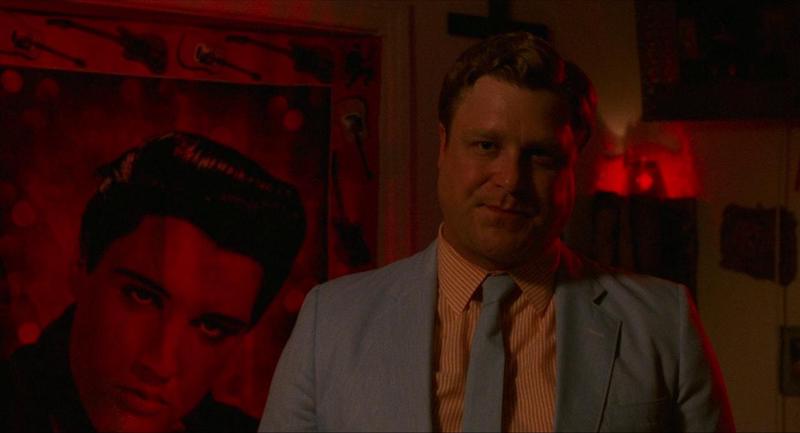 The town of Virgil is filled with eccentric characters. There's Louis Fyne (John Goodman), a country-western singing Varicorp technician navigating the local dating scene, hoping to find his soul mate and get married. Fyne hires Mr. Tucker (Pops Staples), a good-natured voodoo shaman, to help him find love. Along the way, we're introduced to other Virgil citizens, such as Ramon (Tito Larriva), a tejano musician who claims to have psychic abilities and can hear "tones" from people. Virgil is a town of odd hyperbole, from compulsive liars to civic leaders,
corporate suits to Prince impersonators. But True Stories steers clear of being snide or dismissive of its setting and subjects, no matter how familiar or odd they may seem. Rather, it's a loving analysis of Americana that finds beauty in the strangeness of everyday life: suburban communities, prefabricated buildings, cheesy TV commercials, and behemoth corporations. The film doesn't fear the encroaching digital age as much as it's interested in its possibilities, and the excesses of the middle class are a salvation rather than a condemnation.
Due to the success of the Talking Heads' 1984 concert film, Stop Making Sense, Byrne was given complete creative control by Warner Brothers to write and direct True Stories. He began sculpting the story by referencing a collection of clippings he had scrapbooked while Talking Heads were touring, mostly taken from the now-defunct sensational tabloid Weekly World News. Byrne was intrigued by the idea of making a film that could incorporate all the articles he'd aggregated throughout the years. "What if all these stories were true?" Byrne asked Stephen Tobolowsky and Beth Henley, whose 1978 play Crimes of the Heart won a Pulitzer Prize in 1981. Tobolowsky and Henly had been introduced to Byrne by Jonathan Demme (the director of Stop Making Sense) and were interested in writing a film that could serve as a think-piece about urban planning, mass media, and American life with characters that Byrne described as "people who have their own eccentricities, but aren't ashamed of them." Tobolowksy and Henley wrote a screenplay based on Byrne's scrapbook of clippings, using the upcoming sesquicentennial celebration of Texas' independence from Mexico as a narrative through-line to connect the various stories.
They didn't hear back from Byrne for over a year, who rewrote their script outside of the sesquicentennial framing device. Byrne also took the liberty of using Tobolowsky's personal stories of psychic experiences he had in college, claiming he could hear "tones" that informed him about other people. Although Byrne's version of the screenplay (originally titled Wild Infancy) bore little resemblance to Tobolowsky and Henley's draft, he asked their permission to credit them as screenwriters so that the film would seem like less of a "vanity project."
Although the town of Virgil doesn't exist, its appearance in the film is a composite of locations in and around Dallas, which Byrne selected due to their photographic ability to convey "contemporary American life in general." The imagery of True Stories is deeply rooted in Southern Americana, stylized in the naturalistic approach of Stephen Shore and Marc St. Gil exposures, bookmarked by an opening and closing shot straight out of an Andrew Wyeth painting. True Stories cinematographer, Edward Lachman (who would go on to shoot films such as The Virgin Suicides and Erin Brockovich, as well as work alongside Werner Herzog, Wim Wenders, Shirley Clarke, Bernardo Bertolucci, and Jean-Luc Goddard) used the 1977 book of consumer photography, American Snapshots, as the northern star for the films aesthetic, stating that, "True Stories was visually designed to evoke common experiences and the informal ways in which people capture them, such as they would with Polaroid cameras."
Byrne's writing and direction are stolid, enacting a deadpan reactiveness to Virgil's banal and bizarre attributes. "There are no diagonals in True Stories," says photographer Mark Lipson, recalling one of Byrne's mantras on set. "If David saw me shooting in a certain angle, he'd be like, 'No! Don't take that picture. Only perpendicular!' It was all about this postmodern aesthetic. Everything was extremely full-frontal and square and at right angles." Austin-based artist, Bale Allen, who had a small role in the film, would echo similar recollections about Byrne, saying, "He thought like a visual artist, not a director."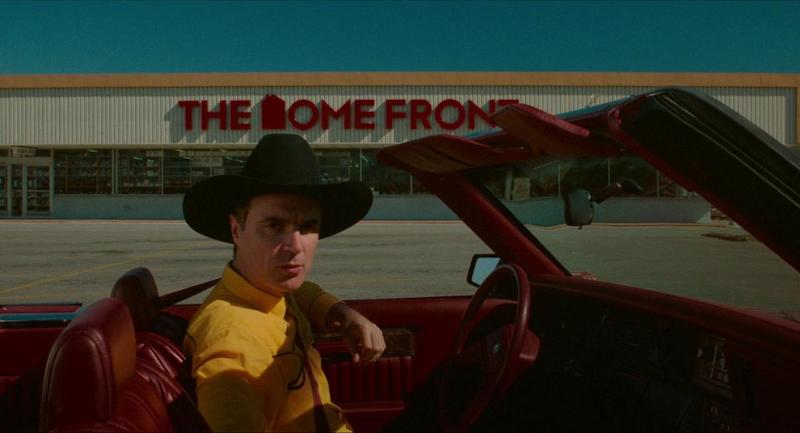 In an early scene, Byrne drives a maroon 1985 Chrysler LeBaron convertible, an idyllic backdrop of vast Texas fields rear-projected behind him. Looking straight into the camera, he tells the audience, "I have something to say about the difference between American and European cities, but I forgot what it is. I have it written down at home somewhere." Then, Byrne turns away from the camera, continues driving, and the scene ends. It's one of many unusual sequences in True Stories born out of Byrne's left-of-center authorship, contributing to the film's surrealistic quality. At times, True Stories resembles David Lynch doing a PG-rated investigative documentary about American life (Lynch released Blue Velvet the same year as True Stories, another film that examines Americana's ordinary and extraordinary aspects with a far darker lens). Even the commonplace elements of True Stories feel slightly stilted, as if they belong to an alternative universe where the realities of American life and the logic of dreams coalesce.
The release of True Stories spanned multiple platforms. In addition to Talking Heads' album of the same name, the film was released with a photography book (including work by William Eggleston, Len Jenshel, and others). There was also an official soundtrack release, Sounds of True Stories, which featured music by Terry Allen, Carl Finch, Steve Jordan, and Kronos Quartet. The film was critically well-received, garnishing favorable reviews from the likes of Roger Ebert of The Chicago Sun-Times, who wrote, "True Stories is a bold attempt to paint a bizarre American landscape. This movie does what some painters try to do: it recasts ordinary images into strange new shapes. There is hardly a moment in True Stories that doesn't seem everyday to anyone who has grown up in Middle America, and not a moment that doesn't seem haunted with secrets, evasions, loneliness, depravity or hidden joy – sometimes all at once."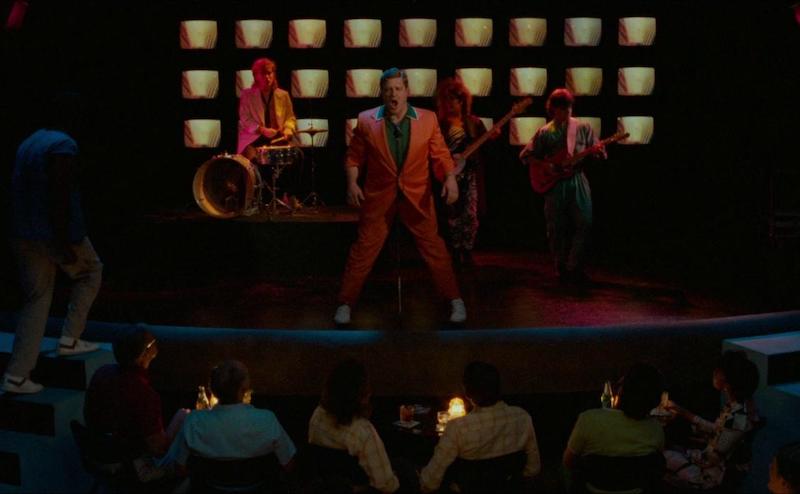 True Stories wasn't a commercial success at the time of its release, underperforming at the box office and failing to attract audiences due to its convoluted marketing – is it a musical, a comedy, a documentary, or another Talking Heads film? In retrospect, True Stories is all of these things and more. As Byrne pilots the LeBaron convertible past farmland and pastures towards the Texas horizon, he remarks, "You know, in a couple of years, this will probably all be built up." In hindsight, Byrne was correct. Most of the locations featured in True Stories throughout the Dallas-Fort Worth area have since been bulldozed over, and municipal borders have shifted with the construction of corporate headquarters, storefronts, and chain hotels. In this way, True Stories is an oracular film, predicting the changing landscape of Texas while simultaneously capturing America in all its peculiarities circa the mid-eighties.
Moreover, several unorthodox elements featured in the film have become hallmarks of American mainstream culture: online dating, the tech economy, yoga, and incessant advertising from major brands. But even more prescient is the idiosyncratic way True Stories depicts middle-class American life with straight-faced ambivalence, paving the way for the off-beat timbre of films such as Welcome to The Dollhouse (1995), Waiting For Guffman (1996), Drowning Mona (2000), Napoleon Dynamite (2004), and Bernie (2011). In the True Stories book, Byrne reflects on his film and its depiction of American life via Texas by saying, "You feel like you're laughing at it and admiring it at the same time."
As both the film's main character and director/writer, Byrne's worldview dominates True Stories, and it's what makes it unique amongst the pantheon of Texas-based films that hone in on the American condition. True Stories is a compassionate satire – a complete tonal rarity in cinema. In the hands of another writer/director, True Stories could easily be a critical takedown of an America that has handed itself over to corporations and mass media, becoming morally and ethically bankrupt in the process. It could also be a straight-up comedy that mocks and ridicules Virgil and makes Texans into one-note caricatures. But with Byrne at the helm, True Stories is a surprisingly affectionate look at both Texas and America at large. It's as explicit as it is compassionate, and when John Goodman performs his rendition of "People Like Us" by Talking Heads at the town's climatic talent show, we realize that True Stories isn't laughing at the American condition, but endearing us to it. | e hehr
Aquarium Drunkard is powered by its patrons. Keep the servers humming and help us continue doing it by pledging your support via our Patreon page. For heads, by heads.