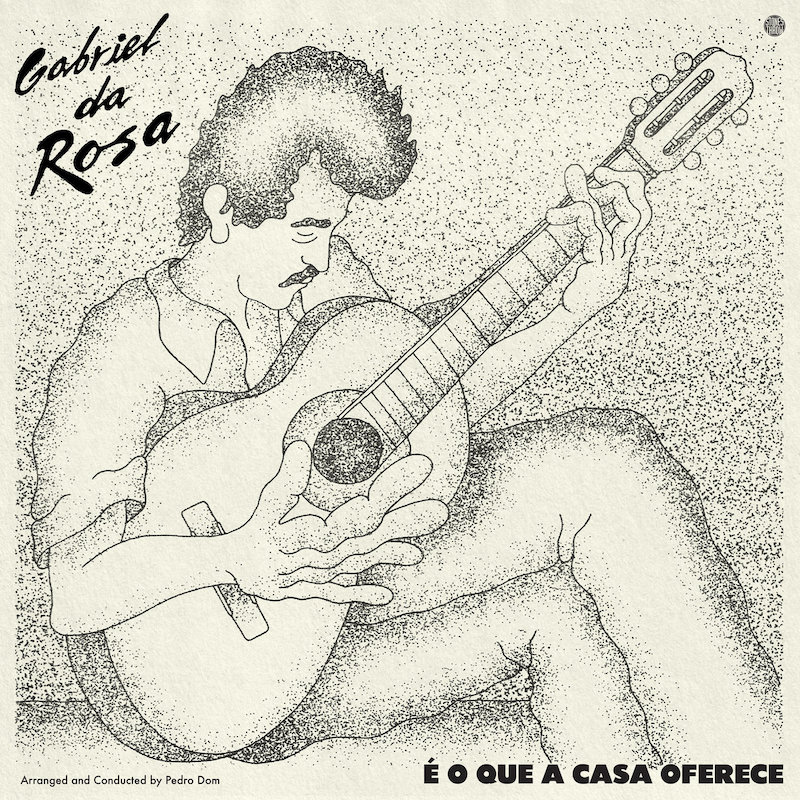 Gabriel da Rosa's debut album, É o que a casa oferece, arrives at an auspicious time as Brazilian music is becoming more ubiquitous, cresting a wave of popularity that has been building over the better part of a century. The last 90 years have seen Carmen Miranda's polyrhythmic schtick in the thirties and forties, the smooth and sophisticated bossa nova craze of the early sixties, and in the seventies Flora Purim, Airto Moreira, and Milton Nascimento championed an adventurous style of Brazilian jazz. Now, a new Brazilian tide is rising, building off the previous waves' continued relevance, and it's washing ashore along the Southern California coast.
Over the past couple decades sympathetic allies unknowingly helped set the scene for the current crop of Brazilian musicians. First came the groundbreaking work of the production company Mochilla, responsible for the Brasilintime (2006) documentary and bringing Azymuth, Artur Verocai and João Donato to Los Angeles. Starting in 2019, Adrian Younge and Ali Shaheed Muhammad have successfully marketed some of these same elderly masters (and others) to a young and diverse audience through their Jazz Is Dead record label and concert series. Reissue record labels like Light In the Attic, Now & Again and even the Aquarium Drunkard curated compilation on Org Music introduced post-bossa nova musical trends, which all contributed to laying the groundwork for these two recent releases by Brazilian transplants recording in Los Angeles. Tommy Brenneck of Daptone and Dunham Records fame (Sharon Jones, Amy Winehouse, Bruno Mars, Charles Bradley, Menahan Street Band, etc) just released a record by the Rio de Janeiro native and veteran sambista Rogê – Curyman – as the first record on his new Diamond West record label. Even more surprisingly, Stones Throw, an indie Hip Hop-inspired label, threw their hat in the samba circle with a record by Gabriel da Rosa, yet another Brazilian transplant.
When I met with Gabriel da Rosa and two of his Brazilian bandmates, Pedro Dom (co-writer, producer, keyboard player, vocalist, percussionist, clarinet & arrangements) and Beto Kauer (drums, percussion & vocals) a few days after the album release party at Gold Line bar, we talked about the audience for authentic, acoustic Brazilian music in Los Angeles and beyond. "Maybe it's the streaming platforms," da Rosa suggested. "The algorithms are putting stuff in front of them and they're like 'this sounds nice,' and now it's spreading more into an audience of people who love music, but who don't dig that deep."
All three transplants met playing hardcore punk during their teens in the Southern Brazilian state of Rio Grande do Sul, though this album is the first time all three worked together, and it's the first flirtation with unabashedly Brazilian music for two of them. Gabriel and Beto played in a successful garage-punk band, Name That Band, that played the 2013 São Paulo Lollapalooza before imploding in Los Angeles after being burned by their record label. Meanwhile, Pedro Dom followed a different musical path, participating in São Paulo's Red Bull Music Academy and playing on Ian Ramil's 2015 Latin Grammy-winning album before relocating to Los Angeles where he collaborated with fellow Brazilians Seu Jorge and Rodrigo Amarante.
Even though they hadn't seen each other since they were teenagers, when Gabriel realized that Pedro also lived in L.A. he reached out in hopes that Pedro might be able to help him develop some new musical ideas, which couldn't be further from their shared teenage hardcore roots. "Gabe said he wanted to do a bossa nova record," Pedro recalls, explaining that he then proceeded to quiz Gabriel about the fundamentals of the genre: "when you say you wanna do a bossa nova record, do you know all of João Gilberto's records and all Tom [Antonio Carlos] Jobim's records?"
The two started working together on Gabriel's initial song sketches, rewriting them together over the course of a year. "He wrote half of the record with me," Gabriel says about Pedro's contribution. "I mean, you can't even put a number on it – we wrote the album together." Inspired by the original bossa nova recordings from Brazil they tried to carve their own lane amidst a storied and studied style that might sound simple, but is deceptively complex. "Pedro got my vision and understood what I wanted to say," Gabriel explains, "and he taught me a lot about how to do what I wanted to do." Pedro's challenge was how to take Gabriel's talents as a singer, songwriter, and guitar player and figure out how to distinguish his sound from all of the classics. "As a producer, I'm thinking of Gabe as an artist, and the important thing for me is [for Gabriel] to be himself – not trying to be Tom Jobim," Pedro insists. "It's important to have the reference but this record is pretty original and is based on Gabriel's personality and I tried to bring the most artistry and musicianship out of him, but basically it's his personality."
For an album principally made by young Brazilians steeped in hardcore punk rock with relatively little experience playing traditional music from their home country, the result is nothing short of shocking, sounding like a lost seventies samba album, from the likes of Paulinho da Viola or Martinho da Vila – two icons of roots samba. They might have been aiming for bossa nova, but the album delivers a variation on that classic style in two distinct ways: Gabriel's voice and songs are sunnier, more personal and confessional than the classic cannon, and secondly, Pedro Dom's arrangements and instrumentation choices as producer paint from a fuller palette than most of the original bossa novas. "You get other references that came after bossa nova," Pedro explains, "as well as the older styles with more orchestral references and crooner-style vocals."
But how did a bossa nova and samba record find a home on Stones Throw Records, an independent Los Angeles record label primarily known for Hip Hop and related DJ-centric genres? Stones Throw's founder, Peanut Butter Wolf (aka Chris Manak) owns Gold Line bar, a vinyl-themed watering-hole in Highland Park, located directly under the label's headquarters and recording studios. For years prior to this album's release, Gabriel was a bartender at Gold Line. "They knew I made music, I mean Wolf and everybody," Gabriel explains, but then again so do many bartenders and waiters in neighborhoods like Highland Park. Not all of them get signed to Stones Throw.
Pushing himself to feel more confident playing and singing in this uncomfortably vulnerable style, he decided to make some short videos and upload them to his Instagram stories. Reactions were surprisingly favorable, including from Manak, who's encouragement was enough to convince Gabriel to take this new direction more seriously. With help from Pedro, he finished a few songs, including "Jasmin Part 1," which he sent to Manak, who replied with three clapping emojis. Less than ten minutes later Gabriel got a call asking if he would consider recording an album for Stones Throw? After being flabbergasted, he enthusiastically agreed and then called Pedro to celebrate, "and then we started writing the rest of the record."
Due to travel restrictions during the pandemic combined with wanting to capitalize on contacts back in Brazil, the album is a combination of a local core band augmented by musicians from all over the world. There's Ivan "Mamão" Conti, the drummer from Brazil's legendary jazz-fusion trio, Azymuth, as well as Brazilian Gibi Dos Santos, who's best known for being Sergio Mendes' percussionist of choice, and Pedro Dom tapped his connections in the orchestral world to complement the basic bossa nova formula with flute, clarinet, bassoon, french horn, and stacked violins to mimic an entire string section. And last but not least, the Brazilian-American producer extraordinaire Mario Caldato Jr. (aka Mario C.) mixed the brief, yet captivating album.
Across several songs, Gabriel taps into the traditional Brazilian malandro character, who's simultaneously irresistibly entertaining, not entirely trust-worthy and ultimately tragic. On the first song ("Bandida") and last song ("Cachaça") of the album, the protagonist who longs for love self-sabotages his efforts with wine and cachaça, respectively. "Interlude (that's a shame)" and "So you can see me," find Gabriel singing in English and Portuguese with whiffs of psychedelia casting a sinister spell on the soft sambas. On the album's first single, "Jasmin parte 1", Pedro makes a dreamy musical bed of percussion, electric guitar, flutes and vocals for Gabriel to wax poetically about a phantom lover. "Jasmin parte 2" and "Cachaça" swing in classic samba style bolstered by a choir of back-up vocalists and that could pass for deep cuts from lesser known seventies samba stars.
"Everything I know about how to play Brazilian music was learned during that record," Gabriel says humbly, before adding enthusiastically, "and now the evolution continues." With the album wrapped up more than a year ago, the same group of core players continue to play and compose, going deeper down the well of their homeland's musical traditions. "We happen to be Brazilians," Pedro Dom mused aloud, "and now I feel we are mature enough to be doing Brazilian music that represents ourselves with more depth and feeling." When asked why he focused on bossa nova and samba for his debut album instead of the more trendy Tropicália sound, Gabriel explained, "I had to do more work to achieve this, because Tropicália has the rock and I've played rock my entire life, so that would be way easier and maybe one day we'll make a record like that to tap into that. That's the cool thing about Brazilian music – there's so much cool stuff!" But don't take Gabriel's word for it, New York Times alumnus Ben Ratliff put it perfectly in 1999, a sentiment that feels more true now than ever before: "I do not believe that Brazilian music is going to be the next big thing. I only think that it will become an essential part of the record collection of any connoisseur, and slowly and surely its influence will infiltrate the rest." | a thayer
Aquarium Drunkard is powered by its patrons. Keep the servers humming and help us continue doing it by pledging your support via our Patreon page. For heads, by heads.