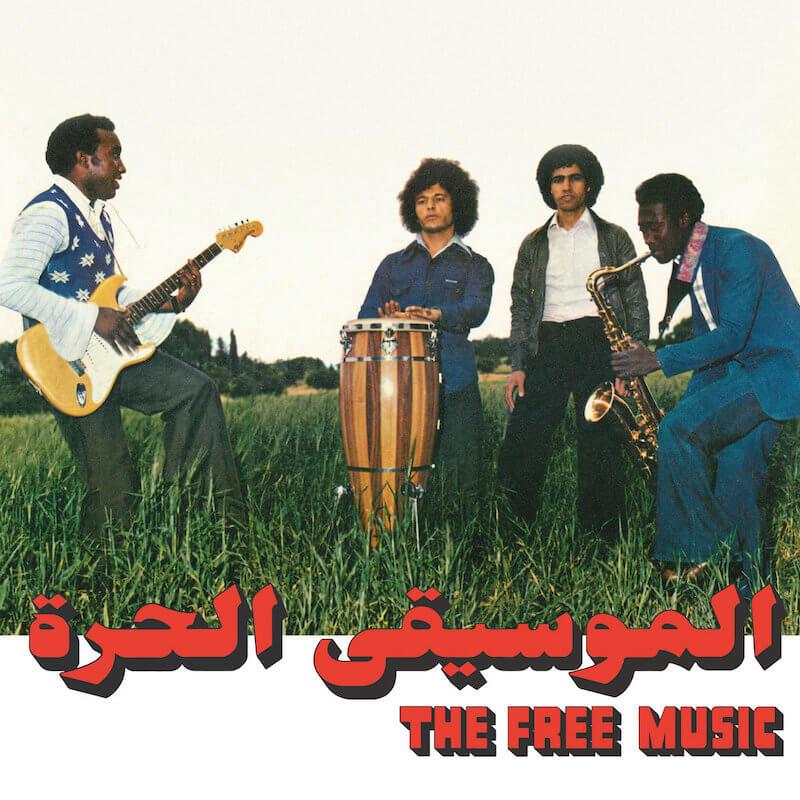 The latest installment in the always-winning Habibi Funk series highlights Libyan composer & producer Najib Alhoush's band, The Free Music. The tellingly titled "Part 1" collection compiles tracks off two 1976 albums from the band, who all in all recorded, and self-funded, ten lps. The premiere selection absolutely smokes—bursting with a technicolor blend of soul, funk, disco, and reggae.
Sincere to their name, The Free Music goes out on cosmic trips, letting their boogie-based sound get loose and weird. But by no means is that to suggest they don't keep it tight, dishing out pickpocket grooves and slinky basslines alongside stabbing horns and cascading organs with eccentric aplomb. Alhoush carries a suave bravado on vocals, singing with a smooth assurance, and rips things to pieces on guitar, shredding with a fierce desperation. The band stays armed and dangerous with hypnotic spells of boogie—bolting out smoldering dancefloor funk with jazzy, romanticist flute solos, spaced-out dungeon synths, and a dizzying rhythm section.
Ecstatic horns, acrobatic rhythms, and a slyly stoic Alhoush tear across the album opening "Mathasebnish," as faithful an opening argument as you could ask for. You can party, but they're going to play. "Free Music I" is a triumphant self-proclamation— the band locked in airtight and Alhoush riding out on a burning guitar solo while, on "Ana Qalbi Ehtar," they possess an almost doomy psychedelia, Alhoush singing with an ominous tenor among phaser guitars and astral-bound synths. The fleeting jazz flute and gospel-tinted backing vocals emit a chamber pollen on "Men Awel Marra," a calming and luminous constant across its otherwise lightning fast groove.
It's an exciting hybrid of sound, the kind Habibi Funk uniquely excels in excavating, and with presumably a good deal more to come, we'll be frequenting this freak-disco from the past for the foreseeable future. | c depasquale
Only the good shit. Aquarium Drunkard is powered by its patrons. Keep the servers humming and help us continue doing it by pledging your support via our Patreon page.