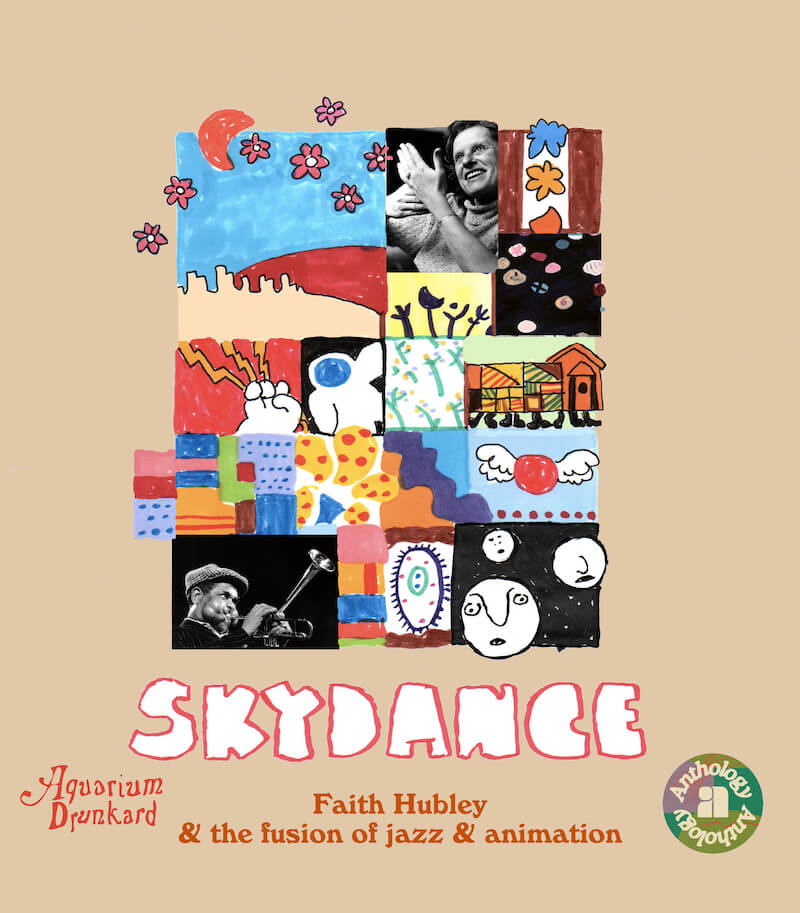 Faith Hubley's experimental short film Skydance opens with a simple message: "Reaching for life in the cosmos." Animated in Hubley's unmistakable visual style with sound provided by playwright and musician Elizabeth Swados, Skydance blended jazz and animation. A further blurring of the lines between mediums can be experienced with a new book edition of Skydance, published by Anthology Editions (whose exciting recent output includes the likes of After All is Said and Done). Part abstract art book, part storybook, it's a remarkable 2D adaptation of Hubley's one of a kind film.
Anthology worked with both the Hubley and Swados estates during the pandemic to source original artwork from storage units. "We're kind of trying to see if we can bridge that gap and see if people will look at kid's books the way they have looked at art books in the past", explains Jesse Pollock, Managing Director of Anthology. In service of creating more vibrant pages, color was retouched, bringing the art closer in line with its original film representation. Despite a number of films now archived in the Criterion library or celebrated in MoMA exhibitions, the film and printed work of the Hubley's has remained perpetually under the radar—like the medium of noncommercial animation itself). When Anthology initially began the Skydance project, their creative team quickly discovered the conundrum that many people familiar with the book did not know it was originally a film, and vice versa.
Arriving in Los Angeles at age eighteen, Faith Hubley held many jobs in the film industry, including script and music editing at major Hollywood studios like Columbia. A painter on the side, she didn't become an animator until meeting her husband John in 1955. Skydance was among dozens of solo films that Faith released, a continuation of a legacy actually included in the couple's wedding views: a commitment to make one independent film a year. After his death in 1977, she carried on that remarkable, prolific legacy. Accompanied by Paul Klee style patterns and psychedelic visuals, the themes of Faith's works often zig zag between worlds of mythology, surrealism, philosophy and plenty of extraterrestrial life. Reflecting on the legacy of her films, Faith philosophized: "I've tried to look at animation in the sense of the cartoon as the design of a painting."
It is impossible to discuss either Hubley without diving into their timeless collaboration together, the peak of their creative highs. John Hubley's trailblazing career ran the entire trajectory of what a creative in the animation field could accomplish. Recruited from art school by the newfound Disney studio in the mid-thirties, he contributed to a number of their early groundbreaking features. Following a landmark animators' labor strike in 1941 (as well as a general disillusionment for the bureaucratic industry system), Hubley's departure would mark the beginning of a flourishing trajectory of singular creative freedom. Founded in the wake of the labor protest, Hubley became one of the creative heads of United Productions of America (UPA), a modernist studio that sought to advance the art form and counteract the hyper-realism of the establishment studios.
UPA, conversely, approached animation with an embrace of fresh midcentury design aesthetics, using plenty of flat backgrounds and stylized graphics. With a staff full of progressive creatives tackling intellectual subject matter, Hubley shined at the studio, his masterpiece being the Academy-nominated Rooty Toot Toot, an early precursor showcasing the artist's experiments in jazz and sensibilities reflecting contemporary art. In addition to original material, UPA also utilized limited animation techniques to adapt works by the likes of Edgar Allen Poe, and designers like Charles and Ray Eames were among the studio's admirers. After his electric run at the studio, Hubley was forced out of UPA after some of their key individuals were targeted by HUAC during the red scare. In 1952, John ultimately became exiled from the Hollywood industry at large.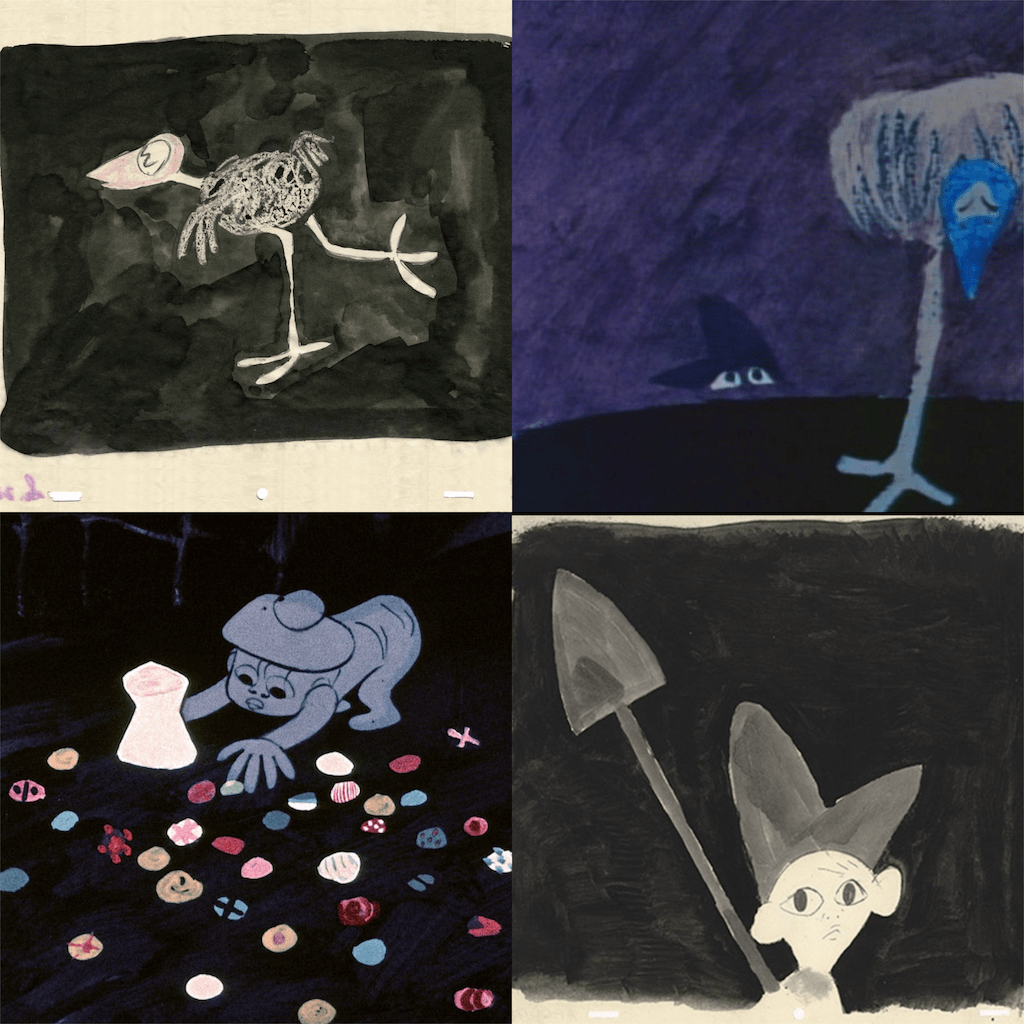 Post-blacklisting and seeking more artistic freedom, the iconoclastic husband and wife duo created a heartfelt, unorthodox visual language in their approach to complex storytelling. Fiercely collaborating on all facets of production, their mixed media techniques emphasized the art in animation: the screen's frame an open canvas for crayon, Magic Marker, watercolor-splashed wax textures, double-exposed film.
With their progressive use of jazz soundtracks, dialogue improvisation and socially conscious themes, it was "liberating animation from itself" in Faith's own words. The recurring themes of childhood imagination and perspective were only intensified by tape recording their own children's voices for their films, an innovative technique at the time. Take, for example, the signature use of their sons' voices in Moonbird, perhaps their most well known work. One of those children was Georgia Hubley of Yo La Tengo. As Jesse Jarnow describes in his biography of YLT, Hubley family traditions included critiqued live sketch sessions and film projections in the living room.
Both jazz aficionados, John had picked up work designing Picasso-inspired LP covers and trad jazz magazine The Record Changer. During their initial stint animating advertisements for major clients in New York, Faith even credited John as being the first to bring jazz to commercials. Meanwhile, Faith had a deep appreciation for jazz since her early days growing up in Manhattan's Hell's Kitchen. The sentimental, independent spirit of the Hubleys' works attracted prestigious sponsorships for films, starting with the Guggenheim commissioning The Adventures of an * (1956), the pair's first collaborative work. With an original jazz score by Benny Carter (accompanied by Lionel Hampton's prominent vibraphone), the film's aesthetic feels like one commissioned by an art museum: the absence of dialogue, abstract and painterly visuals. Shortly after, The Tender Game is as identifiable for its original score by Ella Fitzgerald and the Oscar Peterson Trio as its Matisse-inspired visual aesthetic.
Like Carter and his orchestra, frequent musical collaborators included Quincy Jones and Dizzy Gillespie. Reflecting on his relation with the filmmakers as a "mutual appreciation society" in his memoir, Gillespie's first collaborative film was actually live action. In Date with Dizzy, the jazz trumpeter and his quintet attempt to create a commercial jingle with the product executives. It could best be described as a clever satire of advertising, the very industry that employed Hubleys at the time. It's a classic example of the pair's uncanny ability to stride the artistic line between commercial and independent. To this point, 1966's A Herb Albert and the Tijuana Brass Double Feature was just that, essentially a prototypical music video set to songs like "Spanish Flea". Both as a musician and a voice artist, Gillespie contributed to a number of their animated films, perhaps most memorably in 1963's The Hat. An anti-war film, Gillespie and Dudley Moore improvise the dialogue (and music) of two opposing soldiers.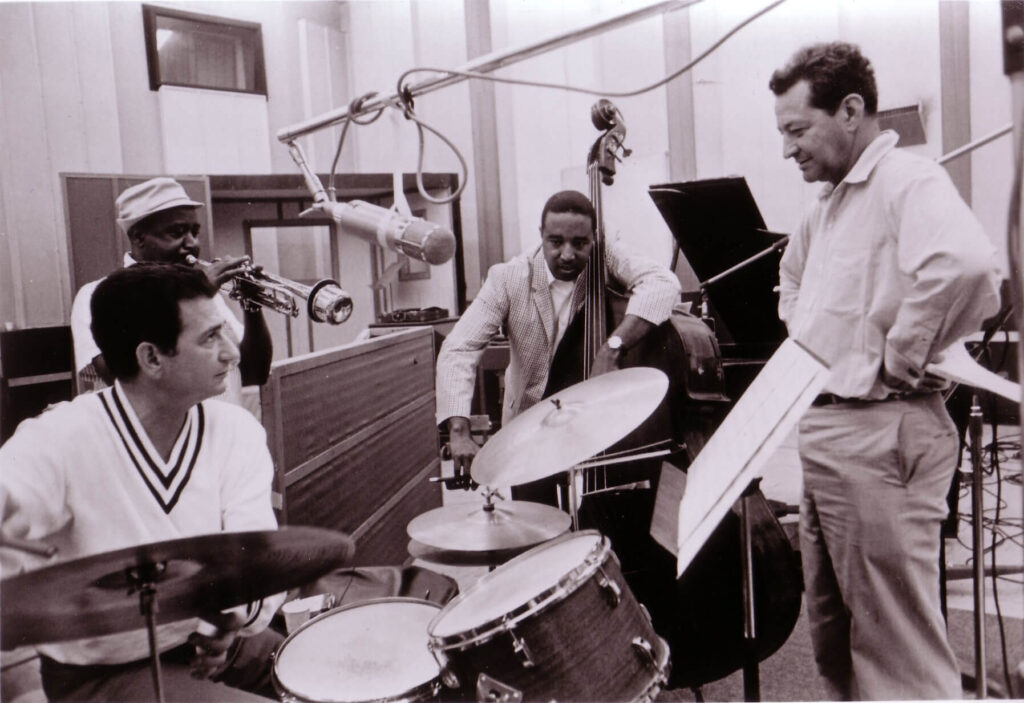 "To not embrace jazz is like denying one's major existence", Faith would reflect in a letter on the subject of their strong embrace of the genre. Dizzy Gillespie would remain a frequent collaborator in Faith's solo films, including 72-minute The Cosmic Eye, a film which got a local theatrical release in NYC. Some of the pair's mid-seventies films around this era, like Everybody Rides the Carousel, were interactively made while the two were teaching a uniquely Hubley course at Yale: "Visualization of Abstract Concepts". Prior to his passing, John Hubley remained a tireless advocate for the advancement of the medium as an intellectualized art form, one that was on the horizon of breaking the hackneyed stereotypes. He co-founded international organization ASIFA, and even penned a lengthy essay in The American Scholar sharply titled "Beyond Pigs & Bunnies". When Faith passed away in 2001, she had completed 24 films of her own (including a handful with Elizabeth Swados), true to her and John's original vision.
A book like Skydance represents a vital microcosm of the elusive spirit that lives on in the Hubleys' work. Like the art/picture book dichotomy that Anthology is hoping to establish with this republishing, it recalls the admirable quests of true patrons of the arts. The explorations of transforming their desired medium into a respectable art form capable of exploring humanist themes. Perhaps most of all, the book's bright and playful pages showcase the recurring themes of moral optimism and an everlasting, childlike perspective. | m neeley
For heads, by heads. Aquarium Drunkard is powered by our patrons. Keep the servers humming and help us continue doing it by pledging your support via our Patreon page.