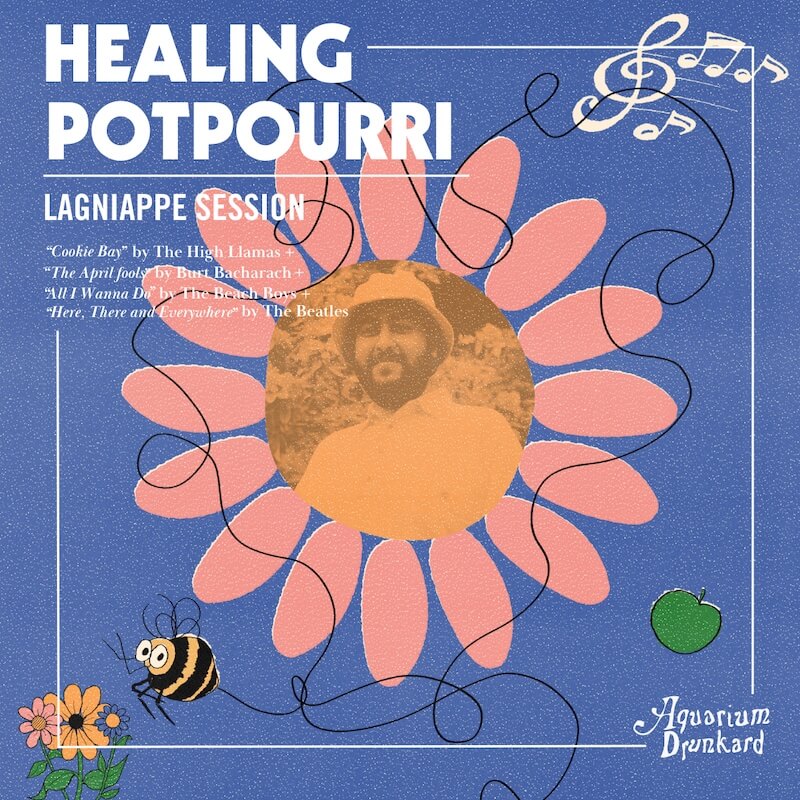 Lagniappe (la ·gniappe) noun 'lan-ˌyap,' — 1. An extra or unexpected gift or benefit. 2. Something given or obtained as a gratuity or bonus.
Released last year, Healing Potpourri's Paradise came across like an introspective deep dive, drawing upon all that inspired the band's orchestral brew of infectious chamber pop. The recording project of Bay Area multi-instrumentalist Simi Sohota and collaborators, the group's inaugural Lagniappe Session dives head first into these avant-pop sensibilities. Hardly a stranger to covering the Beach Boys, the prolific Sean O'Hagan (also an integral contributor on Paradise) provides guitar and drum machines to the cover of Sunflower's hazy masterpiece "All I Wanna Do", while Sohota simultaneously covers O'Hagan's High Llamas himself. Sohota details these selections and recording techniques below, which also includes the late Burt Bacharach and a cut from Revolver. 
Healing Potpourri :: Cookie Bay (The High Llamas)
High Llamas is one of my favorite bands. Sean O'Hagan, the man behind that project, also co-produced my last album, which I'm very honored by. I've made it my mission to have more people listen to this band, so I chose to cover this one off of my favorite album of theirs, Snowbug, and sung by Laetitia Sadier. We also used a very trippy sampling method to grab bits from his song "The American Scene" and warped them into oblivion. We picked an oblique strategy card that read something to the effect of "don't be so rigid in your rules." I interpreted that to mean to disregard my concept of what a cover could be and decided to include sampling, of the originals and other things. I also wanted to include nods to other songs.
Healing Potpourri :: The April Fools (Burt Bacharach)
Burt Bacharach, RIP, another one of my greatest heroes, wrote this song (most popularly sung by Dionne Warwick). This is a cover of her version, with keys and harmonies by my friend, a true genius, Joel Robinow from Once and Future Band. We also threw a bit of Bacharach's song "Nikki" in there because we couldn't resist, it's such a beautiful tune. When I woke up to the news of Bacharach's passing I immediately went to my piano and started playing his songs, cried a little. I met Jason in the studio later that day and along with Joel tracked most of the song, so the grief of losing a hero and adoration of his musical legacy is very much steeped into this homage.
Healing Potpourri :: All I Wanna Do (The Beach Boys)
This is a song by the supreme Beach Boys, my favorite band if I had to pick one. A very early version of this cover was being worked on to possibly include on my most recent album Paradise. Sean O'Hagan also contributed some drum machines and acoustic guitars to this. We picked it back up and decided to finish it for this project. I think it's funny that it's considered the first chillwave song, don't ask me why.
Healing Potpourri :: Here, There and Everywhere (The Beatles)
I heard that Paul McCartney was inspired by Pet Sounds, and particularly "God Only Knows" when he wrote this song. "Here, There, and Everywhere" is in a two-way tie with "In My Life" for my favorite Beatles song. We used a really crazy sampling technique on this one. We sampled many covers of the song, split the instruments, and then pitched them and tempo corrected them into the song, fading some up and down to make little symphonies with the samples, mixed with some organically played instruments and synthesizers, as well as many layers of my voice. Jason deserves major credit on the remix factor of this one.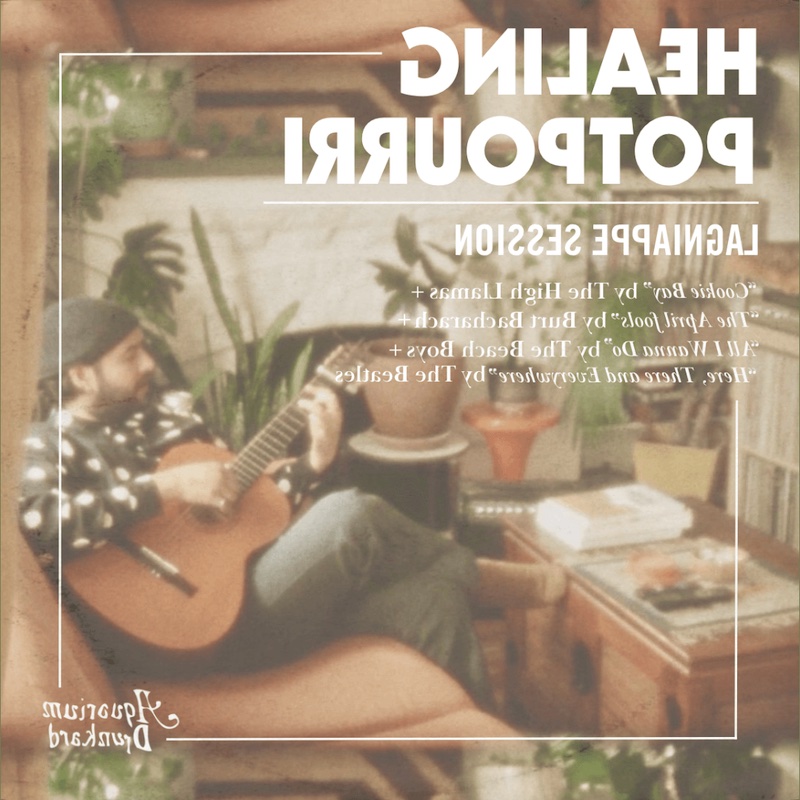 Credits: Simi Sohota : vocals, guitar, keys, synths I Jason Kick: bass, drum programming, synths I Sean O'Hagan : acoustic guitar, drum machines l Joel Robinow: keys, vocal harmonies l Jason Kick: engineering and producing
Lagniappe Sessions Archives / imagery via Greg Sheppard
For heads, by heads. Aquarium Drunkard is powered by its patrons. Keep the servers humming and help us continue doing it by pledging your support via our Patreon page.