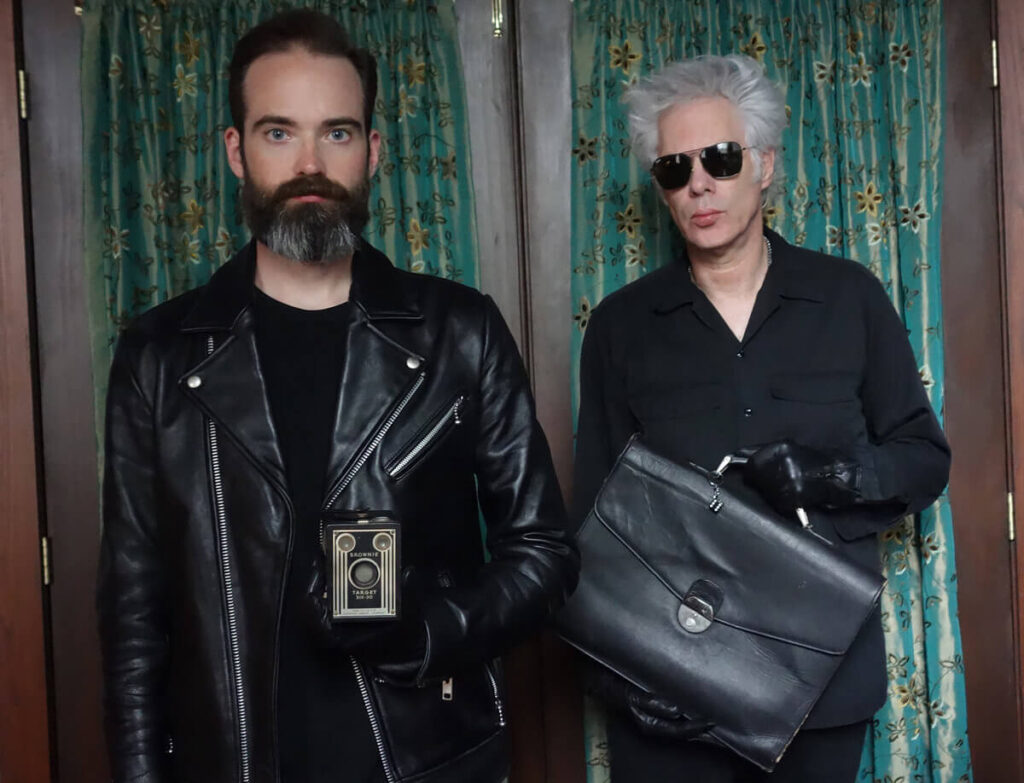 Poet John Ashbery once wrote, "God will find the pattern and break it." The line comes to mind considering Silver Haze, the new recording from Jim Jarmusch and Carter Logan's drone combo SQÜRL. Though the collaborators have worked together for the last 14 years—crafting scores to Jarmusch's films The Limits of Control, Only Lovers Left Alive, Patterson, and a steady series of EPs along the way—the new album marks their full-length debut. And while the leaden guitars and funereal drums of album opener "Berlin '87" find the duo in a familiar mode, the new album indeed finds SQÜRL breaking patterns too, incorporating a number of brand new developments: spoken word flourishes, Lou and Nico-style duets, and even sideways avant-garde blues.
Working in conjunction with producer Randall Dunn, best known for his work with Sunn O))) and Earth, Silver Haze finds Jarmusch and Logan in their most collaborative setting yet, welcoming in Charlotte Gainsbourg for the dreamlike recitation "John Ashbery Takes a Walk," post-punk mystic Anika, who joins Jarmusch on vocals on the Sonic Youth-recalling "She Don't Wanna Talk About It," and guitarist Marc Ribot, who adds his tangled, snarled guitar work to "Garden of Glass" and "Il Deserto Rosso." The result is SQÜRL's most expansive outing to date, a long form listen that evokes the patient, meditative drifts of Jarmusch's best films.
Logan and Jarmusch joined us to discuss their collaborative process, the influence of New York poetry, and why—if you approach things with the right spirit–there are no "mistakes" in music. | j woodbury
Aquarium Drunkard: SQÜRL has been a band for 14 years, but Silver Haze is your first full-length LP. What made the shift into long player territory make sense this time out, as opposed to the EP format you've favored?
Jim Jarmusch: Well, we had a lot of stuff gathered. We really wanted to work with Randall Dunn. Carter was guiding us toward that. We all met together and listened to some basic tracks, he expressed interest and we were like, "Yeah! Let's do it!" We didn't have any master plan, we just had a lot of material, and a little window of time to focus on it. Randall agreed to do it, and so Bob's your uncle, as they say.
Carter Logan: We've been incredibly influenced by a lot of the music that Randall has been involved in—Sunn O)))), Boris, Earth. That [sound] was very crucial to our vision for the Limits of Control soundtrack. His fingerprints were all over that and that project was the birthplace of SQÜRL. It's kind of the most natural conclusion for us to make other than working with Shane Stoneback, which is who we've worked with a lot.
[Dunn] is a kindred spirit. We have a lot of common interests and tastes, so we knew that by jumping into making a record with him, we would already have a certain understanding. It was unspoken. We didn't ever have to explain ourselves or what the intention behind our music was. He got it instantly and was able to add to the process by offering more ideas.
Jim Jarmusch: It was never like, "Randall is the boss telling us what to do," or us telling him what we thought it should be. It was instantly just about playing with ideas. We began to shape things right away and the results were really exciting and natural.
AD: You've often worked together on soundtracks, or in conjunction with screenings of Man Ray's silent films. Is there something freeing about being able to devote yourselves to a purely sonic thing, without visuals to accompany?
Jim Jarmusch: It's not totally new. We have four EPs that weren't connected to any film project. But it is different. When we're making a score or something, it has to interweave with the film. The odd thing is, our score for Only Lovers Left Alive can be listened to without the film, but the film can't be seen without the music. There are different idiosyncrasies, but I don't think it really affects where our landscapes come from. They're not all that much different and we have done both throughout our work together. It's not a daunting difference.
But I don't like scoring my films no matter who's doing the score. I don't generally enjoy giving specific queues or suggesting, "You gotta give me a sting here, and I want this to hit here, and I want some melancholy music over this." Generally, I want a composer to just give me the music and I can figure out how to make it work with the film. When Neil Young scored Dead Man, he just reacted to the entire film throughout, and it resulted in his big old black Les Paul almost being a separate character.
Carter Logan: With an album, the only thing you know you do need to be concerned about is how the songs relate to each other and the album as a whole. This allowed us to explore that process: what ends up on the record, what doesn't end up on the record.
AD: This record incorporates some great vocalists, including Anika, Charlotte Gainsbourg, and of course you sing on the record too, Jim. Has working with vocalists changed the way you think of the project?
Jim Jarmusch: Gee, I don't know. We had this instrumental piece called "John Ashbery Takes a Walk" and then I thought it would be so beautiful to have Charlotte read these two early poems from John Ashbery's first book, Some Trees. What can you say about her voice, her approach? It's just remarkable. I called and asked if she'd be interested and she said, "Yes, send it! Send it!" She replied a few days later, "How should I record this?" And that was that, it was fantastic.
As for Anika, we saw her live and thought, "Oh, she's so mysterious and fantastic." We came up with the idea of alternating lyrics. We hope to do more with her in the future, make an EP or something else were we can collaborate more.
AD: Marc Ribot's on the record too. He's one of my favorite guitarists.
Jim Jarmusch: I've known Marc since 1985, as a friend and a person whose musical career I've followed. He played on the Down by Law and Mystery Train scores. It was actually Randall who asked, "What if we asked Ribot to come in and play on one thing?" We were like "Yes, of course! Let's ask him." Within days, he was in the studio with us for just half a day.
AD: I have a friend who recorded with him recently. Now, I'm only going off second-hand information here, so I need you guys as first-hand experiencers of Ribot's process to verify. He used the word "intense," said he walked in like a man on a mission, there to create with very little preamble. Does that jibe with your experience? 
Jim Jarmusch: I think of Marc as a gunfighter of guitar. He is zoned in, man. He is serious. He set up a few pedals and got out his Fender Jaguar. We asked if he wanted to hear the track to roll through it first, and he said "No, no. It's better if I don't hear it. I know SQÜRL, I know the feeling. Just let it roll." He did several takes, each one very different. On last one, he was playing guitar with his car keys. He didn't even want to hear it first—he wanted to react. My god, what kind of musical genius is he? He is an intense man.
Carter Logan: Yeah, but the intensity is all intuition. He's creating a pathway to allow him to just follow his imagination and intuition. He knows that's the place he can create from the best. We didn't make a lot of distractions or indulge in too much chit chat or sit around drinking coffee before we did the thing. We came there ready for him and he came ready for us.
Jim Jarmusch: He had his effects in some beat-up, broken piece of roller luggage that he got on Canal St. I said, "Marc, man, your luggage is kind of fucked up." He said "Well it's served its purpose so far." [Laughs] He's really a character, he's just the best.
Carter Logan: What a magical mercenary of a guitarist.
AD: In the very entertaining notes that you guys put together for this album, you noted, "SQÜRL thinks that Joseph Cornell and Mark Rothko are musical artists while Morton Feldman and John Cage are visual ones." In the same fashion, I kind of think of John Ashbery as a rock lyricist. Jim, you've long cited the big four New York poets: Frank O'Hara, Kenneth Koch, James Schuyler, and John Ashbery as big influences. Did you ever get a chance to see Ashbery read?
Jim Jarmusch: I got to see him read several times. Toward the end of his life, I got to do a reading with him in Princeton, New Jersey, however he was remote on a Zoom screen and I was there physically. I read some things and then John read a long poem. In the middle of the reading, and this was one of the great moments of my life, he paused, giggled, and said, "Well, I must say that last line does sound somewhat Jarmusch-ian." Then he continued reading the poem. I was like, "What the fuck? John Ashbery just name checked me!"
It's not just the big four that have influenced me; there's also Ron Padgett, David Shapiro, and Joe Brainard. The New York school is quite expansive in terms of poets. They're all a huge inspiration for me. They don't take things too seriously—they love expression and they put humor into their work, embracing their inspirations. And they liked the idea of writing poems to one other person as Frank O'Hara sets out in his little manifesto.
AD: Another thing I liked in those notes was your note about being attracted to things that happen "on accident." How do accidents or, to put it more correctly I think, unintentional elements make it into the work?
Jim Jarmusch: An example is the song "Berlin." I laid down a guitar track and then I decided I would lay down another track, but without listening to the first or even looking at the visual reference. I wanted to have no idea the relationship between the two guitar parts. I thought we'd pick one to use, but Randall said, "Listen to how they're interacting, the dissonance section here, yeah no—they're better together." Just things like that throughout would happen. Things like that happened throughout.
Carter Logan: I don't think that we did more than three passes on drums. This record was done a little bit differently than any other record we've done. We had Arjan Miranda, an incredible musician, playing bass live while I play drums. Normally I would play bass on the records and add drums later. This was one of the ideas Randall brought onto the table. He said, "I think we should record this rhythm stuff live with the two of you in the room." We did a maximum of three takes and no comping or real editing. Anything that's in there, is in there. We don't obsess over perfection.
I remember another time, I was doing synth overdubs on my Moog Grandmother in the studio and picked out an arpeggiated sequence in one of the songs. I kind of just picked it at random, the first thing, and just hit hold on the synthesizer. Randall was like, "Okay great! Let's record." I was like, "Maybe I should experiment with a couple different variations of this." He was like, "No no no, that's it."
We just lean into these kinds of things, if it feels right and sounds right, we just go with it. Don't overthink it. Once you embrace that kind of idea, that a mistake is maybe an idea you didn't have in your conscious mind before, something that seems like a mistake won't appear that way to others. Miles Davis said, "Do not fear mistakes. There are none."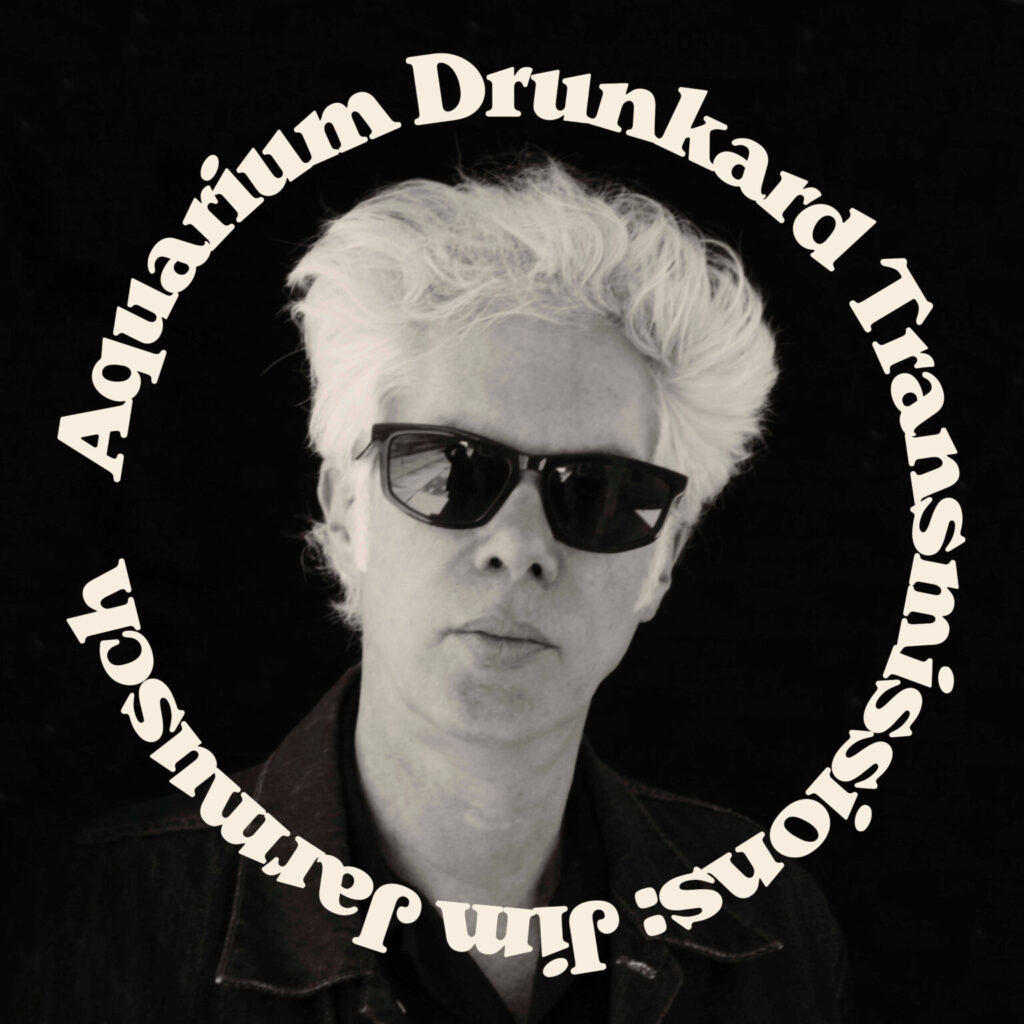 See also: Transmissions :: Jim Jarmusch
From our heads to yours. Aquarium Drunkard is powered by its patrons. Keep the servers humming and help us continue doing it by pledging your support via our Patreon page.