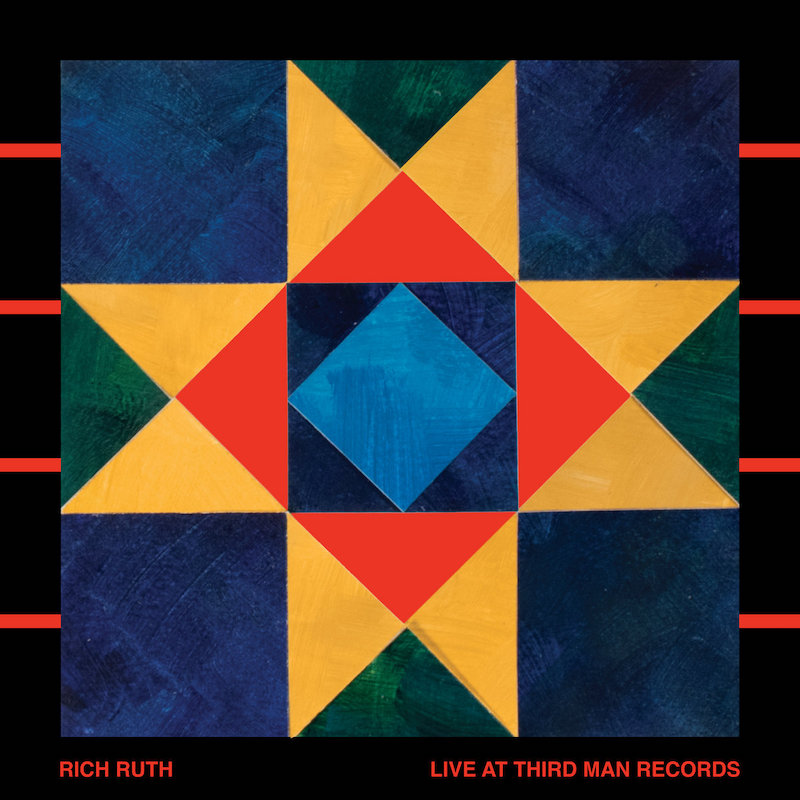 Over the past 5 years, Rich Ruth, with his debut LP, Calming Signals, and his latest, I Survived, It's Over, has established himself as one of the most exciting up-and-coming talents in the ever–burgeoning sphere of cosmic music. It's difficult to pinpoint his work as jazz, ambient, komische, or post-rock, as it employs elements of all those genres and more in a way that feels wholly natural. Is it post-genre? Perhaps. Ruth calls it "instrumental music," which is true, albeit reductive. One thing is certain, it is not to be missed.
The same can be said for Ruth's live shows, which to this point, have been relatively few and far between. Quality over quantity, always. In the case of Live At Third Man Records, that class comes via a six piece band centered around Ruth's guitar and synth moves and the breathtaking saxophone playing of Sam Que. Featuring nine tracks from Calming Signals, I Survived…, and Ruth's 2020 EP It's The Water, Ruth and Que, with Spencer Cullum, Jr., on pedal steel, Taylor Floreth on drums, Taro Yamazaki on bass, and James Green on horns and auxiliary percussion, prove to be a band in full control from the opening notes of "Taken Back."
From the outset, the project has always been more than Ruth himself. While his guitar playing is certainly noteworthy, his compositions are what allow his contemporaries to shine, and in turn, take his sound to the next level. It's one thing to hear these songs on his albums. They are well played and recorded. We've written about all of their merits here. But seeing the music come together in the live setting is a truly joyful experience. Listen to the breakdown on "Older But Not Less Confused" or the madness of "Heavy and Earthbound." You'll hear a band that is confident in stretching Ruth's musical framework to achieve something truly remarkable. But even as Que ascends into twisted cosmic bliss on the latter track or during "Thou Mayest," Yamazaki's steady bass riff tethers the music back to Ruth's underlying structure.
That push-pull makes for a dynamic performance that teeters at times on the edge of chaos, while simultaneously demonstrating the breadth of Ruth and company's ability. Take the transition from the spiritual leaning "Heavy and Earthbound," into the folkier sounds of "It's the Water". At the end of one full-scale freakout, Ruth smirks, "I hear you like ambient music." He's in on it, and by the end of this record, you will be, too. 
For heads, by heads. Aquarium Drunkard is powered by its patrons. Keep the servers humming and help us continue doing it by pledging your support via our Patreon page.