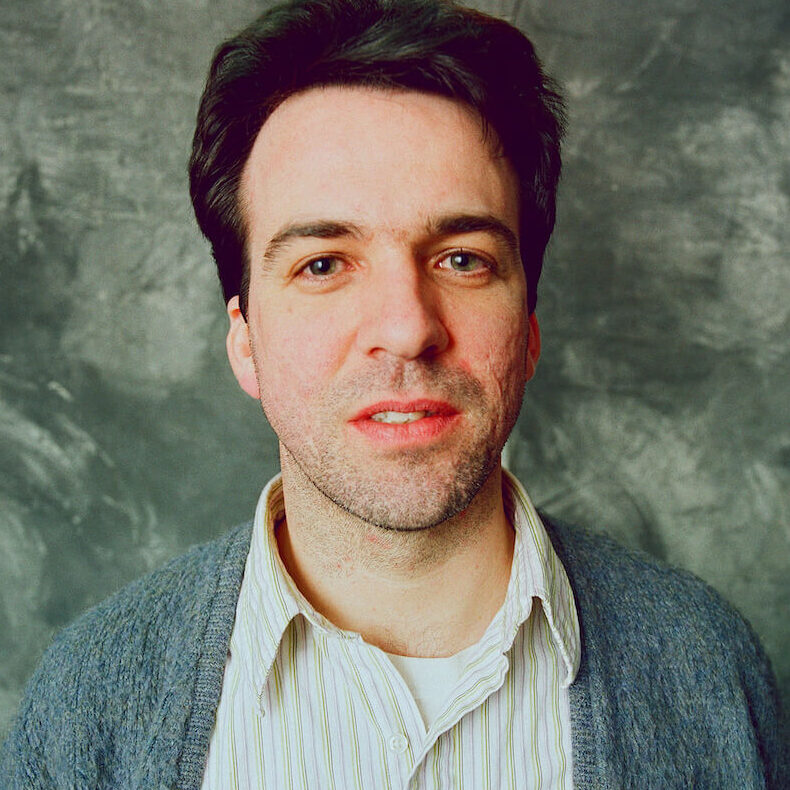 25 years ago, Joe Pernice found himself at a crossroads. His alt-country band, Scud Mountain Boys, had signed to Sub Pop Records and released the darkly funny and literate Massachusetts in 1996, but increasingly, Pernice found himself writing songs that resisted the twangy, rustic tones of the Scuds. At first, "Pernice Brothers" was simply a side project with his brother Bob, a place for his softer, more pop-focused songs to find a home. But more and more, he felt himself drawn to the freedom he experienced outside the y'alternative strictures.
Originally released by Sub Pop in 1998, The Pernice Brothers' Overcome By Happiness was a leap of faith. Leaving the band he'd established and grown comfortable in, Pernice assembled a roster of players who had never worked together before, and took to the studio to dream up sounds big enough for the songs he'd written and sketched out on shoddy cassettes. Sly and sonically generous, the album found Pernice's deadpan, Costello-esque wordplay about garage suicides and corporate drudgery paired with bright and expansive orchestration and chiming power pop.
This week, New West Records reissues the album to celebrate its 25th anniversary. Featuring a collection of rarities and demos and a 52-page liner notes book by Stephen Deusner. Pernice joined us to discuss how taking that fortuitous jump into the deep end paid off. | j woodbury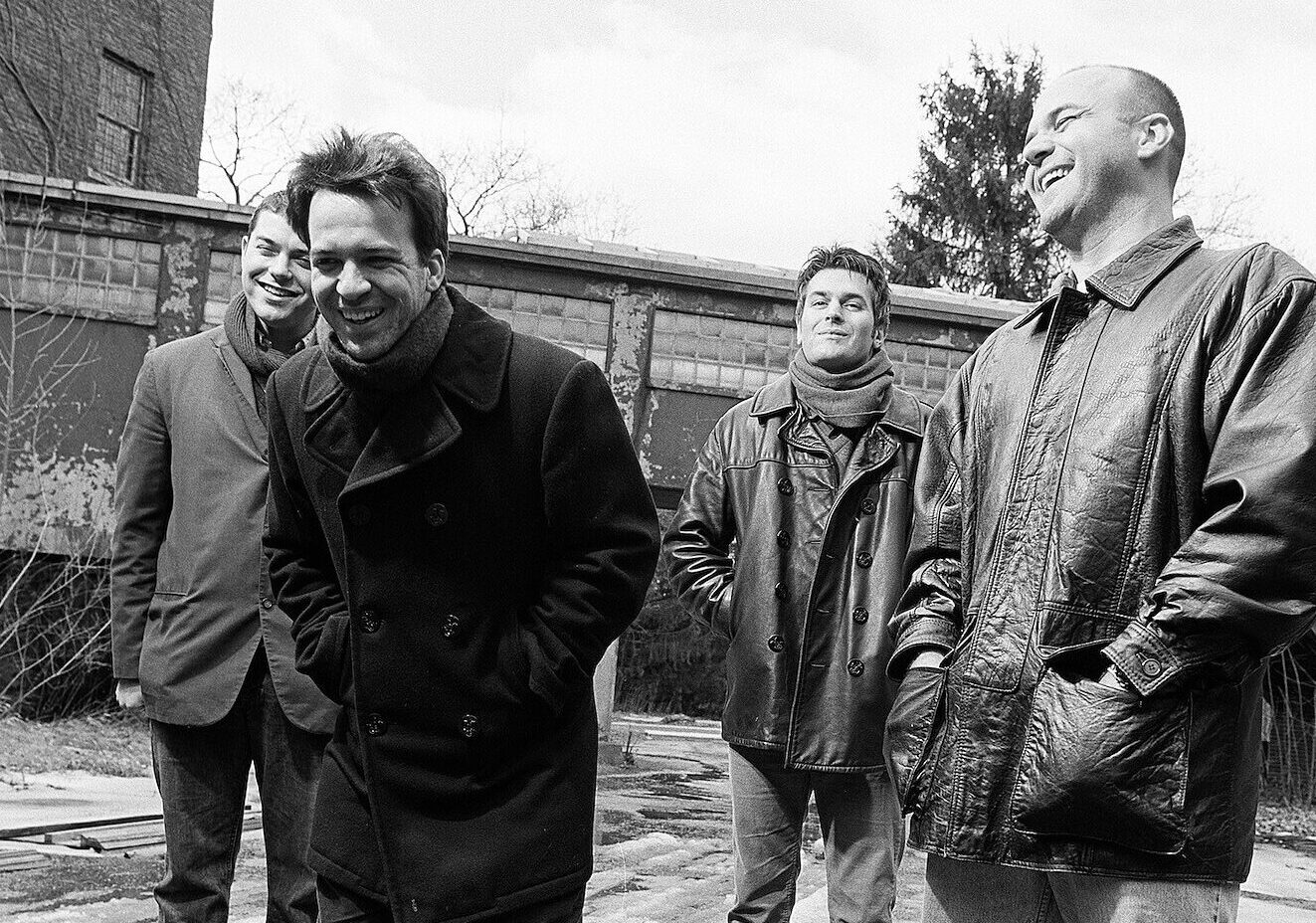 Aquarium Drunkard: Let's start by discussing some of the music you were into making Overcome by Happiness. What were you listening to in those days?
Joe Pernice: I don't even remember to be honest with you. It was 25 years ago. [Laughs] I was listening to tons of stuff. It was into Burt Bacharach, Carole King. I was also getting heavily into Big Star and Nick Drake, all sorts of stuff.
AD: There are some definite Beach Boys moments on the record too. What was the reappraisal of the Beach Boys like in the mid-'90s?
Joe Pernice: I always listened to Pet Sounds, but I remember it coming back around in a big way in the mid-'90s. I remember one of the guys in the Scud Mountain Boys had a tape of it and we'd listen to it in the van. Right around then, that box set with the stereo mixes of it all came out. And I remember Sub Pop put out a Beach Boys 7", an alternate take from the Pet Sounds sessions. I remember getting a copy of that, cause I was still on Sub Pop too.
AD: Like The Beach Boys, there's a juxtaposition on Overcome By Happiness—bright melodies with poignantly sad lyrics. When you began writing these songs, did you immediately get the sense they weren't going to be Scud Mountain Boys songs?
Joe Pernice: I think so. I started recording with my brother as a side project, and more and more, the songs just started going in that pile. I just loved listening to pop songs. I also loved being in Scud Mountain Boys, but we were pretty painted into a corner as far as our sound. All excellent musicians and good friends of mine, but we were limited in the palette of sounds. For me, making Overcome By Happiness was, instead of being like, "I wanna make a record that sounds like Pet Sounds or Bacharach or Nilsson or whatever, it was more like, I just want to be free to make a record where I explore things and stretch out a little bit.
I was as much into The Beatles as anybody at that point. It's less drawing on all your favorites and cramming them into something—it certainly is some of that—but for me it was more about chasing down the sound and getting that feeling into the music. I'm not trying to equate my record with it at all, but that was what Pet Sounds was about—a guy chasing the thing he was hearing. That's what all my favorite records had in common, like Dinosaur Jr.'s Green Mind or All Mod Cons by The Jam. Overcome by Happiness, even though I worked with other people, it really was my vehicle.
AD: You spent a little more than a month making this record. I have to imagine the Scuds recorded quicker than that.
Joe Pernice: The Scuds spent a couple of weeks making Massachusetts and we made all our other records in a day or two. So this was different. I think we spent something like 33 days making Overcome, but you'd have to talk to Bob. The Scuds had been very rehearsed, we were a real band, but with the Pernice Brothers, we had never even played together. We never sat down and made noise until we were in the studio.
AD: One of my favorite moments on the album is when Michael Deming's piano part drops into the title track.
Joe Pernice: He wrote the charts for the strings on the album too. We went over a lot of melodic stuff. I don't know much about composition, but he could write the music out.
AD: So that's his sheet music you see in the liner notes? Those are his charts?
Joe Pernice: Yeah. So you know, we didn't know how it was going to turn out, but he had a pretty good idea of the songs. We talked about what we wanted the strings to do and where we didn't want them. He heard it all in his head, but for me, it was a faith thing. I didn't hear the strings until we were in the control room. One day, you bring up the reel that you've been listening to for a couple weeks and next thing you know, you're listening to string and harp players, and you're like, "Holy shit. He got it."
AD: New West Records is planning a reissue campaign of all the Pernice Brothers material. How did you connect with them?
Joe Pernice: They got in touch with me. I don't own Overcome. That's a Sub Pop record. So New West wanted to reissue it, but they got in touch with me first, they didn't want to do it unless I wanted to be involved. And to be fair, they could have made a deal with Sub Pop and I would've had nothing to do with it. I could have never known. But New West came to me first and said, "We don't wanna do it unless you wanna be involved." And they told me [their ideas for the catalog]. I came around kind of slow. I was cautious, skeptical.
But every step of the way working with them has been fantastic. My partner, Joyce Linehan, who I own my record label, Ashmont Records with, we didn't want to separate our catalog too much. So when New West told me they wanted to license the whole catalog, that's what we did. And the next Pernice Brothers album, which we're mapping out now, will come out on New West.
AD: This new edition features a set of demos and rarities too—I especially like the Psychedelic Furs cover. How has listening to this record and the bonus material felt?
Joe Pernice: I found the whole thing to be really weird at first. Cause to me, the records, I mean, like, all the records are the same. Listening to the music, mostly I just had memories of making it. The most striking thing is how much fun we had making it. I had a great time. Every once and awhile, you're listening and you remember, "Oh yeah, when we cut this vocal, we couldn't stop laughing for an hour and a half." There was a time we had to cancel a session cause Peyton [Pinkerton] and I were sharing a microphone to do a backing vocal and we literally just couldn't do it. We were just like, you know, "Shut it down, shut it down."
There was not a lot of pre-production for the record, but I had those demos sketched out. I used to have this big old 1979 Pontiac Bonneville car with an eight-track player that had one of those adapters so that you could put a cassette in. That's how old we're talking. Wow. Tom Monahan and I would drive around in the hill towns of Western Massachusetts in the late summer, early fall. We lived in the same house at that time. We'd drive in my car and listen to the demos, and think, "Hey, let's try this here," mapping out the instrumentation.
Those were really fun times. We knew we would at least have a chance to spend a little time in the studio and we were spending someone else's money. We knew we weren't going into huge personal debt to make the record. Things have changed so much, I don't know how many people in their early twenties or whoever is making records realize how much it cost in the nineties to make an album that was of a certain studio quality sound.
AD: Before we wrap up, I really loved your 2009 novel, It Feels So Good When I Stop. Any other books percolating in your head?
Joe Pernice: I have no news, but I do have one cooking. So there you go. I'm having too much fun with music, to be honest with you. I don't know if the songs are any good, but I'm definitely in a creative groove songwriting. So that's my first love, for sure. But I definitely have a second book, a second part of a Cape Cod trilogy, if you would. I just don't know when I wanna sit down and do nothing else but write. It's pretty lonely, you know?
For heads, by heads. Aquarium Drunkard is powered by our patrons. Keep the servers humming and help us continue doing it by pledging your support via our Patreon page.